In 2015, Factory Reset Protection was introduced by Google for all android devices with Android version 5.1 and above. The objective was to improve the security thus, requiring users to enter their credentials to synced Google account any time they would want to factory reset their device.
If you're facing any such cases, where you don't have access to Google account or you forgot it. Then, this article has reviewed UnlockJunky, an online service to bypass FRP.
Part 1. Unlockjunky Review – Is it Suitable for You?
Unlockjunky – Online FRP Unlocking Service on Computer
Here you will get to know about UnlockJunky, a tool that has proven to be helpful to unlock Google FRP online. It claims to be fast, reliable and your job is done in merely five minutes without the involvement of the device owner. Therefore, it is user-friendly and only takes a few basic steps to bypass the Google account lock.
Key Features
Fast and online FRP bypass service for the Android devices
Other than being an amazing Samsung FRP removal service, it supports unlocking of Motorola, and ZTE devices
Works efficiently for removal of Samsung account locks
It also offers pin lock removal, IMEI repairs, carrier unlocks, etc.
Works well on PC with Windows OS
How to get past Google verification with Unlockjunky?
What do you need
You will only be required three main things on your end to bypass FRP i.e., to have a Windows or a Mac PC to download the required software, a decent internet connection and a USB cable.
Before you get started, you should know if you are a Mac user you would need to install third-party software that imitates Windows in its working.
Steps of unlock Google FRP online
The steps you will take to bypass FRP using UnlockJunky are as follows:
Firstly, go to the official website and on their homepage enter the required information about your device and click Unlock.

Next, you will be taken to the payment portal where you can pay via PayPal, debit/credit card.
You will need to install UnlockJunky's remote client program on your PC and enter the tech address that you will receive after the payment on your email address.
Now, plug in the device you want to unlock to your PC via USB cable.
In a live chat, you will tell the technician when you are ready to begin and then you will have to wait for almost 5 minutes for unlocking FRP.
Note: UnlockJunky team works on Mon-Sat 7:00 A.M – 4:00 P.M California Time (PST).
Is Unlockjunky legit or safe?
Yes, with the world pollution rising, it is an eco-friendly option to purchasing secondhand cell phones. In that scenario, people would need to bypass FRP to remove previous data and here FRP unlocking service UnlockJunky can work its magic. Let's see what consumers say about it.
97% of the ratings on Trustpilot are in 4.9 points
Hassle-free, all the work is done by the team
Virus-free and secure online service
Saves your valuable time
They claim to have unlocked over 3000 devices
Is Unlockjunky suitable for you?
Here we have listed down some drawbacks of the service so that you can ultimately decide whether or not you would want to spend your money on it:
It is an online service so you would need to have your device connected to fast pace internet.
The FRP bypass procedure is done by the UnlockJunky team.
It only supports a limited number of models of particular cellphone brands.
It is a paid service and doesn't have a free trial.
You will have to pay prior to FRP bypass without any guarantee that if it even works for your device.
If you have MacBook then, to avail of the service you would need to download additional third-party programs.
Part 2. Better Unlockjunky Alternative of Samsung FRP Removal Service
If you are still unsure whether you would want to invest your money and trust to bypass FRP of your device in UnlockJunky. Then don't need to worry, we still have a better alternative FRP unlocking service which is UnlockGo for Android devices. It is even suitable for non-technical people who don't want to get into trouble with complex procedures.
iToolab UnlockGo is a professional tool to bypass Samsung FRP with its premium features. You can use this tool to get past all of your security passwords, screen codes, accounts and much more. By using this tool on your PC, you can unlock your phone with ease. UnlockGo can help you to crack the screen locks of a number of branded phones.
Salient Features of UnlockGo (Android)
Let's look into some amazing features of this tool:
Easy to use, cost-effective and reliable FRP bypass tool for android devices
One-time payment for unlimited use of multiple devices within a specified time period
Works best to unlock Samsung FRP lock in devices with Android 5.0 and higher
Helpful in removing all the PIN, pattern, face locks from android devices
Helps to unlock your earlier Samsung devices without any loss of data
Well suited with 15 brands and over 2000 device models
Claims to bypass Google lock in a matter of 10 minutes
How does UnlockGo (Android) provide FRP unlocking service?
Step 1: Set up iToolab UnlockGo
Once you have downloaded and installed the iToolab UnlockGo on your PC, launch the tool. Click on Remove Google Lock (FRP) option.
Step 2: Connect your Cellphone
In the next step, you will need to connect your device to your PC via USB cable and click on the Start button. You should always use original USB cable for transferring data or any other similar purposes.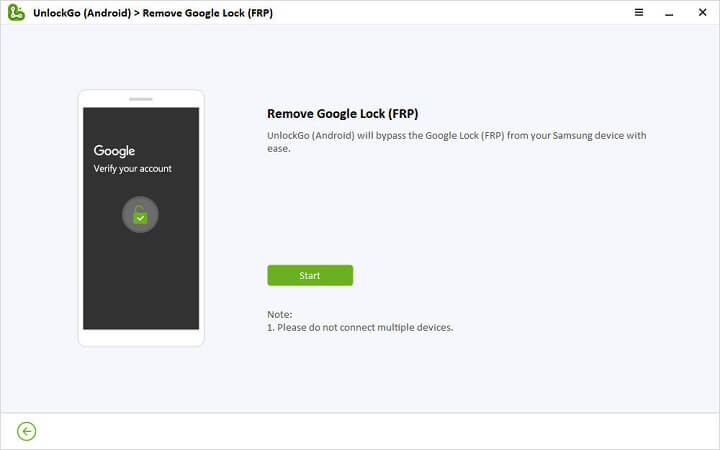 Step 3: Select the OS version of your device
Now, select the correct OS of your device from the given options. In any case, you are not sure about the OS version running your phone, click the "Don't know the device OS version" option located below the different Android version. Once selected the correct option, click the Next button to further proceed to the next steps. Make sure to have a stable internet connection during the process.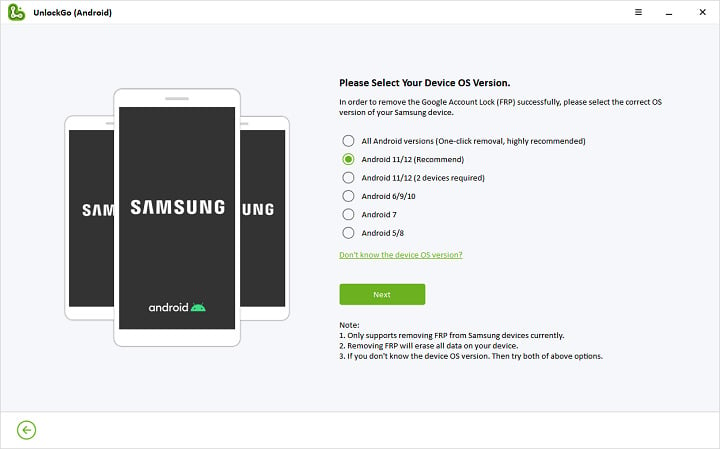 Step 4: Bypass Google FRP
The tool will send a notification to your device and you will have to follow the onscreen instructions to complete the unlocking process. Make sure that your phone is connected the entire time.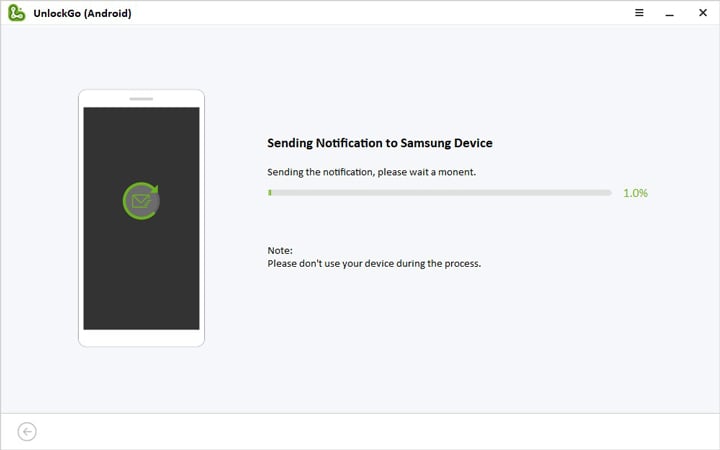 Step 5: Set up a new Google account
The process will take around 10 minutes to complete, once that's done you will be able to set up your new Google account.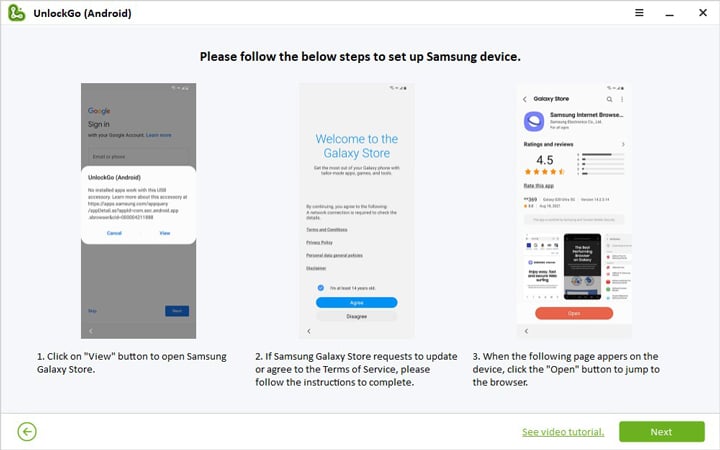 In Conclusion
FRP is an amazing feature to protect the data on your device in case you have lost your phone or forgot your pin. In this article, we have discussed two tools to bypass FRP, one being the UnlockJunky. Considering some of its operating conditions, it may not be an ideal option to use. So, the convenient and most efficient way is to try out iToolab UnlockGo tool.
10 Min Remove Google FRP Lock
Bypass Samsung FRP lock on Android 5~11
Remove all Android screen locks (PIN/pattern/fingerprints/face)
Unlock Samsung screen lock without data loss
Covers over 15 mainstream brands, 2000+ Android models