Most people are locked out of their Samsung account, so they want quick solutions to Samsung Account Unlock, but it might be a complex process. Bought a second-hand phone, anomalous factory reset, or forgetting your password or if the reactivation lock enabled before, your Samsung account cannot unlock without previously synced Samsung ID and password.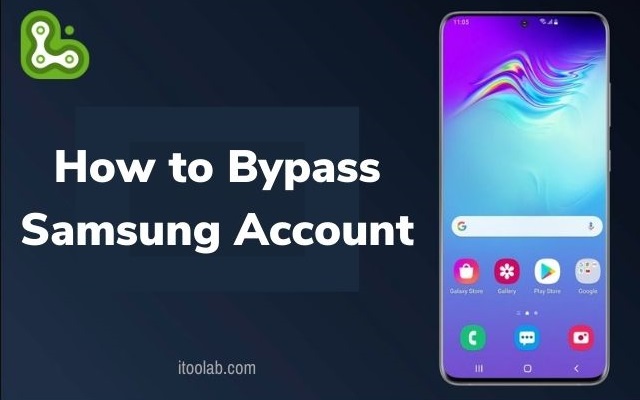 This article will give you the best free solutions for Samsung Account unlock. So, let's do it quickly and efficiently.
Part 1. Can I Remove/Bypass Samsung Account without Password
Generally, a Samsung account cannot be removed until you know the password. People keep asking about "how can I remove Samsung Account without password?" Well, the answer is "Yes". It is possible only by picking the correct solutions that are 100% working for you. In some cases, the Samsung account removal tool will help you achieve Samsung account bypass professionally.
You will find tons of solutions for this issue but few of them work for you. However, this post is a piece of solutions to get you out of this trouble so please read on.
Part 2. How to get past Samsung Account Lock If Forgot Password
The first solution to Samsung account unlock is to get your past Samsung account back. As you find it, you will sign in and bypass the Samsung activation lock to regain full access to your phone. Follow these steps to discover your account.
Step 1: Go to the Samsung account website "account.samsung.com".
Step 2: Click Sign in/Create account located on the top-right corner of your screen. Click "Find ID or Reset Password" to reset your ID and password.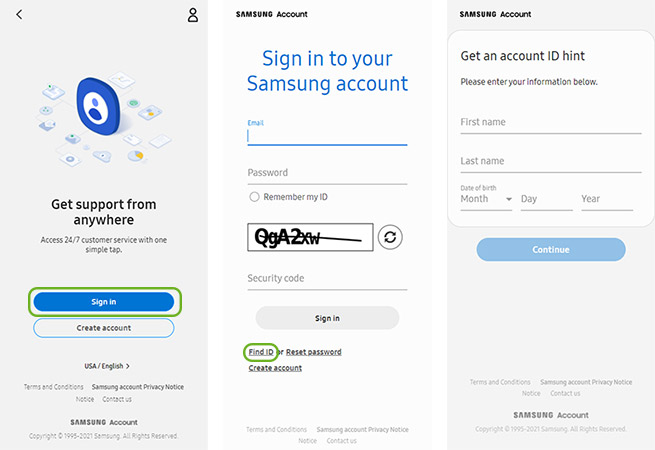 Step 3: As you click Find ID on the next page it will ask about your information containing your name and date of birth. After that, keep following the instructions to reset your password.
Step 4: If you remember your ID, click on the option "Reset Password", enter the Google account ID and then click Next, then set a new password.
Part 3. Samsung Account Verification Bypassed by Privacy Tab
The most effective method to bypass Samsung account is to use the privacy tab method. Keep an eye on each step because some of them might confuse you if you will not concentrate.
Step 1: Choose the language and tap Start. Click the Next button, it asks for your Google account. Tap on NO, when this window requests you once more to create a new account, choose Not Now.
Step 2: Click Next and fix your name, it will take you to the Samsung account page. Type something in the password field, tap Settings. Click the Prophetic text and scroll down to tap on Privacy Policy, then choose any browser to complete the process.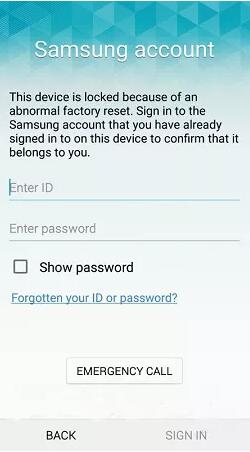 Step 3: Return to Samsung account Sign-In page. Type something in your email address field, tap "Forgotten your ID or password?". It will quickly take you to the Wifi page. Click Next.
Step 4: Go to the Samsung account lock page, repeat step 2. Tap Bookmark in the browser, click Next.
Step 5: If you want to create an account tap create an account or choose sign in. Finish the process and go to the Samsung account lock page to create a Samsung account.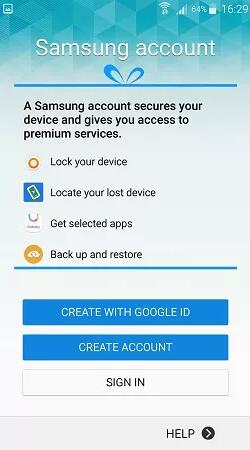 Step 6: You will see your Samsung account has been auto-filled. Type the password that you enter while creating a new account in step 5.
Step 7: Tap on Finish.
Part 4: How to Bypass Samsung Lock with Emergency Call (Complicated)
It sounds strange when we discuss Samsung account unlock. To complete this process you must be connected to WiFi and charge your phone up to 65%.
Note:
Remove your SIM card before this process.
This is a complicated process we aren't much sure that it works.
Step 1: Choose your language, click Start.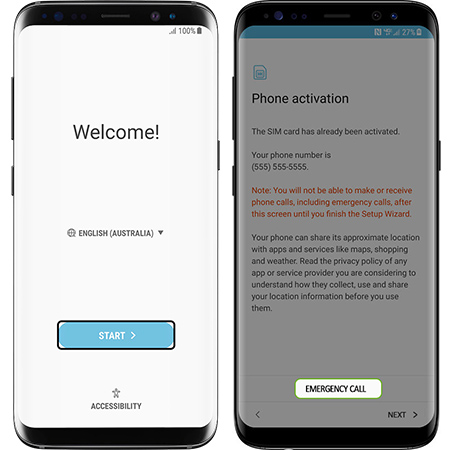 Step 2: Click Emergency Call and dial 000. Tap Call and choose three dots then tap Contacts. Next, end up the call through the Emergency call box. A home button option appears on the screen, swipe it down and tap OK.
Step 3: Go to keypad > MIC > Google App, finish the procedure and tap on Ok.
Step 4: Say "turn on Wi-Fi" with Google assistance. Type Settings in the search bar. As the Settings Menu appears, scroll down and tap on Backup and reset > Factory data reset > Reset phone > Delete all.
Step 5: Back to Samsung account page, enter your information to Sign-in.
Step 6: Choose to Delete All again, fill in the info one more time. Click Confirm, go to Settings > Security. Disable the "Reactivation Lock", type information and Confirm it.
Step 7: Return to Samsung account screen lock, type Samsung account information. If this doesn't show the result, go back to Wi-Fi setting page and tap on NEXT.
Step 8: If your device asks for phone activation, click USE WiFi > NEXT, finish the remaining process. Here you go!
Wait, meet the next task – Google verification lock?
Part 5. Google Lock Screen? Easy Work with FRP Bypass Tool
Congrats you have bypassed Samsung account, but Google verification might block you from using Samsung device. We called this Factory Reset Protection (FRP) which protects data in Android devices from being stolen.
iToolab UnlockGo (Android) is the one-stop solution for your Android's all unlocking needs. It helps you to bypass Samsung FRP lock without Google account. When you remove the previous Google account from the Samsung device, you will be able to regain whole access to your device.
No matter Android 5 or Android 11, zero technical know-how is needed but you do it like an expert.
Android Unlocker
Bypass Samsung FRP lock on Android 5~11
Remove all Android screen locks, PIN, password, pattern, fingerprints, face lock
Unlock Samsung screen lock without data loss
Covers over 15 mainstream brands, 2000+ Android models
So, to grab these benefits follow each step precisely.
Step 1: Before starting the process, make sure you downloaded and installed iToolab UnlockGo (Android). Connect your Samsung phone with computer using a USB. Open UnlockGo (Android) and choose the option Remove Google Lock (FRP).
Step 2: Click START and then choose the OS version in the next window. Click NEXT.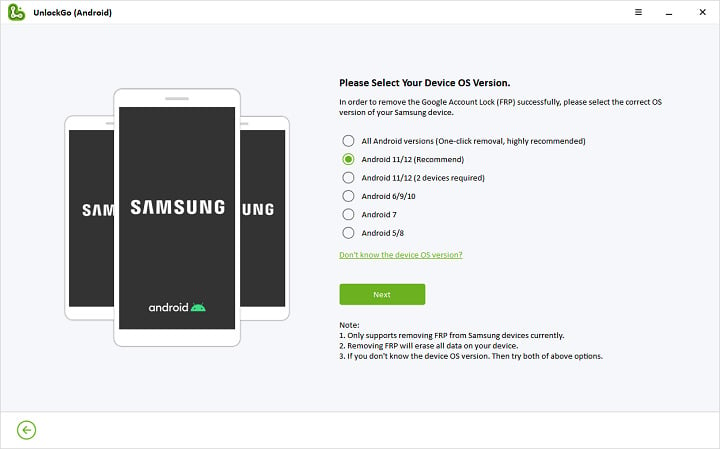 Step 3: As the above steps are completed UnlockGo sends a notification to alert that the bypassing process begins in the device. For smooth processing, make sure your device is connected to Wi-Fi and PC.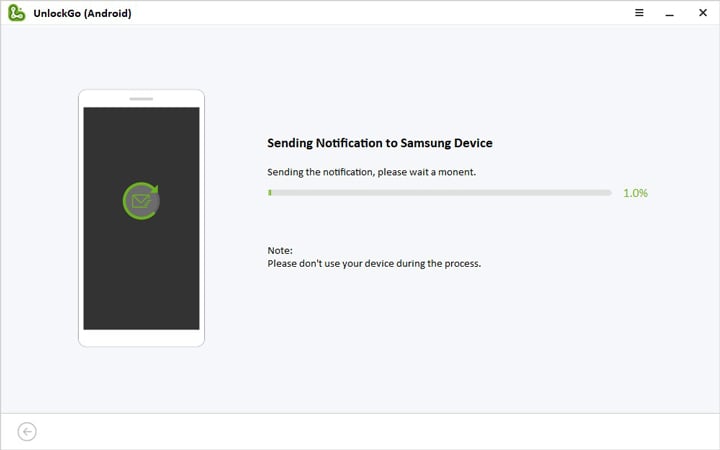 Step 4: Now, set up your device according to the guidelines by UnlockGo (Android) and that's it!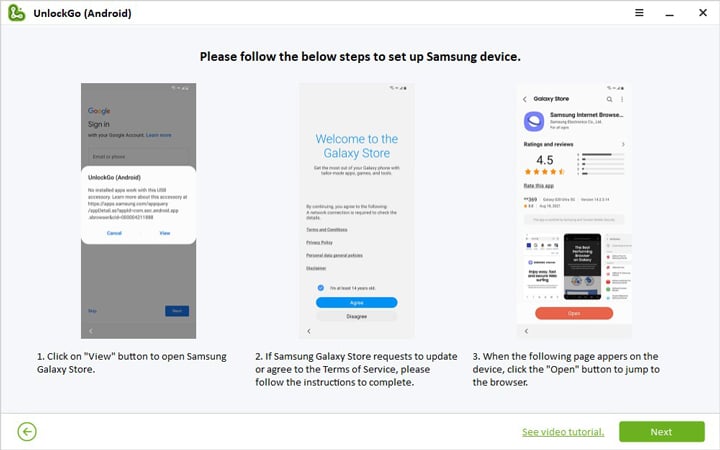 Conclusion
The solutions mentioned above for Samsung account unlock is a typical process that puts you in a terrifying situation but by following each step precisely you are able to unlock Samsung Account. If you are locked out of your Samsung device by FRP, I suggest you use iToolab UnlockGo (Android) that will tackle your phone professionally and bypass Samsung FRP lock without password.
People Also Ask About Samsung Account Removal
Q1. How do I delete someone else Samsung account from my device?
It happens when you buy a second-hand phone.
Go to Settings.
Tap Accounts and Backup.
Choose Manage Accounts.
Tap Samsung Accounts.
Click Remove Account.
Tap on Sign out.
Enter Samsung account password to confirm it.
Q2. Is there any Samsung account removal tool?
There are some software designed for Samsung account bypass, such as:
But make sure you have known well of their terms and conditions, because they are paid service.