Assume you have just purchased a second-hand iPhone iPad or iPhone and found that it still has the seller's Apple ID. What would you do in this case to bypass or remove the Apple ID from the device? It would be impossible to use the device unless you find the seller and ask them to give you the password.
However, this is more difficult if you don't know the seller in person. However, there are different approaches you can employ to solve this problem. Let us look at how you can delete Apple ID from iPhone without a password.
What is an Apple ID?
An Apple ID is basically an account that an iPhone or iPad user uses to enjoy Apple services. The ID is required for almost everything on an iOS device. For instance, you must have an Apple ID to buy applications from the App Store, sign in to iCloud, and shop on iTunes. It is not possible to enjoy iOS services on your device if you don't have the password.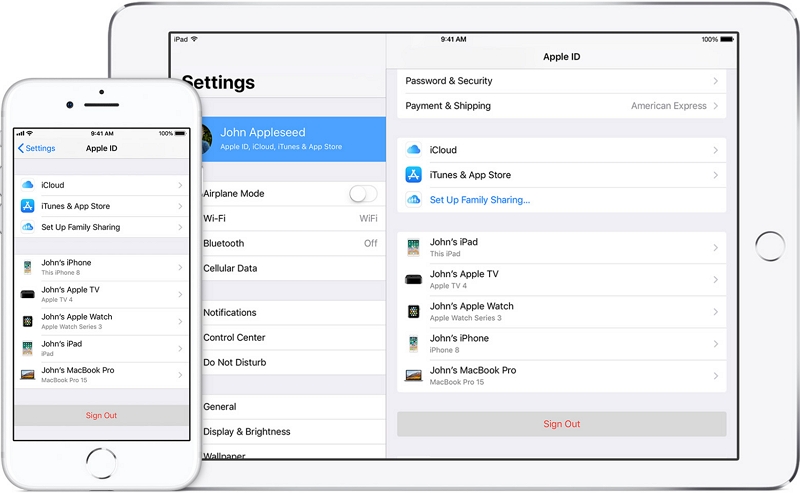 Delete Apple ID from iPhone Without Password Using UnlockGo
The best solution that we can recommend to delete an Apple ID from your iPhone without a password is UnlockGo. Whether your iPhone's 'Find My iPhone' is off or on, you can delete an Apple ID without a password.
The good thing about UnlockGo is that you can use it to delete an Apple ID from all iOS devices, including iPod Touch, iPad, or iPhone.
UnlockGo's popularity is the reason why it has managed over 1 million. With the software, you can achieve the following:
Remove the iCloud account or Apple ID from the activated iPad or iPhone without a password.
After removing the Apple ID, you can either create a new iCloud account switch to a different one.
It works for all activated iPhone devices running iOS 11.4 or later with the 'Find My iPhone', Two-Factor Authentication and a screen passcode feature enabled.
It will not require you to provide any answers to the previous account's security questions.
Since deleting doesn't require an IMEI code, you can easily do everything by yourself at home.
To use UnlockGo effectively, follow through with the following steps:
Step 1. Install UnlockGo on your computer and launch it.
Step 2. Using a USB cable, connect your iPhone device to your computer and allow it to trust the connection. Choose the 'Unlock Apple ID' option on the UnlockGo and select 'Start to Unlock' by tapping on the button.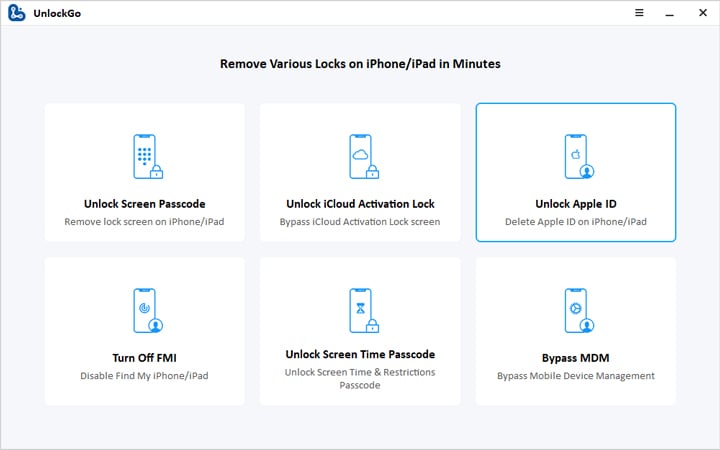 Step 3. UnlockGo will automatically detect the model of your device and ask you to download the firmware accordingly.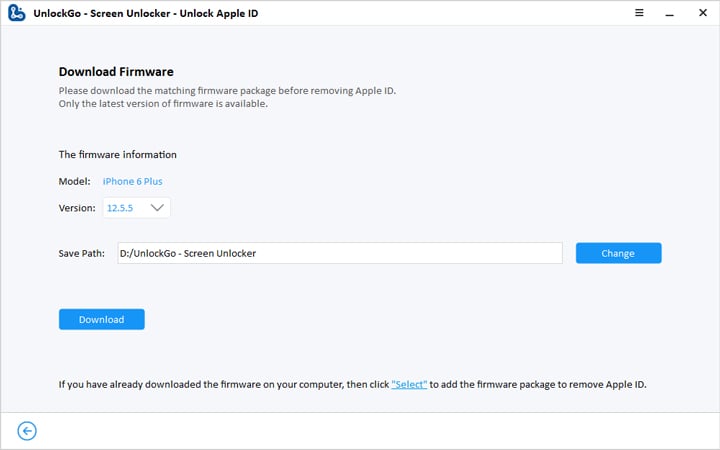 Step 4. You can follow the on-screen instructions to proceed and start to remove the Apple ID once the firmware is downloaded. Your iPhone will start the delete process immediately when it reboots.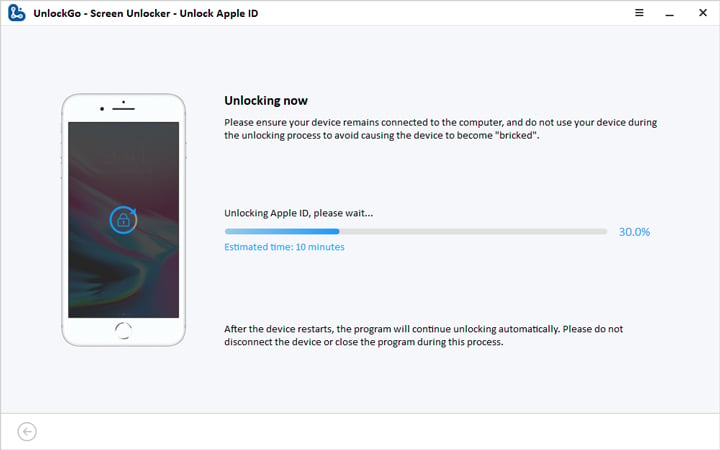 Step 5. You will need to wait for some time before the whole process is complete. And set up your device according to the steps on UnlockGo's guide. If you follow this process correctly, you will have the iPhone under your control.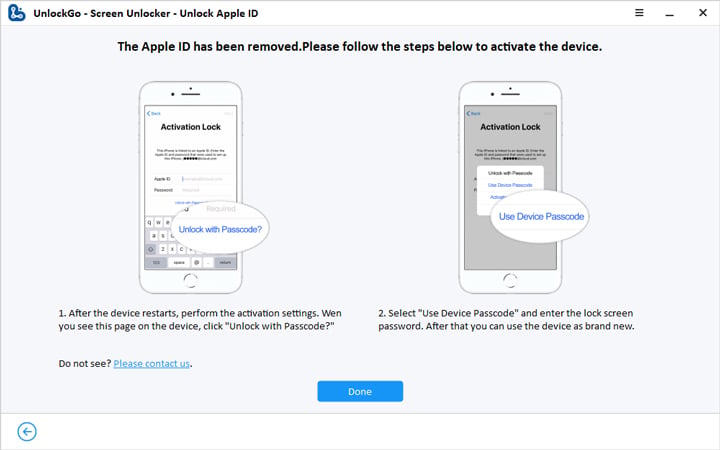 Delete Apple ID Using iTunes
It is possible to enter your iOS device to recovery mode when the 'Find My iPhone' option is off. To remove Apple ID from iOS devices using iTunes, follow through the following steps.
Power off your iOS device and connect it to your computer using a USB cable.
You can then proceed to launch iTunes on your computer.
Choose your iOS in the upper left corner.
Check on the left panel and click 'Summary'. You can also click 'Restore iPhone' from the right panel.
Finally, click on 'Restore', and then iTunes will delete your iPhone's Apple ID. At this point, your phone will be like a new one, and you can reset it and even create a new ID.
However, you should note that:
If you use this method, your iPhone will lose all the data on it. You should therefore back up important data before starting the process.
There is a point that you will be asked to 'Trust this Computer. At this point, you should click the option and then enter the password of your device to certify the changes.
During the process, you might see, splash screen, card machine, balck screen, etc.
Delete Apple ID on iCloud.com
There are cases where you don't want to use the methods we have described above. What do you do in this case? If you find yourself in such a situation, you can try employing a simpler option.
You can ask the previous owner of the device to help you out. If their Apple ID is linked with the iPhone, they can easily sign in to the device and remove the ID. Here is how you can delete Apple ID from your iPhone on iCloud.com.
Just open your favorite browser and head to the iCloud website. You can then sign with your Apple ID or have the device's previous owner do the same.
After you have signed into your account, choose the 'Find iPhone' option.
Just below 'My Devices' locate and choose the iOS device that you want to unlock.
You will see four options that will come up. Click on the 'Remove from Account' for you to delete the ID from the phone.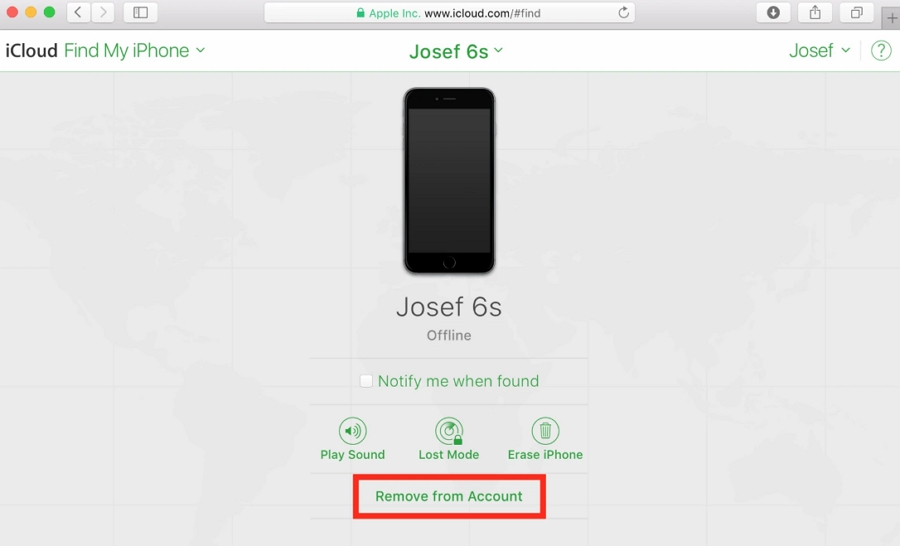 If you do this effectively, you will 'disable the Find My iPhone' option. This will disable the iCloud Activation Lock. After this, sign in to your own Apple account.
Conclusion
It is very normal for people to purchase second-hand iOS devices. However, some previous owners aren't considerate towards the person that will buy the device next. It would be better if they deleted the Apple ID from their devices before selling it so that the next owner can sign up for a new account.
In case you find yourself in such a situation where you need to unlock an iOS device that is locked, there is no need to worry. You can choose any of the three options discussed above to delete an Apple ID from any iOS device. However, you should ensure that you follow the process effectively. We hope you get what you are looking for.