If you purchased a second-hand iPad and you find that the Activation lock is enabled on the iPad, you will not able to access or use any of the apps and features of the iPad. Any Find My iPad Activation Lock hack?
In this blog, we will help you remove find My iPad Activation Lock without the previous owner. Let's begin by defining exactly what Activation Lock is.
What is Find My iPad Activation Lock?
Activation Lock is a security measure introduced by Apple to discourage the theft of devices. It is often automatically enabled when you enable the "Find my" feature on your iPhone, iPad, iPod Touch, Apple Watch, AirPods, and Macs with the T2 security chip.
In this way, if the iPad is stolen, the thief will be unable to use the iPad. When they try to set up the iPad, they will be asked to enter the Apple ID details of the connected account. Apple will not show the full email address of the connected account, but the iPad owner will get an automated email saying Activation Lock is still enabled.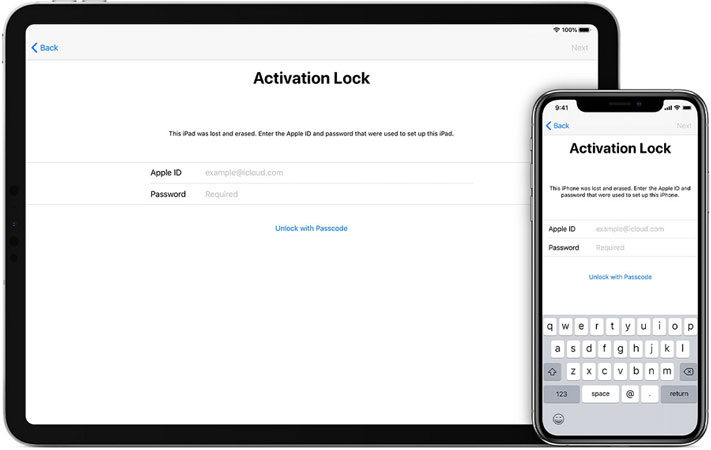 Can I Trust Online Activation Lock Removal Services?
There are a lot of iPad iCloud Activation Lock Removal Tools that you could use online. These tools typically require that you provide the iPad's IMEI number and pay a small fee for the service.
Related Reading: What is IMEI number on an iPad/iPhone?
But you should be very cautious when using these tools as many of them are scammers. Many will even claim the service is just $30, only for them to contact you a few days later asking for more money. They will do this a few times, before sending you an email saying it is impossible to unlock the iPad with a refund in the form of a voucher for their service.
Even if an online iCloud Activation tool has wonderful reviews, treat it with suspicion, and only use it if you are certain that it can help you.
How to Bypass Find My iPad Activation Lock without Previous Owner?
The best tool to use to remove iCloud Activation from your iPad when you can't reach the previous owner, iToolab UnlockGo – Find My iPad Activation Lock Bypass. This tool is easy to use and highly effective, allowing you to get past the iPad Activation Lcok and get access to the iPad within minutes.
But before, we take a look at how you can use UnlockGo to remove iCloud activation, let's first of all stake a look at some of its most useful features. They include:
UnlockGo – All-in-One Unlock Tool for iPhone/iPad
It will easily remove iCloud Activation lock without the password, allowing you to gain access to the device within 30 minutes.
You can log into the iTunes store with a new Apple ID, and enjoy all functions except for calls, iCloud, and cellular, once the iCloud lock is unlocked.
It can bypass iPad activation lock on most iPad models running iOS 12.0-16.5.
It is useful when you want to remove the iPad's passcode whether the iPad's passcode is a 4-digit/6-digit passcode or Face ID and Touch ID.
To use this program to disable Find My iPad Activation Lock, download and install the program onto your computer, and then follow these simple steps:
Step 1: Open the program and in the main window, select "Remove iCloud Activation Lock".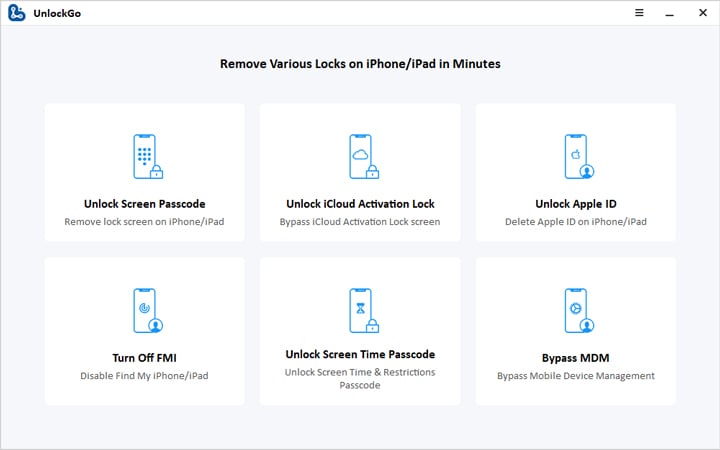 Step 2: Click "Start" to begin. Connect the iPad to the computer using USB devices.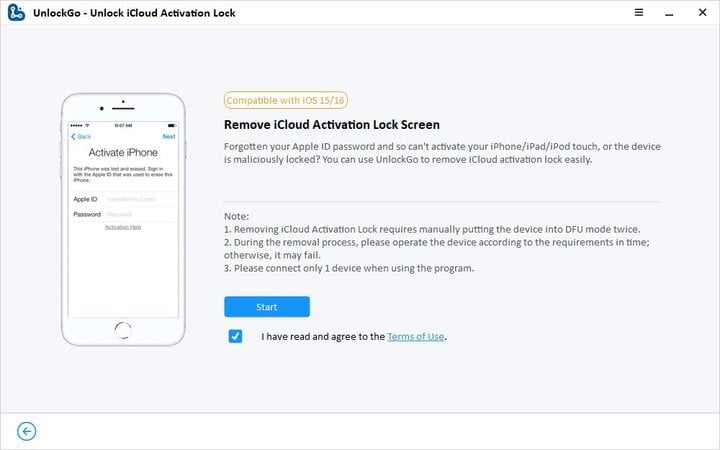 Step 3: The program will need to jailbreak the iPad in order to unlock it. The jailbreak package that is ideal for the iPad will be downloaded immediately. Once the download is complete, click on "Jailbreak" and then follow the instructions to put the iPad in DFU mode.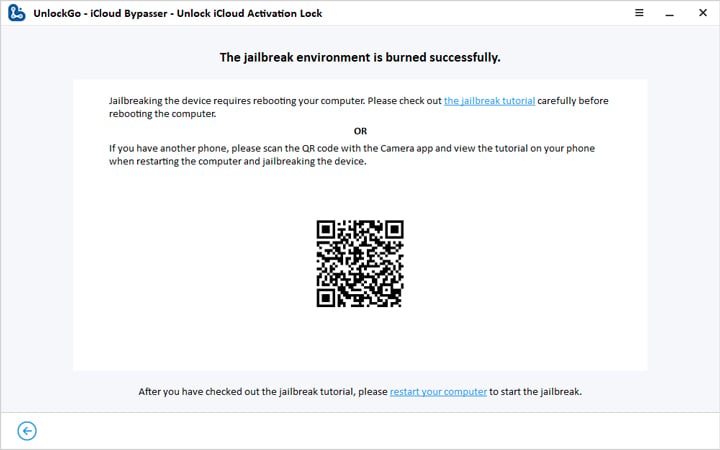 Step 4: Once the iPad has been jailbroken, click on "Remove" and UnlockGo will begin removing the iCloud Activation Lock from the iPad.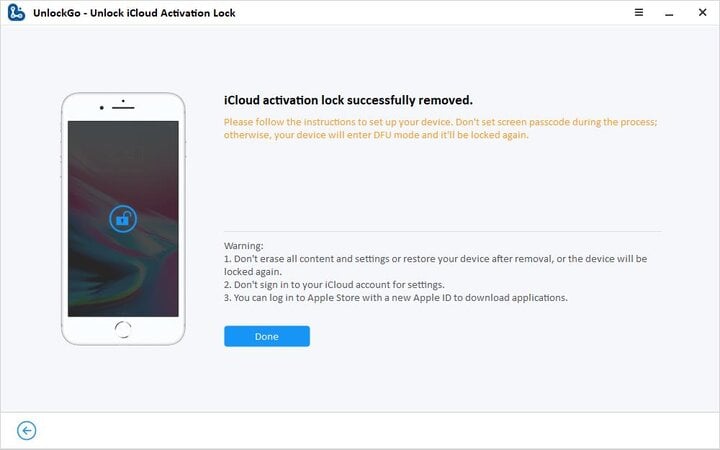 When the process is complete, you will be able to set up the iPad and continue using it.
Ask Apple to Bypass Find My iPad Activation Lock(Basically Impossible)
You can also ask Apple to remove the iCloud Activation Lock for you. But you will need to provide proof of purchase or proof that you inherited the iPad.
If you purchased the iPad, then Apple will need you to provide proof of purchase that includes your name and the iPad's serial number. If the iPad's serial number was changed or replaced at the Genius bar, then you will need to provide the Service Confirmation including the old and the new serial number.
If you inherited the iPad, Apple may require that you provide Apple with a Certificate of Death, proof of your relationship with the previous owner. You may also need to provide proof of purchase.
Once you have all the details you need, go to https://support.apple.com/ and ask Apple to remove the activation lock from the iPad.
FAQs about Find My Activation Lock Bypass
These are some of the most common questions we get about iCloud Activation Lock:
Can I use a free iCloud Activation lock removal tool or service?
While there are very many activation lock removal tools in the market that may claim to be free and effective, it is a good idea to steer clear of them. Most free tools often come with viruses and other threats that can seriously harm the iPad.
One of the telltale signs that an online iCloud Activation tool is not effective is that you may not be able to see a download link for the tool on their website. If the website is crude and hard to navigate, the tool may also not be safe to use.
Can I remove an iCloud account with a restore?
No. You will not be able to remove an iCloud account from the iPad by restoring the iPad. A restore will only upgrade the iPad to the latest version of iOS and erase all data from the iPad. But it will not remove iCloud Activation from the iPad.
This is because Activation Lock is designed to prevent anyone else from using the iPad without the password and if they could just restore the iPad, then it defeats the purpose. It is also impossible to remove the password by erasing it since it is not on the iPad but on Apple servers.
Conclusion
That's how to remove find my iPad Activation Lock without previous owner. Find a way to start now! We recommend you the powerful tool-iToolab UnlockGo, which is the best iOS unloker tool for you. If this article is helpful, do comment below to let us know!