Approximately two billion people use WhatsApp for instant communication. Many depend on the platform to stay in touch with their family, family or to conduct their online businesses. Whatever the use case, there are instances where people would want to maintain a copy of their WhatsApp chat for future reference. Exporting WhatsApp chat to pdf opens an extensive array of uses like being able to search different conversations quickly or make a print of chat for emotional value.
So in this article, we will learn how to export WhatsApp chats to PDF and discuss some of the methods that we can use.
Part 1. Something You Should Know Before You Export WhatsApp Chat to PDF
Something you should know before you export WhatsApp chat to PDF is that Whatsapp officially does not offer a way to export chat directly to PDF. There are several workarounds where you first need to export the file in other formats and then use online other tools to convert it back to PDFs. So, if you want to export WhatsApp chat to pdf on iPhone or Android, we have several methods and tools you can use.
Part 2. How to Export WhatsApp Chat to PDF Using Email Chat
As there is no official way to export WhatsApp Chat to PDF, we can first use a technique to export the chat using email chat and then transfer the file in our desired PDF format.
How to Export WhatsApp to Android/iPhone via Email
The most popular method to export Whatsapp chat to PDF is to use the default "Export to email" method. For this to work, the following steps:
For Android
Step 1: Open the WhatsApp chat that you want to export on your android device .
Step 2: Press the three-dot on the top right corner of your screen.
Step 3: Tap on "More" and then "Export Chat" .
Step 4: Here, you will see a pop-up on the window. Now you have to click on "Select Without Media."
The Share menu will appear. Select Gmail (or your preferred email app) from the list. The exported .txt file will be attached automatically to the new email.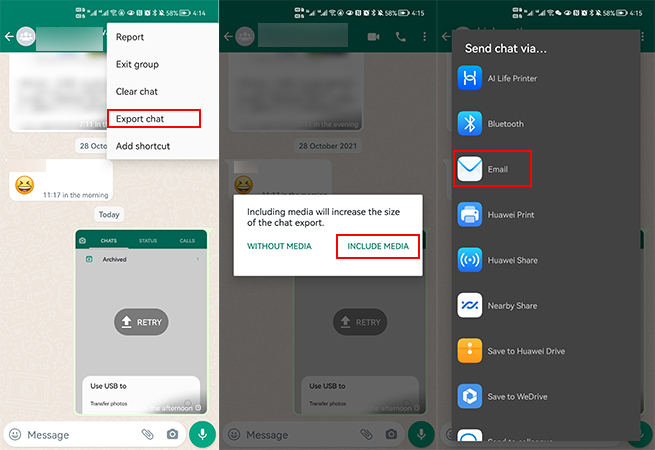 Now, email this file to yourself by adding your own email address in the Send section.
For iOS
Open the WhatsApp chat to export.
Tap on the contact's name at the top of the chat thread.
Scroll down and tap on Export chat. Choose Without media from the pop-up.
The Share screen will show up. Select your preferred email app and mail the exported file to yourself.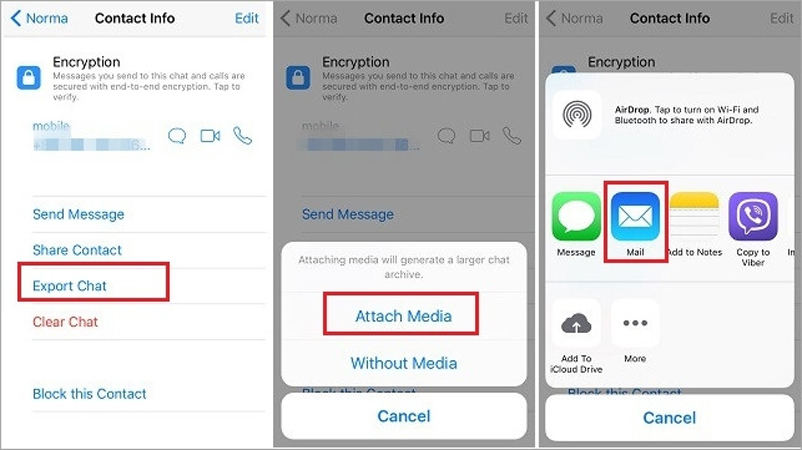 Download and Open as PDF using Third-Party Tools
Once you send an email to yourself, you can now open your mailing app and download the document. You can then use any third-party app to change the file format from a text file to a PDF. Here's how to do it in Google Docs; the process will be similar to other popular word processing apps like WPS Office or MS word.
Open the email containing the .txt file on a computer.
Click on the .txt file in the mail.
Hit the Open button at the top and select Google Docs from the list. You can also choose any other word processor applications, but we will use Google Docs for our example.
Once the document is opened in a Google Docs, Navigate file> Download > PDF document.
Save the PDF on your computer.
And that is how you convert WhatsApp messages to pdf using email and third-party tools.
Part 3. How to Export WhatsApp Chat to PDF with MobieTrans
Sending an email to yourself rather than changing the file format using other tools can be complex and inconvenient. A much simpler method is to use MobileTrans-WhatsApp Transfer which supports exporting WhatsApp chat in PDF for all devices. So, whether you are on an Android device or on an iPhone, MobileTrans got you covered.
The way MobileTrans works is first, you create a local backup of your WhatsApp data on your computer. You then export the file in your desired PDF format. Let me show you the step by step process:
Step 1 To start the backup, connect your phone with the computer using a USB cable and open the mobiletrans app on the computer.
Step 2 Navigate to the "Backup and restore" feature on the homepage and choose "App Backup & Restore".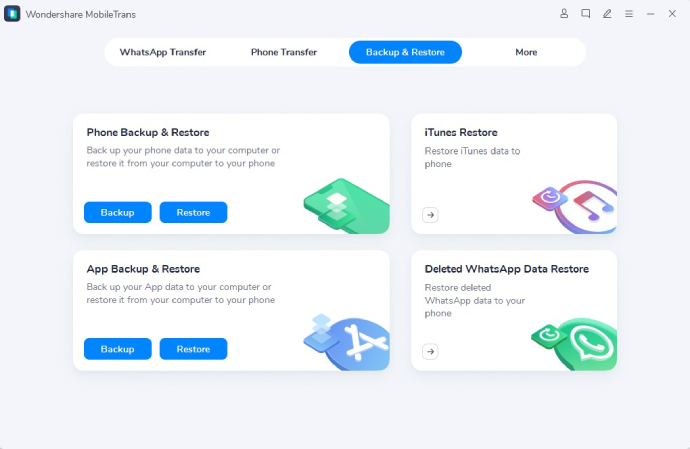 Step 3 You should see the list of all recent backups, select the most recent version, and select backup.
Step 4 Depending on the size of the file, you may have to wait a while for the backup to complete.
Step 5 Now, you can view your backed-up WhatsApp messages and export them to your computer in PDF format. No other tools are required.
Part 4. How to Convert WhatsApp Chat to PDF Online
Another alternative to converting WhatsApp chat to PDF is through online file converters, where you can upload your text file and convert them to PDF with a matter of a few clicks. There are several online websites up for the task, but we personally used Zamzar MSG to PDF converter website. To convert a file into a PDF, first export your WhatsApp data using the method discussed above. Upload the .txt file to the website above and wait for the upload to complete. Once the upload is completed, please choose the appropriate file format, which in our case is PDF. Press the convert button to start the conversion.
One downside of this method is that you can upload a file size of 50MB only. If your WhatsApp backup is larger than 50MB, you have to pay a premium. Also, uploading sensitive data to the internet may not always be safe.
Part 5. WhatsApp Chat to PDF with Specified App – Exporter for WhatsApp
The final method we will show you today to convert WhatsApp chat to PDF is through using a specified app, "Exporter for WhatsApp." But this method only works on Android devices; for iOS, you have to stick to the above methods.
To use the "Exporter for Whatsapp" on your phone, follow the steps below:
Download and install the "Exporter for Whatsapp" app on your Android device.
Open WhatsApp on your phone and press the three dots on the top right of your screen.
Select "More" and then "Export Chat" .
Here, you will see a pop-up on the window. Now you have to click on "Select Without Media."
The Share menu will appear; find the "Exporter for WhatsApp" app .
The app will prompt you to give to your WhatsApp, so agree with the on-screen onboarding process.
Wait for a few seconds for the app to load your files; once completed, you can view your messages on the screen.
Press on the "Convert" button and choose your appropriate file format; in our case, we will select PDF.
The document will be saved on your phone.
| Pros | Cons |
| --- | --- |
| ✔ Print WhatsApp messages to pdf directly from the app | ❌ The app has a dated design and is sluggish to use |
| ✔ Straightforward process | ❌ Some of the features require you to pay a monthly subscription |
| ✔ Do not require a computer | |
| ✔ No limit on the size of the chat | |
No Worries Again!
Here are the five methods you can use today to export WhatsApp chat to pdf. You can use any one of the methods in the list, but some of the processes like backing up your WhatsApp and then emailing you the text file before converting it back to PDF can be a lengthy and convoluted process. We also do not recommend uploading files on random websites that may not always be secured, so our recommendation is to use the MobileTrans app to safely backup your data on local storage and also convert it into PDF. MobileTrans is both secure and highly effective and will not disappoint you. Try for free by clicking the link.