WhatsApp is a popular application for sending messages, videos, media files, and more. Not only it makes the communication process easier, but it is also used for business purposes. However, there are times when we don't want others to see our chats. That is when the Archive feature comes, which hides your chats and makes sure that no one can access them.
In case you want to know how to hide Whatsapp chat without Archive? We have got you covered! In this article, we will guide you on how to hide your WhatsApp chats without using Archive.
Part 1. Can I Hide a WhatsApp Chat without an Archive?
Yes, you can quickly hide your personal Whatsapp conversations without using the archive feature. But remember that this option is not available in the official WhatsApp app. That means you have to install a third-party application to do it. Below we have mentioned different ways how to hide WhatsApp chat on Android and iPhone.
Part 2. How to Hide WhatsApp Chat Without an Archive?
Here are different ways that can be used to hide WhatsApp chat without Archive. Let's discuss these methods one by one.
Way 1. Install WhatsApp MOD Apps for Android
How to hide chat in WhatsApp without Archive? As mentioned above, you can use different third-party applications to hide WhatsApp chats. So, you can download GBWhatsApp, Yo WhatsApp, and WhatsApp plus for this purpose. These Android apps are ideal for hiding your conversations without Archive. Let's discuss the first app to help you hide WhatsApp groups without Archive.
Hide WhatsApp Chats Using GB WhatsApp Application
GB Whatsapp application helps hide WhatsApp chats along with passwords. This application works for both Android and iPhone devices, which means you can use it to hide WhatsApp chats on iPhone as well. However, it is not available on Google Play Store, so you have to download its APK from the internet. Below are the steps which you can follow to hide WhatsApp conversations without Archive.
Install the GBWhatsApp application on your mobile device by visiting the website.
Once the app is installed, launch it on your smartphone and complete the sign-in process. Don't forget to backup your original WhatsApp data.
Click the three-dot menu on the top right side corner, as shown in the image below.
Scroll down and look for the "Hide" option.
You will see a lock-type pattern on your screen, so enter the Pin, and finally, you have to hide your conversations. Now, no one will be able to see your messages.
Related Reading: How to Install GBWhatsApp For FREE
Way 2. Use Locker for Whatsapp Chat to Hide WhatsApp Chat
If you don't know how to hide WhatsApp chat without Archive in Android, you can do it easily by downloading Use locker for Android. This application makes sure that you can hide your chats on WhatsApp without Archive. The good thing is that you can download this application easily from Google Play Store. Let's see how this app works.
Download and install the Locker application from the Google Play Store. Launch the app on your phone and ask for accessibility permission.
Once the permission is enabled, turn on the Services option.
Now, your WhatsApp chats are secured and hidden from other people.
Way 3. How to Hide WhatsApp Chat without Archive on iPhone
If you have an iPhone, then you have to jailbreak it before making any changes, such as hiding the conversations. Remember that tweaking your account might get you suspended, so we would recommend using the Archive method, and for that, you can check out the steps below.
Launch WhatsApp on your device and choose the chat you want to hide.
Now, swipe left the conversation you want to save and look for more options.
From there, click the "Archive" option to move your chats to the Archives section. You can also choose multiple chats and move all of them to Archive.
To check the hidden chats, click the Archived Chats option and click the "Unarchive" button to show them on the WhatsApp screen.
Useful Tip. How to Backup and Restore WhatsApp Backup
iToolab WatsGo – Best Backup and Restore Tool is the best application for backing up your WhatsApp application if your Google Drive or iCloud is not working. This software is best for both Android and iPhone devices and makes sure that you can backup and restore data without any hassle. Let's see how to backup and restore your data using the iToolab application.
Step 1. Download the app, launch it and click the WhatsApp backup option.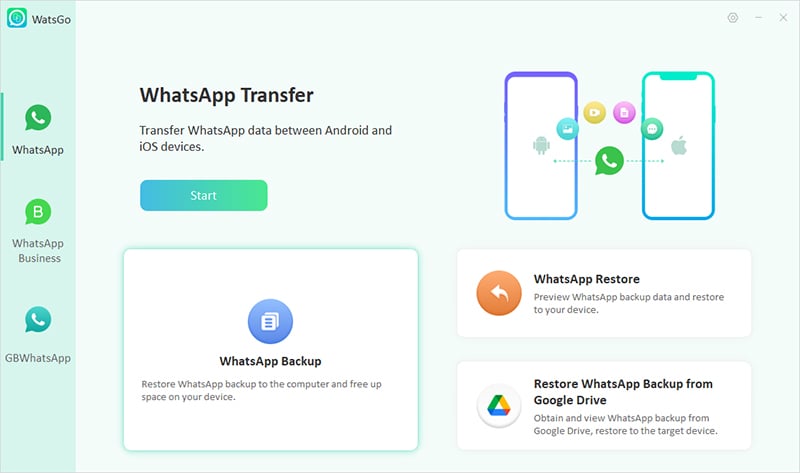 Step 2.Now, connect your Android device to your computer and click the "Backup" option.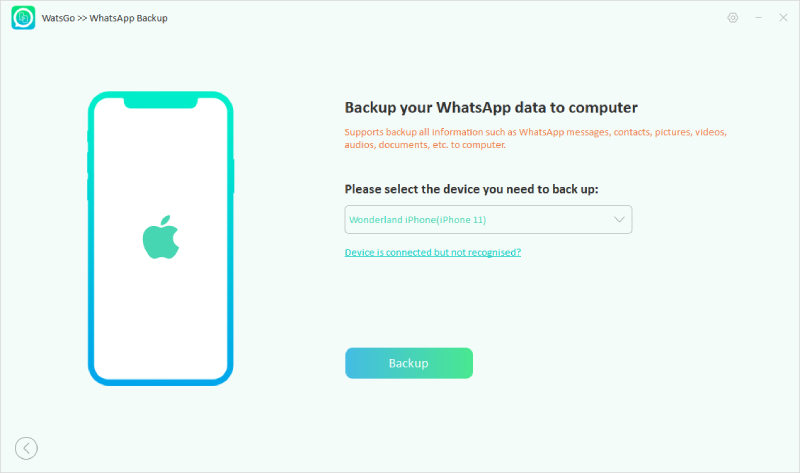 Once the device is detected, the tool will automatically start to search for the backup file. Make sure to follow the instructions on the screen to backup your data.
Step 3. In the end, backup data on the Android device and wait until it is done successfully. Click the "View Backup List" so you can check your backup history. You will see the successfully backup message on the screen.
Step 4. Finally, WhatsApp data has been backuped to computer successfully.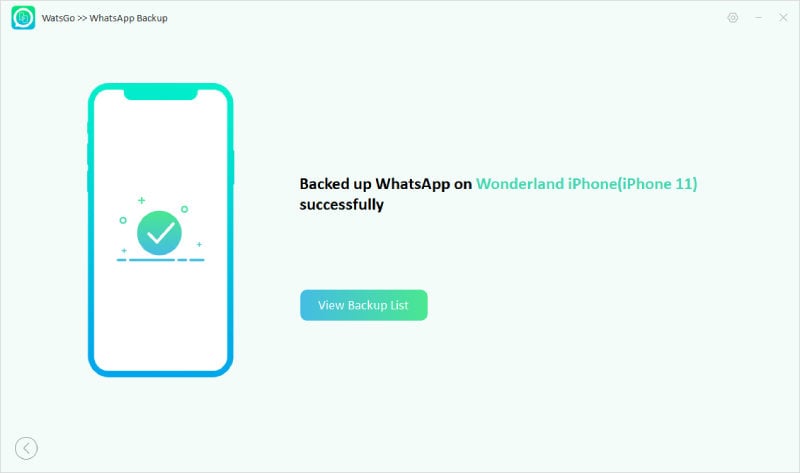 In order to restore your WhatsApp backup, check out the steps below.
Step 1.Open the app and click the "WhatsApp Restore" option.
Step 2. Now, look for the backup list by clicking the "Backup History" option.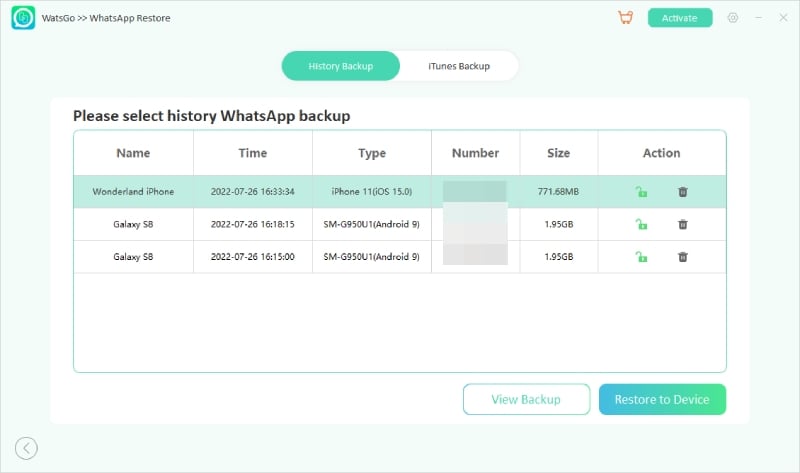 Step 3. Connect the device where you want to restore your backup. Once done, click the "Restore," and within a few minutes, your data will be restored.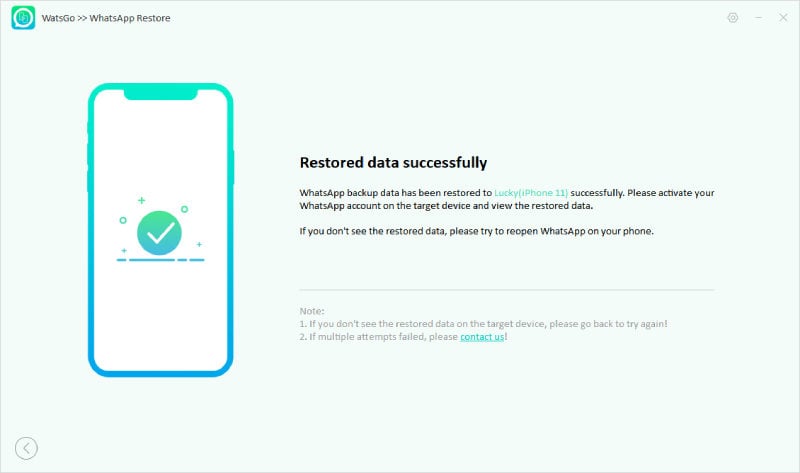 Solved!
So, we have finally provided you with ways how to Hide WhatsApp chat without Archive. You can follow these methods and hide your conversations on both Android and iPhone. Also, you can download iToolab WatsGo, which helps backup and restore WhatsApp data.