WhatsApp is by far the most popular instant messaging platform in the world and is used by billions of people around the globe. It also comes with a WhatsApp auto backup feature that enables you to automatically back up all your messages as well as a media file on the internet. However, the auto backup comes with its own set of issues, and in many instances, WhatsApp auto backup does not work.
This post will further discuss what WhatsApp auto backup is and the pros and cons you may encounter when using the feature. As a bonus tip, we also have a workaround that allows you to back up WhatsApp data on your computer manually.
Part 1. What is WhatsApp Auto Backup?
Our smartphones are indeed getting smart, and they can not back up important data in case we forget to back up data ourselves. WhatsApp automatic backup works the same way, and whether you are using an iPhone or an Android, your messages will be backed up automatically on the cloud.
When you switch to a different device, all your messages are waiting to be imported from the backup, and you will not lose any of the precious memory you may have on WhatsApp.
However, there is some prerequisite that you must meet before WhatsApp is able to back up your data automatically. You first have to ensure that there is enough space on your Google drive or iCloud for the backup to be successful. You also need an active internet connection for the process to complete.
Part 2. How does WhatsApp auto backup work?
With the Windows phone discontinued, we either use the Android or iOS platform. These platforms have matured immensely and can back up all important data on the respective cloud to be used later. The updates are usually automatic, and usually, there is no fixed WhatsApp auto backup time. But the updates are usually carried out when the phone is connected to a power outlet to conserve power. WhatsApp auto backup is also disabled when you are connected to your cellular data and are only carried out when connected to wifi.
You can, however, stop auto backup on WhatsApp if you are concerned about your privacy or do not have enough space on your cloud storage.
To disable automatic iCloud backup, follow the steps below:
Step 1: Go Settings on your WhatsApp
Step 2: Tap chat backup.
Step 4: Scroll to find Auto Backup and select "Never.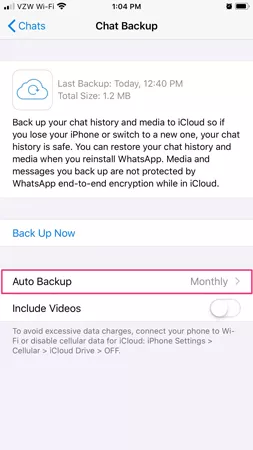 To disable automatic Google Drive backup, follow the steps below:
Step 1: Go to your WhatsApp settings.
Step 2: Then press chat and calls .
Step 3: Select "Back up to Google drive" and choose "Never".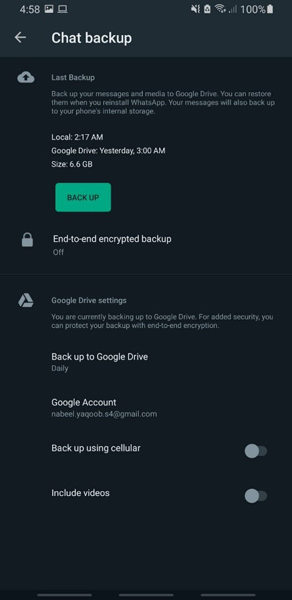 Part 3. How Do I Set up WhatsApp Auto Backup?
WhatsApp backups are usually automatic and take place without your intervention. But you can force auto-save WhatsApp messages following the steps below.
Step 1: Make sure your WhatsApp has access to your iCloud account.
Step 2: Open WhatsApp.
Step 3: Tap Settings (the gear icon) on the bottom right of the main chat screen.
Step 4: Tap Chats > Chats Backup.
Step 5: Select "Back up to iCloud" and choose "daily" .
Part 4. Why My WhatsApp Auto Backup Not Working?
There are several possible reasons behind WhatsApp Auto Backup not working on iPhone and Android. Here is a list of the possible reasons on why WhatsApp auto backup may not work on your device.
Lack of storage: The most common reason for WhatsApp auto backup not working is a storage issue. Both iCloud and google drive offer just 5GB and 15GB of free storage, respectively, which can run out fast.
Connectivity issue: Automatic backup requires an active wifi connection as your phone data is not used to backup data. So, if you are having an issue with automatic backup, consider switching to a different wifi connection.
WhatsApp is not updated: Make sure to update your WhatsApp to its latest version if WhatsApp auto backup not working.
Part 5. What is the Best WhatsApp Backup Software?
Backing up WhatsApp on the cloud has its own unique challenges. First, many users are concerned about their privacy by letting big corporations like Google and Apple access their personal texts. Storing data in the cloud is also unsafe as it can be hacked if the security system in place by Google or Apple fails. Then there are issues with price as cloud storage is expensive.
To address all these issues, you can use third-party tools like iToolab WatsGo – The best WhatsApp Backup App that allows you to create a local backup of your WhatsApp data on your computer. iToolab WatsGo has several other advantages that are illustrated below.
✅ Free to backup WhatsApp to PC: Instead of paying a hefty monthly subscription, use the already available storage of your computer. It can also be used without the need for an active internet connection so save on your internet bill as well.
✅Keep history WhatsApp backup: WhatsApp auto backup only lets you keep one copy of your text. So if you delete a text between backups, it is lost forever. This is particularly an issue for WhatsApp Business Users who may need to keep multiple backup copies. iToolab WatsGo allows you to Keep a history WhatsApp backup so you can choose the one you need.
✅ Encrypt WhatsApp backup with password: iToolab WatsGo allows you to encrypt your WhatsApp backup so that even if your computer is hacked or being used by someone else, they can not see the content of the backup unless they decrypt it using your password.
WatsGo also has several other features that enable the transfer of WhatsApp data between Android or an iPhone and vice versa. If you are a tech enthusiast, this one app you must have on your computer.
Here is a detailed step-by-step guide on how to backup WhatsApp using iToolab WatsGo: how to Backup WhatsApp Chat Android:
Step 1. Download and install iToolab WatsGo on your computer, launch the app, and select "WhatsApp Backup".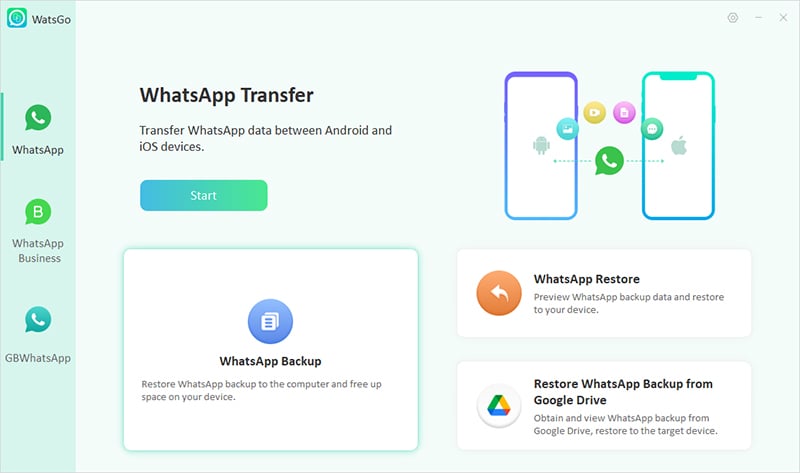 Step 2: Connect your device to the PC using a USB cable, and select the Android device you want to back up from the drop-down menu.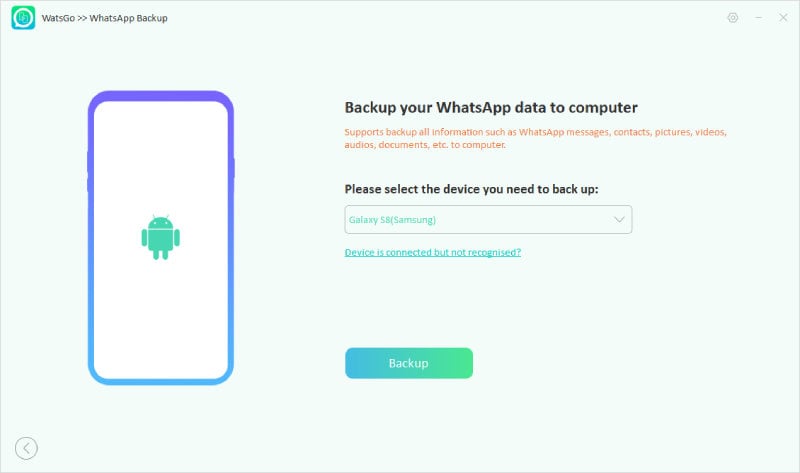 Step 3: Now, back up WhatsApp on your device according to the guide below. Once WhatsApp is activated, the backup process will commence. Wait a while for the process to be completed.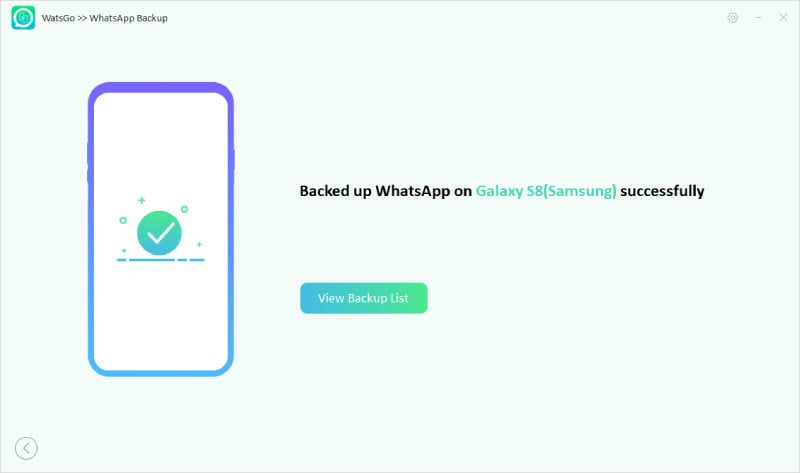 Conclusion
WhatsApp has gained massive popularity, and most people these days are using the platform for their day-to-day usage. However, backing up data can be a problem, especially if you do not want to pay monthly for cloud storage. Thankfully iToolab WatsGo offers a cheap and safe alternative to backup WhatsApp data on your local computer, thus saving you much hassle. You can also use WatsGo to transfer WhatsApp data between Android and iPhone, which is not possible using the native WhatsApp app. So give iToolab WatsGo a try and see what it can do for you.