Hello Team, I have encountered this weird issue where I find my WhatsApp not backing up to Google Drive. This backup issue has never occurred on any of my previous devices, and I'm now concerned about why it is happening this time. My phone is a Galaxy A02, and it is working correctly. Why am I facing this error, then? Please help me sort out this WhatsApp issue at the earliest; thanks.
Part 1: Why Does WhatsApp not Backing up to Google Drive?
Hello, there could be multiple reasons why your WhatsApp Google Drive backup is not working. These issues might include:
Poor internet connectivity.
WhatsApp cache.
Obsolete WhatsApp version.
Outdated Google Drive.
Google account authentication.
But don't worry as these issues could be solved by doing simple tricks. Follow this blog to learn how your WhatsApp can successfully back up on Google Drive.
Part 2: WhatsApp not Backing up to Google Drive? What to Do?
Foremost, let's address the underlying issue preventing WhatsApp from not backing up to Google Drive. We will tell you the fix to it as well.
Fix 1. Check Internet Connection
If you are unable to back up WhatsApp to Google Drive, then the issue might be poor network coverage. Sometimes cellular data is not enough to back your WhatsApp up. The ideal solution would be to switch to your Wi-Fi.
Go to your settings.
Go to data settings.
Switch your cellular data off.
Turn your Wi-Fi on and connect to the internet.
Back up your data on WhatsApp.
Fix 2. Clear WhatsApp Caches
If you still cannot backup WhatsApp to Google Drive, this might be an issue with your cache memory. Try clearing up your WhatsApp cache and then begin your Google Drive backup.
To clear your cache:
Go to settings.
Go to apps.
Find WhatsApp.
Open it.
You will find the clear cache option.
Click on it, and your cache will be gone for good.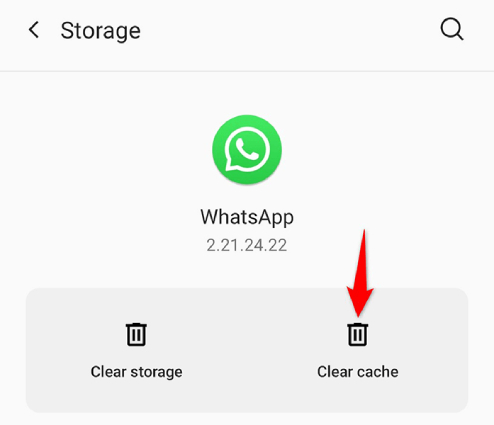 Try backing your WhatsApp now; hopefully, it will work out.
Fix 3. Update WhatsApp and Google Drive
Sometimes the issue is not on the phone but on the apps themselves. You can try updating these applications and then start the procedure.
To update WhatsApp:
Go to your main home screen.
Open the Google Play Store.
Search for WhatsApp inside.
Click on the Update option.
WhatsApp will update shortly.
Start backing up now.
To update Google Drive:
To update your Drive, go to the Play Store.
Search for Google Drive.
Click on the Update button.
Your Google Drive will update.
Start your backup, then.
Fix 4. Remove WhatsApp Backup and Back up Again
Although it sounds weird, trying this trick might solve the WhatsApp backup not showing in Google Drive. Here is what you need to do:
Open WhatsApp.
Open the Settings.
Go to Chats.
Tap on Chat backup.
Remove your account from Google backup.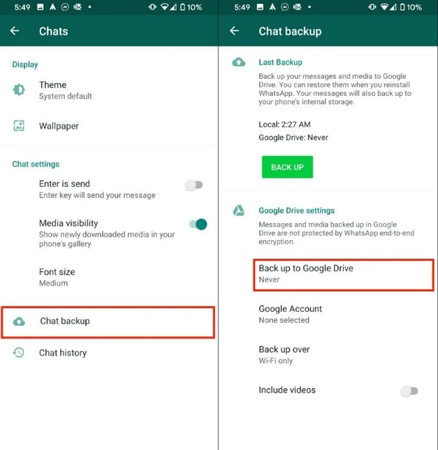 Set your backup to Google Drive to never.
Then re-add your WhatsApp backup Google account inside.
Try doing back up again.
Set the backup to Daily.
Your backup will continue.
Fix 5. Re-add Google Account
After all, if you find your WhatsApp backup to Google Drive not working, there might be an issue with your Google account authentication.
To solve this, you need to re-add your Google account.
How to Remove:
Open your Settings.
Go to Passwords & Accounts. Or Users & Accounts.
Under the accounts, tap on the account you want to remove.
Confirm to remove the account and tap OK.
Enter your phone's PIN to confirm.
Your Google account will be removed.
How to Re-Add:
Open Settings again.
Tap on Passwords & Accounts.
Under Accounts, tap on Add account.
Add your Google account again.
Follow the on-screen instructions to authenticate.
Enter your phone's password.
Once confirmed, your Google account will be re-added.
Try backing up your WhatsApp now.
Fix 6. Uninstall WhatsApp and Reinstall Again
If no formula works, then your WhatsApp might have a bug. We recommend removing WhatsApp entirely from your phone, restarting it, and reinstalling it.
Go to your main screen.
Locate the WhatsApp icon.
Long press on it.
The uninstall option will appear.
Uninstall it.
Restart your phone.
Now go to Google Store.
Search for WhatsApp and install it.
Once it is installed and chats restored, try doing the backup then.
Part 3: How to Back up WhatsApp without Google Drive
If you want to avoid your WhatsApp backup Google Drive not working issue and want an alternative and easy way, it is best to use iToolab WatsGo.
✅ It is easy to operate and user-friendly.
✅ It doesn't require iTunes or iCloud.
✅ Free to backup WhatsApp Android to computer.
✅ One-click to restore WhatsApp backup to iPhone or Android.
Here is how iToolab WatsGo can help you back up and restore WhatsApp messages.
Step 1:Launch the iToolab WatsGo on your PC/laptop and pick the "WhatsApp Backup" option from the home screen.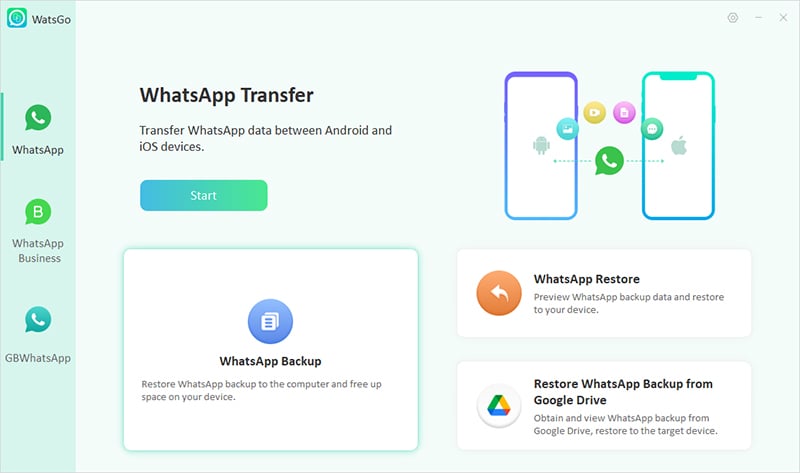 Step 2:Then connect your Android device to the PC and click the "Backup" button.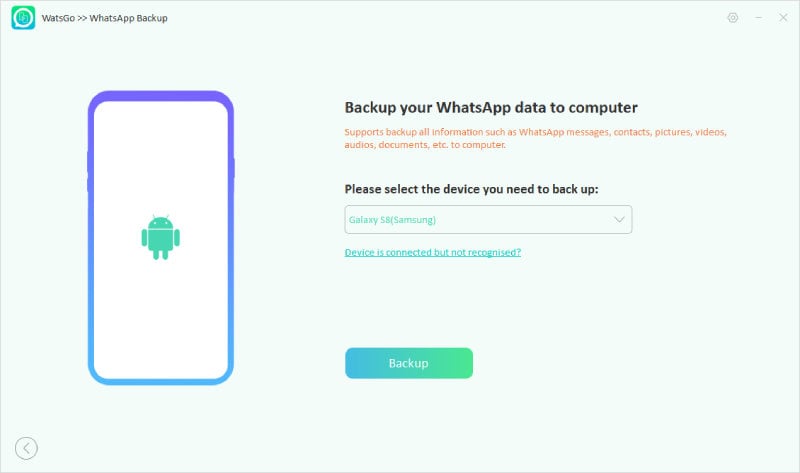 Step 3: On Android, the software will tell you how to backup through a tutorial, just follow it. Once done, the program will backup WhatsApp to the computer after that.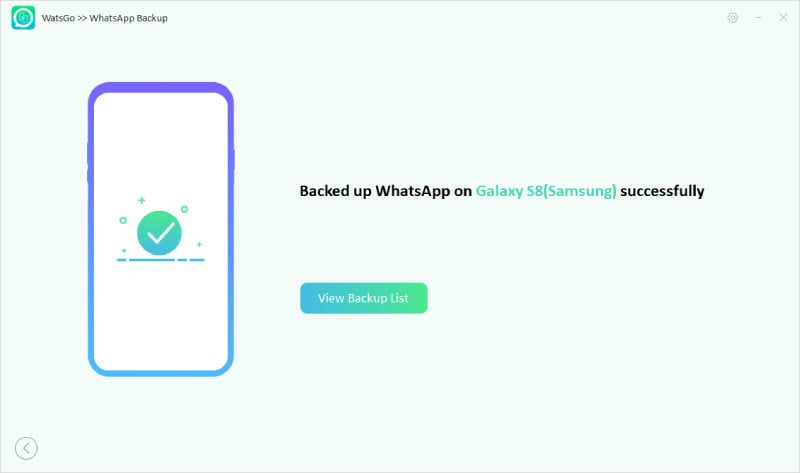 Note: You can find the WhatsApp backup record. Click on it to restore your phone. Please wait until it finishes converting data to your destination device.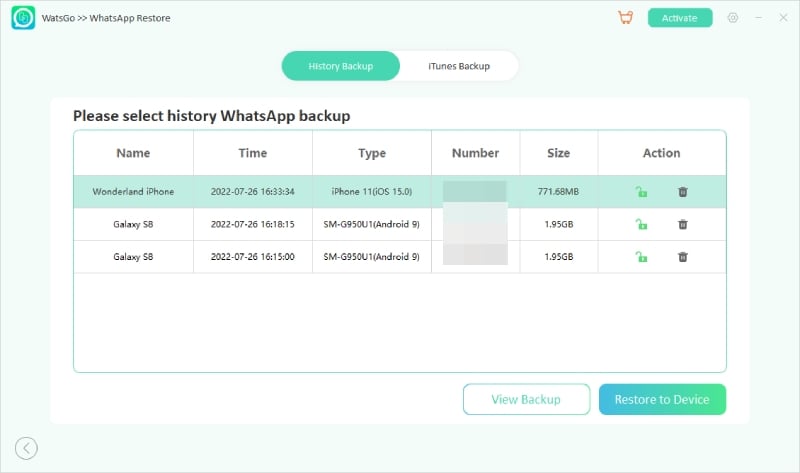 Fixed Successfully!
If you see your WhatsApp not backing up Google Drive, you can adopt many ways to rectify this backup issue. However, if you want to get your backup done quickly, then iToolab WatsGo is your way to go. It is fast, secure, and helps you back up like a pro.