Many of us carry out important conversations on WhatsApp, be it personal or business-related. But what if you lost your WhatsApp chats someday? You'd lose all the important conversations and even lose several special conversations. That's the last thing you'd want, isn't it? That's why you must export WhatsApp chat and keep them elsewhere so that you always retain them. Wondering how to export WhatsApp chat? Well, don't bother about it, we've got you covered, read on to find out more about the WhatsApp chat exporting methods you can use.
Part 1: Export Chat in WhatsApp Meaning
Wondering what exactly does WhatsApp export chat means? Whatsapp export chat is when you move all your WhatsApp chats into an exterior application. In simple words, it is a way to retain all your WhatsApp conversations and media files on an exterior platform. This way, you'd never lose WhatsApp chats and they'd always be secure. For doing so, you could export WhatsApp chat to signal or export WhatsApp chat to telegram. If not the above two methods, you can also export WhatsApp chat to pdf. By doing so you always have a record of the conversations on WhatsApp and never lose out on the important messages you receive on Whatsapp.
Part 2: WhatsApp Export Chat Will the Other Person Know
Whatsapp believes in providing utmost privacy to its users. For this reason, the export WhatsApp chat does not leave any notification for the other person. By no means can the other person find out that his/her WhatsApp chat has been exported by someone. By doing so, WhatsApp ensures that it maintains secrecy of the person who is exporting the chat.
Part 3: How to Export WhatsApp Chat Easily
Wondershare MobileTrans is your one-stop-shop for all mobile needs. The software has several features that make WhatsApp transfer convenient and quick. The software ensures that you save time and quickly export WhatsApp chat in a matter of minutes. Using this fantastic tool, you cannot just export WhatsApp chat to pdf but also export WhatsApp chat to signal and telegram. Wondering how to export WhatsApp chat to your PC using this tool? Here's how you can do it!
Step 1: Open MobileTrans on your computer
Launch the software on your computer and, click on "Backup&Restore" tab. Select "Backup App Data" followed by "WhatsApp".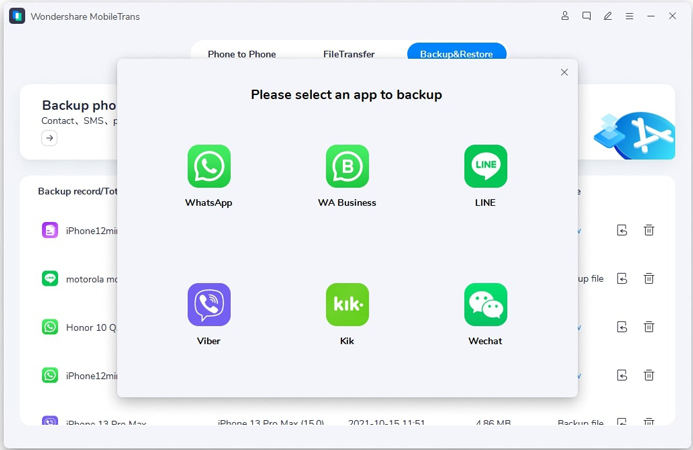 Step 2: Connect your mobile device to your system
Now use a cable (either USB or lightning cable) and connect your PC and mobile device. Once done, MobileTrans will automatically detect it. Now click on "start" and wait.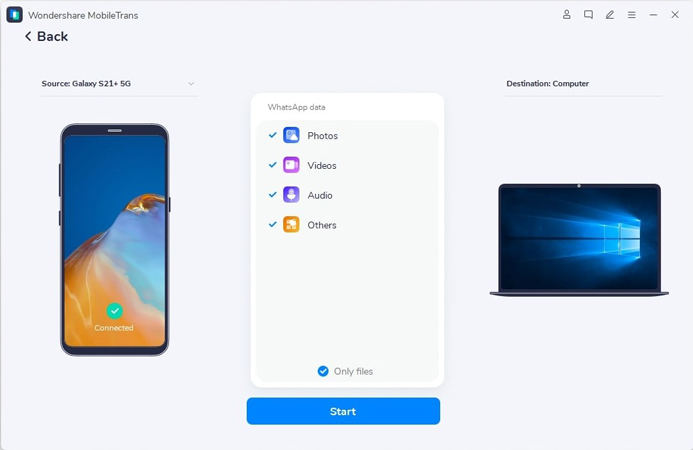 Step 3: Back up your WhatsApp chats into your system
After clicking "Start", iPhone users needn't do anything during the process. However Android users need to head to their WhatsApp and click on "Settings"> "Chats" > "Chat Backup". Click on it and then select "back up data on drive".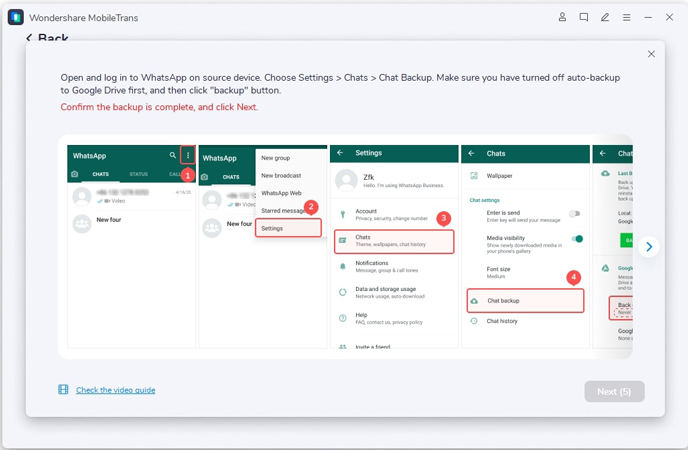 Step 4. Re-install WhatsApp
Next, you need to uninstall and reinstall WhatsApp. Then re-launch WhatsApp and log in to your account. Whatsapp will prompt you about the backup found. Choose "Restore data from local backup".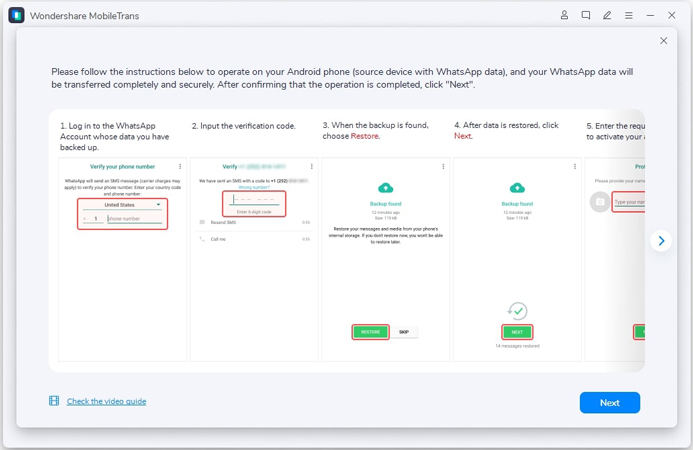 You can now relax and wait for a while as MobileTrans is backing up all your WhatsApp chats and exporting them to your system. This might take a while.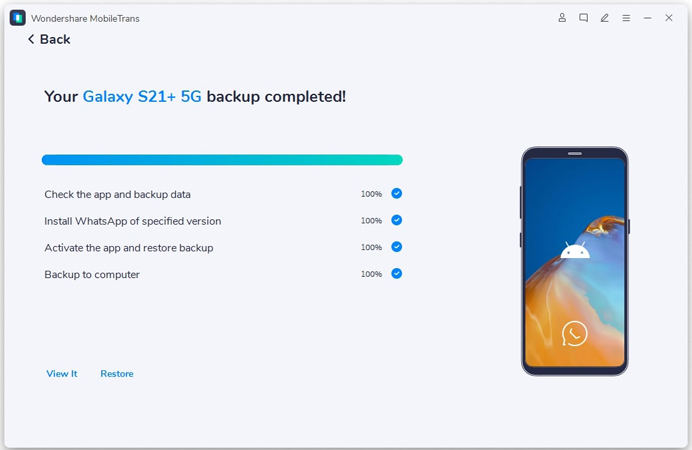 Once the process is completed, you can disconnect your mobile device. Now you can also view the exported chats on your PC. For doing so simply click on "WhatsApp backup file".
Part 4: How to Export WhatsApp Chat Manually
Another method you can use is the manual exportation of each WhatsApp chat. This is pretty simple to do! Follow the tutorial below to do so!
1. Using WhatsApp
First way is to export WhatsApp as TXT format. This is what you need to do!
Firstly, head to the WhatsApp chat that you wish to export. On the top right corner, click on the 3 dots, a drop-down menu would appear. In this menu select, "More", another drop-down menu will appear. Here you will find the "Export chat" option. Now you can save the txt file either in your drive, or any other preferred location on your mobile device.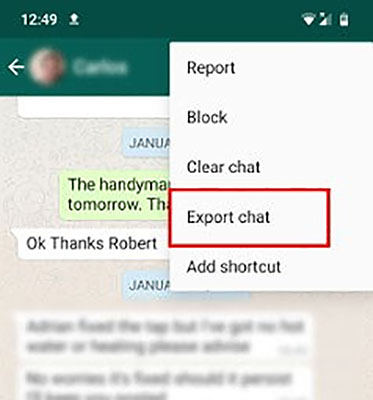 In order to get the PDF version of the WhatsApp chats, you need to download the txt file on your computer system. While downloading, you can simply change the format of the file and choose PDF.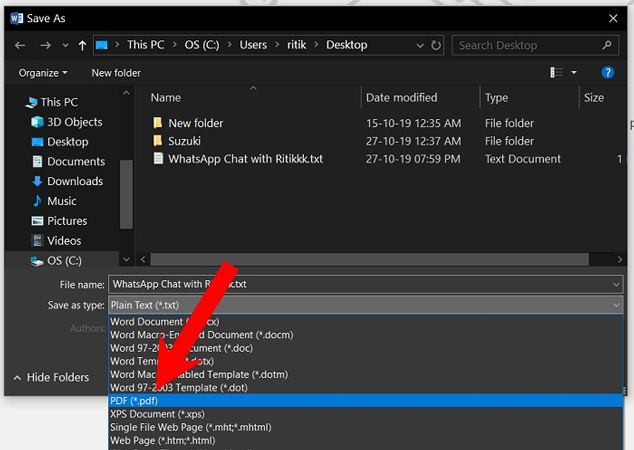 2. Using Email
You can also export your WhatsApp chats via email. Exporting WhatsApp chats to email is convenient and also occupies lesser space on your device. To export WhatsApp chat via email in a few simple steps, do as the tutorial below says.
Export WhatsApp chat via email on iPhone
Firstly open the WhatsApp application on your iOS device.
Head to the chat you wish to export and swipe to open "More Options". Under "More Options", you'll find the "Export Chat" feature.
Now WhatsApp will ask you whether you wish to include media files or not. Choose yes or no according to your convenience.
Select "email" as the option to export chats. After doing so, the email app will be launched on your iPhone, and the exported chats file will be attached to the email.
You can send it to anyone or even yourself and retain the WhatsApp chat.
Whatsapp chat export via email on Android
To export a chat from your Android phone, you need to head the chat that you wish to export.
Now click on the three dots icon on the top right and then select "More".
In the menu that appears, click on "Export Chat". On doing so, WhatsApp will ask you if you wish to include media or not. Choose the viable option.
Further, WhatsApp will display the sharing options available on your device. Click on "Email".
The email app should now open, add yourself or anyone else as the recipient and send the mail.
Conclusion
Whatsapp chats often have important details. Losing these chats could turn out to be a nightmare for many of us. Do you also have the fear of losing your WhatsApp chats? Well, now you can stop living with the fear. You've got MobileTrans to do the job for you. With MobileTrans, you can instantly export WhatsApp chat extremely conveniently. Be it Android or iOS, you can export WhatsApp chats from both these devices using MobileTrans! Now, never lose out on your WhatsApp chats, back them up and store them with MobileTrans!