It is human nature to forget common things, but sometimes our mind mixes up the most important things, too, like Windows passwords. If you are locked out of your computer and don't know the password, there are some ways to retrieve the password.
Usually, users like to reinstall Windows, but this approach will cost your data. For the Windows installation, all data from the Windows partition will be erased. Luckily, there are some advanced tools and methods to reset Windows passwords without losing data. If you forgot computer password, try these methods, and you will have access to your locked computer.
What Do I Do If I Forgot Computer Password?
If you have ever forgotten your Windows password, you know it is a nightmare that the computer is locked and almost useless. To restore access to the computer, try to combine several methods one by one, including:
Resetting passwords with advanced tools
Factory resetting your computer
Using online tools to bypass computer password
Reinstalling Windows
Using command prompt to reset password
Here, you will have the answer to your query, "what do I do if I forgot my computer password?" Here, you need to remember one thing the procedures may vary a little depending upon the computer manufacturing brand, but the overall theme is almost the same as our explained methods.
Forgot Computer Password How to Do?
It is quite difficult to find a solution that works for every situation. Still, we will discuss the most important one. So, try these methods on how to open my computer if I forgot the password.
Method 1: Forgotten Computer Password Reset Tools
There are different tools that claim to reset computer passwords, but we would like you to try the best one at first. So, let's see what suits you the best.
1. UnlockGo (Windows)
UnlockGo – Windows Password Recovery is a tool for computer password recovery with the highest success rate. If you want easy to use an advanced tool, you must give it a try.
Step 1 Download UnlockGo (Windows)
You need to install UnlockGo (Windows) and then launch the tool. Users can use a disk or USB to create the reset disk. After successfully connecting the USB or disk, start the burning process. The same USB can be used as a password reset disk to a Windows password.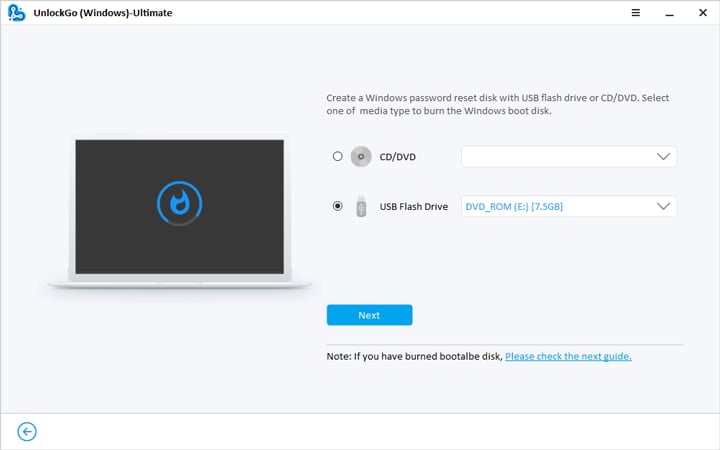 Step 2 Boot Locked Computer with Reset Disk
Now, restart the locked computer where you want to reset the password and boot the system with a reset disk. Different computers require different boot device priority settings that you can choose and then press F10 to save the settings.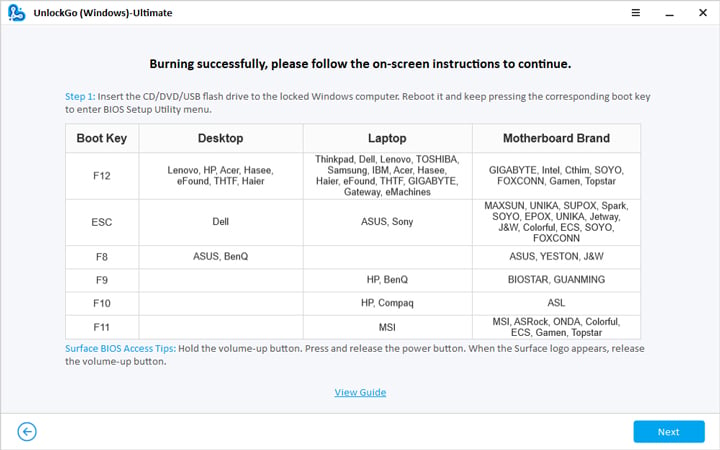 Step 3 Reset Windows Password
Now, choose the reset account password option from the final screen and press the Next button. You can enter the new password after resetting the password for your computer.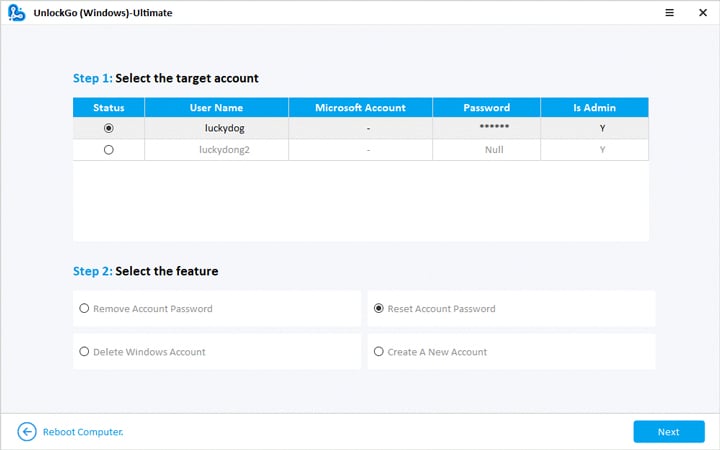 You can choose reset or remove computer password as per your requirement, it's easy to use this tool, and no worry to lose data.
2. Ophcrack
Don't you want to buy a premium tool? You must try Ophcrack because it is a free password reset tool. You will find it among the best free computer password reset tools. You will notice that the user interface is not that modern, but you cannot complain as it is free.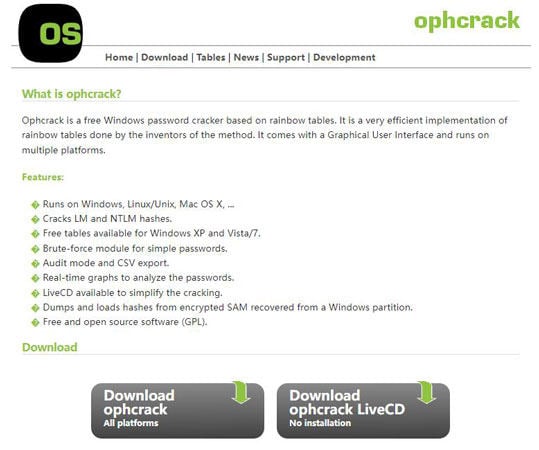 Pros
It is available free of cost
You don't need to install any heavy program for this method
It also works with Mac and Linux
Cons
You need to download a Live CD ISO image of large size
Passwords longer than 14 characters cannot be recovered
3. John the Ripper
John the Ripper is quite a complicated tool, but it is an open-source tool, so you can use it for different purposes. You need to be good at coding if you want to benefit from the true potential of this tool. It is free, so there is no harm in using it.
Pros
It is a free tool that can help recover the password for Windows
This is a powerful tool for security experts as it is open source
Cons
You need to login into the administrator account for password recovery
The process of using this tool is complicated
Method 2: Factory Reset Computer
Just like smartphones, you can reset your computer too. After the factory reset operation, your computer or laptop will be back to default settings, but the entire data of the device will be erased. If you have important data on your computer and don't want to lose the files, this might be a tricky method to choose. A factory reset can solve most of the issues, and you can visit the how-to factory reset your computer guide to factory reset computer on Windows 11, Windows 10, Windows 7, Windows XP/Vista and learn more about the method in detail.
Method 3: Forgotten Computer Password Reset Online
If your computer does not allow you to enter the password, the online Microsoft portal can be used to reset the password for your Microsoft Windows account. Here are the simple steps you need to follow for this method.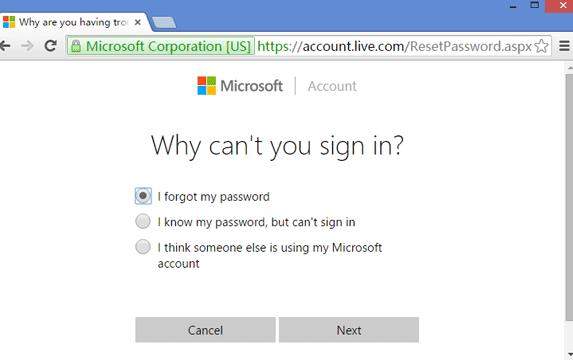 Open Microsoft's official website on any computer.
Enter your email and any password and click on Forgot password button.
A reset password screen will appear where you will be asked to provide different details.
Provide the code that was sent to your alternate email and verify.
Provide the details that are asked during the password recovery process.
After the verification, you will be displayed a screen to enter the new password.
Use that new password to unlock your computer.
Method 4: Forgot Computer Password by Reinstalling System
If none of the methods work, you need to reinstall the system with the help of a Windows installation disc. In this method, you will have only one option to choose from, and it will be the "reinstallation" option. It is not advisable as it may destroy all your data if you don't choose carefully.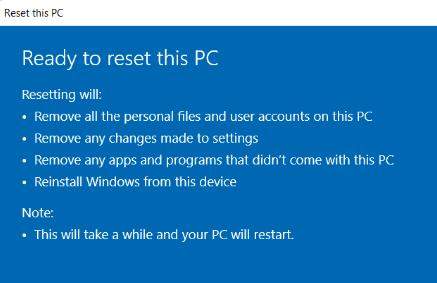 You can easily reinstall Windows by following the on-screen instructions provided during the process. If you had a backup of the data, you could restore the backup after the installation; otherwise, most of the data would be erased from the Windows partition during the process.
Method 5: Forgotten Computer Password Reset Command Prompt
This is a great method that we can use to reset the password on the computer by bypassing the password in the command prompt window. If any of these methods fail, this is your last resort, so do not hesitate and go for it. You can have a look at the detailed process to reset a forgotten password with the command prompt here. But using command prompt is quite difficult, and not every user is familiar with the ins and outs of command prompt.
Final Verdict
Now, you have basic knowledge about the most commonly used tools and methods to reset the password for your computer. Either method is too complicated, or the tools are too expensive with limited options. On the other hand, UnlockGo – Windows Password Recovery offers perfect value for money, and you get the best options in one product. Give UnlockGo (Windows) a try, and you can experience the tool for free if you like the performance; you can upgrade to the premium version at any time.