Forgetting passwords sounds like the worst nightmare, isn't it? Formatting your system and letting all the data go in order to access your system again is probably the last thing you'd want to do. Well, do not panic if you forget the credentials to your windows account, we've got you covered. You can use a windows 10 password reset tool and easily get through the hurdle.
It's necessary to choose professional tool especially didn't create a password reset disk before. With it, you can regain access to your system in a minute! Excited? Well, read on to find out how five free windows recovery tools and 2 modern professional windows 10 password reset tools solve windows password issues real quickly.
Best 2 Windows 10 Password Recovery Tool USB Free Download
1. UnlockGo (Windows)
iToolab UnlockGo (Windows) is an excellent password cracker to recover your windows 10 password. It offers its users a highly efficient password recovery service. On here, you can find multiple services. You can also free download here.
Why UnlockGo – Windows Password Recovery? Here's the answer!
Disable the password to your windows 10 account in case you forgot the password, this way you needn't remember the password to access the account, you can simply log in without the password.
Resetting the password seems like the most viable option to regain access to your computer. With iToolab UnlockGo, you can reset your password and continue using your system.
Wish to delete your old windows account? Well, normally you wouldn't be able to do it without the password, however, with iToolab UnlockGo you can delete your windows account without the password.
Wish to create an entirely new account? Set up your new account with ease without wasting any time and start using your computer again!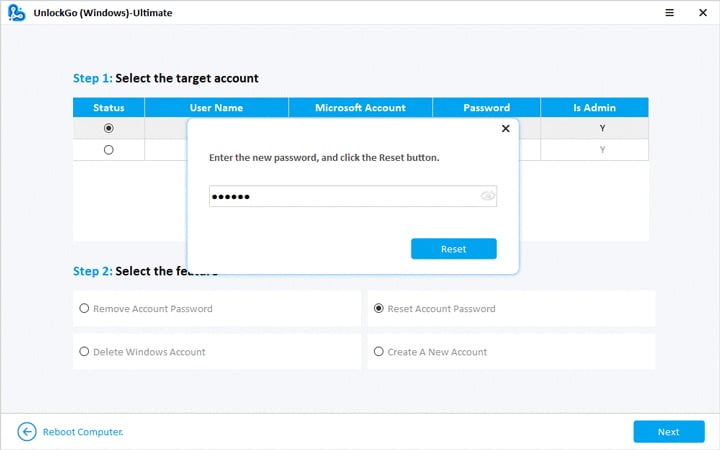 2. PCUnlocker
PCUnlocker is another very powerful and utilitarian tool available to recover the password when you forget it. The major stand-out point of this tool that acts as a differentiator is that it has a very friendly user interface. The tool gets recent updates and hence is one of the newest ones in the market. Its download procedure is simple as well.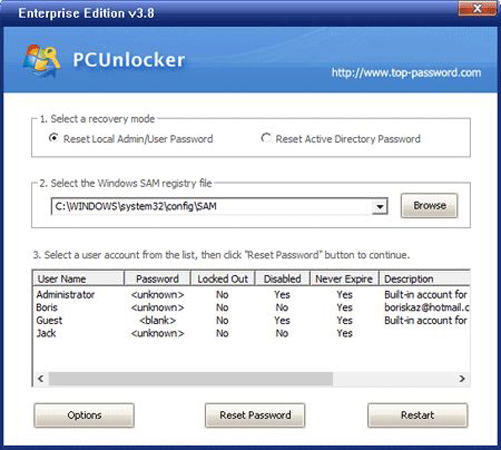 However, there's a catch. Upon downloading the free version of the tool, you can access only a limited set of features, in order to access the premium features you need to choose from the 3 paid packages that the company offers. It has a highly friendly user interface and is compatible with almost all versions of windows. The standard version of the tool, i.e. the free one does not let you reboot the system via a USB drive.
Top 5 Free Password Recovery Tools on Windows 10
Now that we've learned about different recovery tools, you must be in a hurry to learn about the different tools available. Well, as said earlier there are multiple tools for doing so, these tools differ in certain ways. Let us look at the specifications of each tool in detail.
1. Ophcrack
Ophcrack is an open-source software meant to regain access to your system. This means that it's a free windows 10 password recovery tool. The software is feature-rich and can be used on Windows, Linux, or Mac OS. The storage complexity of the software is also minimal, which means it occupies a small amount of space on the driver. Although its UI isn't as good as compared to the newer tools of a similar type, it manages to do a decent job.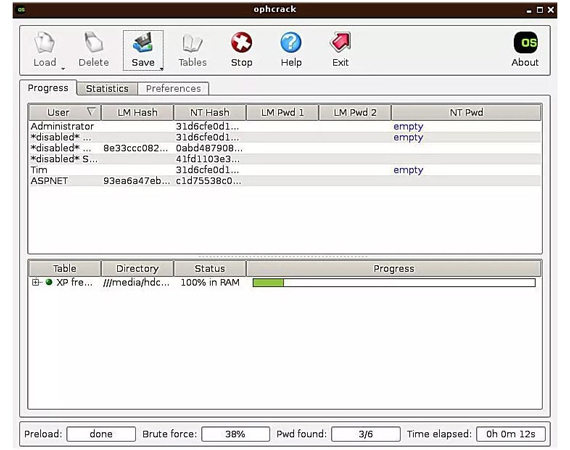 2. Offline NT Password & Registry Editor
Offline NT password and registry editor is a very popular and convenient password recovery tool. Its primary advantage is that it works offline, as the name suggests. Like a few other tools, offline NT password recovery and registry editor does not require an internet connection while being used. However, the tool works only from the command line, i.e. it has no user interface. If you're inexperienced at using the command line, then you might have a hard time using this windows 10 password recovery tool.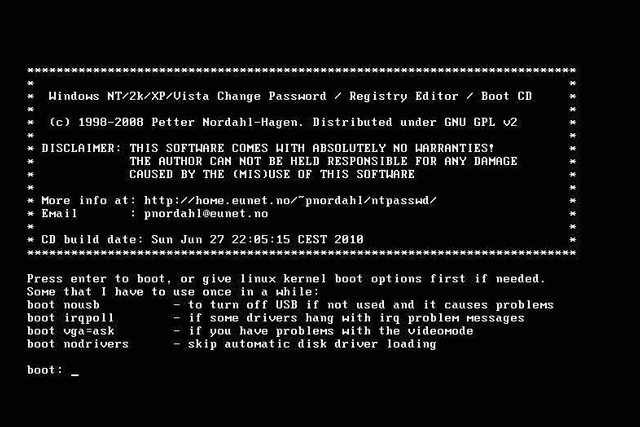 The tool is also a windows 10 password recovery tool for USB. This means you can either connect it via a USB cable or a CD. The tool is also free to use and its official website has well-documented instructions regarding the usage of the tool. The tool had its last update almost 6 years ago, which means it's pretty much outdated when compared to other similar windows 10 password reset tools in the market.
3. LCP
The last tool on the list is LCP, another very powerful tool to reset your windows password. LCP is a rather popular and utilitarian tool for cracking windows 10 passwords and importing account information. The tool is now pretty outdated and is probably invalid since it supports only Windows XP, Windows 2003, Windows NT, Windows 2000. The tool is totally free to use and can be used even by a neophyte. It implements older methods of password recovery such as brute force attacks, it's a very space compatible and powerful tool to use if you possess any of the above-mentioned versions of windows.
John the Ripper is actually a password cracking tool for professionals and some ordinary users. You can use it to find passwords stored on your local system, as well as recover lost passwords. For the average user, using this tool is more complicated because it requires you to have a good command line knowledge.
If you are a skilled IT professional with a strong grasp of the command line, John the Ripper is an excellent choice for you. However, ordinary users still recommend using modern, more convenient and easy-to-operate tools to reset or remove passwords.
This tool works for Windows 8/7/XP, but some people can use it on Windows 10, so it deserves a try to reset Windows password.
The detailed information about this tool you should know is this tool is much difficult to operate and time-consuming, if you want to try it, read the review carefully.
Does Windows 10 Password Recovery Tool Erase Data?
Well, this would depend on the tool which you choose to use. There are several windows 10 password recovery tool free out there. All of them differ in functionality and speed. Some tools are capable of recovering the password without deleting the original data on the device, however other tools might end up deleting the data. The password recovery tools work with different efficiency and have different capabilities. All the available tools have their own plus points and drawbacks. Choosing the right tool to recover the password to your windows 10 account is necessary. How do you know which tool manages to restore the data and which tool deletes it? Read on to find out!
Conclusion
As we see, forgetting passwords can indeed be a miserable nightmare. However, it's not irrecoverable. There are possible solutions to forgetting windows passwords as we've just seen. We've seen several Windows 10 password recovery tools and a bunch of them must have appealed to you. Choosing the right Windows 10 password recovery tool is a matter of grave importance. A few things you need to consider before choosing the tool are, whether it's compatible with your version of windows are not, whether the data will be restored or not, whether the tool is free or paid. After considering multiple facets, you can decide to stick to a single tool to recover your windows 10 password!