Password protection is a good idea, but you're frequently trapped in a circumstance where you've forgotten your excel password and your access to the spreadsheet is restricted. In such a situation, if you don't know how to remove a password from Excel, VBA encryption, or other restrictions from Excel, things might get tedious and stressful. However, you should relax since we have come to your aid with this post. In this piece, we will go over the most recent and reliable methods for removing Excel passwords, VBA encryption, read-only or other worksheet limitations. We have included an exceptional and all-rounder software program, PassWiper for Excel, for you, which offers successful results 100% of the time. So, let's get this party started.
Part 1. Why We Need to Password Protect Excel File?
From individual to large companies use excel password protection feature as a crucial ploy to secure important and sensitive data and information from landing in the unwanted and wrong hands.
Excel provides different layers of security for excel workbook and worksheets such as workbook or worksheet password protection, and read only restriction. From amongst all the given options, Excel users can employ excel file restrictions suitable to their needs. However, unless you have saved the excel password for protection, you can easily forget it since forgetting things is a basic human instinct. So, to help you out in such a scenario, in the following part, we are going to introduce some terrific ways with you to remove password protection from excel.
Part 2. How to Remove Password from Excel File without Knowing Password
On forgetting password to some important excel file, one can easily get frustrated and worried, which is totally understandable. But, this shouldn't be your situation anymore. Because we are sharing some of the finest ways to remove password from excel in a successfully manner. What you will find great in this article is that a step by step process along with respective pictures has been given for each way so that you could use these ways effectively.
Way 1. Remove Password from Excel with Third-Party Software (PassWiper for Excel)
Are you wondering as how to remove a password from excel? PassWiper for Excel is the all in one and ultimate software solution for excel file password removal. Not only you can use this perfect and authentic software to remove excel password protection but also you can you it to remove VBA encryption and several other restrictions as well. What's most wonderful about this amazing software product is that it is extremely simple to use and even as a tech novice you can operate it successfully and yield success 100 percent of the times. Feel free to remove excel restrictions with it, 'cause it can remove the restrictions you encountered without MS office and its versions, even the latest Ms Office 365 and excel 2021.
Note: 👍 It can help remove excel restrictions without downloading Microsoft office, what need you to do is just dragging locked files into the remove box. We know the most used excel version is Ms Excel 2019, so almost every excel password removers or breakers work for that version. If you're using the latest Microsoft Office 365 or excel 2021, no worries, PassWiper for Excel will support you forever.
Here is the simple step by step process to use PassWiper for Excel password removal:
Step 1: First of all, you need to download and install PassWiper for Excel software on your Computer. After the installation process, click 'Remove Excel Password'.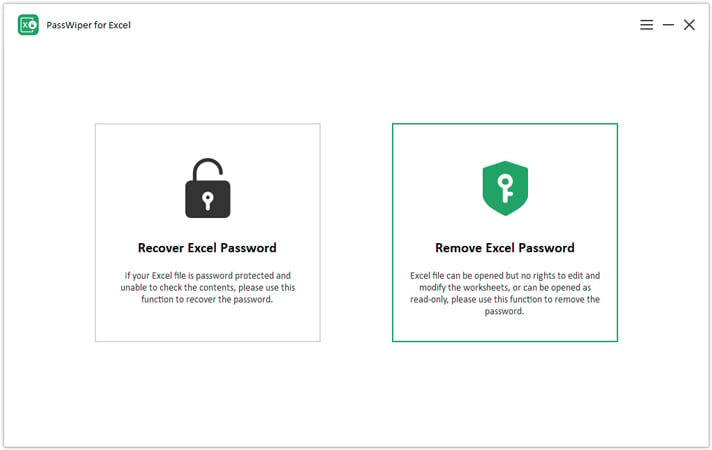 Step 2:
Now, simple upload the excel file for which
'Remove Excel Password'
is needed. After uploading the locked excel file, click
'remove'
and PassWiper will instantly start the scanning process for password removal.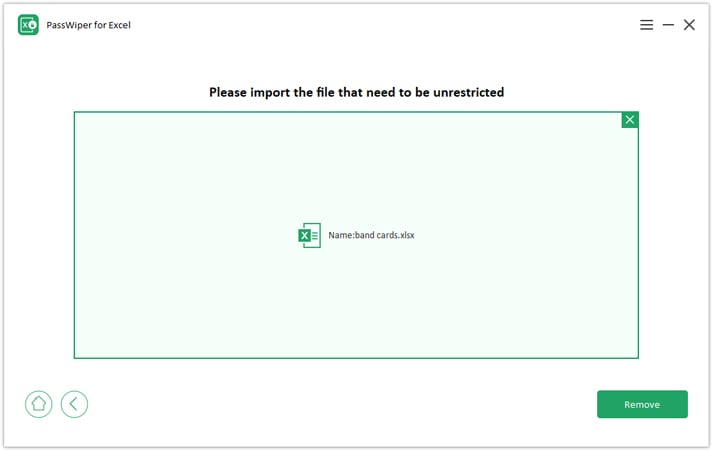 Step 3:
Using PassWiper for Excel, the forgotten workbook/worksheet or VBA project password will be erased after the scan is complete and you access to excel file will be revived.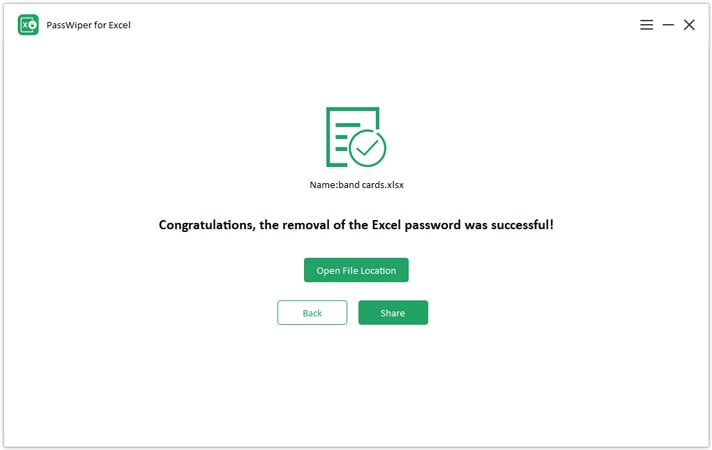 Way 2. Remove Password from Excel Online Free
Now, there are several online excel password recovery tools as well that you can bring into your use for free. These resources don't give you success in excel file or VBA encryption removal 100 percent of times like PassWiper does, however, these can help you. So, it's definitely worth mentioning them here.
Below are the top and most commonly used free online excel password removal software:
1. Password-Find
This free tool was launched in 2001 and you can use this resource to unprotect your excel files by uploading them on the website.
2. LostMyPass
LostMyPass is another free of cost cloud based resource that can be used to unprotect MS excel files. Also it clams to successfully remove password for PDF as well as Word document.
3. Password-Online
Password-Online is an online site where you can go for free MS excel password removal. The site claims it has a 76 percent success rate.
4. Straxx Excel Password Remover
Lastly, Staraxx is also a commonly used excel password remover that you can use free of cost. Just like other free ways mentioned above Staraxx also can only be used if you have internet access with you.
If you wanna know more information about free online excel password removers, then look at the top 16 excel password removers.
Way 3. Remove Password from Excel with Zip Software (WinZip)
When you have forgotten password an want to remove password from excel, use of Zip software is another effective way. The steps for this straightforward way are as follows:
First of all, go to folder sample.zip\xl\, right click workbook.xml and select 'Open with Notepad'.
Once the notepad is opened, check the xml file for 'workbookprotection' phrase. As you find it, replace the entire workbook protection tag from the file and save the file.
Now, when prompted, click on 'Update Zip File with changes'.
Part 3. How to Remove Password from Excel File When Opening
You are fully equipped now to remove password protection from excel without password. In this part, we will help you learn some quick and easy ways to remove password from excel file when you have the file opened.
Way 1. Remove Password from Excel in Info
It is simple and fast way to remove password from your excel file. It is roughly the same way that is used for password protection.
Open the password protected file, enter the password and click 'ok'.
Go to 'File' menu, first select 'Info' and then click on 'Protect Workbook'.
Clock on 'Encrypt with Password'.
Clear the password that shows in the text field and click 'OK'. Finally, go to the file menu and click 'Save' to complete the excel file password removal process.
Way 2. Remove Password from Excel in Review Tab
You can also unprotect excel sheet or workbook from the Review Tab. The process is as follows:
First of all, open the excel file and put the password for it.
Now, from the top ribbon, click on 'Review' Tab and then click 'Unprotect sheet' under it and enter the password again.
Finally, go to the file menu and click 'Save' to complete the excel file password removal process.
Way 3. Remove Password from Excel in Save As
Finally, you can also use 'Save As' option from the MS Excel to remove password protection from excel. The simple steps of this way will only take a minute to complete which are as follows:
Open the intended excel file and then put in the set password for access purposes.
Click 'File' and then click 'Save As'.
Set location for the excel file to save and a pop up save as window will appear.
Click 'Tools' in the bottom right corner of the window and you will see a drop down menu. Select 'General Options' from the drop down menu.
On selection, another small window will pop up. Clear all the fields from the password and hit 'OK' to complete the password removal process.
Bottom Line
It's a good idea to encrypt any excel files that contain sensitive information. But, we often forget the passwords to these important Excel files and then look for as how to remove a password from excel. This, at times, becomes quite annoying and a difficult situation to cope with. For those people who've been in this situation, PassWiper for Excel has proven itself to be a ultimate solution which is exceptionally simple and fast so much so that you can remove password with PassWiper inside a minute. Apart from that, whether you have excel file password with you or not, multiple other ways have also been detailed that can really help you in the need of the hour.