A plethora of cool and long-awaited features have come with iPadOS 16 like the new Lock Screen, Focus Filters, Edit, and Unsend Messages, etc. These new features are its biggest innovations, making them interesting to Apple users. However, the new features might bring numerous bugs and glitches since it is in early. You can downgrade to iPadOS 15 if these bugs bother you. In this article, we are introducing the 2 ultimate options to downgrade iPadOS 16.
Part 1: Things You Need to Know Before Downgrading iPadOS
There are a few tips you should keep in mind before downgrading an iPadOS 16 to 15:
To better downgrade from iPadOS 16 to iPadOS 15, you need a computer and the latest iTunes version.
You need a fast and stable internet connection to download the IPSW file.
You won't be able to fully use it after downgrading to iPadOS 15 if you also have watchOS 9 installed on your Apple Watch connected to an iPad running iPadOS 16 because there is currently no way to downgrade from watchOS to a stable build.
Ensure to manually back up any new documents, images, files, etc. you create while using iPadOS 16 and after that, you can re-download these later on iPadOS 15.
Restoring an iTunes or iCloud backup created on a higher iPadOS version to an iPad running a lower iPadOS version is not supported due to Apple's security settings.
Part 2: How to Downgrade iPadOS 16 to iPadOS 15 without Data Loss?
If you are downgrading your iPad via the official way then the iPadOS downgrade is always accompanied by data loss generally. But we recommend one of the best third-party programs like iToolab FixGo which will be safer and won't erase your files. iToolab FixGo is a capable iPadOS system repair program. Within minutes, it will remove the current version of iPadOS from your iPad and downgrade iPadOS 16 to 15. Providing the added benefit of no data loss, the performance of this program is just outstanding. This software provides you 100% safety while downgrading your iPadOS 16.
Steps to downgrade iPadOS 16 to iPadOS 15 without data loss:
Step 1 Install iToolab FixGo on your system and connect the iPad that you want to downgrade to your computer. Any type of iPadOS device is supported by FixGo. The software will automatically recognize your device model after the connection is successful and you will see the connection status in the lower left corner of the program. Tap "Standard Mode".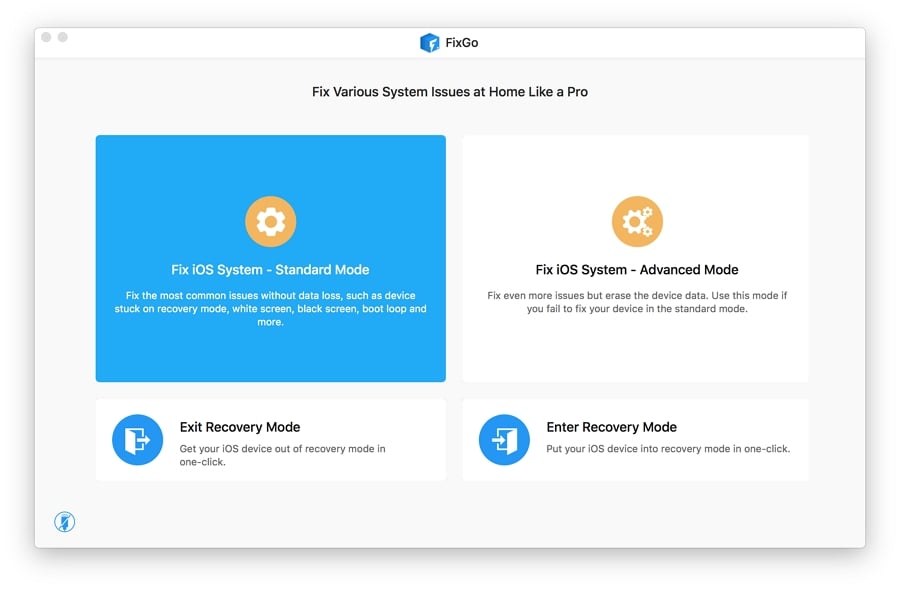 Step 2 Available iPadOS system firmware will be provided by the program. Choose the version to downgrade and after that, tap the download button. Click the "Select" link below the download button to add the firmware file if you have already downloaded the firmware on your computer.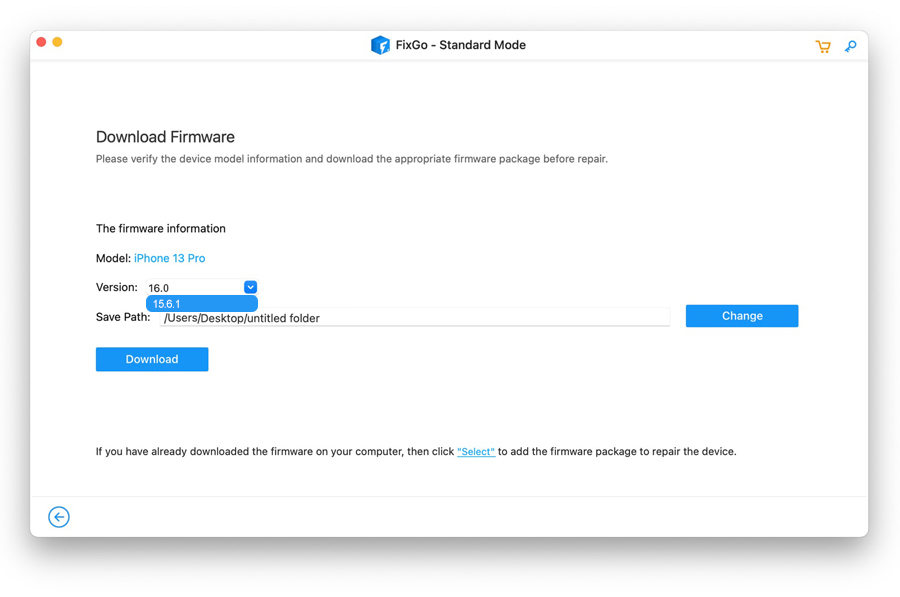 Step 3 Click the "Fix Now" button after the download is complete and for the iPadOS downgrade to be completed, you have to wait about 10 minutes.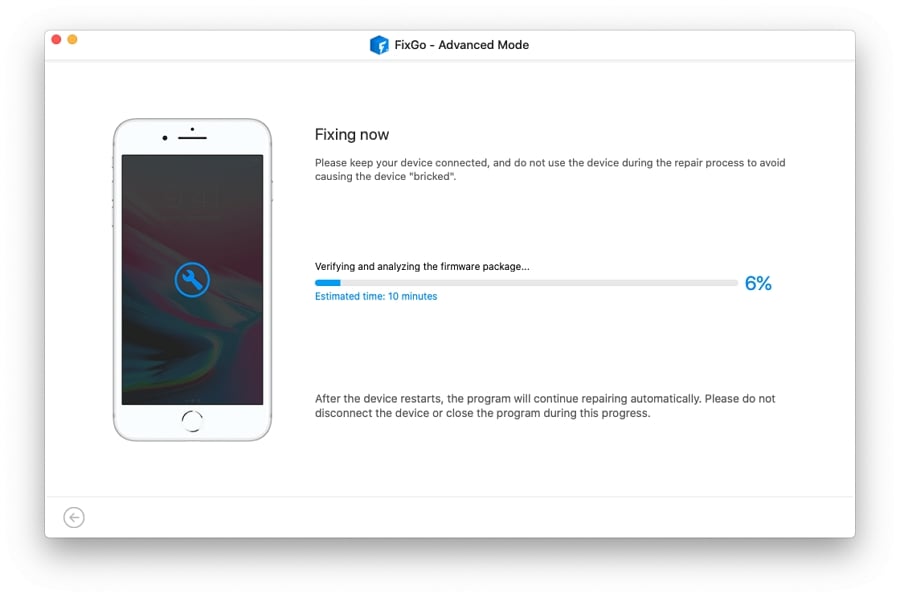 Part 3: Using iTunes to Downgrade iPadOS 16 to iPadOS 15 (Data Loss)
Another method to downgrade iPadOS 16 to iPadOS 15 is via the official app; iTunes. This method is as good as the previous method for the users. It is a usual iTunes procedure that works with all iOS devices mostly the same way. Compared to the other method, the steps are a bit complicated and there is also the chance that everything might not go as smoothly as told on the Apple website. The users have complained about the uncertainty of this procedure. As this procedure will erase the device, be sure to make a backup of your iPad. Here are the steps to downgrade iPadOS 16 to iPadOS 15:
You have to ensure that you are using the latest version of iTunes on your computer first. You need to update the program to its latest edition if not.
Navigate to "Settings" by going to your iPad and after that, click on "iCloud". Click on "Find My iPhone" here to deactivate it. This process interfaces with the said procedure. So, the best option is to turn it off.

Now, download the required IPSW file by going to the official website.
iTunes will detect your device automatically once you connect the iPad to your computer and it will be launched.
On the iTunes panel, tap on "Summary" on the left side of the panel.
While you are holding the "Option" key for Mac and the "Shift" key if you are using a Windows computer, you will view the "Restore iPad" option and click on it.
You have to import the downloaded IPSW file when a new window will open. So, click "Open" after locating the package.

A message will pop up on the screen where you have to click "Update" to proceed after all the verification is complete.

Then, iTunes will start installing iPadOS 15 and on the panel, the progress will be visible. Wait until it gets completed. The iPad will restart after iTunes is finished with the procedure. So, you can go to Settings and check the iOS version if you want to confirm the downgrade.
FAQs on How to Downgrade iPadOS 16 (Beta) Version
Below are some hot questions related to downgrade iPadOS 16 (Beta)
Q1. Can I downgrade from the iOS 16?
Apple doesn't want people downgrading their iPads at will. For this reason, it will soon stop signing older versions of software once new versions are officially released. As soon as iPadOS 16 is released, Apple will stop signing iPadOS 15 anytime. Apple might stop signing iPadOS 15 sometime in October based on past trends. So, it's possible to downgrade iPadOS 16 to 15 until then. But indefinitely, the option won't be available. When the previous version is still signed, you can only make it.
Q2. How do I downgrade from iPadOS 16 to normal?
To downgrade from iPadOS 16 to normal, follow the given steps:
Tap "General" after opening "Settings" and scroll down till you find the Profile option.
You will see the iPadOS 16/15/14/13 profile once you click on "Profile".
To delete the profile from your iPad, tap on the "Remove Profile" option under the profile. Restart your device after deletion and the update will no longer exist.
Conclusion
In this article, we have introduced the 2 ultimate options to downgrade iPadOS 16 (Beta). You can use any of the above methods but would like to suggest you use iToolab FixGo as the official method might cause you data loss. iToolab FixGo will downgrade your device to any previous version without causing you any data loss. This tool maintains 100% safety while solving your iOS/iPadOS system issues. So try FixGo now!!!