This article is a review of iMyFone Fixppo, an iOS system repair tool that you may already be familiar with. Here, we will address every aspect of this tool to help you decide if it is the right solution for whatever iOS problem you may be trying to fix. Let's begin.
What is Fixppo?
Fixppo is an iOS recovery program that can be used to fix iOS systems and devices. It is useful when the device is facing various issues including a frozen, a failed iOS update, or a device that is stuck on the Apple logo, boot loop, or recovery mode.
One of its greatest advantages is that it will repair the device without affecting the data on the device or causing data loss.
With iMyFone Fixppo, you can also enter and exit recovery mode with a single click, an ideal solution when you are unable to put the device in the recovery mode using its physical buttons.
It can also be used to downgrade the version of iOS on the device without needing to jailbreak the device. If the standard mode doesn't work to solve the problem, you can use the Advanced mode to fix tougher issues.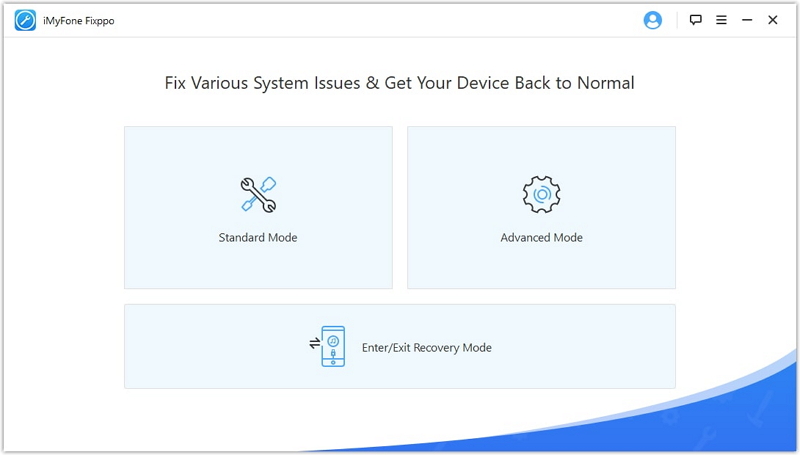 Is iMyFone Fixppo Safe?
Fixppo is a program that is developed by a reputable company that has taken all precautions to make sure that it is safe. This program is 100% safe and will not affect any of the data on your device or even the function of the device.
We must however point out that if you use the Advanced mode, you are likely to lose data on the device. Even using it to downgrade the version of iOS on your device will not affect the device in any way.
Is iMyFone Fixppo Free?
Fixppo is not a free program, but there are some features that you can use for free. This program comes in two versions; the free trial version and the paid version (iMyFone Fixppo Pro). If you would like to install new firmware or put the device in recovery mode, then the free version will be sufficient.
But if you would like to restore the device to normal function and fix any iOS problems that may occur, you will have to pay at least $49.95 for the pro version. This is not a recurring payment, meaning that once you purchase the program you will be able to use the program without having to pay any additional fees.
What We Like and What We Don't Like
Pros
A free trial version is available for download to help you test the program before purchase.
It also comes with a 30-day money back guarantee.
It is compatible with all iOS devices and all versions of iOS.
It is very easy to use; you will not need at technical knowledge to use it.
The standard repair process safeguards the data on your device. You will not lose any data on the device when you use Fixpp.o
Cons
The free version is very limited in functionality.
When the standard mode doesn't work, you will need to use the Advanced mode that can cause data loss.
The process of recovery can sometimes take a while.
You may still fail to repair your device after using Fixppo.
iMyFone Fixppo FAQs
1. What Can iMyFone Fixppo Fix?
Fixppo can be installed on both Mac and Windows and it can be used to resolve numerous issues with the iOS device including the following;
A device that is stuck in recovery mode
A device that is stuck in the loading screen (spinning circle)
A device that is stuck on the Apple Logo
A device stuck on the white or black screen of death
A frozen iOS device
An iOS device that is stuck in a constant boot loop
A device that will not turn on
A device that suffers damage during a restore or an iOS update
2. How To Use Fixppo?
Fixppo is so easy to use, you just need 3 simple steps to fix whatever iOS problem your device is experiencing. Follow these simple steps to use it;
Step 1: Install Fixppo on your computer and run it. In the main window, select a recovery mode from the options that include the Standard mode, Advanced Mode, or Enter/Exit recovery mode. If you are not sure which one you need, just hover over the button to get more information.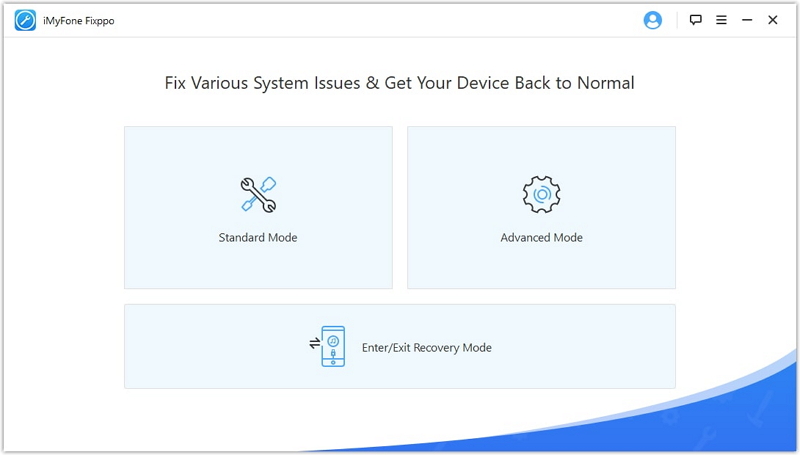 Step 2: Fixppo will reinstall the firmware on the iOS device. Just click "Download" to begin downloading the needed firmware.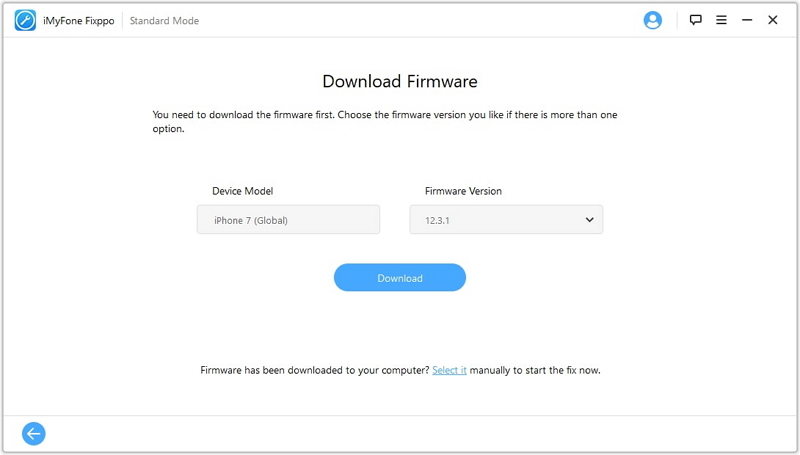 Step 3: When the download is complete, click on "Start" and Fixppo will begin repairing the device. You may be asked to enter the passcode and press the Home button several times before the device is fixed and, in a few minutes, the device will be repaired.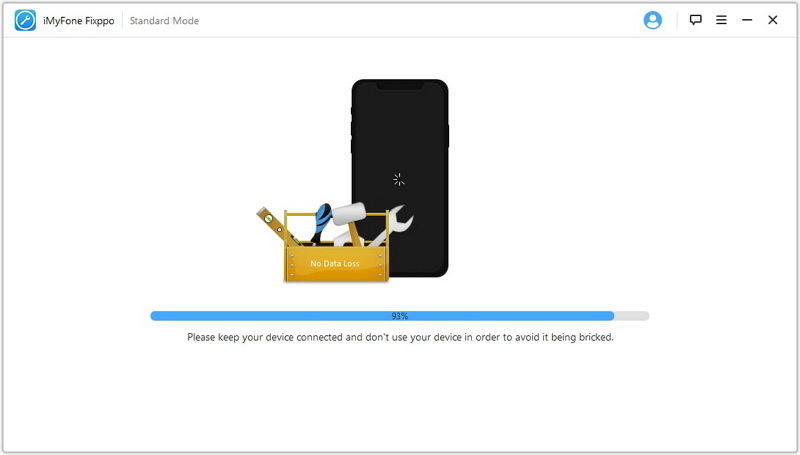 3. Will I Lose Data While iMyFone Fixppo is Fixing my Problem?
The program's Advanced Mode will erase all the data on your device while repairing your device. It is always a good idea to make sure that you back up all the data on your device to safeguard your data completely.
iMyFone Fixppo Alternative: iToolab FixGo
While Fixppo can be very useful in the repair of common iOS issues, it only supports the repair of a few iOS stuck and system issues. As such, it may not be able to help you if the particular problem you have is not among the list of issues it can fix.
In this case, we recommend using iToolab FixGo. FixGo is uniquely designed to repair more than 200 iOS stuck and system issues, meaning that it will be useful to you regardless of the problem you have. And it will do so in three easy steps and without affecting any of the data on your device. You can go to the home page of FixGo to know more details about this tool.