If you own an iPad Pro or any other iOS device, then I hope that you get to enjoy it for many years without troubleshooting any software-related issues. However, sometimes challenges come up, and when they do, it becomes irritating and frustrating.
For instance, you might encounter a situation where your iPad Pro's screen gets stuck in the Apple logo. Until you find a long-lasting solution, your iPad Pro will be as good as dead, and you won't access some functionalities. However, there are several approaches that you can take to fix such an issue.
Let's look at the causes of this issue and the possible solutions available.
Causes of iPad Pro Being Stuck on Apple Logo
The Apple logo being stuck on your iPad Pro's screen is mostly linked to the reboot process. Immediately after turning on your iPad Pro or any other iOS device, there are some tasks that the device has to complete. Some of the tasks include checking the device's memory and turning on the processor.
After it boots fully, it can complete more complex tasks. These include tasks like supporting both non-native and native applications or browsing the internet.
If there is an Apple logo on your iPad Pro's screen that can't move, there is a problem with the software that stops the device from finalizing the startup process. For instance, if you have a third-party security application installed on the device, it could contribute to such a problem.
Let's look at some possible repair options you can consider to restore your device.
Force Restart Your iPad Pro
A force restart is an effective method of solving many problems related to the iPad Pro, iPhone or iPod. A force restart is just a simulated removal of a battery from a device that forces your device's system to shut and restart.
Using this method will clear random errors caused by minor firmware crashes. An iPad Pro stuck on the Apple logo is likely stuck on the boot loop, and a simple reboot can prove to be an effective solution.
To force restart your iPad Pro effectively, go through the steps below:
Press and release your device's volume up option quickly.
Press and release your device's volume down option quickly.
You can then proceed to press and hold onto the power option until you see the Apple logo.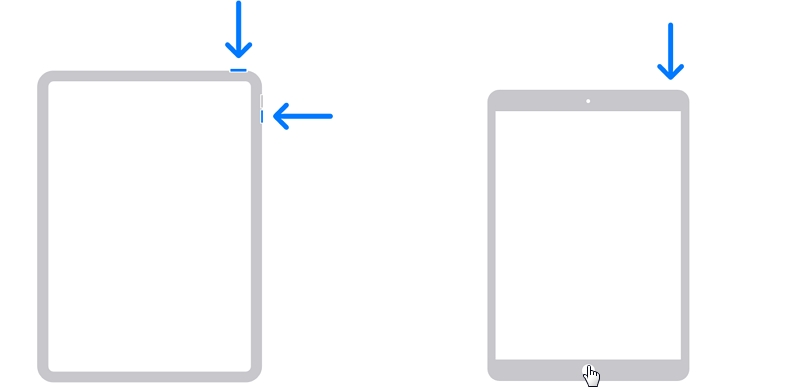 Just like a soft reset, this process will not affect your device's internal data. There is no deleting of files.
Use FixGo to Fix the Issue without Data Loss
Since this problem is likely software-related, you can quickly and easily fix your iPad Pro using a system repair too. The best software we can recommend to you is the iToolab FixGo. The software is designed to fix software issues without data loss.
If your device isn't working properly, but you want to prevent data from being lost, you should consider installing FixGo. One good thing about the software is that it can fix over 200 common iOS stuck issues such as an iPad Pro stuck in the Apple logo, recovery mode, black screen, restarting loop, among others.
The software is compatible with the latest iOS versions. Its features include but not limited to:
Prevent the loss of data from your iPad Pro when the device isn't working effectively.
It repairs at least 200 system-related issues, including black screen, recovery mode, and iPad Pro stuck on the Apple logo.
It can fix tvOS stuck problems on Apple TV.
With one click, you will enter or exit the recovery mode at no cost.
Compatible latest iOS versions and devices.
It is also important to note that FixGo operates in two modes: Standard and Advanced mode.
Standard Mode
This mode fixes the most common problems.
It works securely to prevent loss of data, unlike the iTunes restore.
It makes various judgments to improve the Repair's success rate putting in mind the repair failure scenarios.
Advanced Mode
Advanced mode fixes more serious issues while erasing data.
It offers a more detailed and clearer direction compared to other methods such as iTunes.
It is the ultimate repair solution that applies advanced techniques to repair your device.
To fix your iPad Pro using FixGo, follow through the steps below:
Step 1. First, download and install iToolab FixGo on a computer and then proceed to the next step.
Step 2. Depending on the nature of the issue, run FixGo and select either the 'Standard Mode' or 'Advanced Mode'. In our case, we will use the Standard Mode to avoid losing data.
Step 3. Using an original lightning cable, connect your computer and your iPad Pro and then click on the 'Fix Now' option to initiate the process.
Step 4. At this point, you need to download the relevant firmware to update your iPad Pro's system. Just click the 'download' option to initiate the download process.
Step 5. After you've downloaded the firmware, choose the 'Repair Now' option to initiate the iPad Pro system update. Keep the connection between your iPad Pro and computer until the process is finished.
Restore Your iPad Pro in iTunes
The recovery mode restore option is an advanced solution that you can use for major system problems that can't be managed by a factory or force reset. This solution is needed in cases where your iPad Pro has a flashing Apple logo.
The only challenge with using this option is that it could lead to a permanent data loss. However, you can proceed to use this process and back up your data to iTunes.
To restore your iPad Pro in Recovery mode using iTunes, follow the steps below:
Using a lightning or USB cable, connect your iPad Pro to a computer.
Open iTunes on the computer when the iPad Pro connects.
Press and release the 'Volume Up' option on your iPad Pro quickly.
Press and release the 'Volume Down' option on your iPad Pro quickly.
Press and hold onto the power option until you see the 'Recovery Mode Screen'.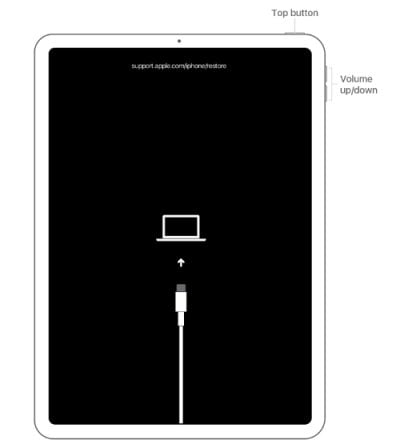 Click the restore button from iTunes. It would be best not to disconnect the iPad Pro from your computer until the restore process is complete.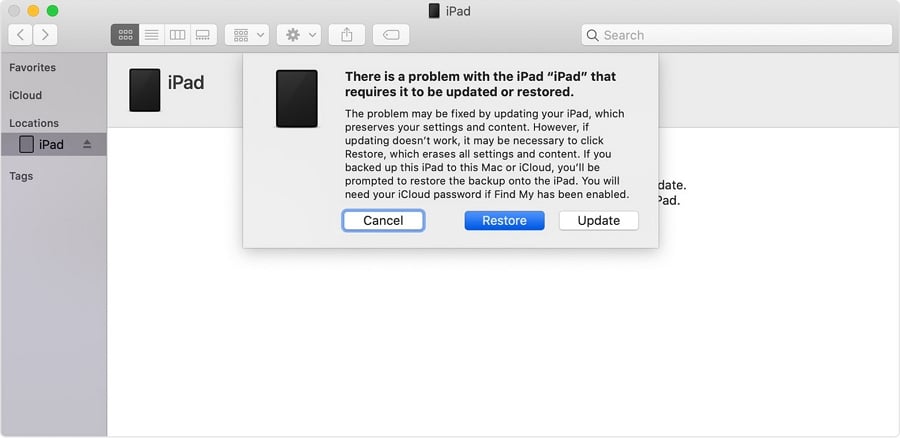 Restore Your iPad Pro in DFU Mode
If everything else doesn't seem to work for your iPad Pro, the last option you should consider is the DFU (Device Firmware Update) restore method. DFU will put your iPad Pro in a state that gives iTunes the permission to communicate and access the device's iOS even without the boot loader isn't connected.
In the process, all the problems associated with a corrupt iOS are solved. However, there is a challenge of losing critical data from your device. If losing data doesn't bother you, you can use DFU to restore your iPad Pro.
Follow the following steps to use DFU effectively:
Using an original USB cable, connect your computer and iPad Pro.
Locate iTunes on your computer and open it.
Press and release the 'Volume Up' option on your device quickly.
Press and release the 'Volume Down' option on your device quickly.
At this point, you should press and hold your device's power option until you see the iPad Pro screen turn black.
After about seconds, hold the Volume Down option while at the same time holding the power option for an additional 5 seconds.
Release the power option after 5 seconds but keep hold of the Volume Down option for an additional 10 seconds.
You will be in DFU mode if your iPad Pro's screen transforms to black when you release the power option. This means that your device is ready for restore using DFU mode through iTunes.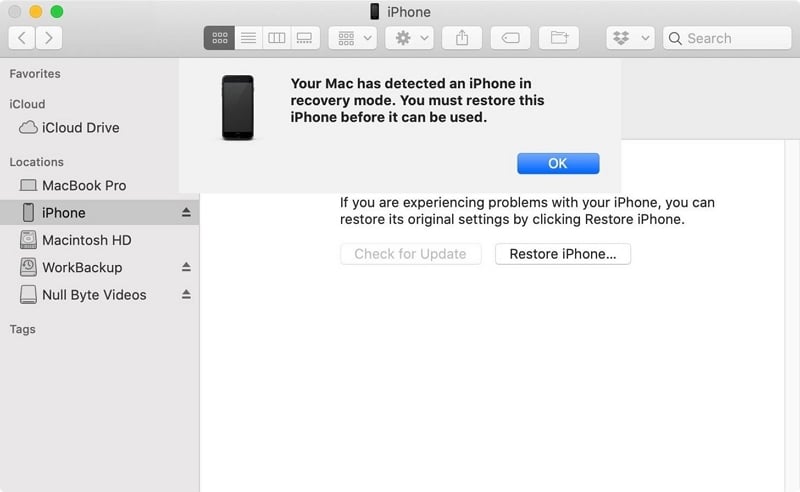 There is some chance that iTunes may fail to restore your device either with DFU mode or recovery mode. When this is the case, you should opt for another recovery and restore software. There are so many software on the market that you can use to repair major iPad Pro errors.
All you need to do is download your software of choice on your computer and then connect an iPad Pro to it to initiate the process.
Hardware Issue?
Even after employing all the possible software-related solutions, you might still find that your iPad Pro is stuck with an Apple logo. When this happens, the problem might be hardware-related.
To figure out the problem and get a top-notch solution, you should take your iPad Pro to a certified Apple store. The good thing about Apple stores is that you can call beforehand to make an appointment, to avoid waiting in line.
The common hardware issue that leads to an Apple logo being stuck on display is associated with the logic board. This may happen if you handled the iPad Pro roughly or dropped it accidentally, resulting in the board being dislodged or damaged. Apple store engineers can open the device and make the necessary replacement or adjustment.
No matter the temptation, never attempt to carry out a hardware fix yourself. If you open the iPad Pro and interfere with it, you are likely to void its warranty.
Conclusion
You have reached this far probably because you have an iPad Pro stuck in the Apple logo requiring a quick fix. You can easily bring your device back to life if you follow the steps discussed above.
However, if none seems to work, the last resort should be visiting your nearest Apple store. We hope that you get what you are looking for and enjoy your iPad Pro without any problems.