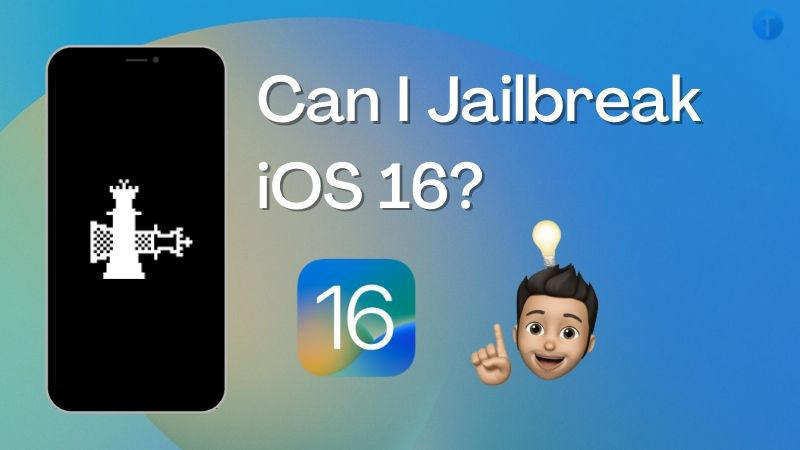 "Is it possible to jailbreak iOS 16? With the new features and tightened security protocols, I have my doubts that I'd be able to jailbreak my iPhone. What's the news?"
Every year, Apple introduces fresh new versions of iOS, fixes bugs, and adds exciting features. The Beta version of iOS 16 was released at WWDC, San Jose, in July. And, by the looks of it, the new update is really a must-have for every Apple user. Compared with others, it is worth being tested. Nowadays, Jailbreak is a way to explore iOS devices deeply. For those who love Jailbreak, we've tested iOS 16 Jailbreak solutions; we hope they will help you.
Is It Possible to Jailbreak iOS 16?
Of course, iOS 16 can be jailbroken, just like jailbreaking its previous software versions. To stir your knowledge, Jailbreaking is the process of removing the limitations set by Apple on iOS devices. Jailbreaking the iOS 16 is indeed a hack, but it's not illegal to do it. Still, by performing an iOS 16 jailbreak, you will be able to use your device without limitations and receive so many more ways to customize your phone. However, it also means that you will be voiding your warranty.
How to Jailbreak iOS 16 on iPhone/iPad?
Now that it is clear that you can actually modify the default settings of the latest iOS update let us check out how to jailbreak iPhone with iOS 16. To jailbreak iPhone/iPad, you need to have a computer system running on Windows or Mac. So, we have shared solutions for both platforms.
1. Jailbreak iPhone on Mac
You can utilize the checkra1n jailbreak tool to modify your iPhone on a Mac. Before starting, please ensure you have completely installed the iOS 16 update on the device. Also, a lightning USB cable is required to connect the iPhone/iPad with the Mac to initiate the jailbreak process. Moreover, make sure you have disabled your screen passcode before this!
Video Tutorial
The steps are as follows to learn how to jailbreak an iOS 16 device on Mac:
Start by downloading Checkra1n on the Mac system.
Next, connect the iOS 16 device with a USB lightning.
Run Checkra1n and click Start to jailbreak.

Follow the onscreen instruction, and click Next, which will allow Checkra1n to automatically put the connected device into Recovery Mode.

Next, you will be required to put the iOS 16 device in DFU Mode. Simply click Start, and follow the guidelines mentioned on Checkra1n.

The software will notify you that the device has entered DFU mode successfully. This means the device has now been jailbroken.
Finally, click Done before closing the program.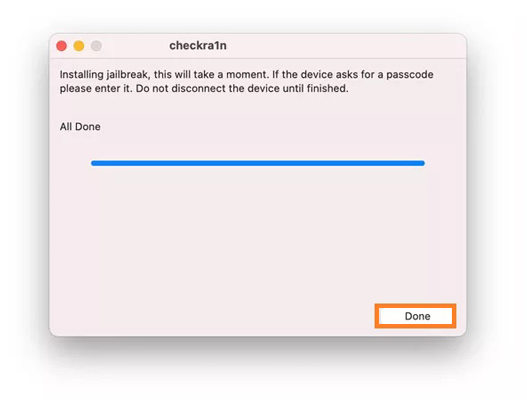 Also Read: How to Jailbreak iPhone on Mac
2. Jailbreak iPhone on Windows
In order to jailbreak your iOS device, you'll need to create a Linux Ubuntu environment on your Windows computer by following our in-depth tutorial. While Windows doesn't have a jailbreak tool, by using Ubuntu, you'll be able to accomplish what you need. Also, since iOS 16 is only available for iPhone 8 or later, you need to turn off the screen passcode before applying any below-mentioned step to jailbreak the device.
Besides, your PC should be running on Windows 7/8/10/11 to be able to run the Ubunto.iso file. Moreover, download Linux Ubuntu on your USB device with a minimum 2GB storage capacity.
Learning how to jailbreak an iPad or iPhone is divided into three phases. We know it is a bit complicated but follow the steps below to easily understand the solution.
Phase 1. Create a Bootable USB of Ubuntu
First, connect the USB to your Windows PC.
Next, install and launch Rufus 3.20 on the system.
From the interface, click Select, and choose the Ubuntu file. Press Start!

From the pop-up box, select the "Write in ISO Image Mode(Recommended)" option. Next, click OK. This will create an Ubuntu-based USB flash drive.
Click CLOSE once the process is complete!
Phase 2. Boot Ubuntu on your Windows PC
Now, restart your computer.
Once the loading screen appears, press the F12 key from the keyboard.

Note: This action is to access the Boot Menu, which varies from brand to brand. For example, if you're using a Dell laptop, then press F12.

From the Boot Menu, select your USB, and hit Enter, which will start loading Ubuntu.
Select Ubuntu from the Ubuntu OS Menu.

Click Try Ubuntu once the booting finishes, and you will see Ubuntu on your Windows system.
Phase 3. Jailbreak Your iPhone or iPad
Install Checkra1n for Linux on Ubuntu, and connect the iPhone/iPad to the computer.
Launch Terminal to access Checkra1n.
run-terminal alt: run terminal
Enter the following commands:chmod + x
Drag the Checkra1n file to Terminal and press Enter.
Now, type Sudo and drag the Checkra1n file to the Terminal window before hitting enter.

Next, click Start. Now, put the device into Recovery Mode by clicking Next. This action prevents data loss and filesystem corruption.

Follow the instructions mentioned on the Terminal window before clicking Start to initiate jailbreak.

Press Done when the process is complete. Now, you have a jailbroken iOS 16 device.
Finally, exit Linux Ubuntu and disconnect your iPhone or iPad.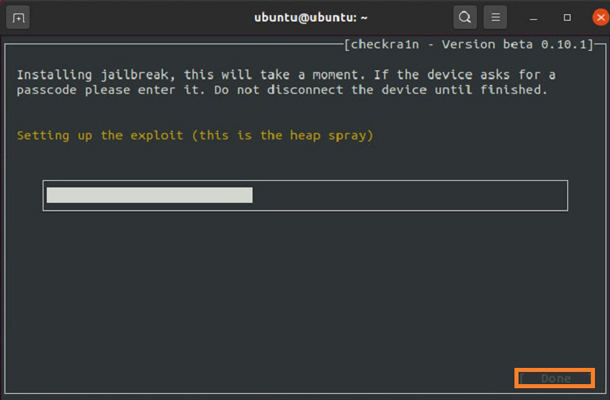 Also Read: How to Jailbreak iPhone on Windows
How to Fix Jailbreak Failed & Jailbreak Stuck Issues? [No Data Loss]
Jailbreaking isn't always a smooth process. You can run into some glitch or bug that could halt the proceedings. In case jailbreaking fails on your iOS device or your iPhone/iPad becomes unresponsive, we recommend using iToolab FixGo to repair it quickly without data loss. This user-friendly software will take minutes for your iOS 16 devices to be up and running again. Moreso, it can fix 200+ system-related or software issues quickly.
So, download it on your Windows/macOS system today and apply the following steps to fix the faulty iPhone/iPad.
3 Steps to Repair 200+ iOS/iPadOS/tvOS Issues
Free to Enter/Exit iPhone Recovery Mode.
Fix iPhone/iPad/Apple TV system problems and no data loss.
Downgrade iOS 16 to any supported versions.
Support all iOS devices and versions including iOS 16.
Step 1 Connect the iOS device to your computer, and Run iToolab FixGo. Next click the Fix iOS System – Standard Mode.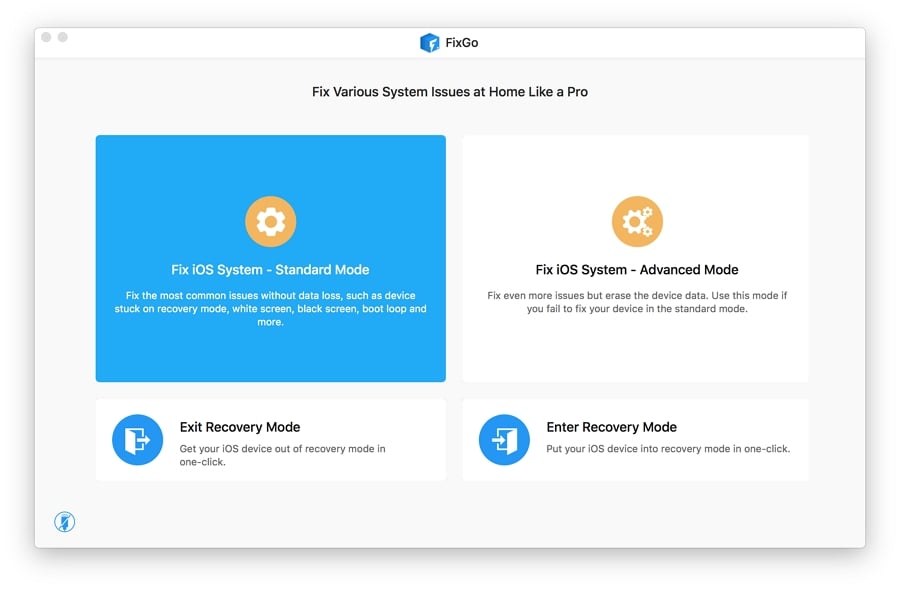 Step 2 Select where to download the latest firmware on your system. Click Download next!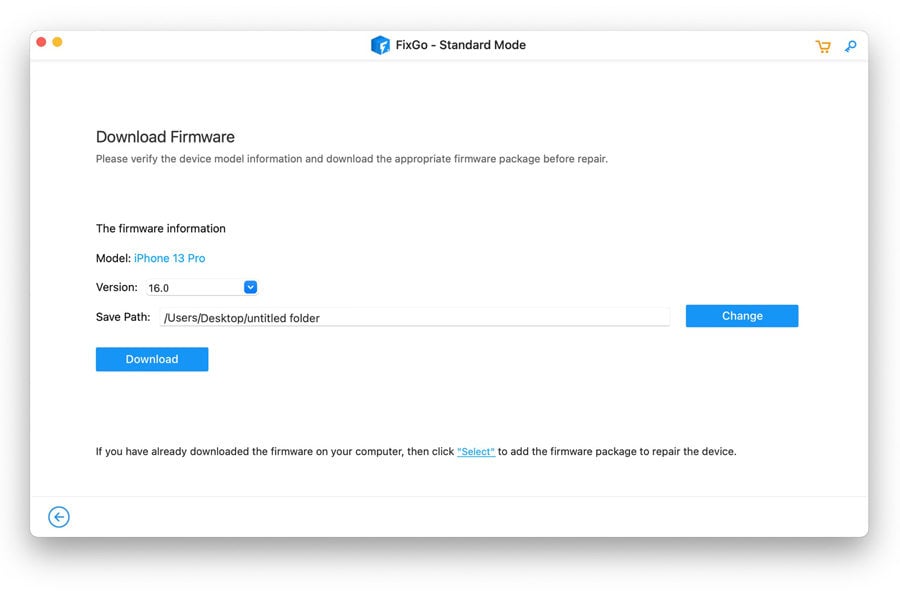 Step 3 FixGo will notify you upon the downloading of the firmware. Simply click Repair Now to fix the iOS 16 jailbreak stuck issue.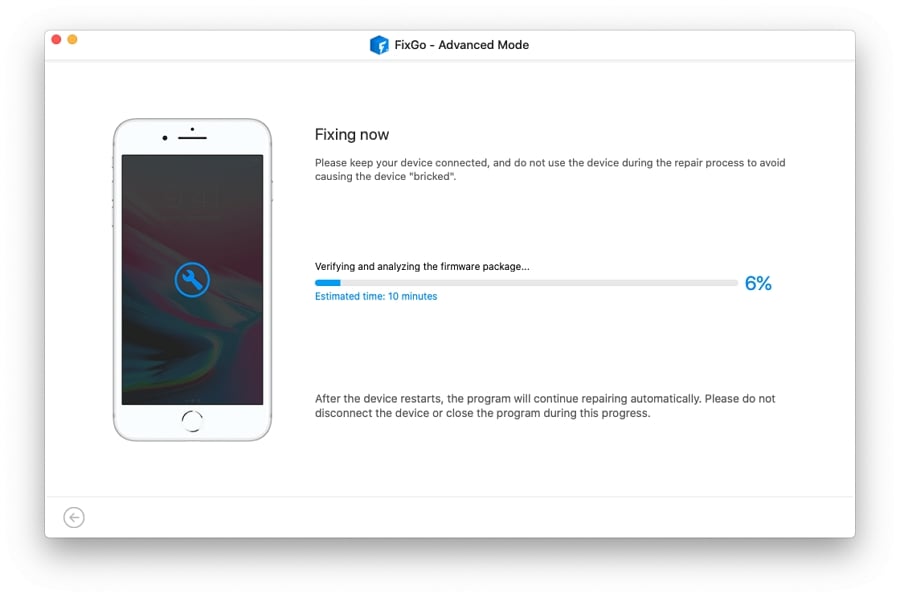 Jailbreaking is not a recommended action. However, if you still wish to perform it, then an iOS repairing program like iToolab FixGo can quickly fix the problems causing the prevention of the jailbreak process.
Summary
In conclusion, we hope that you were able to successfully jailbreak iOS 16 using the steps we laid out. However, if you run into any complications during any phase of the process, then we strongly suggest using iToolab FixGo to prevent data loss and to be able to access the iPhone/iPad once again.