iToolab Unlock(Android) is a professional Android screen lock removal and Samusng FRP bypass tool. By using this amazing tool, you can easily remove Android locks. Check the full guide to see how it works.
How to Remove Google Lock (FRP) on Samsung Devices
iToolab UnlockGo for Android enables you remove Samsung Google Lock on PC without complicated steps. Whether you've forgotten your Google account password or bought a second-hand Samsung phone, all your Samsung FRP problem will be solved less than 5 minutes.
Step 1. Connect Samsung Device to PC
Download and install UnlockGo for Android your computer, then connect your Samsung device to PC with USB cable. Next, select the feature "Remove Google Lock(FRP)".
Step 2. Select Samsung Device OS Version
Confirm you want to remove Google Lock(FRP) by clicking "Start" button, then select your device OS version.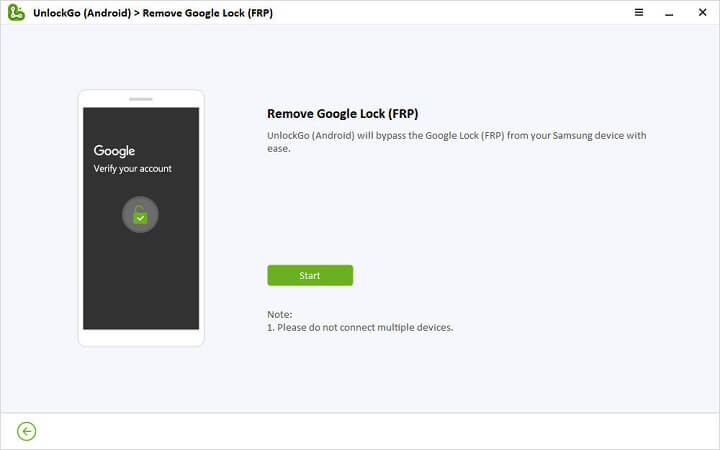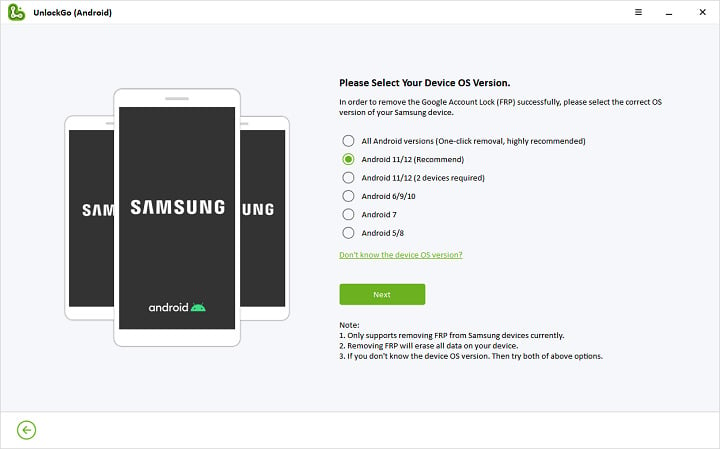 Make sure you have selected the correct version number, otherwise the removal of the account may fail. And do not disconnect Wi-Fi during the following process.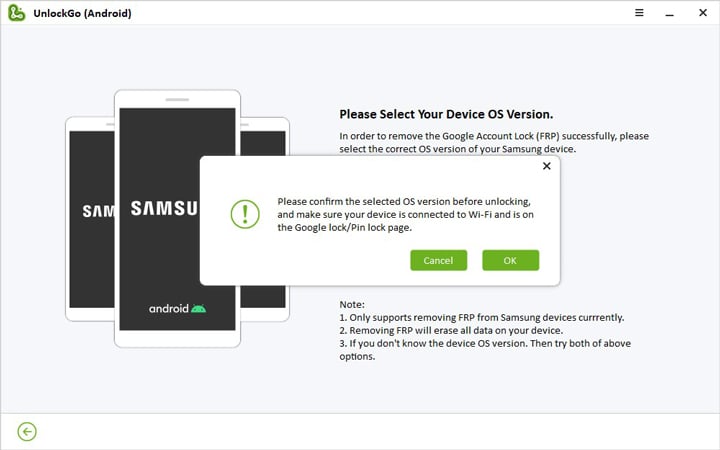 Step 3. Send Notification to Samsung Device
Now, UnlockGo for Android will send a notification to your Samsung phone. Keep connecting your device during the process.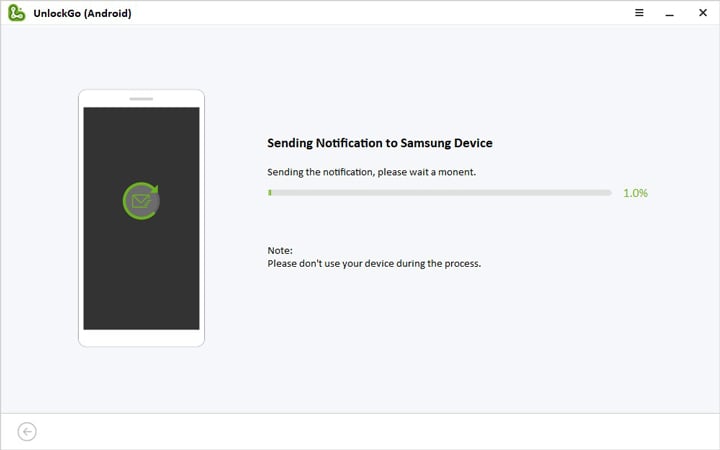 Step 4. Set up Samsung Device
For Android 5/8
Video Guide:
Click on "View" button to open the Samsung browser, then enter the URL "itoolab.com/bypass" in the browser. In the result, select "Android_8-9-10_GAM.apk" and "FRP_Bypass.apk" to download.
Note:
If you're running Android 5, please install the android_5_GAM.apk.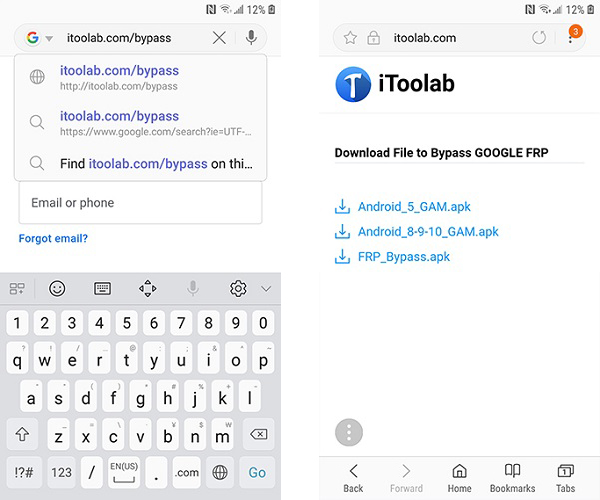 Next, click the "Bookmarks" option at the bottom of your browser, and click "HISTORY". Then, open the DOWNLOAD HISTORY and you will see the APKs you just downloaded. Double click "Android_8-9-10_GAM.apk" to install it, and press "SETTINGS" to move on.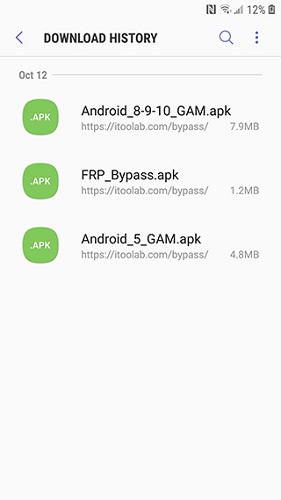 Turn on "Allow from this source" to finish the installation. And back to the DOWNLOAD HISTORY page to install FRP_Bypass.apk. After installing, click the "OPEN" > "┇" icon >"Browser sign-in".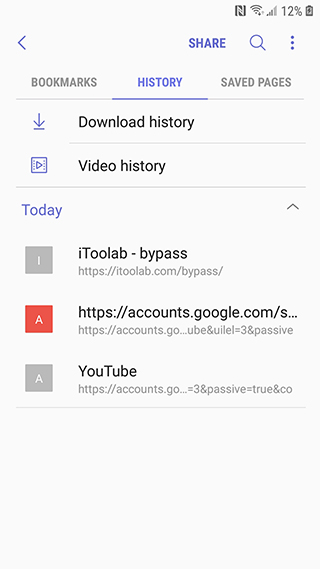 Last, click "OK" to enter your new google account and hit "Next". After login, your device will auto restart.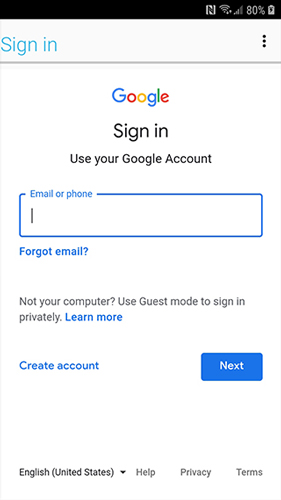 For Android 7
Video Guide:
Tap on "View" to enter Google Map. Select any location to start navigating. Say "Open Chrome" voice command to open the browser. Then follow the instruction shown on UnlockGo.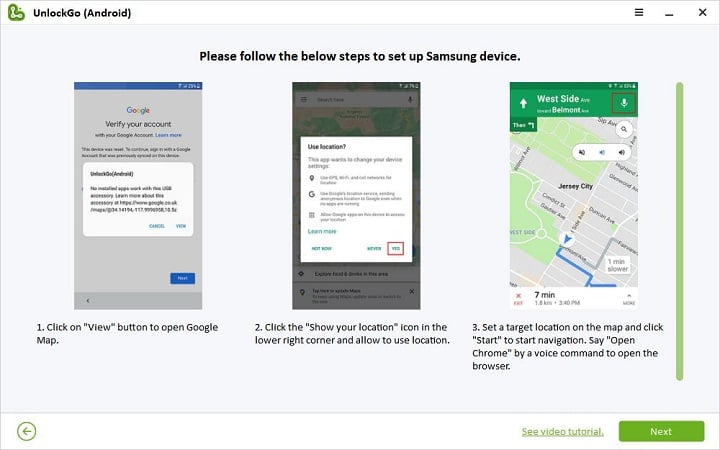 There are 3 points that need attention in this process.
Search "itoolab.com/bypass" in Chrome and get into the download page. Firstly, download "FRP_Bypass_Android_7.apk", then download "QuickShortcutMaker.apk".
When installing the APK, it is in reverse order, install QuickShortcutMaker first, then FRP_Bypass_Android_7.apk.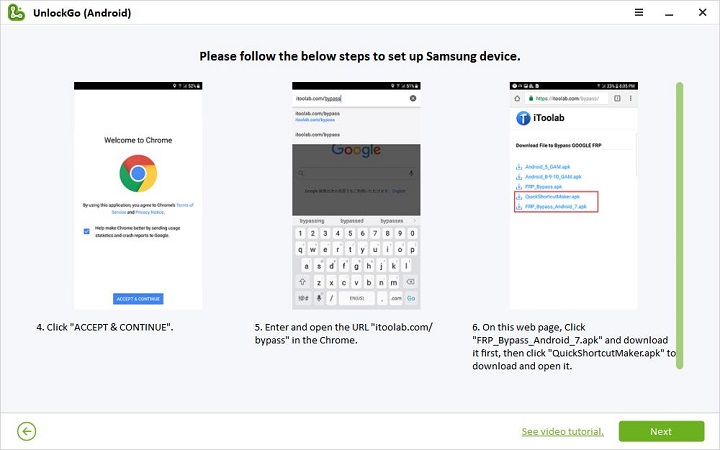 To ensure the following program runs successfully, in step 15, please make sure there is no "Find My Mobile" option or it is not selected on Phone administrators.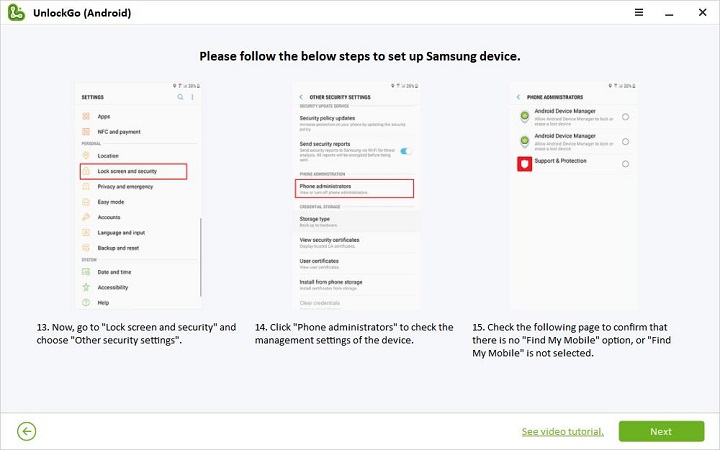 When you set up your device again, you will find the Google account you added is here. Go to Setting > Apps > Application manager, you will need to uninstall the FRP bypass tool.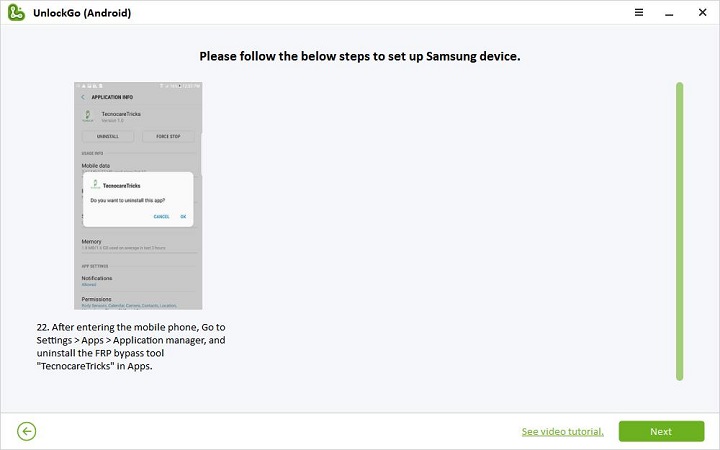 Now, you are regaining the whole access to your device.
For Android 6/9/10
Video Guide:
If you receive the notification, your Samsung device will pop-up a message, click "View" > "Agree" buttons. Now, you will need to update (If it requires) and open the Samsung Internet Browse.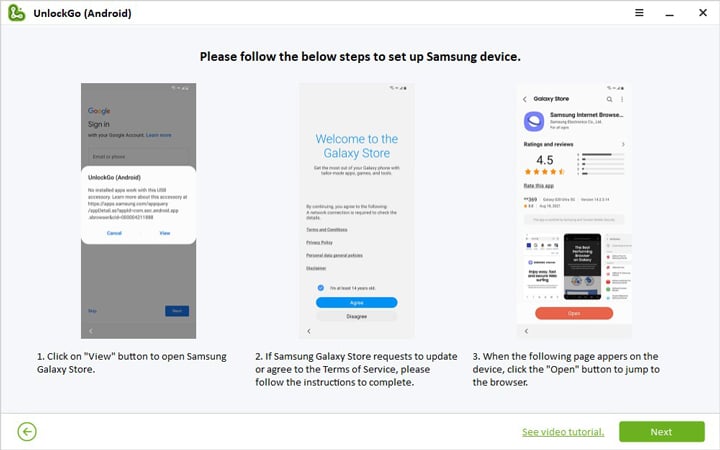 Next, enter the URL "itoolab.com/frp-settings" in the browser, then tap the first result in the google search and click "Open Settings" > "PIN" to set a new password.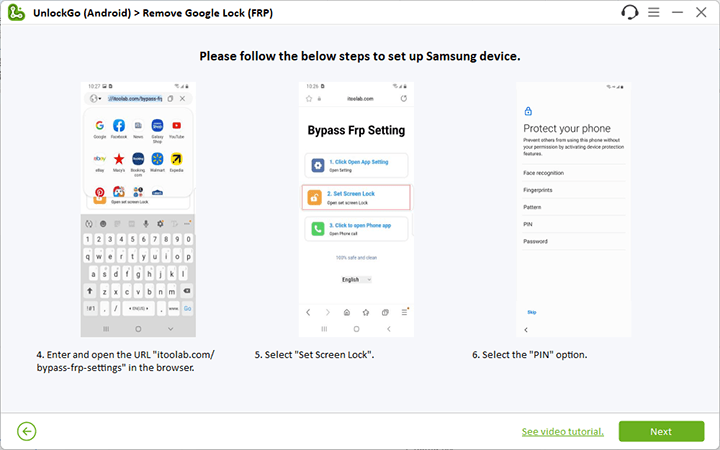 Once done, click "Continue" and confirm your password again. Next, click "OK" > "YES, I'M IN" > "GOT IT" to finish the setup.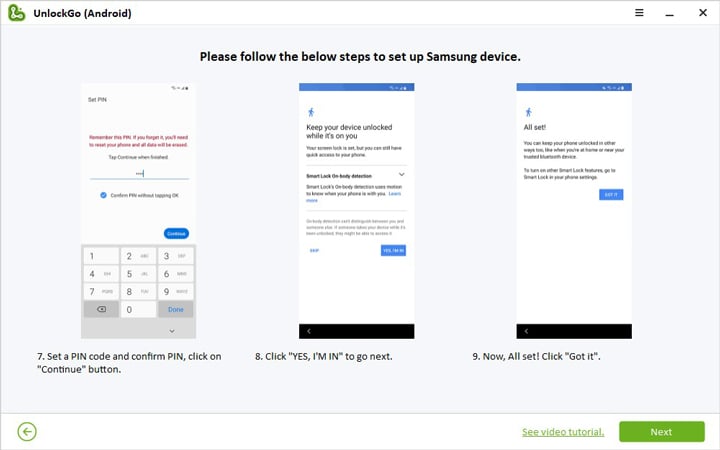 You will back to the Open Settings page when you finish the setup. You need to return to the WiFi Settings by clicking "<" keys, and click "Next". Now, enter the PIN that you just set and click "Next" again. In the following screen, click "Skip" key. Last, you need to click "Accept" button to complete FRP bypass.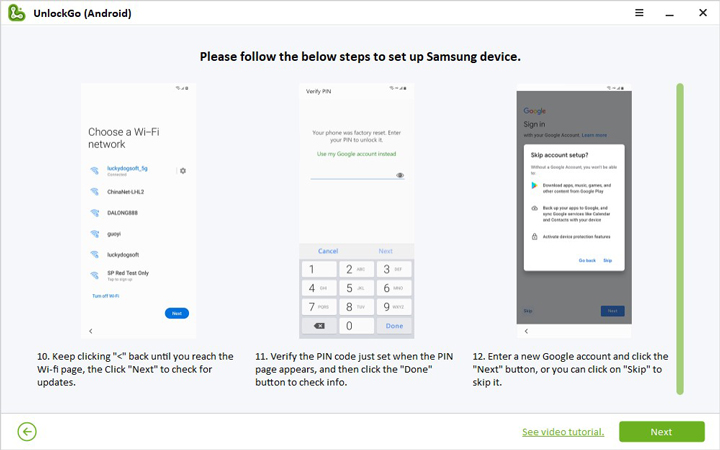 If the FRP Lock has been removed from your Samsung phone, you will see the "Removed Google Lock (FRP) Successfully" screen.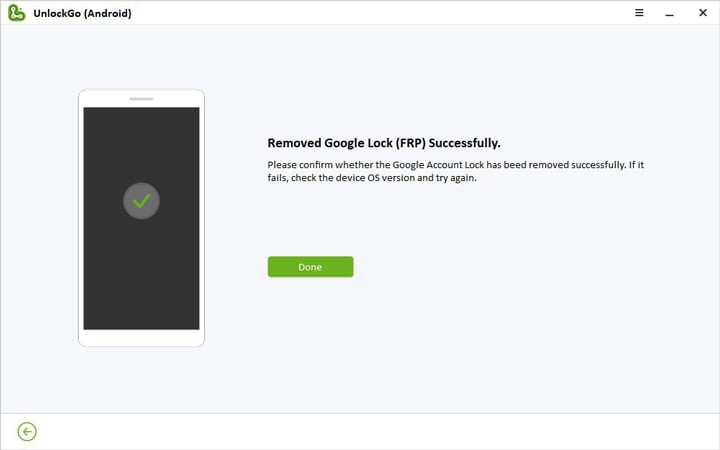 For Android 11
Video Guide:
Before you go ahead, please make sure you have these required tools:
Strong and stable Wi-Fi network
Another Samsung device (phone or tablet)
Samsung account
Throughout the process, please pay attention to the reminder at the top of the screen to use FRP Locked Samsung Device and Another Samsung Device separately.
When your locked Samsung device received the notification, a pop-up message will be shown, tap on "View". It will redirect to YouTube, then the page of "Welcome to Chrome" appears. Tap on "Accept & continue" – "No, thanks".
When it is loading to next page, hit the search bar on the top of screen, type "itoolab.com/frp-tools" in the search bar. Hit the "Open Setting App". Now you are able to enter Settings app.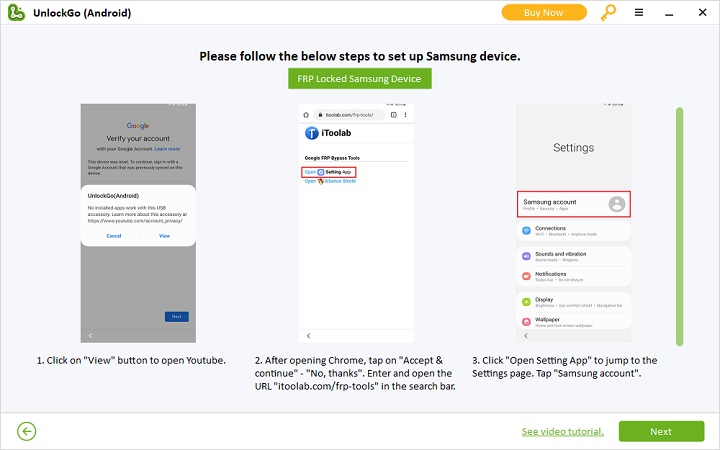 Tap on "Samsung account" and sign in your Samsung account. After that, you will get a pop-up about setting up Samsung Pass, tap on "Cancel". Then back to Setting, backup your data from "Accounts and backup" – "Restore data" from Samsung Cloud.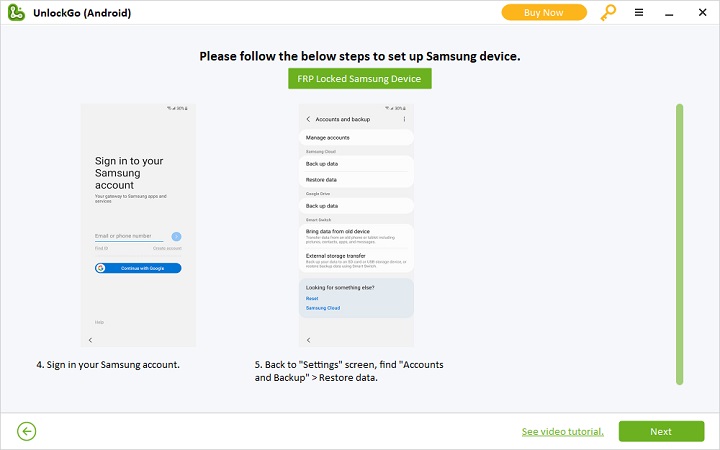 Note:

If you have already signed in your Samsung account in another Samsung device, here you will be asked for verification codes shown on another Samsung device.
You might need to verify your Samsung Cloud with the email that you signed in Samsung account.
Now leave your locked Samsung here, we will have a few steps on another Samsung device.
Firstly, sign in the same Samsung account in this device. Then download and install necessary app "Alliance Shield" from Google Play Store.
Well done. Now go to the website "alliancex.org" from Chrome and register an Alliance account. After filling in the registration information, you are able to activate your account by email.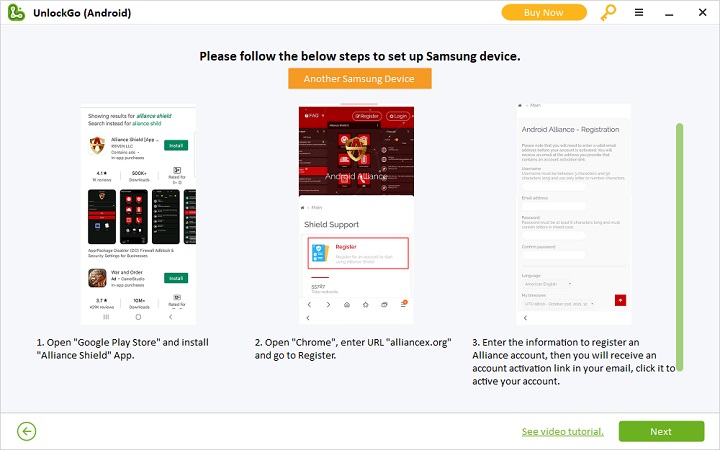 Note: Pay attention to the format requirements of the user name and password. If the format is incorrect, please reload the page and fill in again.
Backup your apps to Samsung account following the on-screen steps.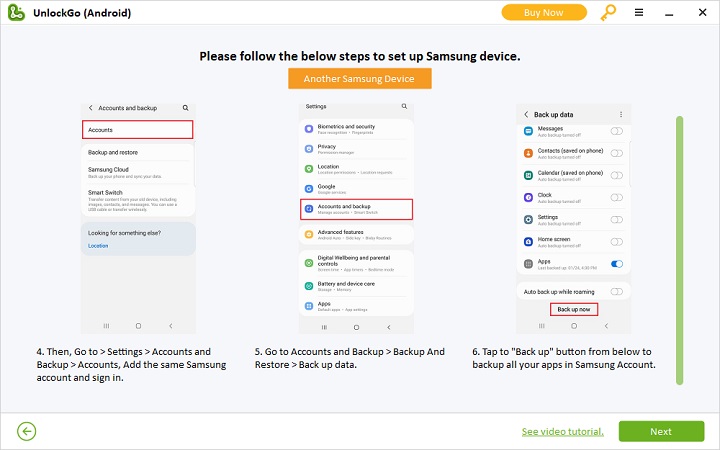 Once you completed the backup with another Samsung device, let's back to the previous Samsung device which is locked by FRP.
Restore the "Alliance Shield" App in the same Samsung account. Then back to the page of itoolab.com/frp-tools, this time you need to hit on "Open Alliance Shield".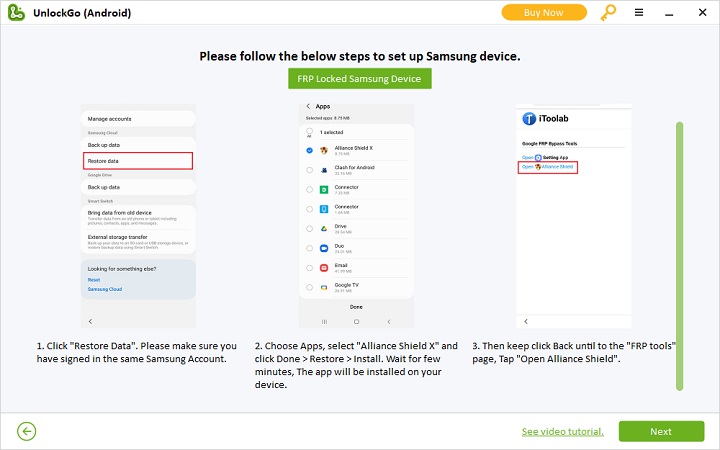 When you launched Alliance Shield, follow the instruction to sign in your Alliance account that you registered. Type any Device Name in the blank and tap on "Next".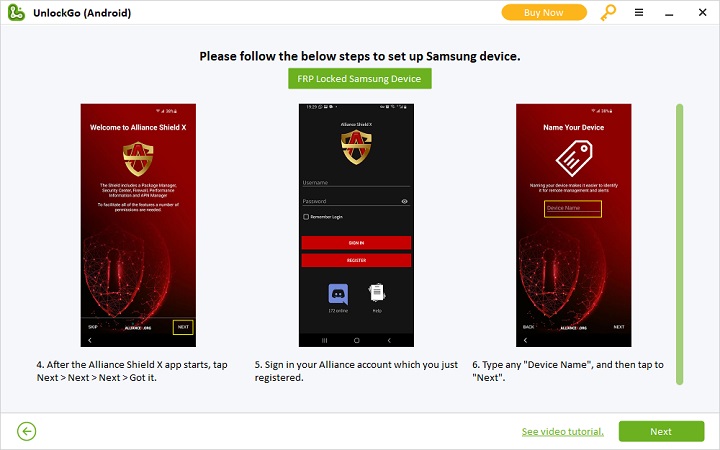 Turn on "Device Admin" and "Knox". Then here we enter "App Manager" from the menu.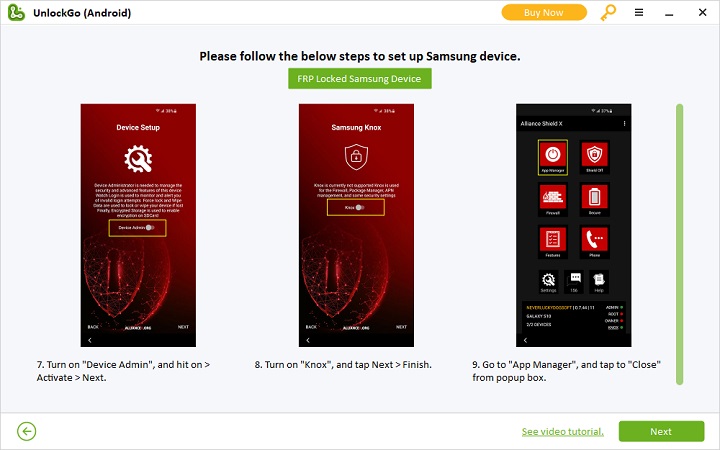 Tap on the search icon and type in "service mode" in the search bar. Go to "Activities" – "Service mode" – "Open". Pay attention that here are several Service modes in Activities list, choose the correct one as UnlockGo show you.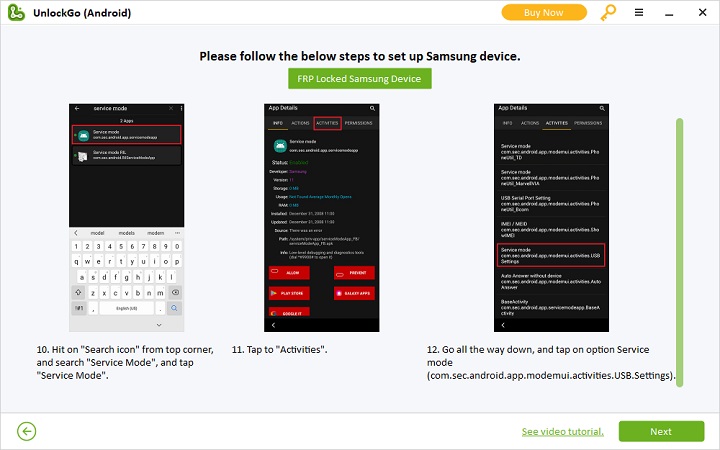 You're almost done the setup. In step 14, choose one mode from "MTP+ADB" and "PTP+ADB". If you fail to select the radio button, please try to click "PTP" first, then switch to "MTP+ADB" or "PTP+ADB".
If you are not sure whether you have set it up correctly, go back to the previous step and click the "Open" button in the pop-up to re-enter this screen.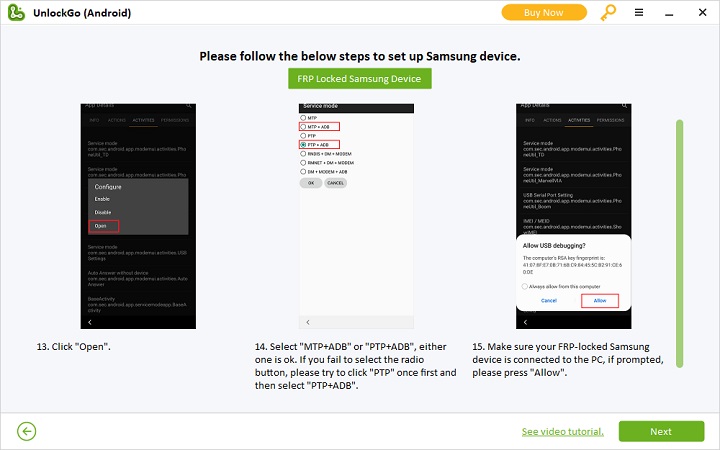 Note:
Make sure your FRP-locked device keeps connecting to the PC until bypass FRP successfully.
Now, tap "Allow" for USB debugging, UnlockGo (Android) will send a command to your locked device and it will restart automatically. It is normal for the screen to flash during this process, please do not disconnect the data cable. If your device still prompts you to access your Google account after rebooting, please manually restart it once more.
How to Unlock Screen Lock with iToolab UnlockGo for Android
iToolab UnlockGo for Android can remove android passwords in minutes, it supports removing all types of the Android version easily, including Samsung, Huawei, Xiaomi, Vivo, etc. Before starting, please download and install iToolab UnlockGo for Android firstly. Then follow the steps to remove lock screen easily.
Video Guide:
Step 1: Connect your device
Open UnlockGo (Android) from your computer, select "Unlock Screen Lock", then get a start and connect your phone with the computer.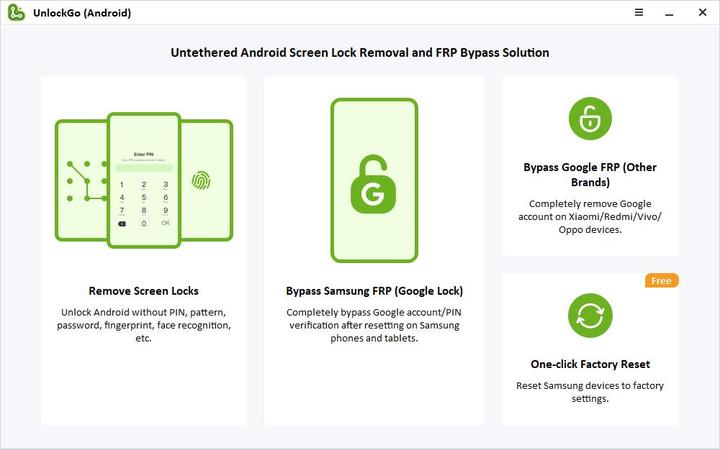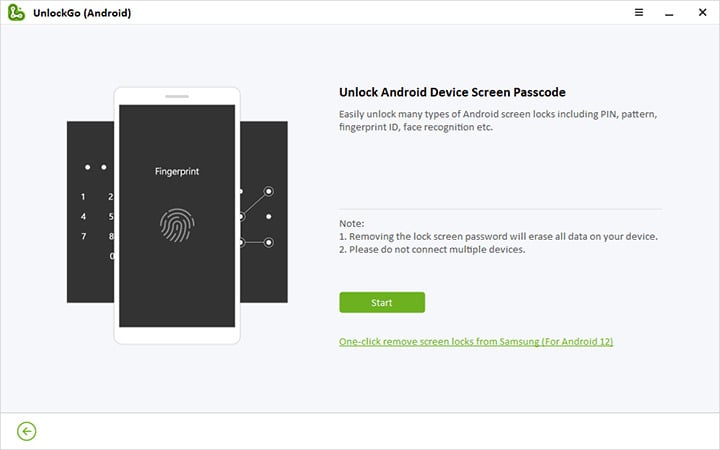 Step 2: Confirm device information
Before connecting, make sure to confirm your device information. Once you selected your Phone Brand, click "Unlock" to proceed it. Take Samsung for example.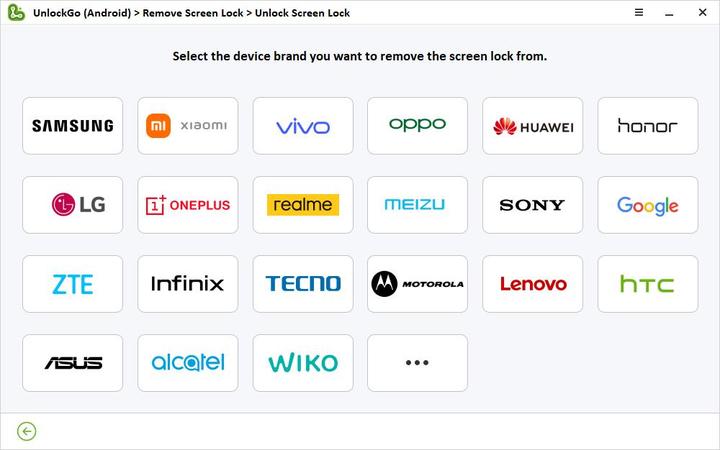 Step 3: Put your device into Recovery Mode
On Samsung phones with and without the home button, there are different ways to enter recovery mode. Please follow the on-screen introduction or video guide to enter recovery mode.
📖 Check detailed guide to enter recovery mode for phones without home button>>
📖 Check detailed guide to enter recovery mode for phones with home button>>
Step 4: Start unlocking process
Once your Phone has entered Recovery Mode, please follow the on-screen steps below to remove the screen password.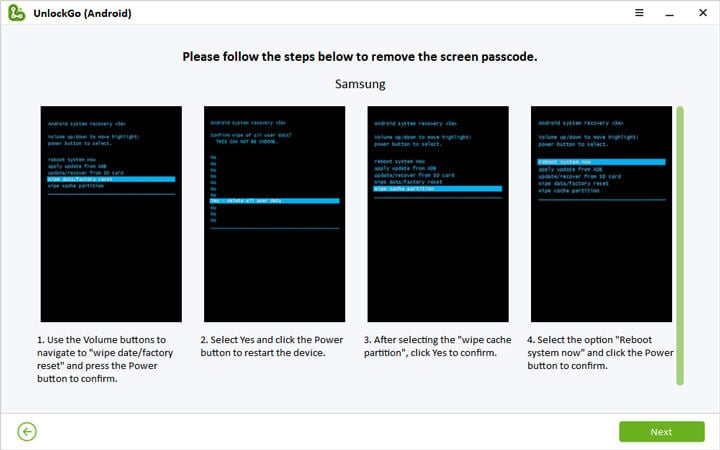 Note: Considering some device is different, they have entered "Reboot System Now" automatically. Then please ignore Steps 1-3 above.
Step 5: Unlock successfully
Finally, restart your Phone and you will be able to set up a new password.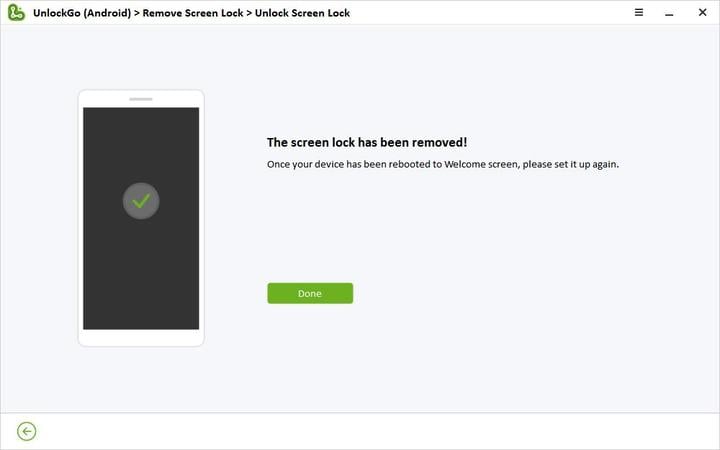 How to Unlock Screen Lock without Data Loss
If you have an older Samsung phone (earlier than Samsung S7), then you can try to this feature to unlock screen lock without losing data.
Step 1. Connect Samsung Device
Connect your Samsung device and select "Unlock Screen Lock without Data Loss" feature.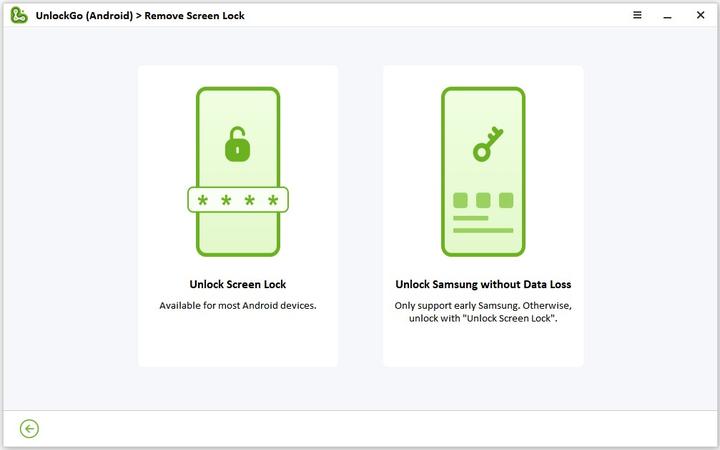 Step 2. Select Device Information
Next, you will need to confirm the unlock selection by clicking "Start".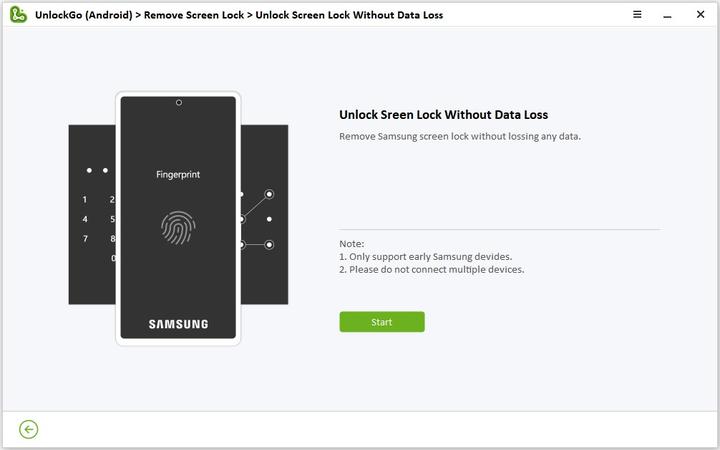 In the next screen, you need to select your device information. Please select the device name and device model, and click "Next".
Please confirm the device information is correct, or it will cause remove screen lock to fail.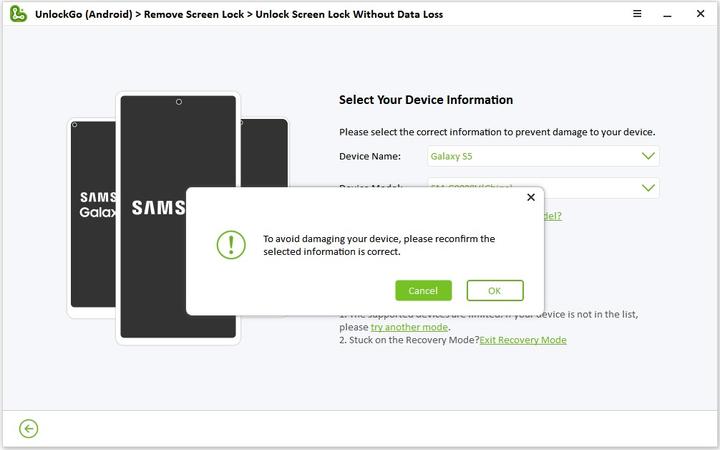 Step 3. Download Data Package
UnlockGo for Android will take a few seconds to download data package for you, and then click "Next" to move on.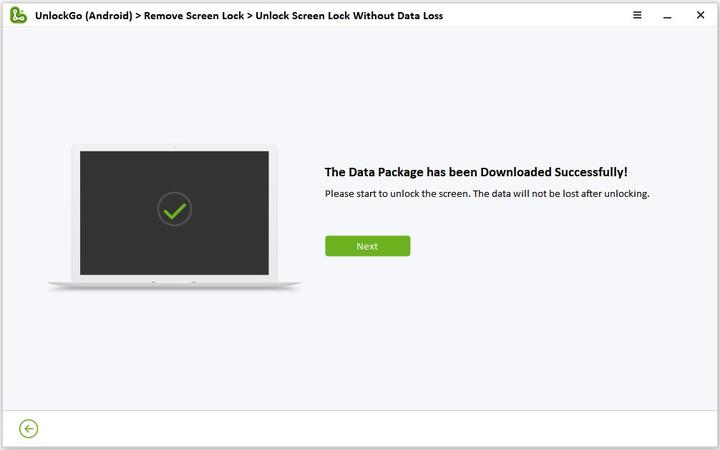 Step 4. Enter Download Mode
Now, follow the on-screen steps or check the video guide below to enter download mode. Once done, click "Start" button to continue.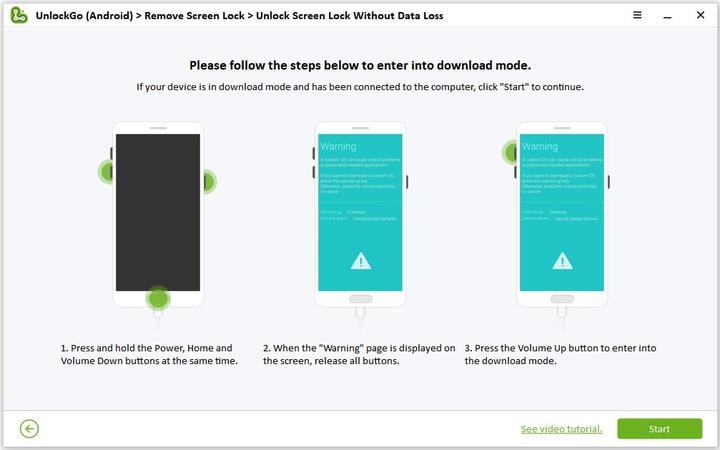 Step 5. Removing Screen Passcode
Once you've entered download mode, UnlockGo for Android will auto remove screen lock for you. It will spend a few minutes.