People usually don't want to spend their money on the subscription charges to use the services of an application. There are many cracked versions of different sites available on the internet. Every one of them claims to be true to their concept but they bring a lot of problems along. If you are also looking for iToolab UnlockGo Android crack version, then this article will guide you with the risks and benefits of this method and also a bonus code at the end.
Part 1: How to Download iToolab UnlockGo (Android) Crack Version Free?
The users who are here looking for crack software sites, you should know that there are a number of different websites available on the internet, which allow the users to download the crack versions of the software for free. Although there are quite a lot of such websites here are some of the options that allow you to download iToolab UnlockGo Android cracked software for free:
HaxPC
Minorpatch
BetterCrack
Although some of these websites may allow you to get UnlockGo Android crack for free but not all of them deliver what they claim. These websites come with a lot of risks and scams. So, you have to be aware before you actually download cracked apps. Your device may become a victim of malware and viruses. So, make sure before you do it continue reading the article to know more.
Part 2: Is It Safe to Download UnlockGo for Android Crack Version?
Firstly, to directly answer your query no, it is not safe to download cracked iToolab UnlockGo Android free. There are a number of issues that users have come across and reported when they tried to work with the cracked version. Here we have listed down some of the problems that might occur with these websites:
1. Slowdown of devices
The number one issue you could face with any of these cracked app websites is that your mobile phone or your PC can slow down or crash completely. This may be due to an outdated version of the application that is not compatible with the new operating system anymore.
2. Risk of Viruses
When you try to download iToolab UnlockGo Android cracked version, there are chances that you can come across websites which retain viruses. Sometimes, the hackers use these scam websites to enter into your device and try to use your data. Ultimately, you can lose your data or your system may crash.
3. Malware
There is a high chance that the websites which allow you to download UnlockGo (Android) cracked version for free may also contain malware that can ultimately damage your device. Malware is designed in a way that when they enter the host, it will not only disable the device but also cause data loss. Another situation that results in you being harassed by pop-up ads all the time, and you can't close them.
4. Breach of Privacy
Instead of downloading the software from the official website if you try to download the cracked version of the software or any application, there is a risk of the privacy breach. For instance, if you download a cracked version, the hackers would be able to access all your passcodes and important data and will get you in trouble.
Well, just imagine while downloading the crack version of the iToolab UnlockGo Android you lose your data, important documents or passcodes or your device crashes. Will this cracked version allow you to achieve what the official version does?
For this very reason we tried to compare the results of cracked iToolab UnlockGo Android with the official version:
| Features | Crack Version | Official Version |
| --- | --- | --- |
| Bypass FRP lock on Samsung [Android OS 5-13] | Only bypass Samsung FRP on Android 10 or lower in extremely low success rate | ✔️ |
| Remove all type of screen locks | Program errors may be caused | ✔️ |
| Unlock screen lock without losing data | ❌ | ✔️ |
| 1-Click Factory Reset Samsung | ✔️ | ✔️ |
| Regain complete access to your device | ❌ | ✔️ |
| Continuously updated with new versions | ❌ | ✔️ |
I believe you will make a more sensible and smarter decision after reading it.
Part 3: Is UnlockGo (Android) Free or Safe?
UnlockGo (Android) is a paid Android unlocker software. However, you are FREE to use the function of one-click factory reset your Samsung devices.
Well, downloading iToolab UnlockGo (Android) is free and this software allows you to not only bypass the FRP lock but also PIN codes, pattern locks, and face recognition. The tool is simple and reliable software to unlock phones of various models and also prevents loss of data. You can download iToolab UnlockGo (Android) below.
UnlockGo for Android is a completely safe application and a free trial download is available if it's compatible with your device. It has been tried and tested by millions of worldwide users.
It is virus-free software and doesn't put the devices at risk. iToolab offers a 30-day money-back guarantee if the application doesn't work the way it claims. It also offers 24/7 customer service which caters to the queries and the problems of users when using their products. They value any feedback as a way to optimize their products and provide a more convenient service.
The application is cost-effective with a simple interface that makes it a user-friendly tool. Above all, there is a clear step-by-step guide and a video tutorial to help you bypass any lock on your mobile phone.
UnlockGo is efficient in removing any sort of screen locks on many Android brands and also supports Android OS 5-13. Bypasses FRP Google lock only in 3 minutes and thus saves your time making it an excellent choice.
Part 4: How to Download UnlockGo (Android) Full Version and Bypass FRP Lock?
UnlockGo (Android) has the capability that allows you to bypass FRP Google lock in a matter of a few clicks. You will be able to remove the pin, pattern, and Face ID from your Android device with ease. It is an ultimate tool to if you have forgotten your password, Google account, or bought a second-hand set, to erase FRP.
Here is a video guide in which it has been explained and shown a tutorial to bypass all Samsung FRP Google Lock by using UnlockGo.
Video Tutorial: One-Click Bypass FRP on Android 5-13
Steps to remove FRP lock on Samsung phone and tablet
Step 1 Connect the device to PC
Launch the software once you have downloaded and installed it, and connect your Samsung device to your PC using a USB Cable. Now, you will click on Remove Google Lock (FRP) option.
Step 2 Try the latest FRP removal method
Click on the Start button to begin and then select the first option.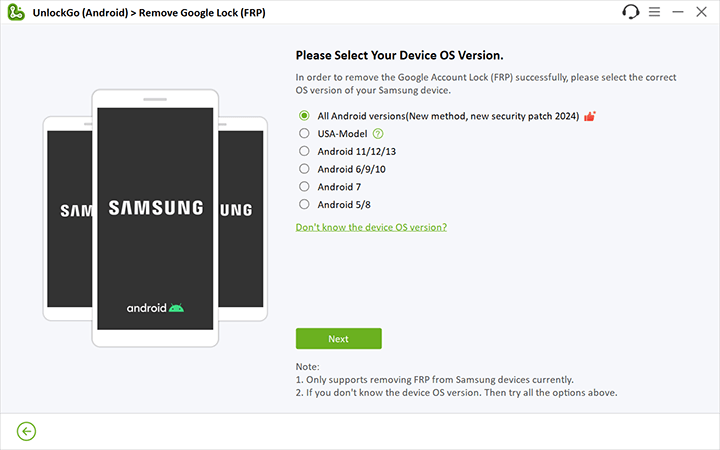 Step 3 Get into an FRP-locked Samsung device
Unlike the other tool, you don't need any complicated steps, only two steps to enable USB debugging in the locked device. Then your phone will be restarted by UnlockGo. Just wait a few seconds, and you will regain full access to your phone.
💡 In the latest version, UnlockGo (Android) fixes the bug about emergency call missing on some models.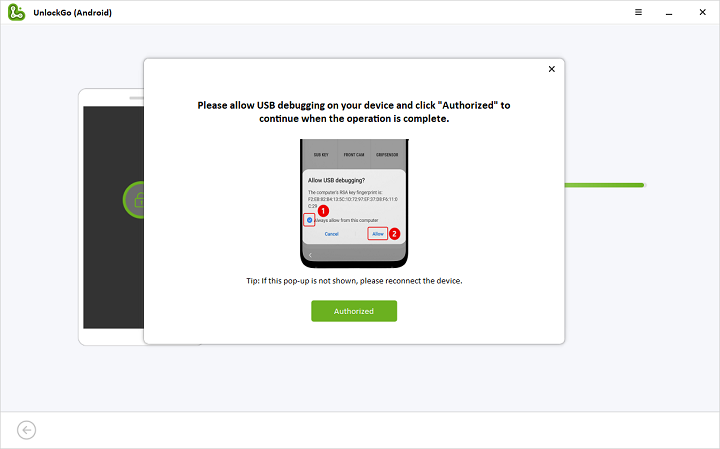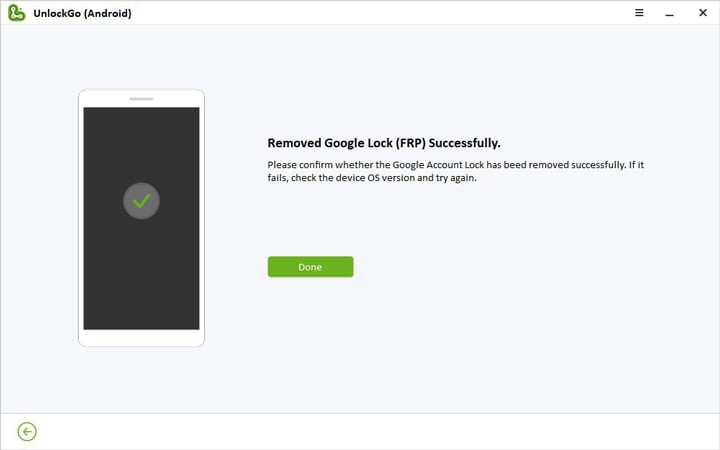 Bonus: A Gift Coupon for Your – 10% OFF
For a full version, you will require UnlockGo Android licensed email and registration code. So, before you get your hands on them, let us know if you want to save some money on iToolab UnlockGo software. Well, if yes then it's a golden opportunity that you can avail of by using the coupon code and some free registration codes we will provide. By using the coupon, you will be able to avail 10% off on your purchase.
🔥 🔥 🔥 Note: First come, first served.
To avail the amazing discount, you can use the coupon code:
iToolab UnlockGo (Android)
10% OFF coupon code for FRP bypass tool
-10% 100%
In Conclusion
We would understand when some users opt for iToolab UnlockGo (Android) cracked version to save their money. But you need to be aware of the privacy concerns that this method might bring along. We prioritize your security and privacy. Therefore, recommend you to use the official full version of UnlockGo for Android so you can avail the maximum benefits and bypass any lock on your phone with ease. You can also be befitted from the discount code we have provided you so you don't get into malware and virus on your devices.