If iSpoofer is not working for you, this guide will share with you some of the best iSpoofer alternatives you can use.
All the tools here will be very useful when you want to fake the GPS on your iOS device. The only difference is in their effectiveness.
What Is iSpoofer?
iSpoofer is a GPSs simulator that runs on both Mac and Windows. It supports a wide range of iOS devices and you will not need to jailbreak the device to use it. It allows users to easily change the location on any device, giving you access to geo-restricted content and apps.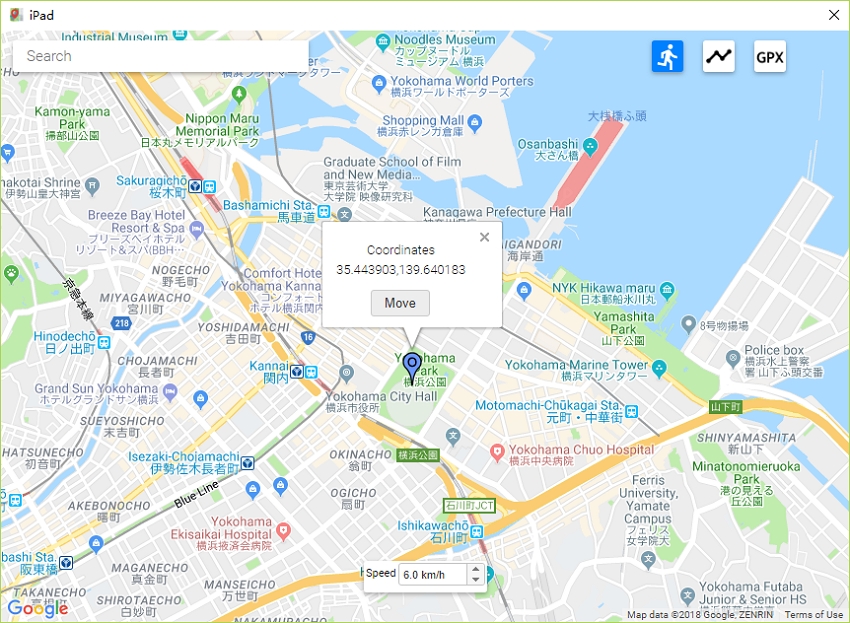 iSpoofer Shutting Down and Not Working
The iSpoofer team recently announced they were shutting down and will no longer provide support for their apps. It is not immediately clear why iSpoofer is shutting down, perhaps it has something to do with the Niantic & Global ++ case. We will let you know the reasons as soon as iSpoofer shares some explanations for their decision to shut down.
We are also unable to find a download link for it. This means that you may be unable to get an update for it and therefore you're unable to fix any issues you may have.

Why We Don't Recommend iSpoofer for Pogo
Let's begin by looking at some of the ways iSpoofer can fail.
Even though iSpoofer can be a good alternative for spoofing your location, most location-game users tend to avoid it. The following are some of the reasons it is not very reliable:
1. It Depends on iTunes too Much
To use iSpoofer, you must have installed the latest version of iTunes on your device. This high dependence on iTunes can lead to several iTunes errors as you try to use iSpoofer.
2. It Is not Easy to Set up
You may find setting sup iSpoofer to be more difficult than some of the other alternatives we will outline in this article. There are too many complicated steps to follow that you may find the process difficult unless you have technical expertise.
3. Inflexible Speed Simulation
While you will be able to use iSpoofer to teleport the device to any desired location, you will find it very difficult to change the simulated movement quickly. This can interfere with the way location-based games like Pokémon Go notice location change and this can lead them to ban your account.
4. Location-Based Games May Detect iSpoofer
Most people who use iSpoofer have reported getting warnings from Pokémon Go and other games. This is because Pokémon Go is able to detect iSpoofer's activities. Therefore, most Pokémon Go players will not use iSpoofer to fake their location.
Best iSpoofer Alternative for iOS
If you are looking for a way to mask your actual location by teleporting the device to any location in the world without getting the attention of the location-based game, iToolab AnyGo is the best replacement tool to use.
1. iToolab AnyGo
We will take a look at some of the different ways AnyGo can be of help to you, but let's begin by looking at its main features:
Features:
Change the GPS location on your iPhone/iPad essentially teleporting the location anywhere.
Simulate GPS movement along a specified path or between two-spots on actual roads.
Pause and continue your movement anytime in customized speed.
Fully compatible with all LBS apps and games like POGO.
Safe to control mutiple devices simultaneously.
To use AnyGo, install it on to your computer and then follow these simple steps:
Using Teleport Mode:
Step 1: Launch AnyGo on your PC or Mac and connect the iPhone to the computer using USB cables. Wait for the program to detect the device and then click on "Start" to begin.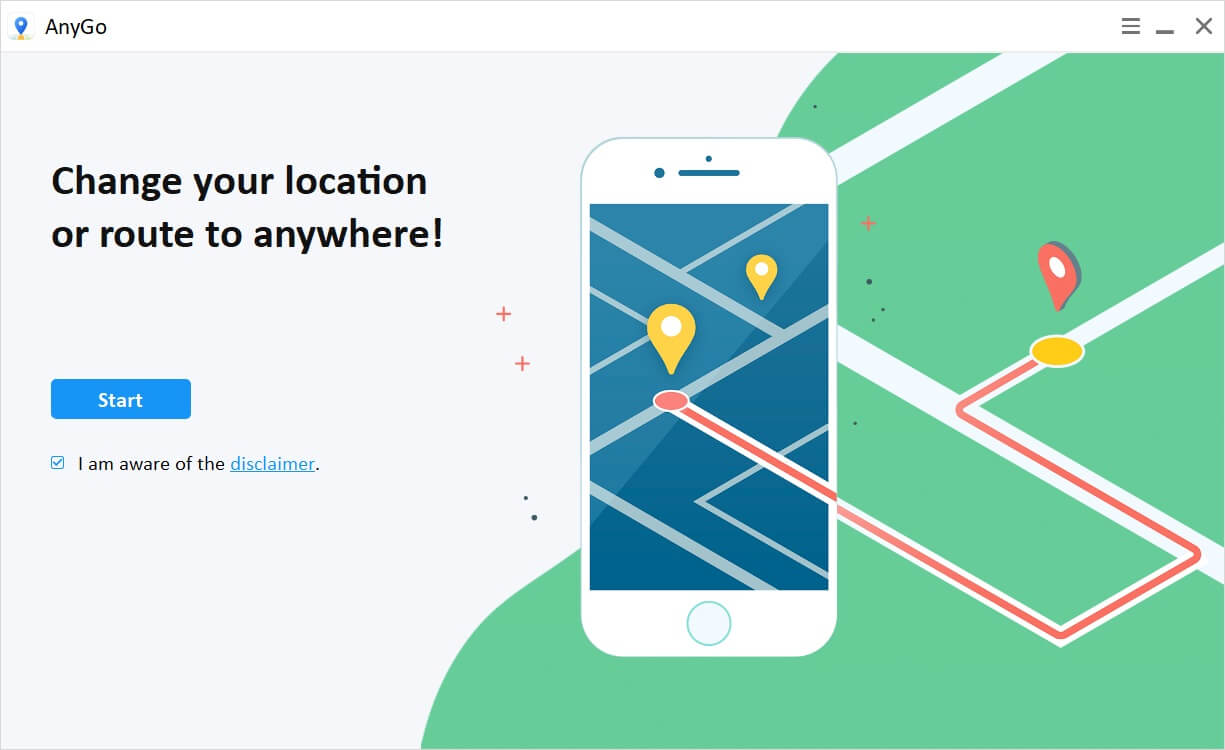 Step 2: A map will appear on the screen showing the current location of the device. To teleport the device, simply click on the "Teleport" icon at the top-right corner and then enter the location you would like to use. Click "Search".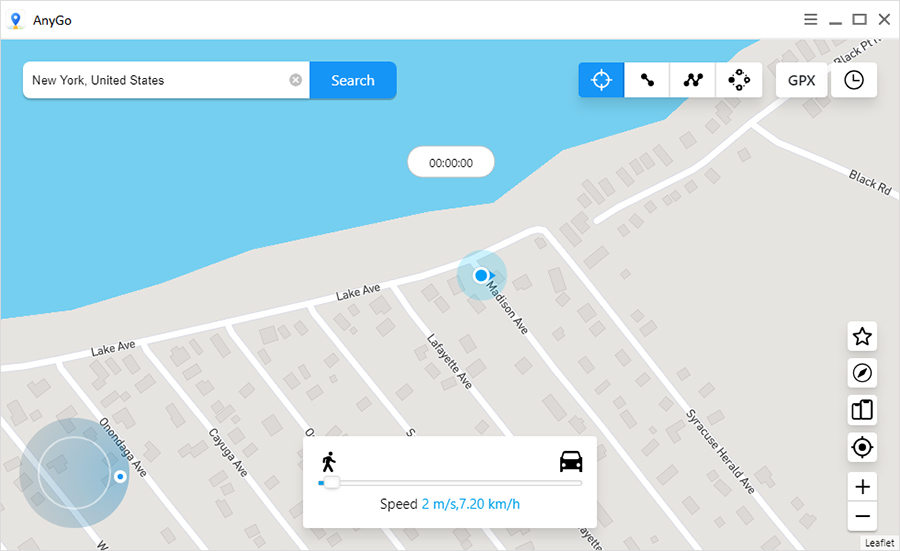 Step 3: Click "Go" in the popup that appears to change the device's location to these chosen coordinates.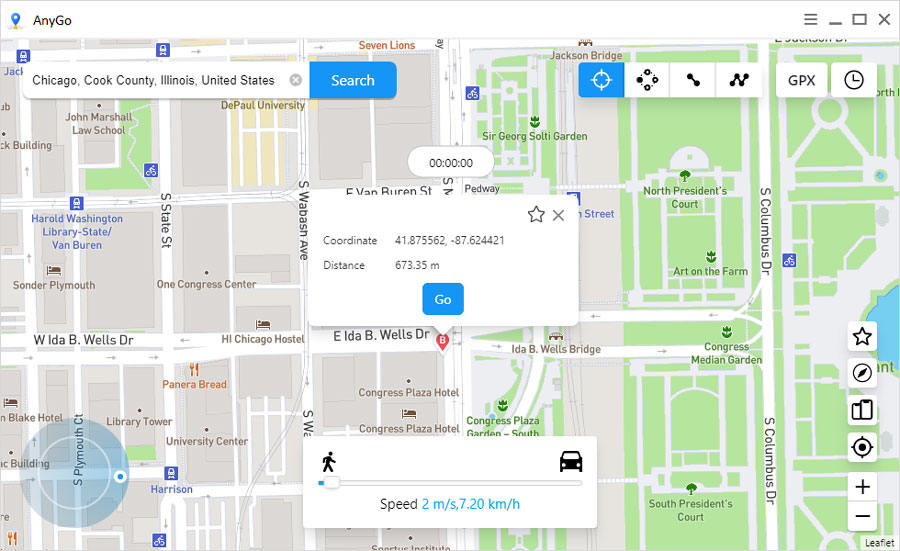 Simulate Movement Between Two Spots:
Step 1: Click on "Two-spot route" in the top-right corner of the window and then select the place you would like to go to on the map. A popup will appear to let you know the exact distance.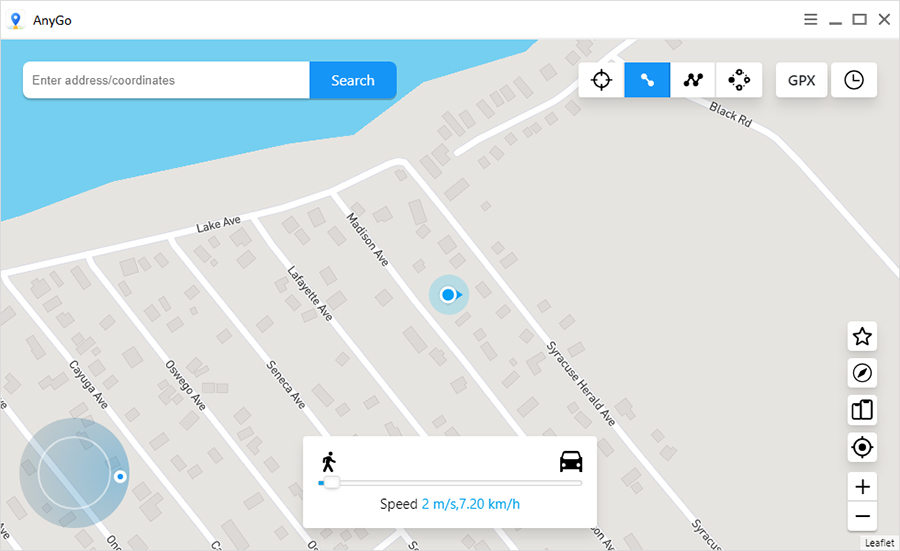 Step 2: Drag the "Speed" slider to determine how fast you'd like to go and in the popup that appears, select how many times you want to go back and forth between the two spots. Click "Go" to begin the simulated movement.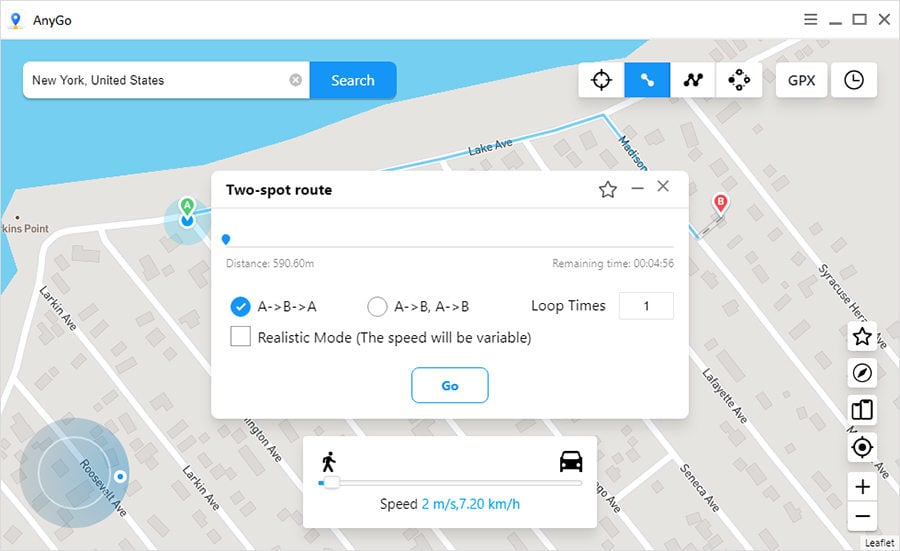 The following are some of the other alternatives that you can use instead of iSpoofer:
2. iTools
Developed by ThinkSky, iTools is a good alternative to iSpoofer in that it is much easier to use and allows you to change the location on your iPhone much faster. You also will not need to jailbreak the device to change the location using iTools: you just need to install iTools on to your computer and connect the iPhone to use it.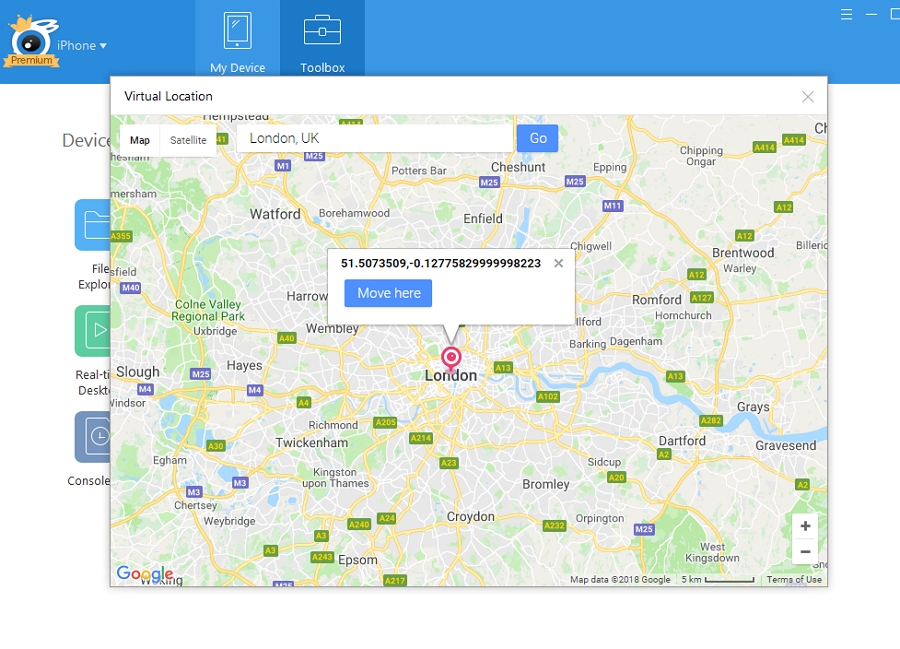 Features
:
It is a stable and reliable tool that you can use to very easily teleport the device to any location in the world. To change the location, all you have to do is drop a pin to any location on a map.
The new location will remain even if you disconnect the device from the computer.
The free version allows you to simulate the location three times. You can spoof the location as many times as you want when you purchase the premium version.
You can change the location without opening Pokémon Go first. This ensures that the location-based game will not be able to detect that you have changed your location.
3. Nord VPN
Nord VPN is a VPN app that can also help you mask your true location by allowing you to select any other server in any other location in the world. Like other VPN apps, it works by hiding your IP address by moving it to the location of the new server that you have chosen.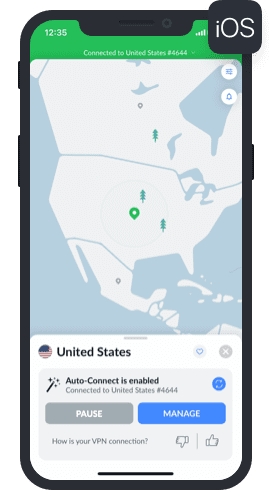 Features:
Nord VPN is one of the most secure VPN apps in the business and it will not expose the device to any malicious attacks
Provided there is a Nord VPN server in the location you want to teleport to, you can use this method to easily change your location. It will, however, not work in areas that don't have the servers.
You will not need to jailbreak the iOS device to use Nord VPN: all you have to do is install the VPN app on to your device, create an account and select the new location you want to use.
Best iSpoofer Alternative for Android
Most Android iSpoofer alternative applications are free, and many mock Location Apps can be found on Google play. As mentioned in the previous article, you can view it here.
These APPs can directly modify the GPS location on the Android phone, and simulate the route and provide joystick control for Pokemon Go. They are running in the background of your mobile phone, and there are often some unstable teleporting. Therefore, when you using it, pay attention to the security of your Pokemon Go account.
Conclusion
iSpoofer is the most recommended tool for faking location for Pokemon Go, so you don't have to walk when playing Pokemon Go games. After Nintendo banned it, the software was officially shut down. AnyGo has basically similar or even better features. As an alternative to iSpoofer, it is worth a try.