Perhaps you've unfortunately forgotten the passcode to your Mi phone with crucial data that has been lying not in one part of your home this whole time Or your Mi device gets stuck in the middle of an important operation which you must continue ASAP. Well, you don't have to panic!
On this page, we will walk you through the most effective ways to reset Mi phone when locked. But before we proceed, let's take a look at some things you must know before you reset or factory reset a locked Mi Phone. So, keep reading.
Things You Must Know Before Reset Mi Phone
There are several vital things you must do before you reset your Mi phone, and below are the most important ones you should know.
Make sure to backup your data or move it to an external storage device before resetting your Mi device. This will prevent a total loss of your precious data, including videos, photos, documents, etc. However, if you've got no idea on how to backup Mi data or move it to another storage, don't panic, as we've explained the best way to reset Mi Phone without losing data in this article.
Ensure to copy or move all your important contacts saved on Mi phone to SIM.
Resetting an Mi phone would also erase all Gmail data and passwords used on different platforms. Hence, to prevent any kind of unfortunate situation after the reset, it's best to take note of passwords to all your accounts.
Having known the top things to consider before resetting an Mi phone, let's dive in to find out the different ways to reset an Mi phone within a few clicks. So, read on.
How To Reset Mi Phone Without Losing Data?
If your Mi phone, unfortunately, gets stuck in the middle of an important operation, then this solution might be of good help to you.
With the soft reset, you can reset a stuck Mi phone without losing important data. All you've just gotta do is to follow the simple steps below to reset Mi phone using power button.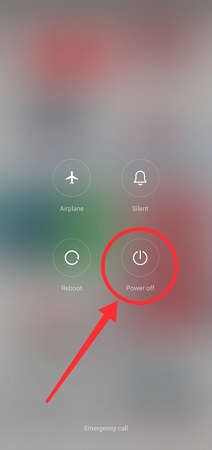 Step 1: Hold firm the power button of your Mi phone. Then tap the Power off button to turn off the device.
Step 2: Once you've done that, hold firm the power key again and restart the Mi device to see if the glitching has stopped.
How To Factory Reset Mi Phone?
Another effective way to reset Mi phone is by using the factory reset option. By using this method, it'll hard reset Mi phone. Meaning, every data you've got on the phone would be erased, and everything about the device would be set to factory settings. So, before you continue with this method, make sure you've backed up your data or moved it to another storage device.
Factory Reset Mi Phone From Settings
Step 1: Launch Settings on your Mi phone and select My device from the options.
Step 2: Select Backup & reset from the My device interface.
Step 3: Under the Backup & Reset section, click Erase all data (Factory reset).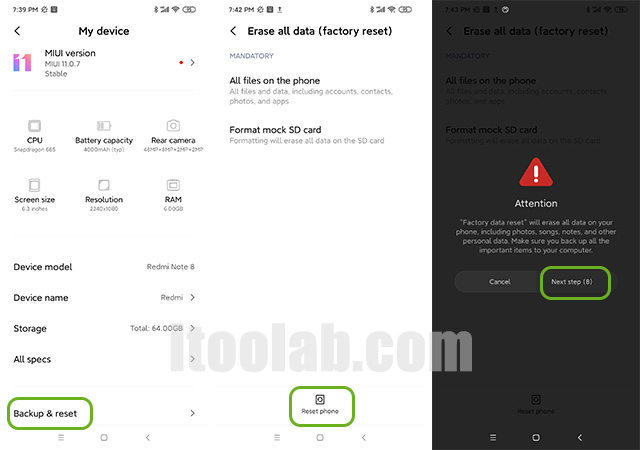 Step 4: Hit the Reset button on the new page.
Step 5: Now, click Next step on the new page and select Ok after a few seconds. Afterward, just wait while the factory reset operation is in progress.
Step 6: Once the factory reset operation is completed, your device will restart by itself. All you've to do next is to complete the setup.
Factory Reset Mi Phone Via Recovery Mode
Step 1: Switch off your Mi device by holding down the power button and selecting 'Power off.'
Step 2: Once the phone shuts down completely, simultaneously hold both the Power button and the Volume up button firm. Then release the Power button once the Mi logo appears on your device screen. However, make sure to keep pressing the Volume up button until you don't see the recovery mode screen any longer.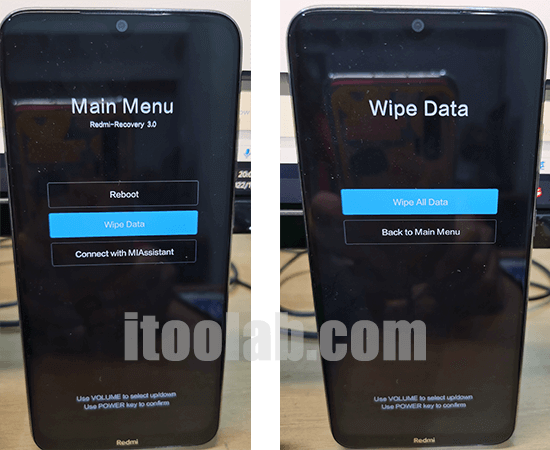 Step 3: Using the Volume down button, scroll down to Wipe data and use the Power button to select OK.
Step 4: Select Wipe data from the new interface using your device's Power button.
Step 5: Using the Volume down button once again, scroll down to confirm and press the Power button to verify the selection.
Step 6: Once confirmed, the device will start to Factory reset and will be completed once it reaches 100%.
Step 7: Once the Reset operation is completed, press the Power button to go back to the main menu. Then from the main menu, press the Power button again to select the Reboot system option.
Now that you've successfully factory reset Mi phone with power button, you can recover your data from a backup or move it from the storage device where you stored it.
Better Choice To Factory Reset Mi Phone Without Password?
Have you been searching for a reliable system and recovery software that efficiently resets Mi phone when locked?
iToolab UnlockGo (Android) is the perfect tool for you!
This robust software allows easy reset and bypass of locked or stuck Android devices, including Samsung, without any complication.
Do you know the amazing aspect of it all? You don't need to be tech-savvy before you can utilize this tool. UnlockGo for Android boasts a clean interface, making it very easy to use and can be employed by users at all levels. Below are some key features of this amazing screen lock removal software.
Xiaomi Lock Screnn Unlocker
Effortlessly remove all kinds of Android device screen locks
Unlock Samsung device without losing data
Bypass google lock (FRP) on Samsung devices within a few clicks
Execute all kinds of Android reset operations
Support over 2000 Android phones, including tablets from 15 different brands
Before proceeding to the steps, make sure you've backed up your Mi phone data or moved it to an external storage device.
Step 1: Launch UnlockGo for Android
Once you've downloaded and installed UnlockGo for Android software on your PC, launch the program on your PC, select 'Unlock Screen Lock' from the interface, and connect your Mi device to the PC using its cable.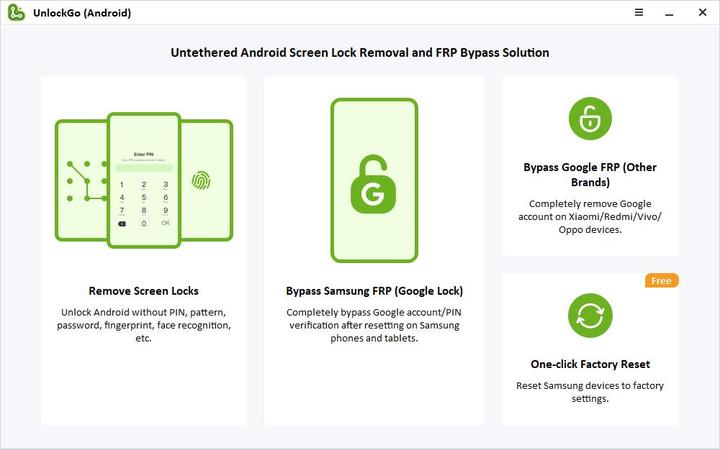 Step 2: Confirm Device Info
In the new interface, click on the Start button and select your device information, as shown in the image below. Since your device is Mi, select Xiaomi as the device brand and click Unlock to proceed.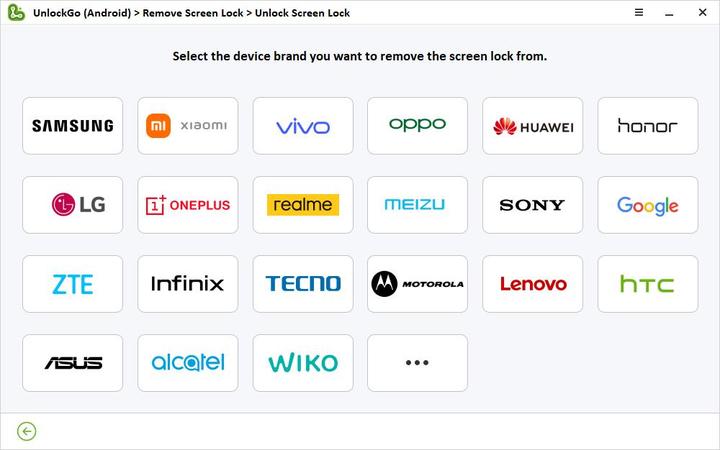 Step 3: Set Device to Recovery Mode
To enter Recovery mode, simultaneously press the Volume up button and Power button on your Mi phone. Once you've done that, follow the instructions as displayed on your PC and click Start on the software interface once you're done.
Step 4: Start Unlock Process
Once your phone is set to recovery mode, follow the steps displayed on your screen as shown in the image below to reset locked Mi phone without password.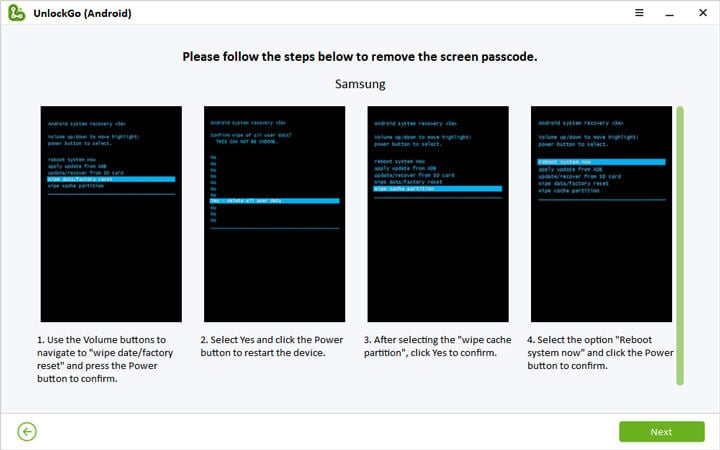 Step 5: Unlock Phone Successfully
Once you've completed the steps above, restart your Mi phone and set a new password.
It's as simple as that!
How To Reset Mi Phone Without Mi Account Password?
After you've successfully reset your Mi phone, you might need to login into your Mi account to verify it. Hence, if this is your situation, you need to reset your device account password.
Here, we will walk you through how to reset Mi phone without your Mi account password. All you need is just your email address or your mobile number. So, keep reading.
Step 1: Visit the Xiaomi official website www.mi.com, and on the Xiaomi page, click on the Sign-in button.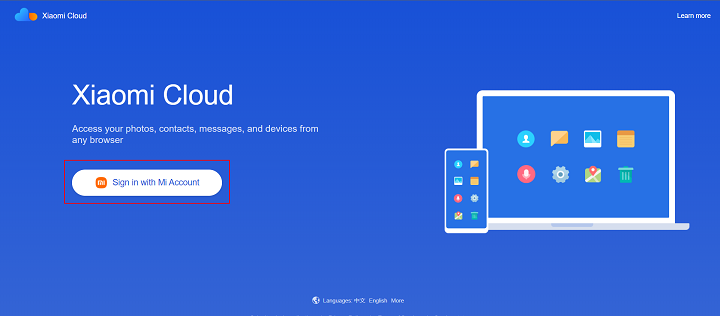 Step 2: On the Sign-in page, click on forgotten password, enter your Mi email or mobile number on the next page and click on Next to proceed.
Step 3: If you use a mobile number, you'll get an option to receive an OTP to the number.
However, if the number is no longer working, select Not working.
Step 4: Select Email address as your verification method, click Next, then hit the Send button to receive an OTP via your email address.
Step 5: Input the OTP sent to your email, then on the new page, enter the new password and verify it.
It's perfectly done! You can now log in to your Mi account without any password problem.
Conclusion
Resetting your Mi phone when locked shouldn't be a breathtaking task. As you can see, all you need is only a few clicks to get the job done. It doesn't matter if you're tech savvy or not.
Nonetheless, if you're looking to reset locked Mi phone when locked fast and efficiently, then don't hesitate to reach out for the iToolab UnlockGo for Android lock screen removal tool. Yes, this is because it's very easy to use, and it can get the job done perfectly without you going through any long process.