Fingerprint sensors are fast, secure, and widely used on lots of devices including Android and iOS. Fingerprint sensor (Touch ID in iOS) is used for multiple purposes as a security solution.
Secret codes are the best way to keep your data safe and confidential. Every person has a unique secret code on their fingers that can't match anyone. This makes the fingerprint sensor more reliable and easier to use. Even most branded cell phones have technical issues, which are nerve-wracking problems especially if you are in a hurry and your fingerprint sensor is not responding.
This article will give you several concise and proven methods to fix fingerprint sensor not working so don't miss out!
Possible Causes for Fingerprint Scanner Not Working
Here are some common reasons why fingerprint recognition does not work well. Let's scroll down to find out if you belong to one of these situations.
1. Liquid or dirt on your fingers
Make sure that your fingers are clean because fingerprint scanners need clean figures to read the image on your fingertip that you set to unlock the screen. Once you wash your hands, pat them dry, and try your fingerprint, if it's working.
2. Injured or scarred figures
Hectic jobs or accidents may cause a noticeable change on fingerprints that often leaves scars on figures especially labor work or hand injuries. These scars change the original fingerprint by leaving marks or lines on your finger that restrict your phone to unlocked from saved fingerprint recognition.
Most Android phones allow their users to add up to five fingerprints to unlock their phones in such cases.
Follow these steps to do it promptly:
Go to Settings
Select Security
Tap the Fingerprint option
Add a new fingerprint
To do it more quickly just delete the old one and add a new fingerprint.
3. The fingerprint scanner is wet or dry
Fingerprint scanner needs cleaning, like your figures. They accumulate dirt and grease from your figures by frequent touches, affecting the scanner to read your figure print properly. Clean your scanner or screen with a damped cloth dipped in alcohol, or just with water. Avoid scratching or pressurizing it with harsh/pointed things to protect it from serious damage.
4. Software Bug
Check if your software is up-to-date. Pending updates cause fingerprint sensors to not work properly, install them to keep your phones updated. Moreover, if any issue occurred after software update, please roll-back to the previous OS version.
To install important updates follow these steps:
Go to the Settings app
Select System Update
Download and install important updates
5. Fingerprint hardware is not available
If your Android fingerprint scanner still not working, it may be due to fingerprint hardware is not available. This issue needs to be fixed by the official technician of your phone's service center.
What Should I Do If Fingerprint Sensor Not Working Caused by Unknown Reasons
Now you surely got the answer to why won't my fingerprint work? If the above methods don't work, try to do it manually.
Restart your device
Most of the software issues like an Android fingerprint is not working can be fixed by rebooting your phone. This step does a lot for your phone because the devices that aren't restarted for a long time may lose their performance.
Just press the power button for a while to let your phone restart. Give this method a try as it resolves most of the software-related issues. Please make sure to backup important data.
Wipe System Cache
Still fingerprint not working? Don't worry, this method fixes your fingerprint sensor issue. Phone cache affects the memory of your phone that sometimes results in the malfunctioning of a fingerprint sensor. Follow these easy steps to make your phone cache free.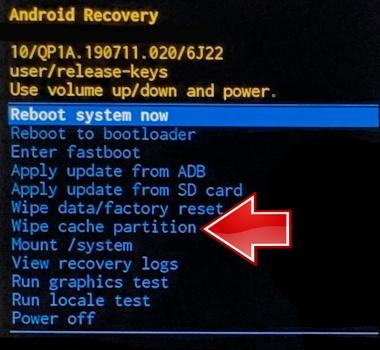 Firstly, switch off your device
Restart phone into recovery mode
Select Wipe Cache Partition by using volume buttons
Confirm by using the power button
Restart your device
Finally, check if your fingerprint is working.
Locked Out of The Device as Fingerprint Not Working
Tried all methods but you're locked out of the device due to the fingerprint not working. Then it's time to experience the most powerful and professional unlock tool to fix your Android's fingerprint issue. iToolab UnlockGo for Android supports 15 brands and 2000+ Android phones and tablets that simply remove any type of locks on Android devices, including fingerprint, PIN, pattern and face lock.
iToolab UnlockGo for android is a popular tool to unlock your Android phone and tablet. Enjoy the most powerful Android locks removal features includes:
Android Unlocker
Professionally remove all types of screen locks on android phones (Fingerprints, Password, PIN, Pattern, Face)
Unlock Samsung screen lock without data loss
Compatible with numerous Android brands (Samsung, Huawei, Motorola, Xiaomi, etc)
Bypass Samsung FRP lock on Android 5~11
Step 1. Connect your phone with PC
After installation, open UnlockGo (Android) from your PC. Select Unlock Screen Lock, once it runs connect your phone with PC. Then click Start to go ahead.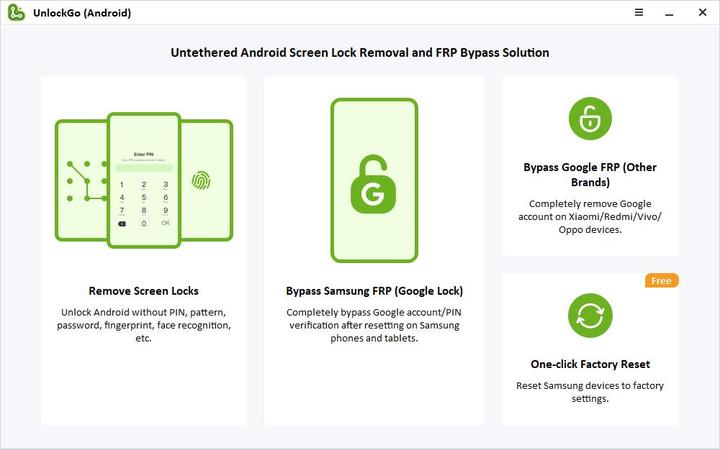 Step 2. Device validation
Confirm your phone brand and please ensure your device is connecting to a good Wi-Fi network. Click Unlock to continue.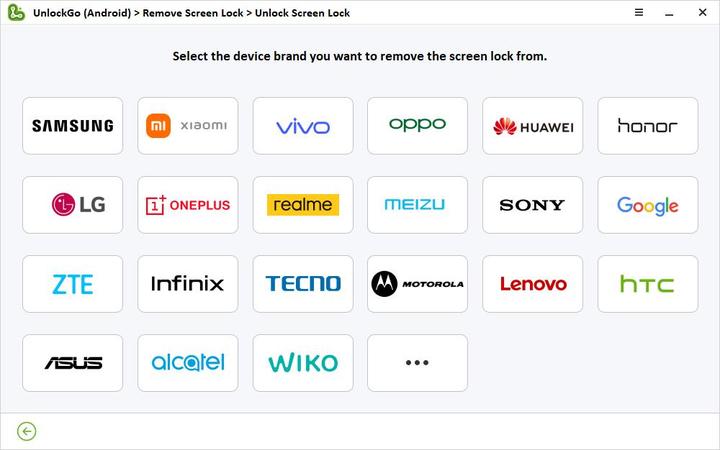 Step 3. Set your device in recovery mode
Smartphones have different methods to enter recovery mode with or without home buttons. Check our complete guide to enter Samsung phones recovery modes with or without home buttons.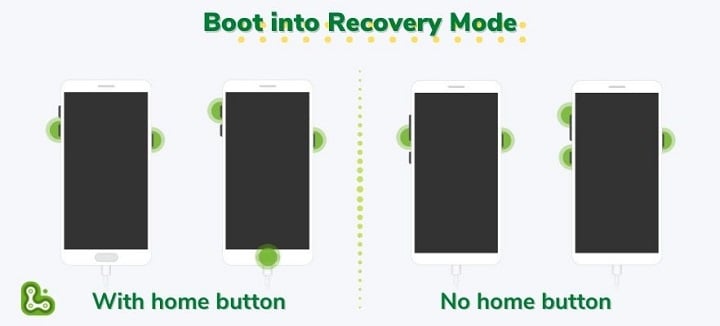 Step 4. Let the unlocking process begin
As your phone entered into recovery mode. Follow on-screen steps to remove the fingerprint data.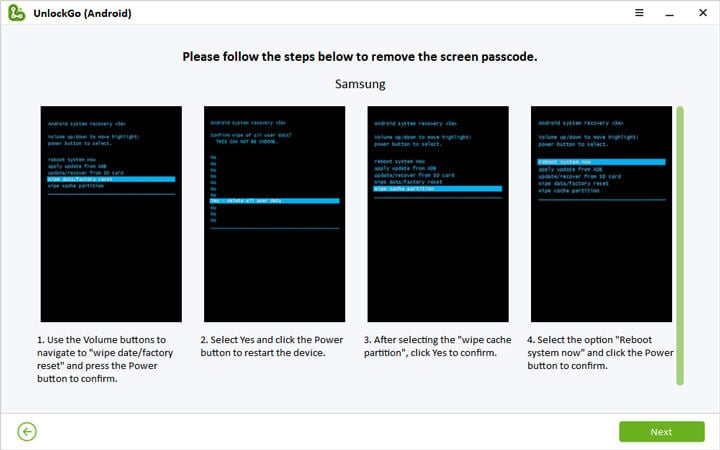 Note:
Some devices may automatically enter into "Reboot System Now". In this case, skip steps 4.
Step 5. Your phone unlocked
Your phone unlocks successfully. Now, you are able to reset the new password.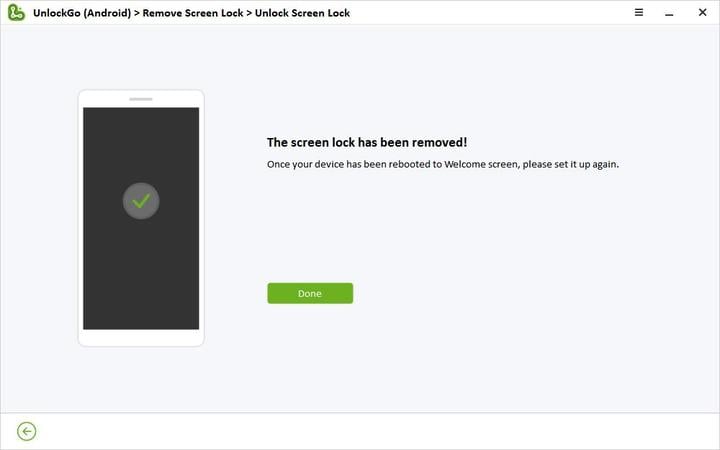 Bonus: Unlock Fingerprint without Data Loss
If you have a Samsung device which earlier than Galaxy S7, UnlockGo (Android) could help you bypass screen locks without losing data. After you done it, your precious memories are still preserved in your device. Check the detailed compatible models here.
Conclusion
If your fingerprint sensor not working, it pushes you into critical condition. Try to fix the sensor manually but be careful! Most of the steps may remove important data from your device. So, if you want your fingerprint to work without losing data, download iToolab UnlockGo (Android) now! To unlock your phone professionally without any technical expertise. Hence, its professional unlocking system with advanced features and comparability for Android 5-11 saves you from the awful situation of fingerprint locking in the future.