Are you a Samsung user looking to bypass the FRP lock? Then Foneazy Unlockit unlocker is a great tool to begin with. It will help unlock the Samsung device in minutes with or without installing other third-party software. In this article, we take you through an in-depth review of the tool, its pros, cons, and an alternative that works better than this software.
What Foneazy Unlockit Android Helps?
Foneazy Unlockit Android provides multiple ways to bypass FRP lock safely.
When you misplace your password to access your Google account, Unlockit can remove the Google account and allow you to set up a new Google account upon unlocking the device.
No other APK installation is required in the latest solution since Unlockit is packed with all the necessary tools for FRP bypassing. Hence, this will take only a few minutes to unlock the device.
The latest version of Unlockit (3.0.0) works on all Samsung devices running on Android 6.0 to 12.0. Also, it works on Windows 7, 8, 10 and 11. It is limited to Android and Windows OS, while there is no compatible version for Mac users.
Can I Trust Foneazy Unlockit?
Foneazy Unlockit is a great tool to bypass the FRP lock on Android devices. But some of the things mentioned about the tool are misleading. According to Foneazy, it can bypass the FRP lock on any Android device without losing the data in the process.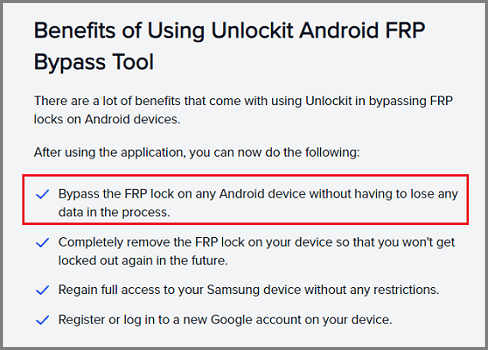 But in reality, it is not. It only supports the Samsung Android brand and not other Android brands, including Xiaomi, Huawei, Motorola etc. Also, once the FRP bypassing is carried out and the device restarts, all the data in the device will be wiped out regardless of the OS of the device.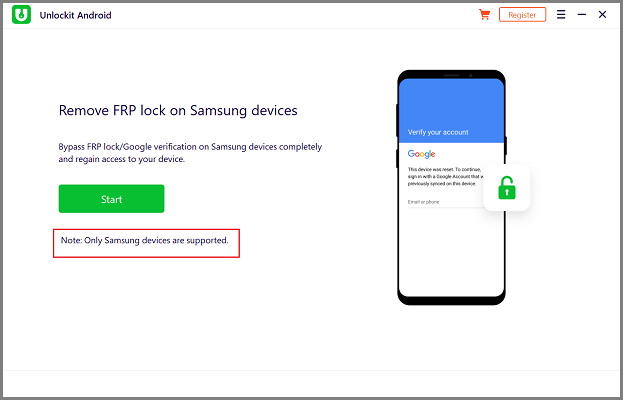 Foneazy Unlockit Android Screen Unlocker Price & Coupon
Foneazy Unlockit Android Screen Unlocker is available in 3 plans for different users. They have provided 1 month plan with all the premium features and 5 devices support for $29.95. Users who are comfortable with Foneazy Unlockit can buy the annual or lifetime plans for $39.95 and $49.95, respectively. Both plans include all premium features and support 5 devices and 1 PC as the monthly package.
For our readers, use the coupon code DHTTE3 to grab a whopping 20% discount on the Foneazy Unlockit Android Screen Unlocker before the sale ends.
Better Choice for Android 13 FRP Bypass on Samsung
If you are using an Android 13 Samsung device, Foneazy Unlockit might not help. Mainly because of 2 reasons.
Foneazy Unlockit supports up to Android 12 and does not support 13.
Samsung models without an emergency call button on the welcome screen are incompatible with the Foneazy Unlockit service.
For these cases, we recommend iToolab UnlockGo (Android) even more. UnlockGo for Android is one of the best software to bypass FRP lock on all Samsung phones and tablets. Most importantly, unlike other software, it supports the latest versions of Android OS 13. Bypassing the FRP lock takes only 3-5 minutes, with a 99.3% success rate.
In addition, it can remove screen locks on Android, including PIN, pattern, password, fingerprints, and face recognition. If your device is Samsung S7 or older, it can bypass the device without losing the data.
It is easy to install and use while covering Windows and macOS. iToolab provides 24×7 customer support and guidance for all users.
Comparison between Foneazy Unlockit and iToolab UnlockGo
Features
Foneazy Unlockit Android
iToolab UnlockGo (Android)
Android OS
Android 6 – 12
Android 5 – 13
Windows
Windows 7, 8, 10, 11
Windows 7, 8, 10, 11
macOS
Not supported
macOS 10.11 and newer
Other Features
No
Unlock old Samsung devices without data loss
Remove Android screen locks
Free of charge one-click factory reset Samsung
One-click bypass Google lock on any Samsung model
Step 1 Connect the Samsung device to the PC
After installing the iToolab UnlockGo (Android) on the PC, connect the Samsung device to the PC using the USB cable. Then open the software, and select the Remove google Lock (FRP) option from the screen. After that, click on the Start button to continue.
Step 2 Select the New solution
On the next screen, select the All Android versions option and click on the Next button. Once again, click on the Next button to continue.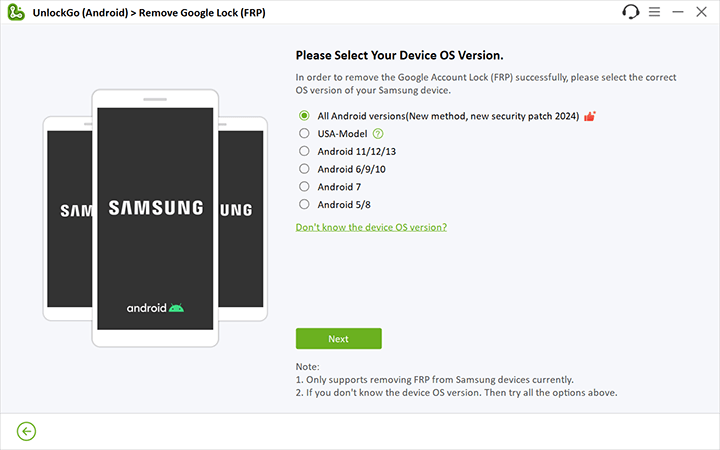 Step 3 Bypass the FRP lock
Now, wait for a few seconds until you see the instruction pop-up. Then use the secret code to access the hidden Samsung diagnostics menu from the device. Then, UnlockGo for Android should help you enable USB debugging on your Samsung device.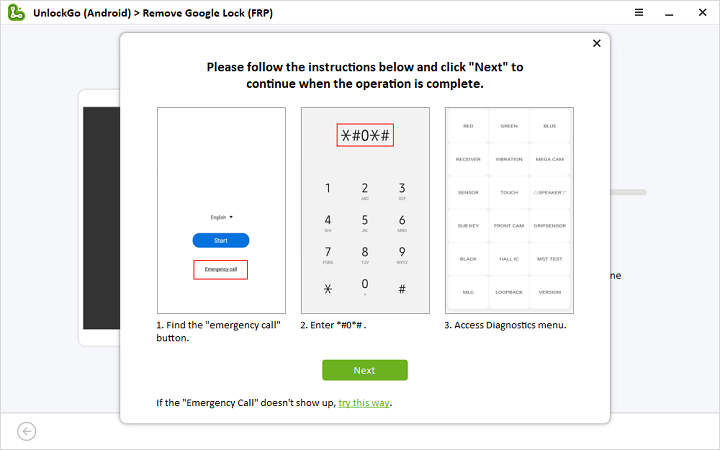 💡 If you can't find the emergency call entrance on the first screen, then click "try this way" and follow the instructions. It will guide you through other ways to achieve it.
Step 4 Bypassing completes
Once you allow the required permissions, Google account verification should be bypassed in seconds. Finally, the device will reboot automatically to complete the process.
To Sum Up
In this review, we comprehensively reviewed the Foneazy Unlockit Android Screen Unlocker. If you are looking for an all-in-one Android phone unlocker, iToolab UnlockGo (Android) is a great option. As it supports a variety of Android models and is easy to use, we recommend that Android users try it for any Android-related issues.