My phone fails to recognize my fingerprint as the fingerprint option disappeared from the service menu with other security lock options. The issue persists even after I update to Android 11. Is there any way to fix it?
Your fingerprint disappeared from settings due to a software issue or if you accidentally drop your phone. Well! Whatever the reason is, get back your fingerprint security option right now using the tactics I am sharing with you step by step. It's good to check the fingerprint sensor error manually and then move to other fixes to see if it's due to the software glitches.
Part 1. Check If the Fingerprint Sensor Works Well
Your fingerprint sensor should be checked once by Calibrating the fingerprint sensor through the CIT test. The Calibration fingerprinting gathers pre-device factory calibration data from a device by careful diagnostic the fingerprint sensor output alone. If your fingerprint sensor not working manually or fingerprint option missing, this test will fix it.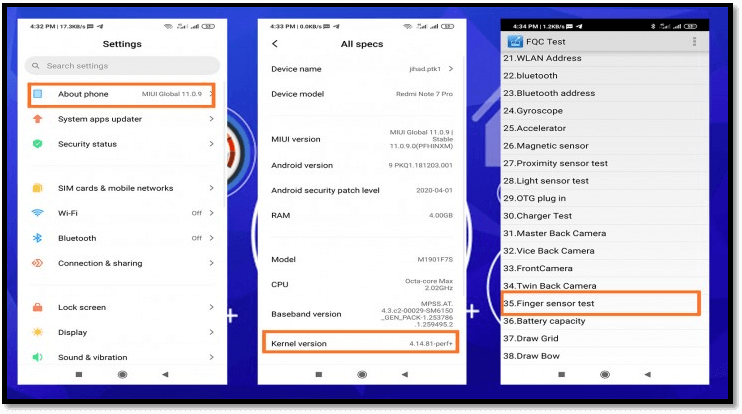 Step 1: Open the Settings app and tap About phone.
Step 2: Tap on kernel version 5-6 times, it will enter your device to the Engineering mode (CIT).
Step 3: Using the QC test menu, go to the Finger sensor test option.
Step 4: Finger sensor test FPC will begin.
Step 5: Now, choose Fail to reset the sensor.
Step 6: Close CIT mode and check if your fingerprint sensor starts working.
Part 2. Tricks to Fix Fingerprint Disappeared from Settings
A fingerprint sensor is the quickest way to access your device which ensures strong biometric security of your device. If the above method does not work for you then apply these techniques that help to get back the missing fingerprint option easily.
Way 1. Reboot your phone
Rebooting your phone helps to get rid of minor Android issues like faulty fingerprint sensors, unstable WiFi networks, or frozen apps. So, the best solution is to reboot your device to check if your fingerprint sensor is working.
Way 2. Update the software
Ignoring the software update is what's affecting your fingerprint sensor badly. Software bugs found in each operating system affect your device's hardware.
So, make sure to update your Android to the latest version. If you are not receiving any notification regarding software, perform it manually by following these steps using the System update function.
Step 1: Connect your phone to Wi-Fi and go to Settings.
Step 2: Scroll down the menu and choose the About phone option.
Step 3: Now, tap System Update and select Download and install. Let your device check for required updates.
Step 4: Your device shows up with the Download update option for the available software update. Tap on it to allow your device to download the update.
Way 3. Clear cache file of fingerprint app
Clearing the cache file of the fingerprint app will help you to get back the fingerprint option missing from Android.
Step 1: Head to your phone's Settings app.
Step 2: Then go to App and select Manage apps.
Step 3: Choose FingerprintExtensionservice and.
Step 4: Select Clear data.
Step 5: Get back to Manage apps page and select Fingerprint test this time.
Step 6: Also tap on Clear data.
Step 7: Reboot your device and check if fingerprint option is shown.
Way 4. Uninstall third-party app in safe mode
Switching your device to Safe mode will automatically disable third-party apps that create problems like screen lock apps or apps that are locked by a fingerprint sensor, RAM cleaners, and RAM boosters.
To run your device in Safe mode follow these steps.
Step 1: Turn off your phone and then switch it on.
Step 2: Check if any software update is available for your phone.
Step 3: Check the app updates by opening the Google Play Store app, tap on three-bars icon and choosing My apps & games.
Step 4: Now, use Safe mode to check for the faulty apps that cause problems and uninstall them.
Step 5: Lastly, reset the phone.
Part 3. Use Powerful Fingerprint Screen Lock Remover Tool
Androids are equipped with highly encrypted and implemented with several modes of device security. Besides other screen locks, biometrics security like fingerprints is the toughest to crack. So if you failed to get back the fingerprint option disappeared you can't remove it. It doesn't mean that I am ending up leaving you with no solution.
Let's try a third-party Android unlocking tool iToolab UnlockGo (Android). As you searched on the web, numerous tools come before you but you have to choose the one that simply removes your fingerprint without harming your Android health. For this purpose, iToolab is committed to helping Android users through UnlockGo (Android) with their locked phones.
Android Screen Unlocker
Successfully removes fingerprints and other screen locks
Unlock Screen lock without data loss in Samsung devices
No passwords or other credentials required
Bypass FRP (Google lock) in Samsung (Android 5-12)
Compatible with leading Android brands/tablets and phone models
So let's remove fingerprints by downloading and installing iToolab UnlockGo (Android) on your Windows PC and give your phone a new start.
Step 1 Connect your Android phone
As you got UnlockGo (Android) on your PC, launch the tool and choose the option Unlock Screen Lock. Click the Start button that comes up next.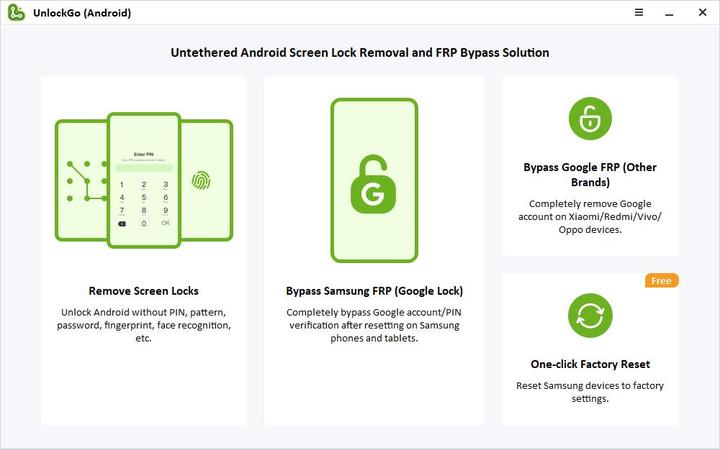 Step 2 Device confirmation
At this step, you need to confirm your device information by choosing the correct phone brand. As you select it, click Unlock to continue.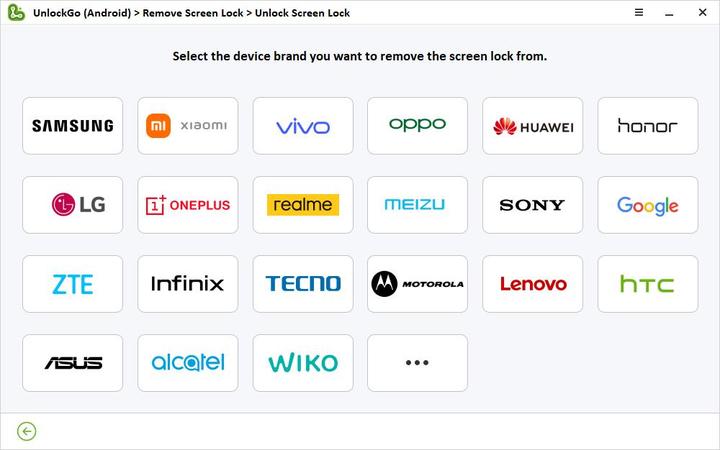 Step 3 Put your Redmi/ Huawei/ Infinix in Recovery mode
In this step, on-screen instructions of UnlockGo (Android) will guide to boot your device into recovery mode.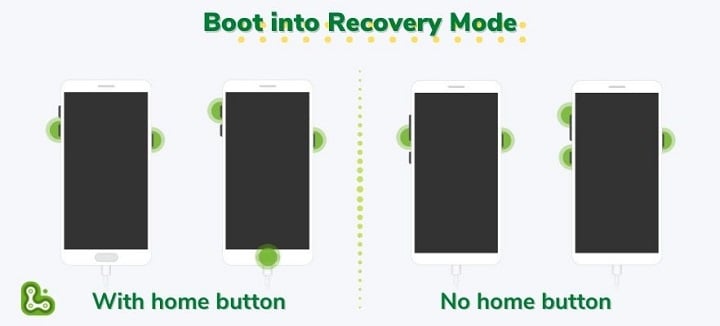 Step 4 Remove fingerprint lock
It's a final step to remove your fingerprint, just follow the steps your screen asks. Then your device enters Reboot System automatically.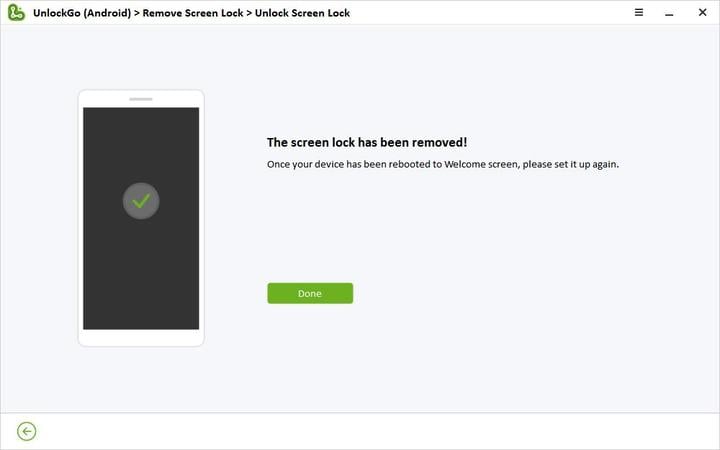 Your beloved phone is unlocked and no fingerprint blocks your access. Now, set up a new passcode.
Conclusion
It bothers us when the fingerprint option disappeared from Settings but luckily we get it back by applying the methods discussed above. Taking professional assistance in these cases from iToolab UnlockGo (Android) is an intelligent choice. It makes the process easier by defining each step precisely ensuring user satisfaction through seamless unlocking processing that rewards a fully accessed phone.