We all love our Samsung phones running Android 13 which offers more control over your information and access to apps etc to protect your data.
But if you fail to recall your Google account credentials or try to factory reset your Samsung Android 13 for a fresh start without removing your Google account, it triggers FRP.
So in this blog post, we're going to walk you through the two proven solutions for FRP bypass Android 13 with or without a PC, and we'll show you exactly how to do it yourself.
Part 1: Is It Possible to Bypass FRP on Android 13?
Yes, bypassing FRP on Android 13 is possible, and you can easily do it yourself with or without a PC. We understand that Android 13 has introduced enhanced security measures to safeguard your device and data.
However, for legitimate reasons such as forgotten credentials, it's crucial to have methods in place to regain access and this is what you going to catch in the next section.
Part 2: How to Bypass FRP on Android 13?
Bypassing FRP on Samsung Android 13 might sound like a hurdle only when you don't know how to bypass it but here we will discuss 2 effective methods with or without a PC that you can use to crack Google verification page successfully.
So let's check them out!
Way 1. Bypass FRP on Samsung/Xiaomi/Redmi/vivo/OPPO Android 13
Want to say goodbye to FRP-related frustrations and enjoy full access to your Android 13 device but don't know how? Let me introduce you to iToolab UnlockGo (Android), your trusted ally in bypassing FRP, ensuring you can fully utilize your smartphone's capabilities.
It empowers you to regain control of your Android 13 device when locked out due to forgotten Google account credentials. Whether you've reset your device, purchased a second-hand phone, or simply can't recall your login details, this tool is designed to simplify the FRP bypass process with a seamless PC-based interface.
Let's look a little closer to the features!
UnlockGo (Android) – Android 13 FRP Bypass Tool
It allows Samsung/Xiaomi/Redmi/vivo/OPPO users to bypass Google FRP lock on Android 13 within minutes.
You don't need to install any extra FRP bypass APK files.
The tool is easy to use. You can bypass FRP within several simple steps.
The tool can also help you remove various screen locks from Android devices.
Let's consider you need to perform a Samsung Android 13 FRP bypass, so you need to follow the steps mentioned below.
Step 1 Connect Your Device
Download UnlockGo (Android) program first and begin by connecting your Samsung device to your computer using a USB cable. Launch the program, select the "Bypass Samsung FRP" feature, and click the "Start" button to proceed.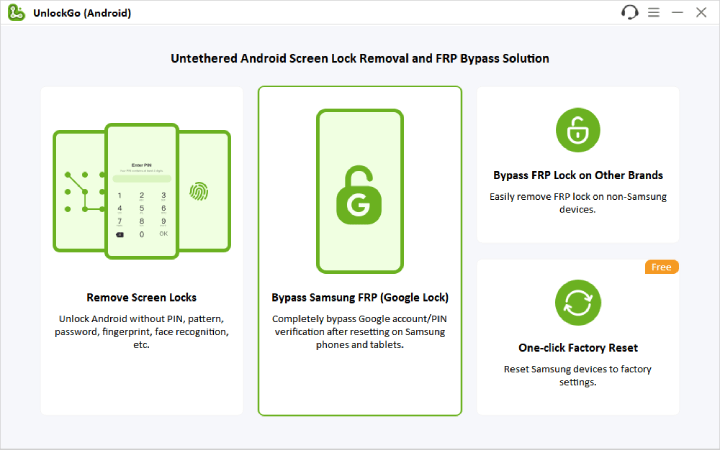 Step 2 Select the Appropriate Solution
In this step, you'll be presented with different unlocking options based on your Android system. We recommend choosing the advanced method designed for Android 5-13 devices, which can remove Samsung FRP locks in just 3 minutes. Click "Next" to continue.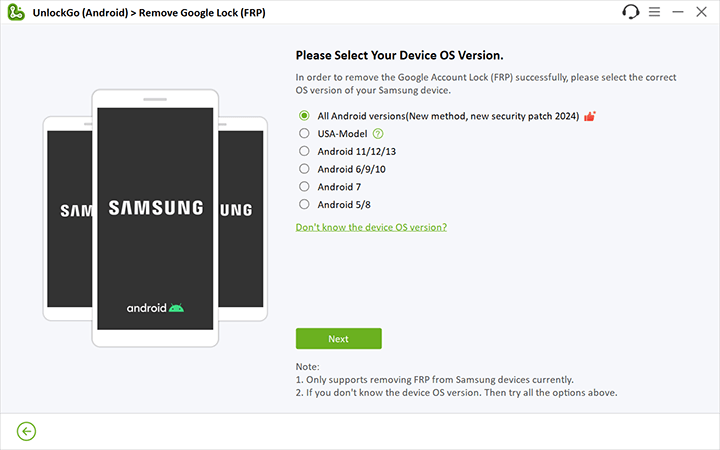 Step 3 Enable USB Debugging
Here you will get a secret code to access the hidden Samsung Diagnostics Menu (Test Menu) to enable USB debugging.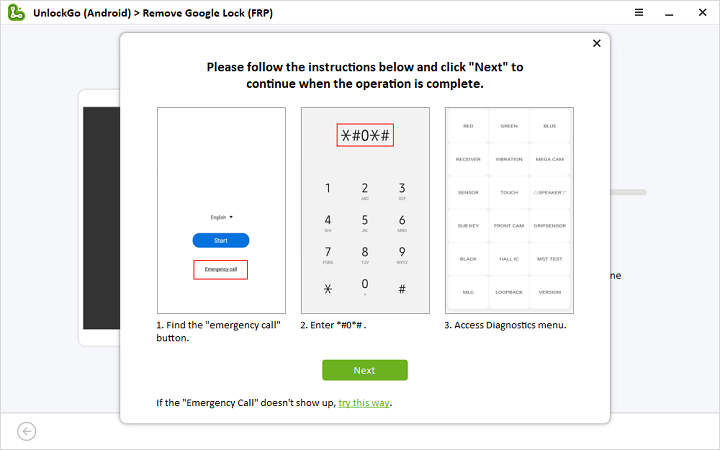 After that UnlockGo (Android) will assist you in enabling USB debugging on your Samsung device.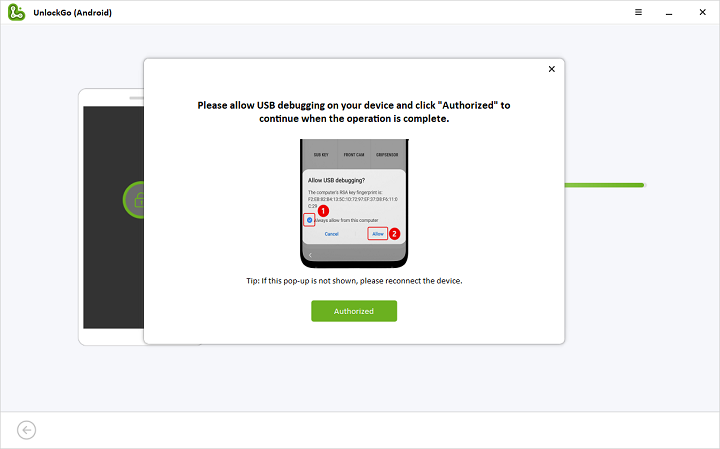 Step 4 FRP Lock Removal
Once you've followed the steps and allowed the necessary permissions, the Google account verification screen will be bypassed within seconds and your Samsung device will then be automatically rebooted.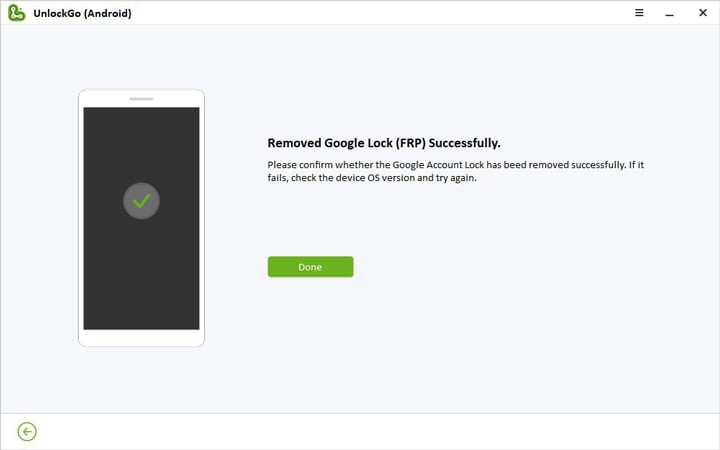 With these simple steps, UnlockGo (Android) makes it quick and easy to remove Google FRP locks on your Samsung device, ensuring you regain access without hassle.
Way 2. Bypass FRP on Android 13 without PC
Let's imagine you are away from your PC and want a Samsung Android 13 FRP bypass without a PC on your phone. So here comes another method that can bypass Samsung FRP on your phone, so do follow the steps correctly because the process is slightly technical.
1. Begin by tapping "Start" on the Welcome screen of your Samsung Galaxy phone. You need to agree to the terms and conditions and connect to a Wi-Fi network.
2. A "Verify PIN" screen will appear, stating that your phone was factory reset. Tap "Use my Google account instead". You'll be taken to the Google account verification page, after that go back to the Wi-Fi network page.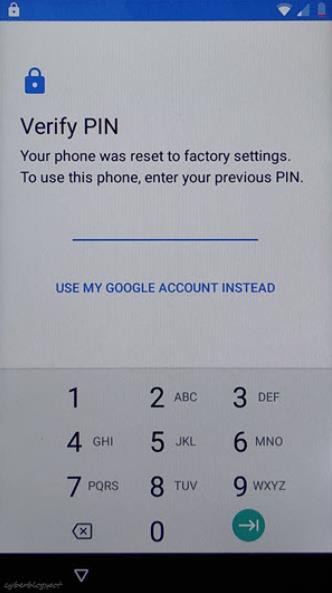 3. Tap on "Scan QR Code to Connect to a Wi-Fi Network". A QR Code screen will show up, but tap on the "Gallery Images Icon". You'll see a message that no apps can perform this action, which is expected.
4. Now, press the "Side Key or Power/Bixby key" multiple times to open the "Recent Apps" on your Samsung Galaxy phone.
5. Once you see "Recent Apps" on the screen, tap on "My Files" and then Allow access to My Files. Click on the "One Drive" application.
6. You've now gained access to the Chrome Browser on your phone. Hit "Accept" and "Continue" on the Welcome to Chrome screen. When asked to turn on sync, tap on "No, Thanks".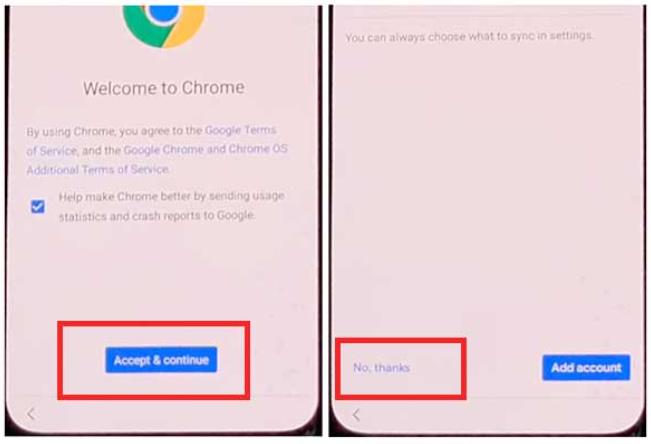 7. It will help you open Google Chrom. Tap on the "Search Bar" and search for "All FRP Files Download".
8. Open the Google search result with "All FRP Files Download (2023)" from the FRPBypassTool.com website.
9. On the FRPBypassTool.com website, swipe down and download the "Package Disabler Pro" and "Notification Bar" applications.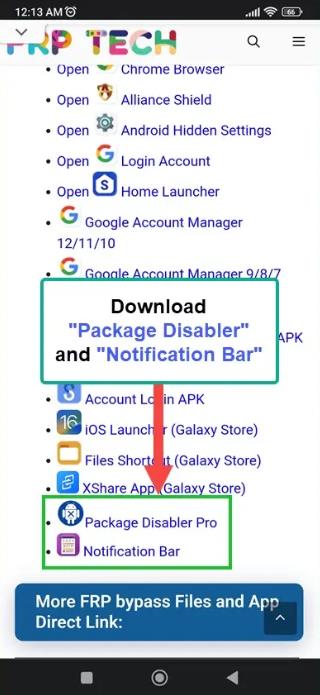 10. Once you downloaded both apps, navigate to the site and open "Files Shortcut" (Galaxy Store).
11. Sign in to your Samsung Account and proceed to install the File Shortcut app from the Galaxy Store. Once the installation is complete, return to the page.
12. Next, open the "XShare App" from the Galaxy Store and install it. After successfully installing the XShare app, return to the website.
13. Access the Galaxy Store and install the iOS Launcher from the FRPBypassTool.com webpage. The iOS Launcher will open automatically on your Samsung Galaxy phone upon installation.
14. Now, press "Enter" and return to the home screen of your phone. Look for the two applications you installed earlier.
15.Place both of these apps on the home screen side by side. Open the X-Share app and navigate to the Receive section.
16. Tap on "ALLOW" multiple times on every button. Close this window and return to the Home screen.
17. Launch the Files Shortcut app and navigate to the Download folder. Here, you'll find the two applications you downloaded earlier, the "Package Disabler Pro app" and the "Notification Bar Settings apk".
18. Install the "Package Disabler Pro" application and tap "Done" once the installation is complete.
19. Proceed to install and open the "Notification Bar" application.
20. To activate the Notification bar, access the Accessibility option and select "Installed apps".
21. Select "Notification bar" and activate "Notification Bar Shortcut" before pressing "Allow".
22. Return to the home screen and open the Settings app on your phone. Navigate to "Privacy" and select "Permission Manager".
23. Within the Permission manager, locate "Files and Media". Access the three dots at the top right corner and select "Show System". Scroll down and find "Package Disabler Pro".
24. Enable management of all files under "Files and media permission" for the Package Disabler Pro app.
25. Disable Wi-Fi/SIM DATA internet by swiping down.
26. Return to the home screen and open the "Package Disabler Pro" app. Agree to the terms, and enable the Admin button. Activate the Package Disabler Pro app.
27. Wait for approximately 1 minute on the activation screen. If it doesn't progress, press the "RETRY BUTTON" and agree to the Knox license activation.
28. After activation, open the Notification bar and turn on the "WiFi/SIM DATA Connection." Wait at least 30 seconds to ensure complete internet access. In case of a "Fail KLM Error," press "RETRY".
29.Return to the home screen and reopen the "Package Disabler Pro" app.
30.Wait for a minute on this screen, and if it doesn't work, press the "RETRY" button. The Package Disabler app will open on your Samsung Galaxy phone. Tap on the Search button, and type "Setup".
31.It will open the "Android Setup" settings. Deactivate "Android Setup" and go back to the app.
32.This time, open the "Samsung setup wizard" and tap the "CLEAR DATA" button. This action will remove the Google account verification lock and bypass the FRP lock from your Samsung Galaxy phone.
33.Return to the welcome page and complete the initial setup of your Samsung phone.
You've successfully bypassed the Samsung Android 13 FRP bypass.
Conclusion
We have covered two innovative methods for FRP bypassing Android 13 with or without a PC. After looking into both of the solutions, we concluded that bypassing FRP with iToolab UnlockGo (Android) is much more efficient and time-saving than bypassing FRP without a PC method using your phone.
Because it's a long and complicated process with multiple sub-steps that might distract your attention or cause software damage in case you attempt it wrong. So you have both options to go with, my recommendation is to try iToolab UnlockGo (Android) for a super easy FRP bypass but still, the choice is yours!