Greetings, fellow Samsung Galaxy S9 owners! Have you found yourself in a situation where you need to perform a factory reset on your device, but you don't have access to your Google account?
Don't worry! you've come to the right place because in this guide, we'll walk you through the step-by-step process of resetting your Samsung Galaxy S9 without the need for a Google account.
By the time you finish reading this article, you'll be equipped with the knowledge to confidently perform a Samsung Galaxy S9 factory reset without a Google account, ensuring a fresh start for your device.
So let's get started!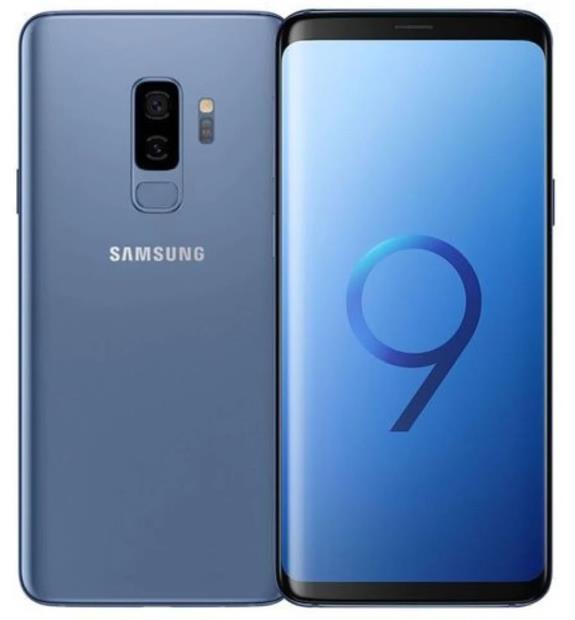 Part 1: Can You Factory Reset Samsung Galaxy S9 without Google Account?
Yes! You can perform a factory reset on a Samsung Galaxy S9 without your Google account. A factory reset essentially restores the device to its original settings, erasing all data and personalization.
However, keep in mind that a factory reset should be used as a last resort, as it will erase all your data, so be sure to back up important information beforehand.
Part 2: How to Factory Reset Galaxy S9 without Google Account?
Now, it's time to explore the solutions for Samsung Galaxy S9 factory reset without a Google account, make sure you will be with us till the end for maximum value.
Way 1. 1 Click to Factory Reset Galaxy S9
There are times when we need to attempt to factory reset on Samsung Galaxy S9, whether it's due to a forgotten password, a malfunctioning device, or simply the desire for a fresh start, there's a free one-click solution that can simplify this process.
Let's have a look at iToolab UnlockGo (Android) – a one-click Samsung factory reset tool.
So let us show you how it can be your trusted companion in resetting Samsung devices with ease and efficiency.
Step 1 Connect your Samsung device to your computer and allow data access by tapping your phone. Then, select the "One-click Factory Reset" function to initiate the process.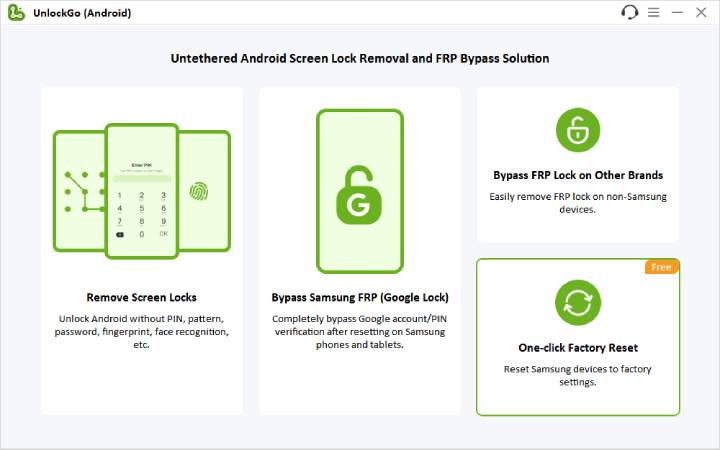 Step 2 Carefully read the notice provided and click Reset.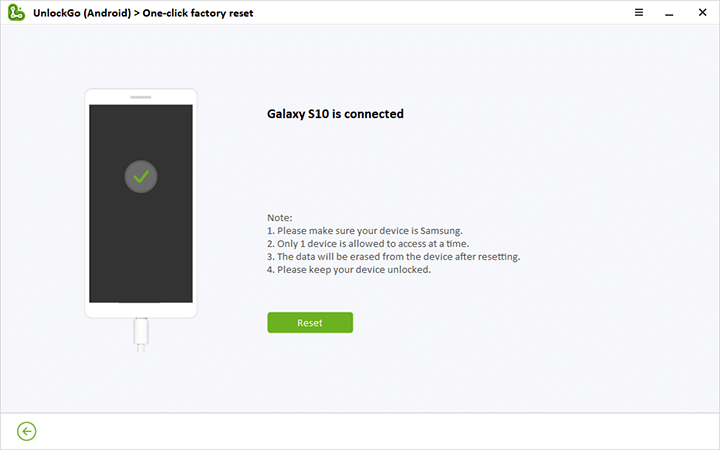 Step 3 After a few seconds, your Samsung device will be reset to its factory settings. All that's left is to set up your device again after it reboots.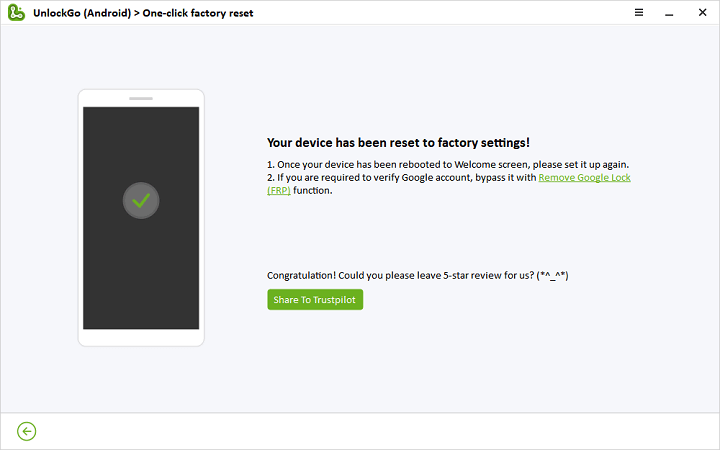 Way 2. Factory Reset Galaxy S9 from Settings
Before you begin, please take note of these crucial points:
Save any essential information you need because a factory reset will erase personal data.
If your microSD card is encrypted, decrypt it before resetting your device to ensure data accessibility. You can do this by navigating to Settings, searching for "Decrypt SD card",  and following the on-screen instructions.
Now, let's proceed with the factory reset process.
1. Go to "Settings" and tap on "General management".
2. Swipe down to "Reset" and tap on "Factory data reset" and review the provided information.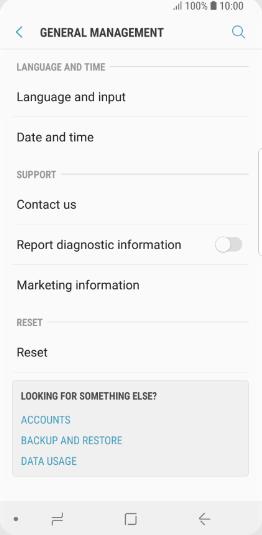 3. When you're ready, just swipe and tap "Reset".
4. If you have a security lock, you'll be prompted to enter your credentials.
5. To proceed with the reset and erase all data, tap "Delete all".
6. At this step, if you've added a Samsung account, you may need to enter its password.
Your device will reset, and when it restarts, it will begin with the initial setup screen.
Way 3. Factory Reset Galaxy S9 using Buttons
This is another effective way to factory reset the Samsung Galaxy S9 by simply using buttons.
Just follow these step-by-step instructions to perform a successful factory reset Galaxy S9 without a Google account.
Step 1: Boot to Android Recovery Mode
Press and hold the Power + Volume Down buttons together for 7 – 10 seconds.
When you feel a slight vibration, press and hold the Power button +  Bixby + Volume Up buttons.
Release all buttons when you see the Samsung logo, and then your phone will enter Android Recovery mode.
Step 2: Factory Reset Your Samsung Phone
While your locked Samsung phone is in Android Recovery mode, follow these steps to perform a factory reset.
Use the Volume Up or Volume Down button to select the "Wipe data/factory reset" option, then use the Power button to confirm.
On the next page, press the Volume button to choose "Yes" below "Wipe all user data", then your Samsung phone will begin restoring to factory settings, which may take a few minutes.
When the factory reset is complete, select "reboot system now" and it will reboot your Galaxy S9 normally.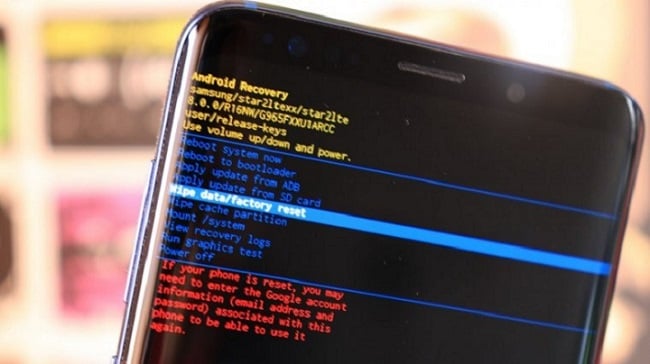 Way 4. Factory Reset Galaxy S9 via Samsung Account
If your locked Samsung Galaxy phone is associated with a Samsung account and you've activated the Find My Mobile feature, you can perform a remote factory reset. To attempt the process follow these steps wisely.
1. Visit the Find My Device website. Log in to this page using the Samsung account currently logged in on your locked Samsung Galaxy phone.
2. If your Samsung account has two-step verification enabled, complete the verification process to log in.
3. After logging in, you'll see your Samsung Galaxy device displayed on the page, click "Erase data" under your device in the right pane.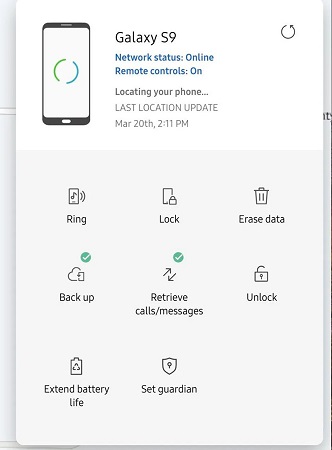 4. A "Erase phone data" dialog will appear. Click "Erase" to begin resetting your locked Samsung Galaxy phone to its factory default settings.
5. Allow some time for the erase process to complete. The webpage will indicate when your Galaxy phone has been reset to its factory settings.
6. Wait a few more minutes for your phone to turn on.
Way 5. Factory Reset Locked Galaxy S9 without Password
When you are locked out of your favorite Samsung Galaxy S9, you might be wondering if there is a way through which you can perform a factory reset without a password.
So here comes iToolab UnlockGo (Android), a handy screen lock removal tool that easily bypasses PIN, pattern, password, and fingerprints with a few easy steps. So it's a double pleasure deal that first resolves the factory reset hassle and then removes the screen lock without a password.
UnlockGo (Android) – Screen Lock Removal Tool
It can reset Galaxy S9 to factory settings even if your device is locked by PIN, password, pattern, fingerprint or face lock.
If your locked Galaxy S9 is running Android 12, you can factory reset it in one click.
It can bypass FRP lock on all Samsung devices including Galaxy S9 without Google account.
In this guide, we will show you how to factory reset locked Galaxy S9 running Android 12.
Step 1 Connect Your Device
Download iToolab UnlockGo (Android) on your PC first and then open it, select "Remove Screen Locks – Unlock Screen Lock. Then click "One click remove screen locks from Samsung" and connect your Samsung phone to the computer.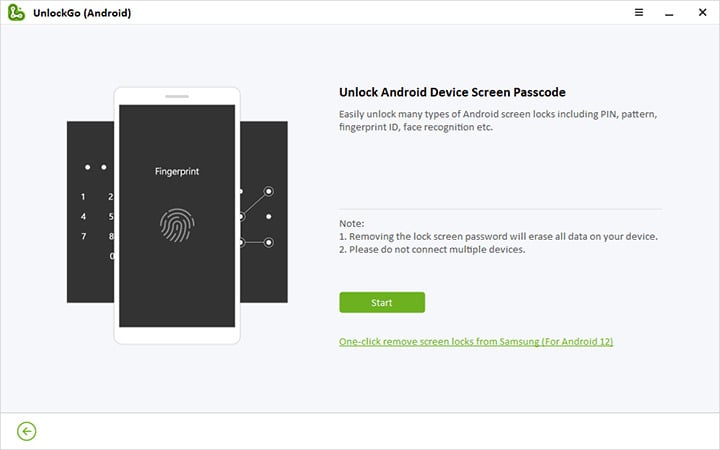 Step 2 Confirm Device Information
Confirm your device details, and click "Unlock" to proceed.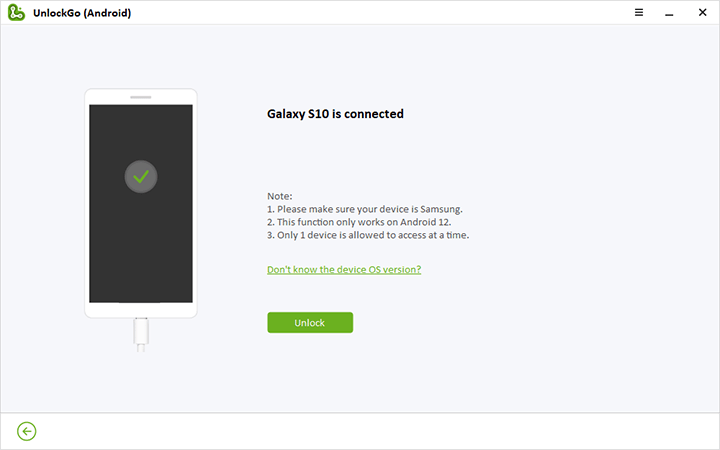 Step 3 Unlock Successfully
The screen locks on your Galaxy S9 will be removed completely within seconds, and it will be reset to factory settings.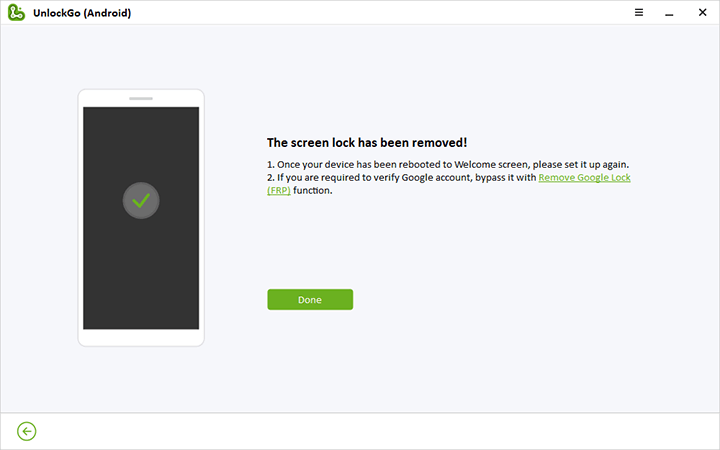 Part 3: How to Bypass Google Account Verification after Factory Reset Samsung Galaxy S9?
Unlocking your Samsung Galaxy S9 after a factory reset without a Google account can be a hectic task, but the iToolab UnlockGo (Android) tool makes it easy for you.
UnlockGo offers an intuitive interface, making the process easy and simple for users of all technical levels, to ensure you regain access to your device promptly.
Why Choose iToolab UnlockGo (Android) for Bypassing Google Account Verification?
Bypass FRP on all Samsung devices and models after factory reset (Android 5-13).
Based on the advanced technology, it guarantees a high success rate.
The tool is easy to use. You can bypass Samsung FRP within 5 simple steps.
Step 1 Connect Your Samsung Device
Download and install UnlockGo (Android) on your computer.
Connect your Samsung device to your PC via a USB cable.
Select "Bypass Samsung FRP" and click "Start".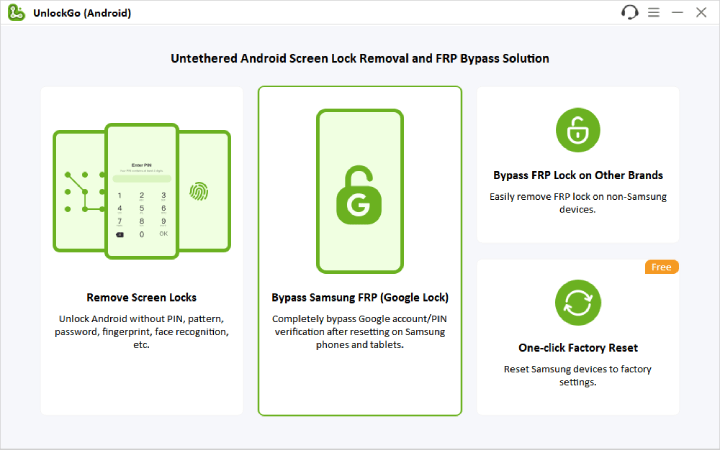 Step 2 Choose the Appropriate Solution
Depending on your Android system, select the best unlocking option. Here an innovative method is recommended for removing Samsung FRP locks on Android 5-13 in just 3 minutes. Click "Next".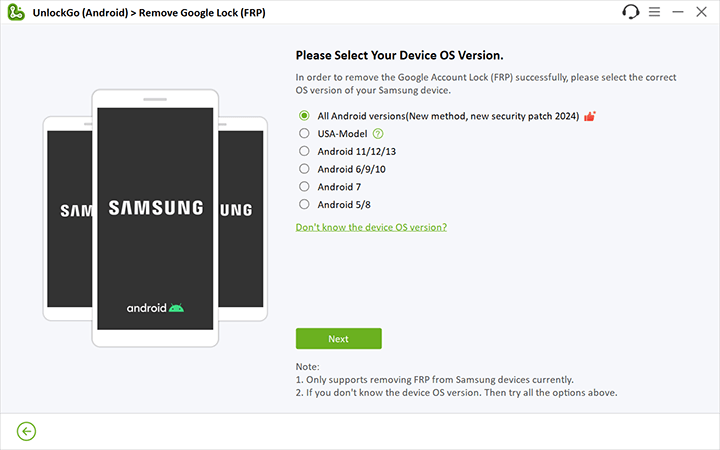 Step 3 Enable USB Debugging
Follow on-screen instructions to access the hidden Samsung Diagnostics Menu using a secret code.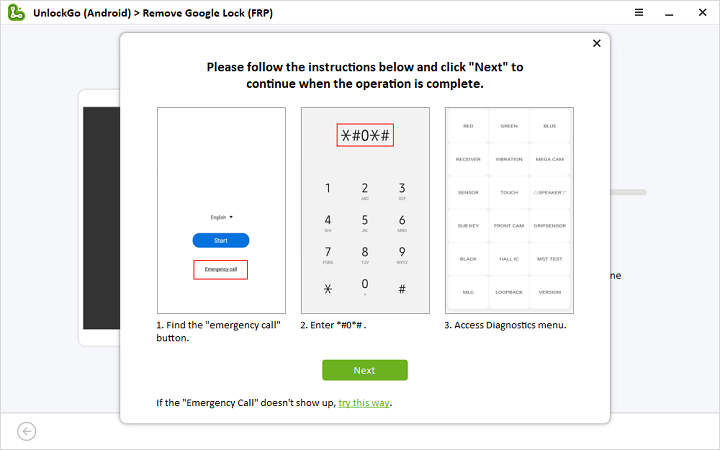 UnlockGo (Android) will then help you enable USB debugging on your locked Samsung device.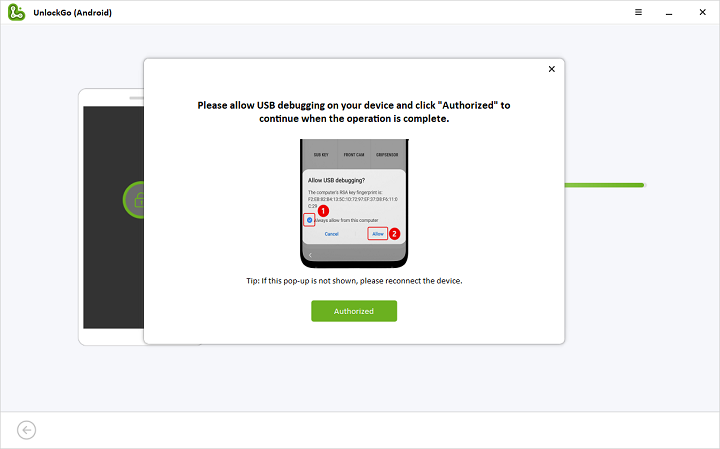 Step 4 Done! FRP Lock Removed
After granting permission, the Google account verification screen will be bypassed within seconds, and your Samsung device will automatically reboot.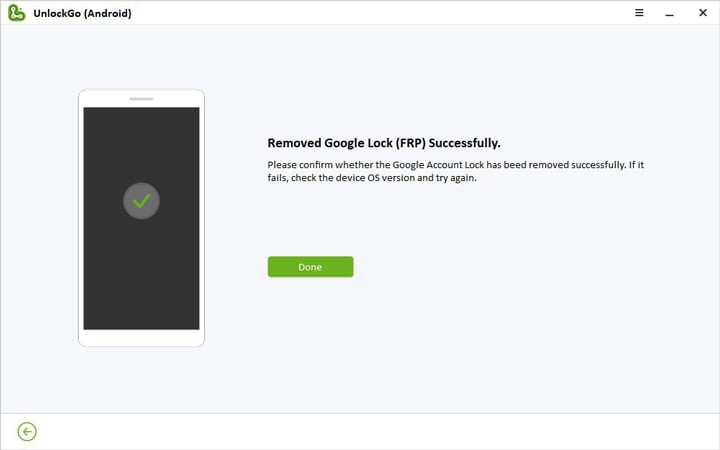 Conclusion
So that's all about your concerns and we hope this guide will help you perform Samsung Galaxy S9 factory reset without a Google account.
You can sort this through multiple ways but if you are looking for a swift solution iToolab UnlockGo (Android) is here to factory reset locked Samsung Galaxy S9 without a password in just 3 minutes. Try now!