Is your Android phone running slow, freezing, or responding abnormally or did you forget the passcode or screen locks? You are lucky! Because a powerful option is available to troubleshoot your Android that is Hard reset.
Today's topic will cover all these aspects through factory reset Android phones from computer. So, don't skip any part.
Before Hard Reset Android Phone
Hard reset serves Android as the last recovery option, most Android conditions like full-memory, device malfunctioning, or non-accessible phones can only be fixed by attempting a hard reset Android using PC. Typically, there are two types of phone resetting.
Soft reset – Restarts your Android system normally.
Hard reset – It deletes all files, content, data, settings, and apps on phone.
Performing a Hard reset known as Factory reset turns your phone in a condition as it comes new from the factory manufacturer. So, backup all data in Google drive or other before heading to perform a hard reset on your device.
How to Hard Reset Android Phone Using PC Software?
When you choose to hard reset your phone using PC, it might be confusing to trust those software tools available online. I recently researched on a forum that most PC software steals private information during the process. But we are here to resolve this ambiguity with iToolab UnlockGo (Android).
UnlockGo (Android) professionally removes screen locks PIN, pattern, password, or facelock and easily enters your phone in hard reset mode during the process. The iToolab team aimed to aid Android users worldwide with their locked devices ensuring the device's privacy. Let's unwrap the key features.
All-in-one Android Unlocking Tool
Fast, easy-to-use, malware-free
Successfully hard reset & removes screen locks
Unlocks Samsung devices' older S7 without losing data
Bypass Samsung FRP (Google account)
Compatible with major Android brands, tablets, and models
Don't worry if you have no technical know-how. UnlockGo Android has simple operating steps to give you the best in less time. All you need to do is to download and install iToolab UnlockGo (Android) on your PC and follow these steps precisely.
Step 1: Connect your smartphone
Launch UnlockGo (Android) tool on your computer. Choose "Unlock Screen Lock" option from the homepage. Click Start and connect your phone with a computer promptly.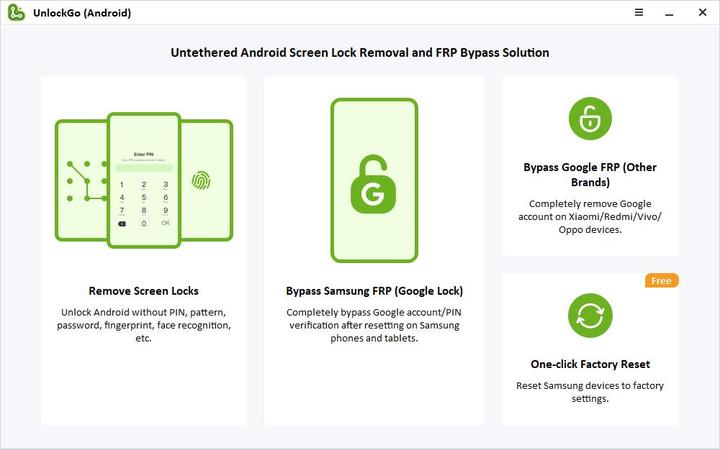 Step 2: Confirm your Android Brand
The next screen will ask for your device confirmation. Choose the phone brand from the list provided by UnlockGo to select the correct brand. Once you did it, click "Unlock".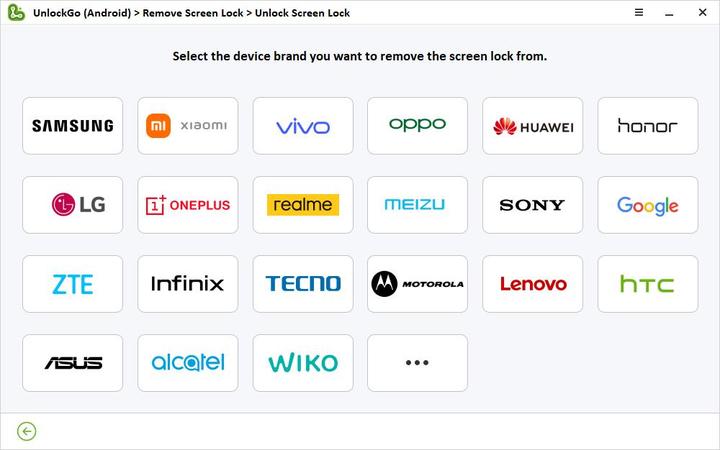 Step 3: UnlockGo enter your device in Recovery mode
Every Android brand enters Recovery mode differently. If you are a Samsung owner, it uses different tactics to enter in Recovery mode.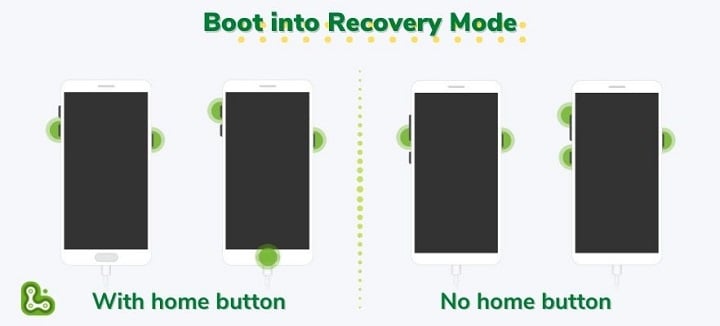 Step 4: Unlocking starts
As your phone seems to enter in Recovery mode. You need to follow the instructions that appear on the screen to reset the phone using a PC.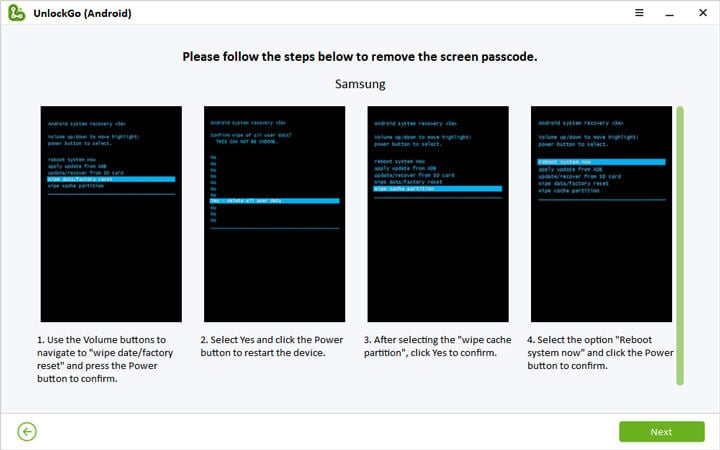 Step 5: Phone Unlocked
Congrats! UnlockGo (Android) unlocks your phone in hardly 5 minutes. Now you can restart your device and create a new password.
How to Hard Reset Android Using PC SDK Tool?
Google developed Android SDK (Software Development Kit) for the Android platform. It is a group of software development tools and libraries that are important in developing Android Applications. Android SDK tools also help to factory reset Android phones from the computer.
This action is slightly technical, so follow these how-to steps carefully.
Step 1: Turn on your Android phone and go to the Settings, scroll down to the bottom, search for the Developer option and tap it. Here, you need to turn on the USB Debugging option.
Step 2: Operate your PC and look for the SDK tools on the web. As you find out, download and install them on your PC. Open the Android SDK tools and choose Android SDK Platform – Tools and Drivers located in Android SDK manager.
Step 3: You can use some other general drivers too if your PC is unable to install drivers for your Android device.
Step 4: Please note that your Android phone should be detected in Android SDK Manager.
Step 5: To factory reset an Android phone from a computer, you need to run the Windows Command Prompt. Go to ADB (Android Debug Bridge) folder by entering C:\Users\Yourusername\AppData\Local\Android\android-sdk\platform-tools.
Step 6: After that, enter ADB reboot recovery, it reboots your Android.
Step 7: The Android System Recovery screen appeared. Now, choose the option Wipe data/Factory reset. It will reset your phone to its original locales.
Note:
This method works only if the USB Debugging option is enabled before the phone is locked or unlocked.
2 Methods for Factory Reset Android Phone From Computer Online
In this section, we will factory reset Android phones using PC through online services. Make sure to connect with a strong WiFi connection during the whole process.
1. Hard reset Android phone via Find My Device
Find My Device is an online service introduced by Google in Androids to track and lock a stolen or missing phone and help to erase the data of your device remotely.
Step 1: Operate your PC, browse the Android Device Manager website and log in to your Google account.
Step 2: Select the device that you need to hard reset.
Step 3: The device you pick will receive a notification. ADM will show the location of your device if you turned on your location.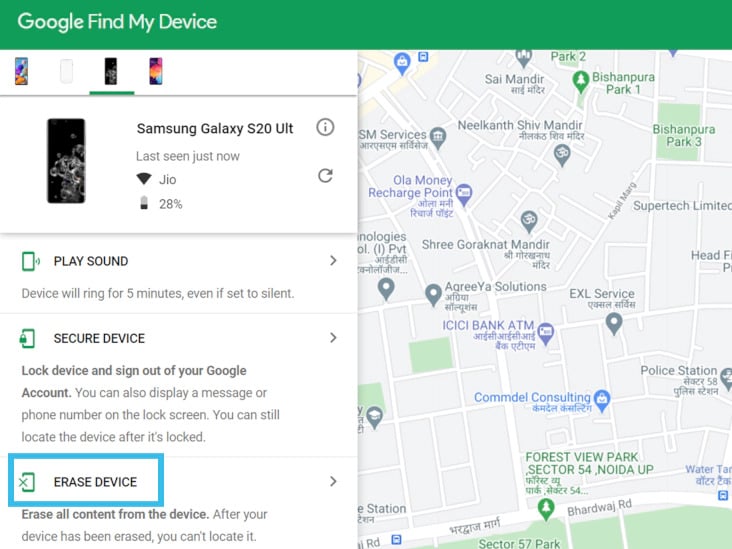 Step 4: Now choose the Erase option.
Step 5: Tap Erase to delete your Android's settings and user data permanently.
Note: Find My Mobile can factory reset Android device from PC only if Android Device Manager is enabled on your device and your device is power on.
2. Hard reset Samsung phone via Find My Mobile
Samsung's Find My Mobile service helps you to locate your device and secure data stored on it. Find My Mobile also supports reset phones using PC. Here's how!
Step 1: Navigate to Find My Mobile official website using your PC. Sign in to your Google account.
Step 2: As you signed in, Find My Mobile locate your device on the map, and show a list of devices. Choose the device that you need to hard reset and click Erase data.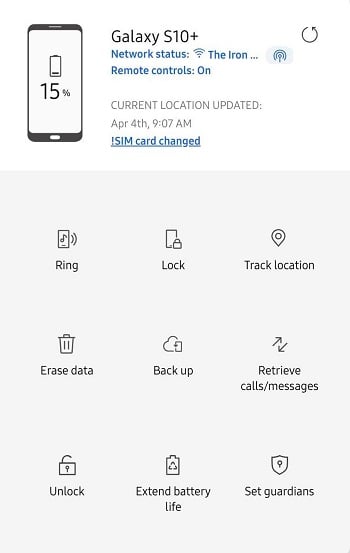 Step 3: Select the Factory Data Reset option, after that click on Erase option.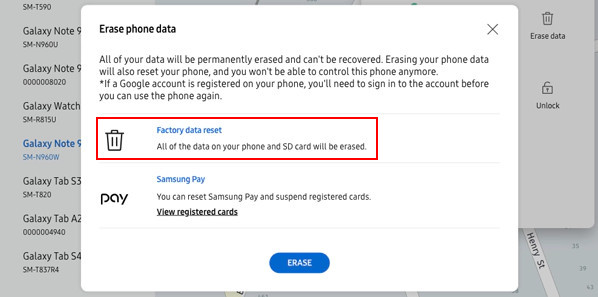 Step 4: To fulfill this action, Find My Mobile asks you to enter your Samsung account password.
Step 5: Click OK.
Note:
You must remember Google account credentials to reset your phone via Find My Mobile.
Final Words
I hope this article helps you to hard reset Android using a PC. You have multiple choices to perform this action by using online software or services. But each of them has some rules and requirements to follow that need you to be slightly technical, except that you hard reset Android phone using PC software.
Stop wasting your time searching for tools easy to use, try the user-friendly solution iToolab UnlockGo (Android). It helps hard reset your phone through a specific route that is quite straightforward.