Your Android keeps a record of all the sensitive personal information, PINs, credit card or bank account numbers just in your pocket, which needs a secure screen lock system to restrict unauthorized access. But imagine if you set up a screen lock at night and tried to unlock your phone in the morning, and your phone said "Wrong password", next you decided to recover it by resetting your phone and end up with a locked phone.
You trigger FRP! At this stage, you need an Android unlocking tool so here I share an honest review of the iSumsoft Android Password Refixer tool for your locked Android. Make sure you don't bounce back till the end because after reading this post you will be all set to choose the best tool for your phone.
Take a Look at iSumsoft Android Password Refixer
A locked Android phone provokes anxiety and disappoints with the questions, can I use my phone again? Is there any Android password refixer that unlocks my phone instantly? The answer is Yes, iSumsoft Android Password Refixer is a tool designed to bypass FRP on Samsung devices along with other screen unlocking tools.
Now, you might be thinking, how this tool works for my phone, or is it compatible with my phone? Let me help you with your decision by reviewing this tool's pros and cons in depth.
In-depth Review of iSumsoft Android Password Refixer
Remember! Every software has pros and cons, it's up to you to choose the tool that is compatible with your device and provides a secure, trusted service. Also, if you have zero technical knowledge, make sure you choose a minor technical solution.
As I discussed in the overview of Android Password Refixer above, it's time to look at the most important part, the pros, and cons.
Pros & Cons of iSumsoft Android Password Refixer
| What we like | Our worries |
| --- | --- |
| An inexpensive tool with a low price | The whole process takes around 20 minutes |
| Well compatibility on Windows 10/8/7/Vista/XP/2000/2003/2008/2012/2016 (32 bit & 64 bit) | Does not work with Mac PC |
| Unlock screen lock and bypass Samsung FRP in Android OS (5-11) | Does not support Android 12 or later |
| Fast service with 30-day money back guarantee | Your PC must have enough storage to download heavy FRP files |
| Provides a clear guide | Only one FRP bypass process has been provided which may create complexity for the non-techies |
How to bypass Samsung FRP with iSumsoft Android Password Refixer
When you get into Refixer and connect to your Samsung, you will need to fill out the information about your device. It's little bit confusing for general user but Refixer provides tips beside.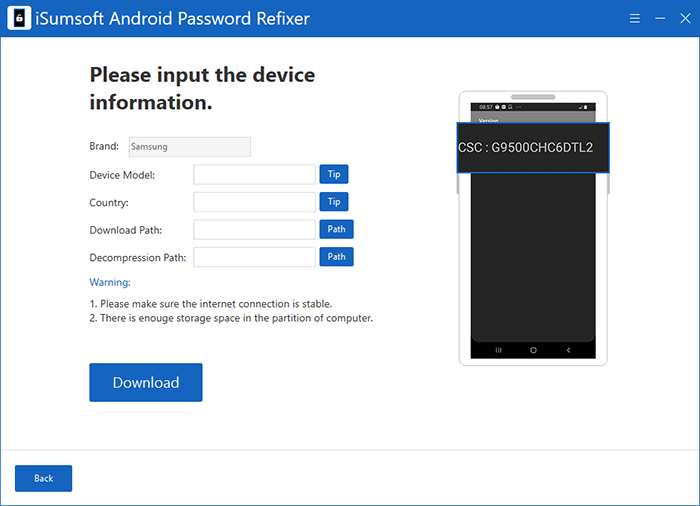 Now that Samsung's phone models are increasing year by year, I'm a little worried that its model list doesn't cover the popular models.
Click the download button, your Samsung will be flashed into a new firmware with download mode.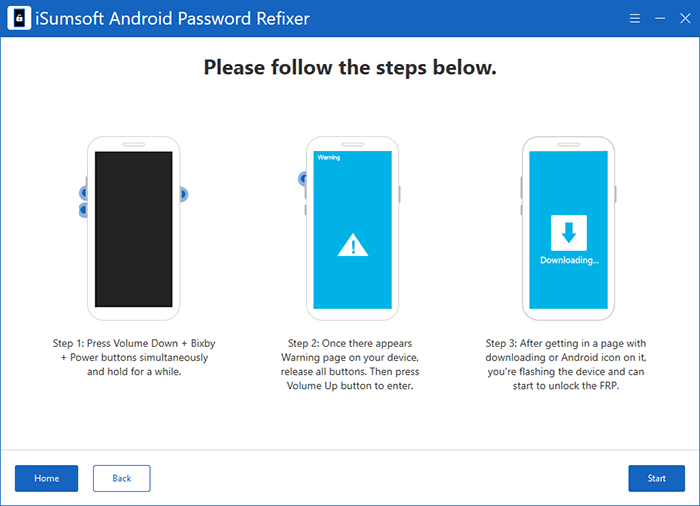 Once the process is completed, the Google lock should be removed as well as your data in the device.
Well! iSumsoft Android Password Refixer is a good tool for your Android but if you don't have much technical knowledge and own Android 12 and a Mac PC, this tool is not for you. But here comes an alternative that meets your expectations; just scroll down to reveal.
Any Better Android Unlocker Tool Than iSumsoft Refixer?
Did you ever hear about the phrase Master key of Android screen lock? Luckily! It's not just a phrase, you can grab that master key for your locked Android. Introducing iToolab UnlockGo (Android), a powerful Android unlocker FRP bypass tool that gives you the authority to bypass FRP on your Android in just one click.
UnlockGo (Android) does not require any SIM card or internet connection on your phone. Instead, it gives you the flexibility to choose from 2-3 methods for bypassing FRP available for each Android OS. The features do not end here, UnlockGo (Android) has screen unlocker tools to instantly unlock your PIN, pattern, password, or fingerprints (supports Android 5-12) in easy steps.
Check out why this tool is recommended for you.
3-minute Samsung FRP Bypass, specially designed for non-techies
User-friendly, innovative interface with clear instructions
No need to download additional APK files or tools
Lifetime update for advanced Android OS
Supports both Windows & Mac
Recommended for Samsung phones/tablets (Android 5-12)
If you are still reading and have decided to bypass FRP using UnlockGo (Android), get ready to get the fastest and most secure experience of Android unlocking which was almost impossible before.
Just grab your Mac/Windows PC and Samsung phone running Android 12 and get started.
Step 1 Connect Samsung phone with Mac
Your first step is to download the iToolab UnlockGo (Android) tool on your PC and attach your Samsung device to your Mac/Windows computer using a USB cable. Once you downloaded it, launch the tool and choose Remove Google Lock (FRP). Click on the Start key to continue.
Step 2 Choose the One-Click option
Select the highly recommended one-click FRP removal option. As you click this option UnlockGo (Android) starts analyzing your Android OS information, you don't need to choose any option.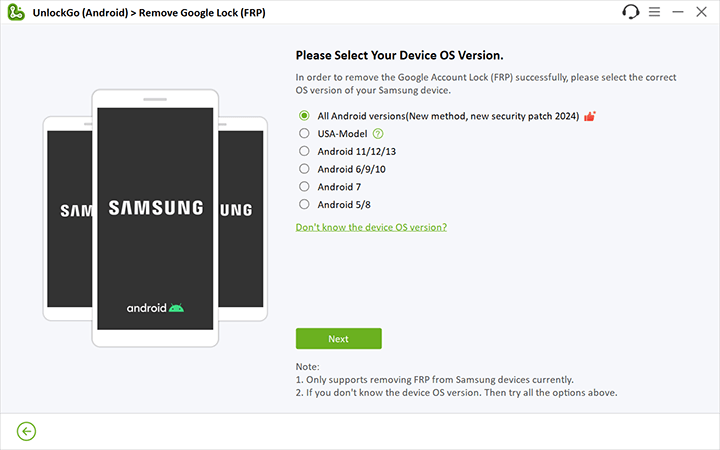 Step 3 Your phone access is one-step away
Wait a while until a pop-up screen comes up with instructions. Use the secret code for diving into the hidden Samsung Diagnostics Menu. UnlockGo (Android) will guide you in activating USB debugging on your device.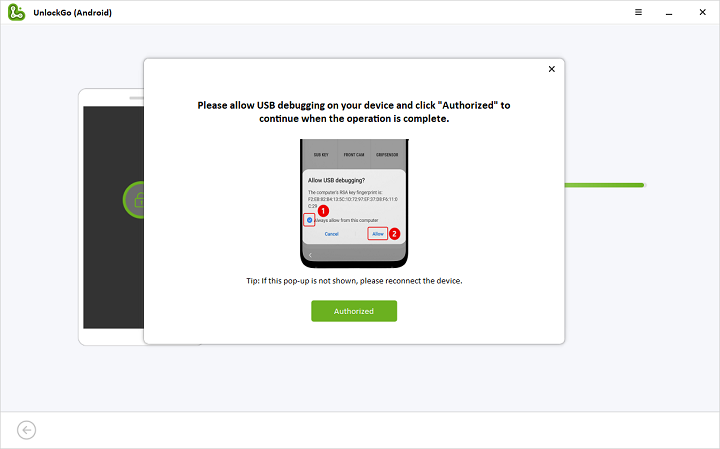 Step 4 Congrats, FRP removed
The tool asks for your permission and will remove the bothering Google verification screen in a few seconds. Once the process is finished, your Samsung phone reboots automatically. Enjoy your lock-free phone.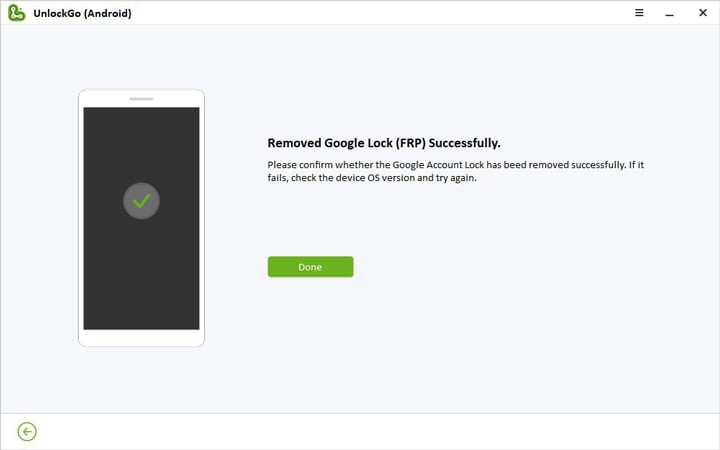 Conclusion
You lose complete peace of mind when you have a locked phone. So it's high time to choose a reliable, compatible tool that unlocks your phone promptly.
The iSumsoft Android Password Refixer is a great tool to bypass Samsung FRP unless you have Android (5-11) with 20 minutes of patience and little technical knowledge. While UnlockGo (Android) has a 3-minute Samsung FRP bypass solution, which is compatible with Android 12 and Mac. So, get instant access to your phone with UnlockGo (Android) to grab the, fastest, secure service right now!