FRP lock protects our devices from unauthorized factory resets or avoiding permission to Google account with incorrect passwords. But sometimes, we must remove the FRP lock for different reasons. One of the popular tools for FRP bypassing is Samfirm AIO. But does it really work for newer Android versions like Android 12? In this article, let's deep dive into the Samfirm AIO FRP tool and test its compatibility. Also, we will be introducing a tool that can be used as a replacement for Samfirm AIO.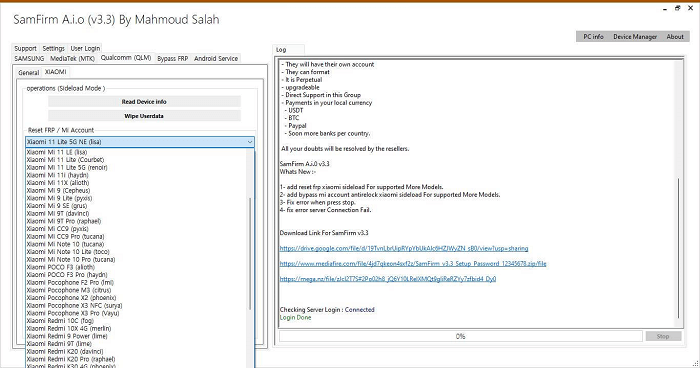 Take a Glance at Samfirm AIO
The Samfirm FRP tool is a windows-based software used to change or flash the device files and ROM manually. Before flashing the device, it checks for the device software version, CSC country firmware version, and more. The software works in any operating system without any error but requires the .NET framework to work. It also helps to bypass FRP lock in MTP mode in Samsung devices. Once you run the tool and connect with the device, you can manually control the device and open different apps, including YouTube and Maps. If you have an Android device with an FRP lock message, Samfirm is one of the recommended tools to fix it. Developers are frequently releasing new updates to the software to keep it up to date with free of bugs.
Pros
Bypass FRP lock in MTP mode from Samsung devices
Supports all the major Android brands, including Huawei, LG, Xiaomi, Samsung, Lenovo, and more
Supports Windows 8.1 and above
Once-in-a-lifetime activation for MTK, QLK modes
Useful for backup and restoring full flash, partitions, and support flashing
Cons
Not all the features are available for free. To activate features, a $30 fee is required to pay to the reseller
Though the tool is tailormade for someone with the technical knowledge, it is hard to follow the process without a tutorial
The interface looks similar to the Odin flash tool
Windows 7 and 8 are not supported
Guide to Bypass Google FRP Lock on Samsung
We have run through the Samfirm AIO guide and started to bypass FRP lock on an Android 12 device, as shown in the above video. Before Samfirm FRP tool download and installing the Samfirm tool, make sure to disable the antivirus protection; otherwise, you won't be able to install it on the device. But unfortunately, Samfirm AIO is unable to bypass the FRP lock on Android 12 devices. It can only support up to Android 11. For the question of whether Samfirm AIO can bypass Google FRP lock or not, the answer is a big NO. So, the conclusion is that Samfirm can bypass FRP lock on Android with version 11 and earlier.
It is a regular law that whether a software is compatible with the latest operating system proves the R&D capability of this company.
So how to bypass Google FRP lock on Android 12 devices? We recommend using iToolab UnlockGo (Android), which we will discuss below with its features.
Help You Bypass Samsung FRP Lock on Android 12
As we discussed earlier, finding software to bypass the Samsung FRP lock on Android 12 is not easy. With the introduction of iToolab UnlockGo (Android), bypassing the Samsung FRP lock on Android 12 is not a big deal. Are you interested in getting to know what UnlockGo is? Let's get started.
UnlockGo (Android) is a software that can remove Samsung FRP lock on many OS versions, including 12.
Unlike other software, it provides a simple and easy process to bypass the FRP lock. It can also remove any Android screen lock, including passwords, PINs, fingerprints, and patterns. It is compatible with all the major Android brands, including Samsung, LG, OPPO, Motorola, HUAWEI, Xiaomi, and more.
Why is UnlockGo different from SimFirm AIO?
🔰 Samfirm FRP bypass tool is not a plug-play kind of software. It requires a lot of effort for a beginner to get the work done. But with UnlockGo (Android), users can follow the screen's instructions and the user-friendly interfaces to get the work done easily.
🔰 Compared to SimFirm AIO, UnlockGo is cheaper and affordable in price.
🔰 UnlockGo has various plans suited to each individual, unlike SimFirm AIO. UnlockGo provides a customizable business plan which suits small companies to enterprise-level customers. Since phone dealers and repairers use the tool, UnlockGo provides customized plans for them as well.
How to bypass FRP lock with UnlockGo (Android)
Video Tutorial: Bypass FRP Android 12/11
Step 1 Connect the Samsung device with the PC
Connect your Samsung device using the USB cable after installing the UnlockGo (Android) on the PC. Then open the software and select the Remove Google Lock (FRP) option.
Step 2 Select the Android OS version
On the next screen, click on the Start button. Then click on the checkbox relevant to the device OS. To bypass the Android 12.0 device, we recommend using the first method. For the second method, you require to have 2 devices. After that, click on the Next button.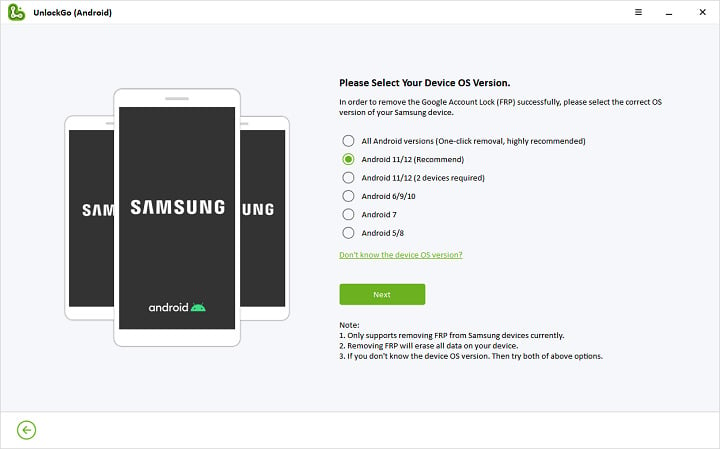 Step 3 Send a notification to the device
UnlockGo will send a notification to the device once the process starts. Keep the phone connected during the process.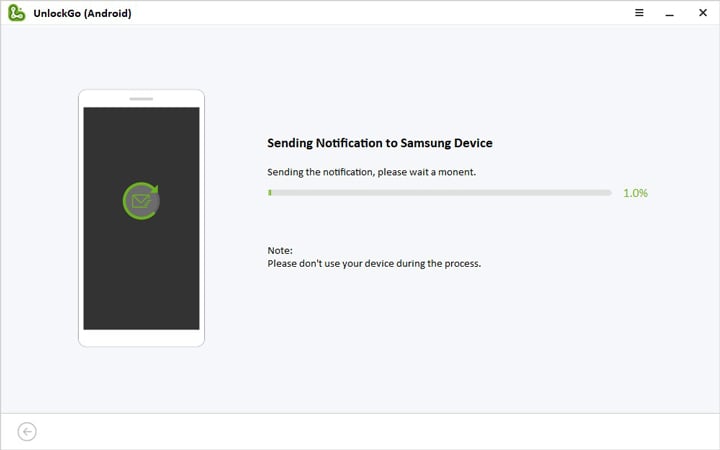 Step 4 Setup the Samsung device
Tap on the "View" option on your locked phone, all you need to do is to follow the instructions shown on UnlockGo (Android). With the screenshots, clear guideline and extra explaining video, most of all green hands could bypass FRP lock by themselves.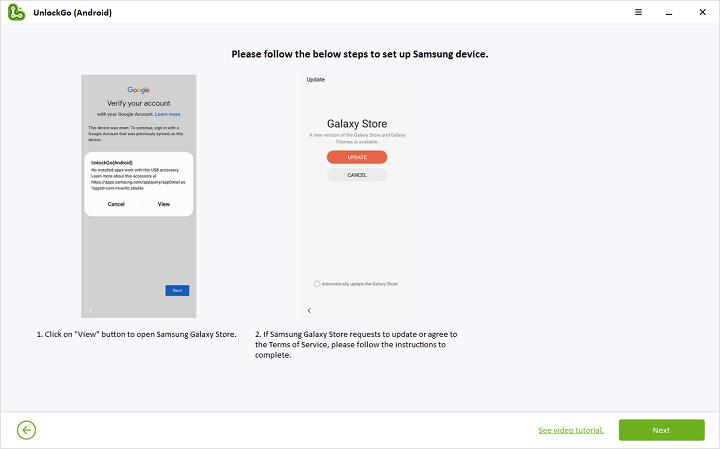 Step 5 Get a new start on your device
When you see the following screen, it means you have successfully removed the FRP lock.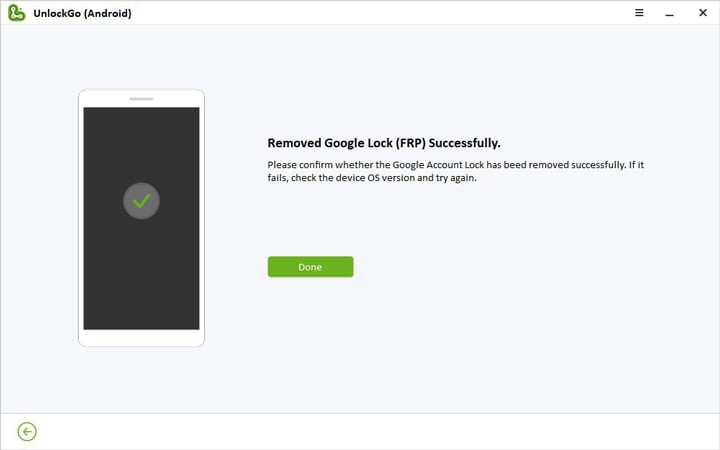 Conclusion
In short, the Samsung FRP tool Samfirm doesn't work for Android 12. It works perfectly up to Android 11. Also, it is hard for any beginner to use due to its complexity. To bypass any Android OS version, including version 12.0, we recommend a Samsung FRP tool with lifetime update. It provides clear guidance, and you don't need to be a technical expert to use it. Start using the UnlockGo for Android today and feel the difference.
Samsung FRP Bypass Tool Pro
Bypasses Samsung FRP lock on Android 5.0 to 12.0
Remove Android-compatible screen locks
Compatible with 12+ Android brands and 2000+ Android phone/tablet models
Remove screen lock in Samsung S7 and lower with no data loss
No technical knowledge is required to use