This article will give you the guaranteed solutions to bypass FRP on Samsung Galaxy J6, J6+, and J8 with PC or after reset.
As Google places FRP (Factory Reset Protection) on Android phones from version 5.1 or above, most Android users enjoy the privilege that strangers can't reset their phones without login details. However, if you forgot the login credentials of your Samsung phone, FRP poses a significant challenge. Remember, if you buy a used Samsung phone only a phone owner can log in and factory reset it. But luckily your can bypass it using techniques I shared below, so read on.
Remove Google Account FRP Lock with Bypass Tool [Android 5-12]
FRP lock is enabled automatically on the device once the user creates a Google account and logged into the phone. Many Android users asked on the forums, "how to perform Samsung J6 Google account bypass with PC if I forgot"?
The answer is you can remove your Google account instantly with easy, safe, and effective Samsung FRP bypass tool. The reason behind recommending this tool is it bypasses FRP on Samsung devices instantly without going through a complicated process. If you are non-tech savvy, no worry! iToolab UnlockGo (Android) uses an easy process and guides you on each step to remove the FRP lock in 15 minutes.
Samsung FRP Bypass Tool
Bypass FRP in Samsung devices in minutes (Android 5-12)
Removes previously synced Google account
Remove PIN, pattern, password, fingerprints no data loss
Easy unlocking process that needs no passwords
Suitable for top Android brands tablets and phone models
How to Perform Easy Samsung J6 FRP Bypass?
This tool will bypass the Google account verification page just in a few clicks without any technical steps. You just need a PC connected to Wi-Fi and an original USB cable to follow the process.
Step 1 Connect Samsung smartphone
Install iToolab UnlockGo (Android) tool on your Windows PC and connect your Samsung phone with it using a USB cable. Once the tool is downloaded, open it and choose the option "Remove Google Lock (FRP)".
Step 2 Choose the Samsung device's OS version
Click on the Start button to confirm you want to bypass FRP and then select the correct Android OS version from the list.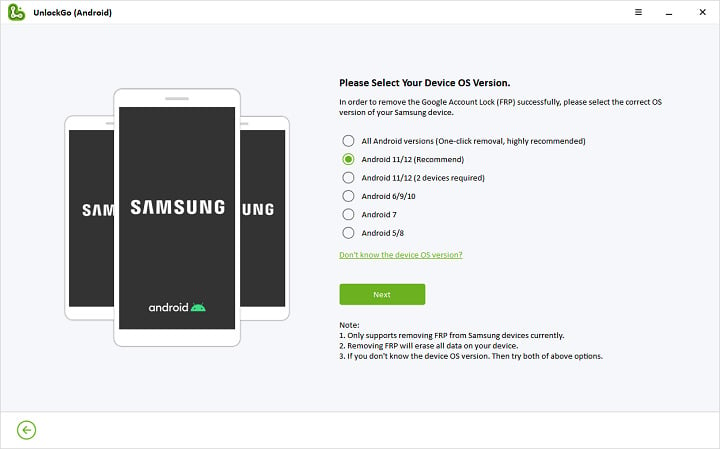 Make sure you are connected to the internet throughout the process and selected the right OS version of your Samsung device or it may fail the process.
Step 3 UnlockGo (Android) alerts the Galaxy J6
At this stage, the tool sends a notification on your Samsung phone that the device is bypassing FRP. Avoid using the phone during the process.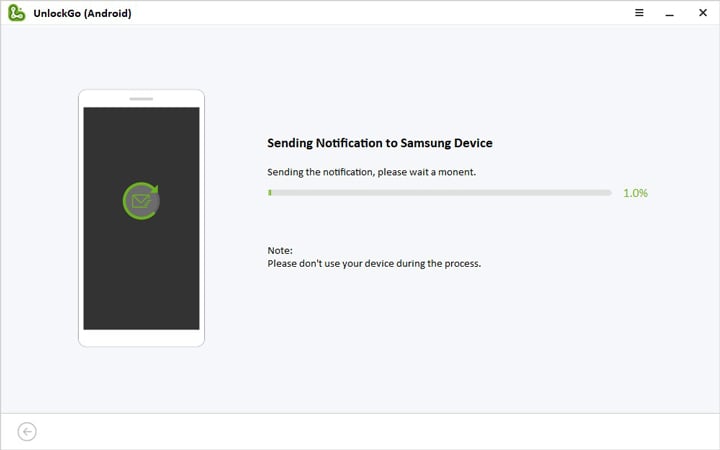 Step 4 Bypass Google account verification step by step
Simply follow the detailed instructions shown on the UnlockGo for Android, you will get the answer.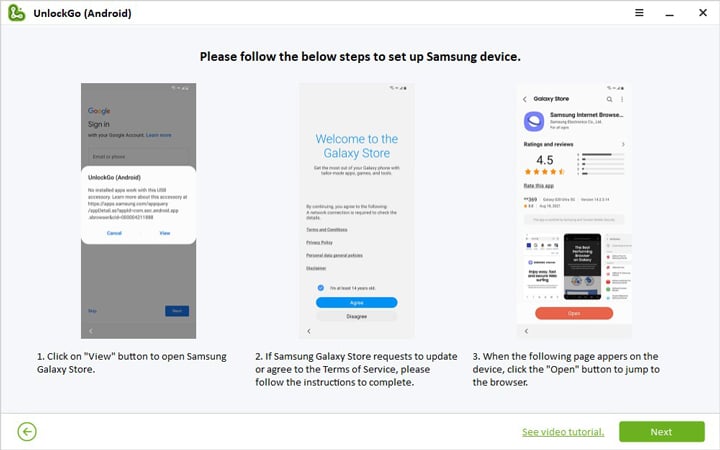 Congrats! Samsung J6 FRP bypassed, now set up your phone from scratch to enjoy a fully accessed phone.
[Video Guide] 15 Min Bypass Google Account on Galaxy J6/J8
[60 Min] Bypass FRP on Samsung J6, J8 Android 10
Bypassing FRP is a challenge until you don't know how to do it. So here I am sharing another method for Samsung J6 and J6 Plus FRP bypass on Android 10 using a PIN-locked SIM card and secure folder option. If your phone doesn't have this option you can use the Smart Switch app method to bypass Google account verification after reset or in any FRP-locked scenario.
This method could be technical for you, please follow each step accordingly or we may not responsible for any damage or loss.
Connect your Samsung phone to the Wi-Fi.
Go to Verify your account page.
Touch the Email or phone section to pop up the keyboard.
Go to the Settings option and tap the Swipe, Touch & Feedback option.
Choose Touch Feedback.
Select Sound & Vibration and then tap Ringtone.
Select SIM 1 and tap the "+" sign located at the top-right corner.
Tap the Search option appear on the top.
Now insert your 4-digit PIN locked SIM card.
Note: You can set up a PIN code using another device if your SIM card has no PIN code.
As you insert the SIM card you need to wait for a few seconds and then start tapping on the Mic icon located in the upper-right corner. Keep tapping the Mic icon until Enter SIM Card PIN window appeared.
To unlock SIM card, type into the 4-digit PIN code and tap OK.
Now quickly swipe Date & Time to the right side and holding it, tap on the Lock icon.
Drag down the Not Signed in pop-up Window to bring the top bar menu.
Swiftly tap the Settings icon 3-4 times located at the top menu bar.
Connect Bluetooth Earbuds or Headphones with Samsung J6
Pair your Bluetooth earbuds or headphones with your Samsung J6.
16.Before pairing, you have to wait until you get an error screen below the drag-down menu.
As the error appeared, tap on the Bluetooth icon.
Pair your earbuds or headphone for the Samsung j6 Google account bypass.
After pairing, you need to press the power button thrice from your pre-connected Bluetooth ear dots or headphones, it will open a dialogue box, here tap the Mic icon and say loudly Open Settings.
It will redirect you to the Settings of your Samsung Galaxy J6.
FRP bypass Samsung J6 [Final steps]
In this section we will perform Samsung J6, J6+ FRP bypass with Samsung account.
To check if your phone contains the Secure folder option, go to your settings and tap Biometrics & Security.
If you find the Secure folder option there, you can bypass FRP using your Samsung account.
Now hit the Secure folder option and click Agree.
Here you need to enter your Samsung account's ID and password to log in. In case you don't have an account you can create it using another device or laptop.
Note: If you signed in to your account successfully you are good to go. But if you don't have a Secure folder option, just check out the Samsung FRP bypass tool we mentioned above.
Final Words
FRP-locked phone leaves you frustrated and inaccessible until you don't find an authentic solution to bypass it. These two methods will help you bypass the Google account on Samsung J6, and J8 successfully. If your device is running Android 10 and you're tech-savvy with the patience to spend about 60 mins, then you are good to go with the 2nd section to bypass Samsung FRP without pc.
But I recommend you pick iToolab UnlockGo (Android) to remove your Google account successfully. With the flexibility to work with Samsung devices running Android 5-12, it follows the easy process and bypasses FRP in just 4 easy steps. Check it now.