I bought a second-hand Samsung phone but it asked for a google account to enter. I have no idea about it. Some guys said I need a professional FRP bypass tool Samsung. Is there any easy Samsung FRP tool recommend?
Factory Reset Protection (FRP) is a security method designed to ensure that someone cannot simply delete and restore your phone if lost or stolen. Google introduced this "standard" feature to all Android phones, and most of the companies, including Samsung, that make Android phones have implemented it.
However, it can become a problem if you sell or even give away a Samsung device without resetting the FRP lock. Or maybe you bought a used Samsung phone or tablet without FRP bypassing. In this article, we will show you how to bypass it with the most recommended software in the comfort of your home.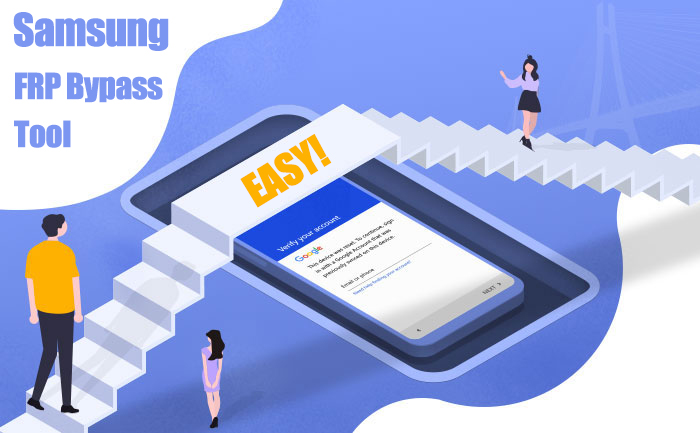 Why did Your Samsung Device Lock by FRP
Google released the Factory Reset Protection feature in 2015 for all devices running Android 5.1 or later. This feature prevents other people from using your Samsung device if they do a factory reset of the phone either by recovering or using the new firmware. If a factory reset is done without authorization from the owner, the FRP protection function will start and request to log into the Google account used for the first time.
You won't be able to use Samsung device without verifying the Gmail credentials. Although many of us may find it difficult to believe, the truth is that it is a real possibility to forget the Google account that we created to start this cell phone and that we do not usually use.
If you intend to sell your phone, for example, you will have to disable FRP protection before doing so. If you delete everything step by step manually, the buyer will have a problem in the future since they will not be able to format the phone.
When enterprises provide Android devices locked into an employee's Google account, the device becomes unusable as a company asset when the employee leaves the company.
When required to perform a reset, all the Google accounts need to be removed from the device to disable the FRP. Unless you do a hard reset from Backup and reset settings to disable FRP automatically, you require a Samsung FRP bypass tool to remove the lock.
How does Samsung FRP Bypass Tool Work
In the previous section, we discussed the possible issues that users might face when using an FRP-locked Samsung device. As a remedy for it, bypassing the lock is essential using the Samsung FRP bypass tool. Samsung FRP tool for PC is a widely known unlocking tool that allows users to bypass FRP lock from any Android version starting with 5.1 and upwards through Samsung mobile browser/phone dialer/ADB and download mode. All these processes will be completed within a few clicks. Hence, the Samsung FRP tool is recommended if you are looking for a hassle-free solution to bypass FRP lock.
Functions provided by Samsung FRP tool
Remove Samsung FRP lock
Create and enable ADB remotely and use it for bypassing
Disable the driver signature
One-click solution for data resetting
Samsung FRP tool with multi unlocking methods
Best Samsung FRP Bypass Tool for PC
Forgetting your screen lock password, PIN, pattern, fingerprints, or even wanting to bypass Google lock on your Samsung device can become a big problem unless you follow the solution that we are about to introduce. This powerful tool is called iToolab UnlockGo for Android, the best alternative to the Samsung FRP bypass tool, and it is essential for all those who wish to bypass Samsung FRP lock, reset, and even remove any screen locks on Android.
UnlockGo (Android) is an all-in-one Android unlocking program capable of performing numerous functions, a kind of perfect toolbox for most Android users even if you are not a geek. It is also a simple-to-use app that you will master quickly. The process is relatively simple, connect the Android device to your Windows computer, open UnlockGo for Android, and follow the steps that we will discuss below.
Key Features of UnlockGo (Android)
No passwords required to bypass the Samsung FRP lock
Covers over 15 mainstream brands, including Samsung, Huawei, Honor, LG, Motorola, Google, Xiaomi, and 2000+ Android models
Unlock any Android screen locks easily
No data loss during the removal of Samsung screen locks
Easy Samsung FRP tool suited for all types of users even with zero technical knowledge
How-to-steps
Are you a Samsung user with less technical knowledge, or did you spend thousands of dollars to bypass the FRP lock? Here are the steps you can follow to get this job done yourself with ease without needing technical knowledge.
Step 1. Connect the Samsung device with the PC
Before we start, it is required to download and install the iToolab UnlockGo for Android on your PC. Once you do that, connect your Samsung device with the PC using your USB cable. Next, open the UnlockGo (Android) and select Remove Google Lock (FRP) on the screen.
Step 2. Select your Android OS version
In the next window, you need to click on the Start button to confirm that you are about to bypass the Samsung FRP lock. Then select the OS version in the next window and click Next. If you have chosen the wrong Android version, the process may fail, and you need to restart the process with the correct OS version. During the procedure, please do not disconnect your Wi-Fi connection. Disconnecting may result in failing the process and may even harm the device data.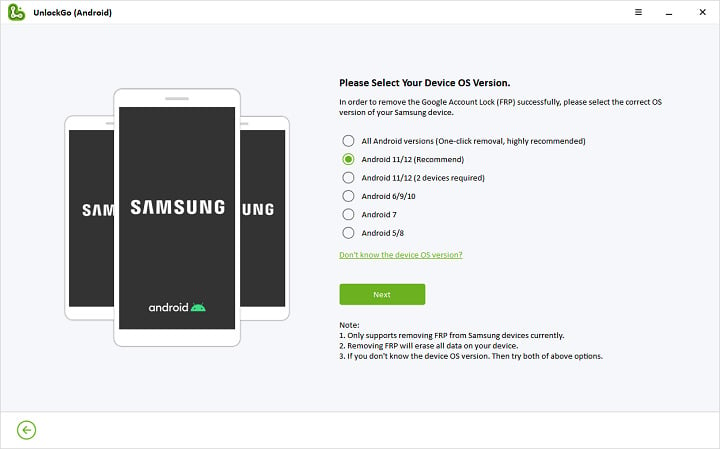 Step 3. Send a notification to the Samsung device
If both the above steps are completed, iToolab UnlockGo (Android) will notify the Samsung device to alert that the device is bypassing the process. Keep the device connected with the Wi-Fi network and with the PC until the whole process has been completed.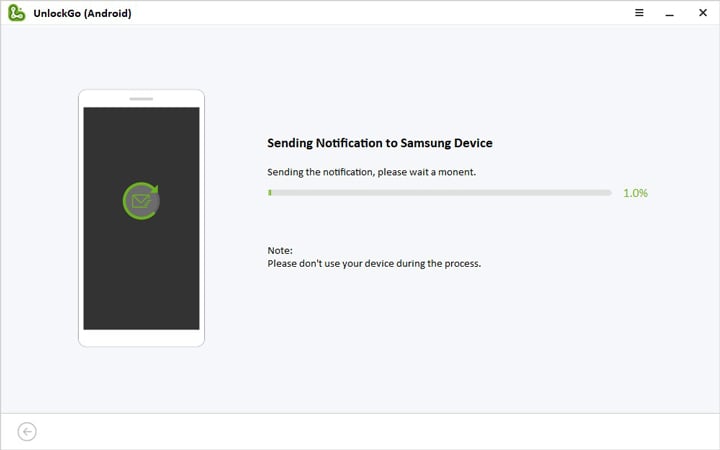 Step 4. Setup the device
Once the whole process is completed, you just need to set up your device following the guide shown by UnlockGo (Android). Then congratulations, you've bypassed FRP successfully and regain the whole access for your device.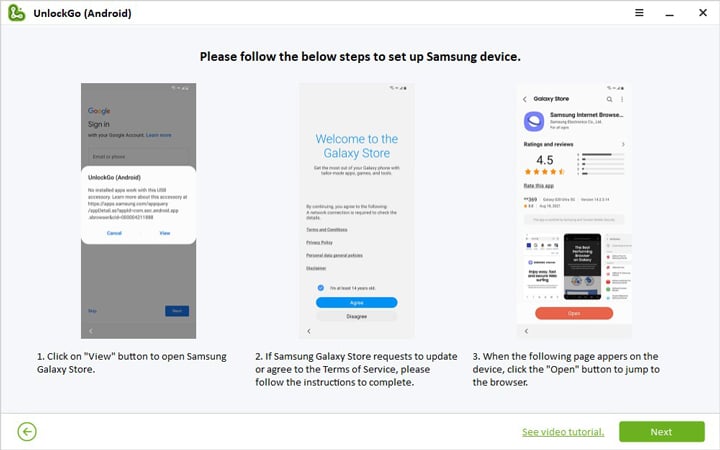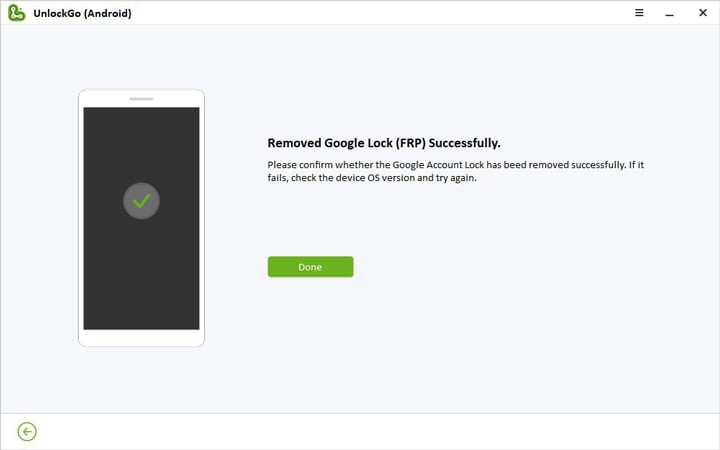 Conclusion
This article has discussed the importance of deactivating the Android FRP as a necessary procedure when we want to return, give, or sell a Samsung device. If FRP is not bypassed, the device will ask the user to log in to use it. There are usually many supposed ways to bypass this protection on the internet, primarily the Samsung FRP bypass tool. As we said above, the only 100% safe and easy way to bypass FRP on any Samsung device is to use iToolab UnlockGo (Android), the easy Samsung FRP tool for you.
Easy Samsung FRP bypass tool
Bypass Samsung FRP lock on Android 5~11
Remove all Android screen locks (PIN/pattern/fingerprints/face)
Unlock Samsung screen lock without data loss
Covers over 15 mainstream brands, 2000+ Android models