It's a pleasure sitting on a couch and spending hours exploring the cool features of your brand-new Samsung Galaxy Note 10 Plus. With an S Pen and a widescreen, Samsung Galaxy Note 10 and 10+ are the powerhouses of productivity. But there are times when it shows an error due to software damage, malware issues, or else. If you attempt a factory reset without removing your Google account, you are in trouble because FRP is triggered on your device.
To bypass FRP on Samsung Galaxy Note 10 Plus, you need to choose the right method according to your capability. I recommend using the first method if you have no technical know-how and the tech savvies can opt according to their comfort level. Let's do this!
Bypass Google FRP Lock on Samsung Note 10 Plus
You must hear regarding FRP locks known as Factory Reset Protection that works as a protective shield for your device when strangers tried to access your phone's data. But unfortunately, FRP locked the owner too, leaving you in a helpless state with a message to Verify your account. You are the luckiest if you remember your Google account's password but if you failed to remember it, you need a professional tool, iToolab UnlockGo (Android) to bypass your Google account.
UnlockGo (Android) – One-Click FRP Bypass Tool
3-minutes FRP process in all Samsung devices (Android 5-13)
Don't need passwords, Google accounts
Simple 3 steps process with 99.3% success rate
With guides and support
No malware, software glitches
UnlockGo (Android) tool is specifically designed to help out Samsung users to unlock their phones easily even in Android 12. Your phone is precious do not attempt any manual method without knowing its Pros and cons and researching if it will work for your device.
Most of the methods leave you in trouble when you attempt any step falsely and if you failed to attempt them, your device software will be badly damaged or you need to change your favorite Samsung Note 10 Plus.
See how UnlockGo (Android) Bypass Google account in 3-minutes
Download and install iToolab UnlockGo (Android) on your PC. Once you successfully download it, go through the process accordingly.
Step 1 Connect Samsung Galaxy Note 10 Plus
As you have UnlockGo (Android) on your PC, open the tool and connect your phone to the PC via a genuine USB cable. Select the option Remove Google Lock (FRP) and click the Start button.
Step 2 Choose a swift solution
Here, you need to choose All Android Versions and select Next.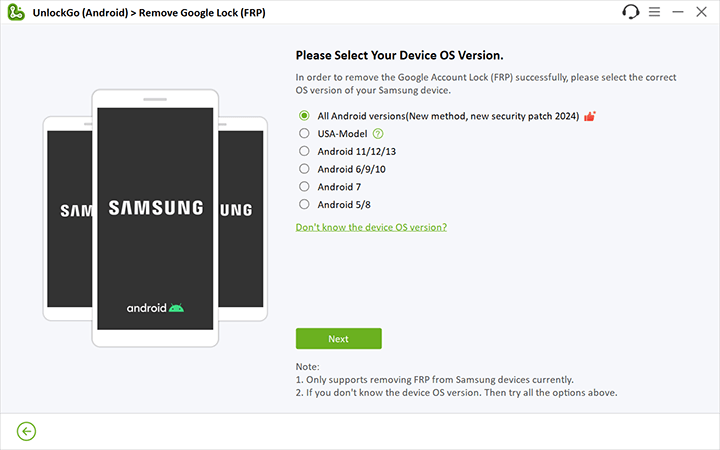 Step 3 Bypassing FRP
Once you select our new one-click feature, your screen will show a pop-up window, where you need to dial a code to access the hidden Samsung Diagnostic Menu.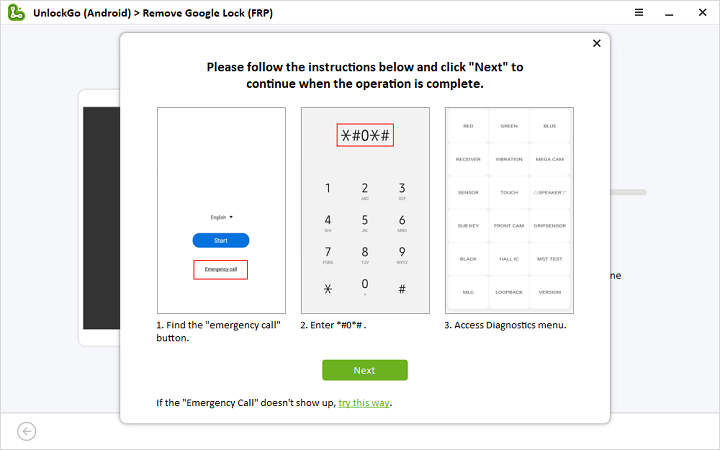 Step 4 Google Account Removed
Once you allow permissions, Google account verification windows will be removed magically in a few seconds. Also, it will reboot your Samsung device automatically.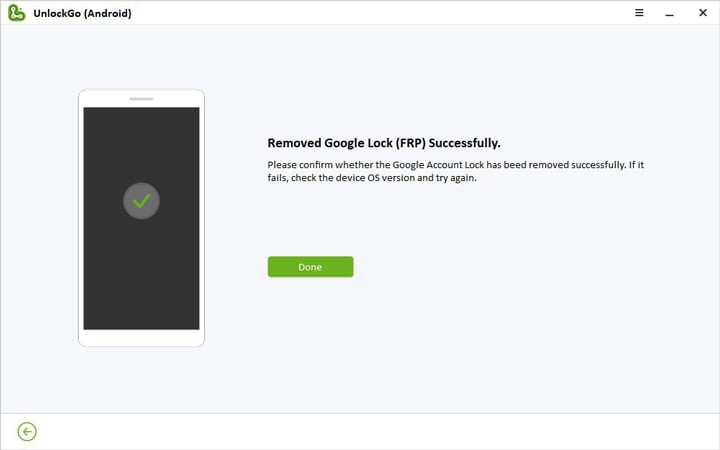 Samsung Note 10 Plus FRP Bypass without PC
With this method, you can bypass FRP without a computer or any firmware but this slightly technical may bother you so attention is required. I recommend non-techies should take help from UnlockGo (Android) and the other Android techies can go through this method.
Switch on your Samsung Note 10 Plus and connect to Wi-Fi.
Head to verify your account screen and tap the Email or Phone area to get the keyboard pop-up.
Choose the GIF icon, showing in the top menu of the keyboard.
Select Go to Galaxy Play Store.
Check mark "I have read all of the above" and tap Agree.
Choose the search bar located at the top-right of the screen, type here Samsung internet, and you will get search results for the Samsung internet browser.
Now, select the same search result Samsung internet browser.
Choose the download icon and as downloading is completed, tap the Open icon to run the Samsung browser on your device.
Tap the Menu icon located at the bottom right corner and then select the Settings icon, now you can access your FRP-locked Samsung Galaxy Note 10 to bypass FRP.
Scroll down and choose About Samsung Internet.
Activate PIN Windows to Setup PIN
Tap Permission, select the Search icon located at the top-right corner, and type PIN Windows.
Tap on PIN Windows appeared in the search results and scroll down and turn on PIN Windows and click that option to dive into it.
Now, enable Use screen lock type to unpin and select PIN.
Enter the 4-digit PIN code 1234 and tap Confirm.
Retype PIN 1234 and tap OK.
Now, you have a PIN code to bypass FRP Samsung Galaxy Note 10 Plus (Android 10).
Reboot your device by pressing both Volume Down+ Power keys and tap Restart.
Lastly, complete your initial setup wizard by connecting to Wi-Fi to bypass FRP on your phone. If the screen asks for a PIN, enter the pre-setup PIN in the above steps.
Note:
You will see a Skip option at the bottom left corner on the Google Sign-in screen, tap on it and then tap Skip again on the pop-up window.
Remove Google Lock from Note 10 Plus with Odin
This FRP bypass Tool will work only if you have:
Latest ODIN download on PC.
Galaxy Note 10 Combination ROM files.
Samsung USB drivers, downloaded and installed.
USB cable and a 60% charged phone.
Download the Combination ROM and transfer it to the new folder.
Download the latest Odin Tool and install Samsung USB Drivers on your computer.
Run your Galaxy in Odin or Download Mode by pressing the Power+ Bixby+ Volume Down keys at once.
As you see a blue or green screen, press the Volume Up key to enter in FRP bypass tool Odin.
Run the Odin Tool and connect your device to your PC using a USB cable.
As your device is connected, COM will appear: ID will then appear in Blue.
Click the AP tab and browse the AP file from the Combination ROM folder.
Set the below files respectively to.
BL: choose file BL_xxxxx
CP: select file CP_xxxxx
CSC: select file CSC_xxx_xxx_xxxxxx
Select Start, to run the flashing Combination ROM on your device.
If you see a green Pass message, it indicates a successful process completion.
Troubleshooting: Fix Odin not detecting Samsung devices
Conclusion
So if you have technical skills you can go with Odin or without the PC method but bear in mind long processes means more time consumption and hassle. I bet you can't be that comfortable with any method because each of these methods comes up with its requirements and work under boundaries.
Bypass your Google account on Samsung Note 10 Plus with safe and swift iToolab UnlockGo (Android) and experience how easy it is to bypass FRP yourself.