Keeping a password or a pattern lock has become essential as most mobile users access personal information through their phones, such as private photos, bank apps, etc. This is basically done to prevent others access this sensitive information. But what if you forget your password as now you'll be locked out from important information?
You might end up searching for "a universal unlock pattern for Android without losing data" to solve your predicament. Let us clear your confusion. You don't actually need a universal unlock pattern for Android in 2023, as we have the best solutions here.
Part 1: Is There A Universal Unlock Pattern for Android?
While most would suggest using "* # * # 7780 # * # *", this doesn't work anymore on the latest Android devices, so stop wasting your time. Furthermore, many consumers think there is a universal unlock pattern for Android that will save the day, but it isn't.
Be reasonable; if there existed a universal unlock pattern for Android without losing data free of charge, wouldn't it be exploited in the market? Phones would be stolen, unlocked easily, and sold off as quickly. Anyone would be able to access your data without impunity.
Still, there are some proper ways to unlock your phone if you accidentally forget the unlock pattern. For example, if you forget the email password, you answer the secret question or follow the authentication process through another email or registered mobile phone number. Similar methods exist for unlocking an Android that can be regarded as universal unlock pattern for android.
Part 2: Universal Methods to Unlock Android Pattern Lock without Losing Data
This section will discuss 4 universal unlock pattern for Android devices without losing data to ease your predicament. These methods are tried, tested, and verified by phone manufacturers, experts, and users. However, you can blindly go for them, instead of searching for universal unlock pattern for Android.
Note: Be cautious, some of these steps have essential prerequisites; failing to have those methods will do you no good.
2.1 Unlock Android Pattern Lock via Find My Mobile
Find my mobile is a feature by Samsung that allows you to wipe your phone or data clean in case your mobile device is stolen or lost. But in the context of this article, it is a great feature allowing you to remove the lock pattern or any set password easily.
Remember one thing that Samsung Find my mobile and Remote unlock should be enabled when you set the pattern lock the first time. Let's show you the simple steps to unlock your pattern or password.
1. Visit Samsung Find my mobile web page from your PC or laptop.
2. Log in to your Samsung account, which was used to sign in on your Samsung Android phone.
3. Navigate to the device that needs to be unlocked. Then click on it.
4. A menu will show up in the upper right corner. Click on "Unlock" option.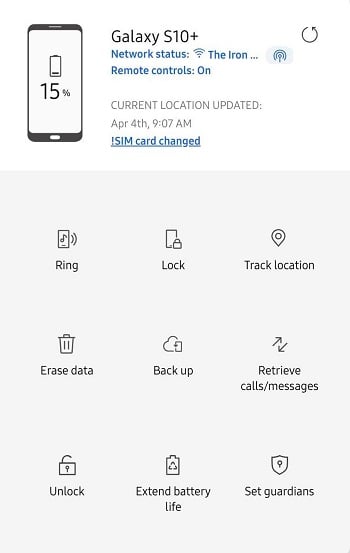 5. A prompt window will show up. Click "Unlock" again.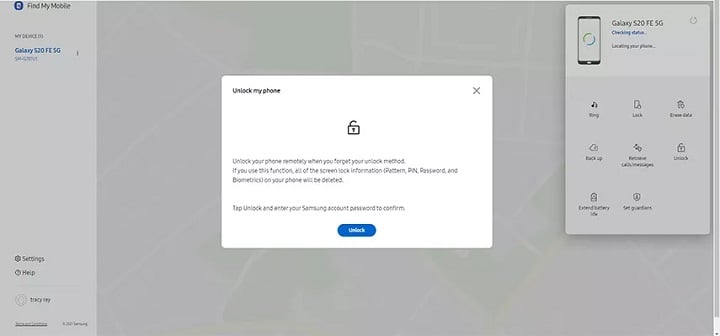 6. You need to confirm your Samsung account password to proceed.
7. After some time, your phone will be unlocked.
Note: Your locked device must connect to an available network before unlocking; otherwise, it will fail.
2.2 Unlock Android Pattern Lock With A Backup PIN
Most of the time, Android phones ask you to set a passcode for the lock screen, whether you have chosen a pattern or a Face ID unlock. This code helps you to unlock your phone if you forget the unlock method.
The pin or code is usually set when you choose the pattern option to unlock. Please follow these steps.
1. Draw any pattern to try and unlock the phone. Repeat this process up to five times.
2. After five times, the Backup Pin option pops up just below the pattern area.
3. Enter your Backup Pin or unlock code.
4. Press "OK" after entering, and your phone will now be unlocked.
2.3 Unlock Android Pattern Lock with Forgot Pattern
If you didn't mention or use a backup pin and skipped that option altogether, you can utilize your Google or Samsung account by tapping the "Forgot Pattern" option.
Remember this: your phone must have been signed in using a Samsung or Google account; otherwise, you won't be able to use this method.
Please follow these simple steps using the Forgot Pattern method to unlock your phone.
1. Repeat the possible patterns as you did with the Backup Pin process up to five times.
2. This time, choose the "Forgot Pattern" option instead of "Backup Pin".
3. Depending on your phone, choose the account you used to sync on your Android Phone. We will consider a Google Account here for reference.
4. Select the option where it says "Enter Google Account Details" and enter the details like email id and password for easy verification.
5. Your phone will be unlocked after entering the necessary details.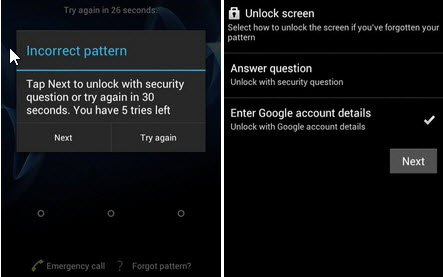 Tips:
The version of your Android must be Android 4.4 or earlier.
You can unlock your Android device with a Google FRP tool if you forgot the Google account credential.
2.4 Unlock Android Pattern Lock with Third-Party Tool
The last method in this info article is the use of a third-party tool. Here we recommend to use iToolab UnlockGo (Android). This amazing tool supports removing pattern lock on most popular mobile phone brands, including Samsung, Xiaomi, Redmi, Huawei, LG, etc. Following are some of its critical features.
Android Screen Unlocker
In addition to pattern lock, UnlockGo (Android) can also unlock password, PIN, face recognition, fingerprint, etc.
The tool is easy to use. You can unlock Android pattern lock within 3 steps.
With Samsung S7 and earlier models, you won't lose any data after unlocking.
It also supports unlocking Google FRP lock on Samsung/Xiaomi/Redmi devices.
Please follow the step-by-step guide of iToolab UnlockGo (Android) for easy unlocking of your Android device.
Download and install iToolab UnlockGo (Android) app on your computer and open it.
Step 1: Select "Remove Screen Locks" on the main interface. Connect your mobile phone to the computer using a cable.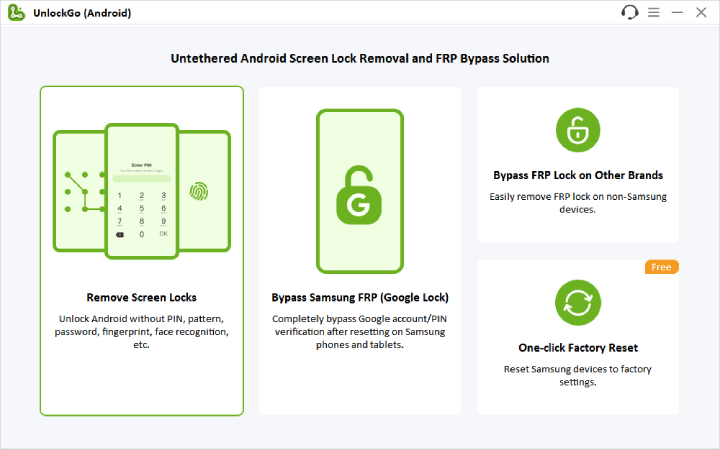 Step 2: Choose your phone from the drop-down menu and press the "Unlock" button.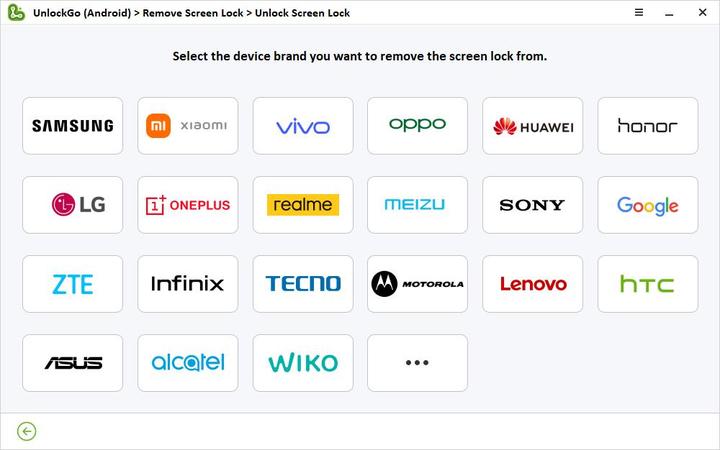 Step 3: Put your phone in Recovery mode. Then follow the on-screen instructions to remove the pattern lock. After a few minutes, your Android device will be unlocked.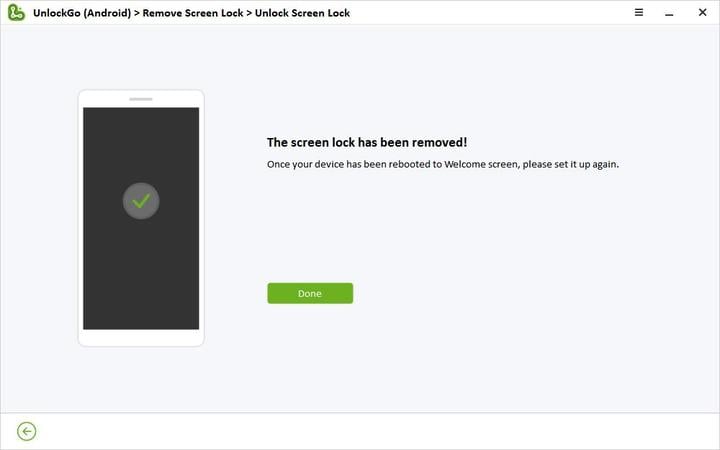 iToolab UnlockGo (Android) has been reviewed and recommended by users worldwide. If you are looking for a third-party program to unlock Android pattern lock without losing data, then try UnlockGo (Android).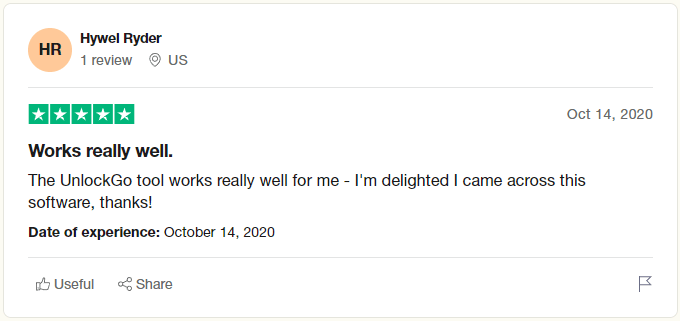 Final Words
So now you have four methods to unlock your phone and skip looking for universal unlock pattern for Android without losing data. Once you have unlocked your Android device, please remember to back up your screen lock this time.