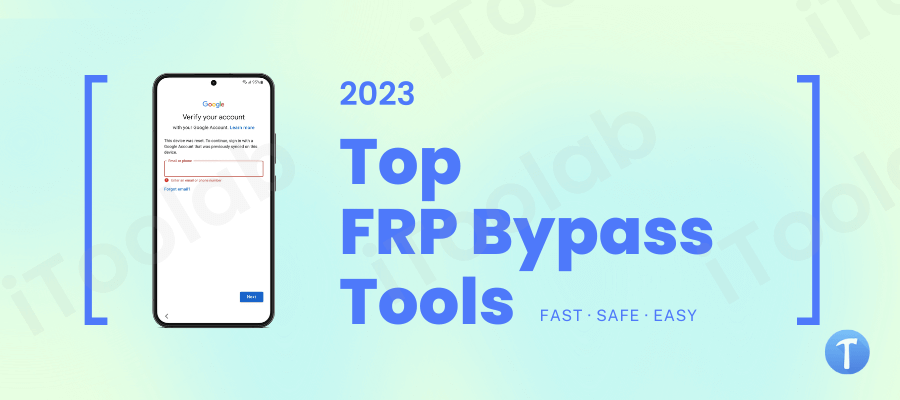 Google has introduced a security feature "Factory reset protection FRP" to prevent your data from being tampered with in case your phone gets stolen. It works for all Android devices with Android version 5.1 and above. If you have purchased a refurbished phone, you might also encounter this scenario. In this article, we will list down the top FRP bypass tools for Android devices to overcome the Google verification and use your cell phones.
Best FRP Bypass Tool – iToolab UnlockGo (Android)
The best FRP bypass tool for PC in our list is iToolab UnlockGo (Android). This bypass software is a professional FRP remove tool and is compatible with Android 5-13 Samsung/Xiaomi/Redmi/Vivo phones and tablets that have the FRP security feature. Based on the advanced algorithm, you can bypass FRP lock from your Android devices within minutes. And the success rate is up to 99%.
Why UnlockGo for Android is adored by users?
The amazing and notable features of this bypassing software will make you believe why it is most trusted by users.
Wide compatibility: The tool is not only compatible with a wide variety of over 15 Android phone brands but also widely supports Android versions 5-13. It can be run perfectly on the Windows system from Win 7 to the latest Win 11, macOS 10.11 and later.
Professional but easy-to-use: Thanks to continuous exploration and research, UnlockGo (Android) has developed the easiest way to remove FRP. For some models without emergency call entrance, it provides the latest solution. Whether you are a busy phone repairer or a non-technical person, it saves you valuable time.
Screen locks remover: UnlockGo for Android works stupendously with most Android devices to remove pattern, PIN, or any other screen locks. It can work wonders to get past them in a matter of a few clicks.
3 MIN Bypass Google FRP lock for all Samsung models
Top 2. Samsung FRP Hijacker Tool
The next winner is FRP Hijacker tool which has managed to grab a spot in this list because of its amazing features. If you are a Samsung user this is the tool you should definitely consider.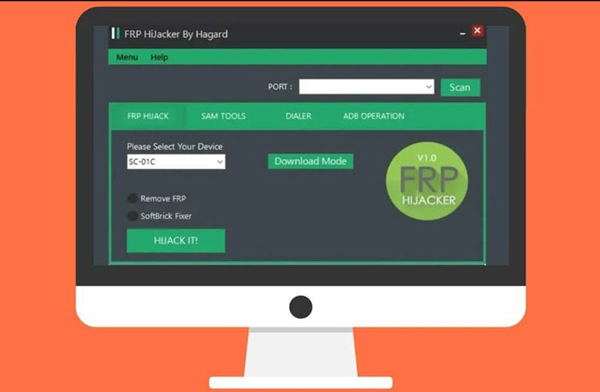 Hijacker is one of the best Samsung FRP unlock tools and has the feature helpful in fixing soft brick. Hijacker which is a top-notch FRP bypass tool allows you to do a factory reset for your device. Without using ROM, this tool can even bypass Samsung FRP in Download mode. Its stable and clean interface allows first-time users to complete the bypass process with ease.
Overall, if you know some computer knowledge, it is the best and fastest bypassing service for Samsung devices.
Pros:
It's a free FRP bypass tool.
It works on Windows, Mac, Linux systems.
Cons:
It only supports to unlock FRP on Samsung devices.
Since it's a free tool, it offers no customer service. It means that you are alone if you encounter any problems during usage.
Top 3. Odin FRP Bypass Tool APK
Odin is software that works with FRP bypass tool apk, particularly for Samsung users and can be installed on Windows PC for its quick and fast service.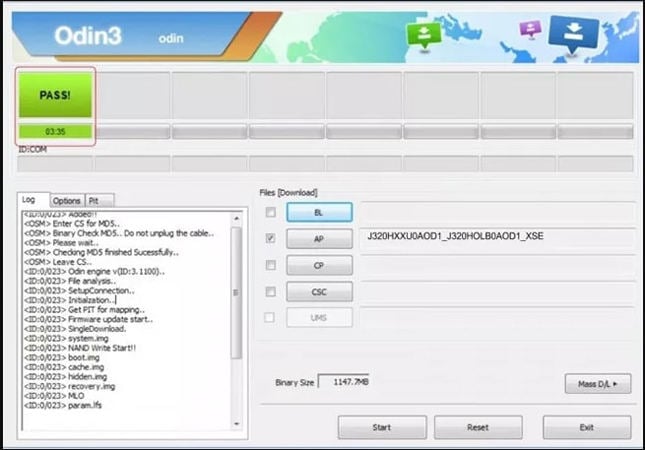 Odin gives your phone a chance to work by helping in installing firmware updates, upgrading by flashing ROM, FRP locks when Google locked your phone. If you are frustrated with FRP lock on your phone and have a model with Android version 5 and higher then, you should definitely check this tool out. It is a simple tool that will be helpful in resolving FRP lock scenario in a matter of a few minutes.
With its advantages, some users may choose to try this tool. But the new users may face a setback which is the process of bypassing FRP is tricky and doesn't work on the latest Android versions.
Pros:
This FRP bypass tool is free.
Cons:
It only works on Windows operating systems.
The process is complicated if you have no knowledge about computer.
The tool is only available for Samsung phones and tablets.
Top 4. UnlockJunky – Online FRP Unlock Tool
The next FRP lock removal tool on our list is UnlockJunky. This online tool has proven to be helpful to unlock Google security FRP lock. It claims to be fast, and efficient to bypass Google FRP in around 5 minutes.

This FRP unlocking tool is amazing for the removal of Samsung account locks. It also offers PIN lock removal, IMEI repairs and carrier unlocks. It has a user-friendly interface that helps the users in getting fast results. As much as it is adored for its amazing features this tool is limited to some cellphone models of particular brands.
Pros:
This online FRP unlock service is easy to use. You only need to offer your device information and complete the payment, and the technician will do the rest for you remotely.
It supports bypassing FRP lock on Samsung, Motorola, and ZTE devices.
Cons:
This online service is much more expensive than other FRP tools. You can only unlock one device for one payment, and the fee varies from different models.
The technician is not available all the time. If you need to access your device in a hurry, please consider other FRP bypass tools.
Top 5. vnROM Bypass APK
The next is a website that contains several FRP bypass tools and apk. You aren't able to access to Settings menu when your Android phone is locked by Google verification. This provides great convenience to cell phone repairers. The challenge is how you use so many FRP removal tools which are specifically designed to bypass the Google FRP from your mobile phone. It works efficiently for all Android devices even with newer Android versions.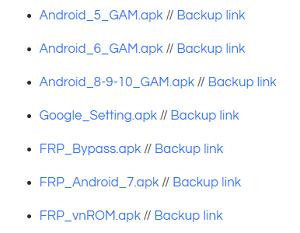 These FRP bypass apk are easy to install on your phone via OTG, are completely free, and don't require any registration. Also, it is an ad-free application. Powerful support to bypass FRP in Android phone brands including; Samsung, Oppo, Huawei, Lenovo and many more. Although vnROM provides such trusted tools but sometimes they just stop working and have no guarantee to work for your device.
Pros:
It's free to unlock FRP with this application.
The application is compatible with almost most Android devices.
Cons:
The bypassing process is complex, and requires an OTG cable.
You won't be able to get any support if you encounter any problems during the unlocking process.
Top 6. SamFW FRP Tool
The next is a very popular tool recently – SamFW FRP Tool. Apart from FRP removal, it could be used to perform an Android factory reset and disable Samsung Knox as well. The overall process is relatively clear, although some basic code fundamentals are required of you when using it.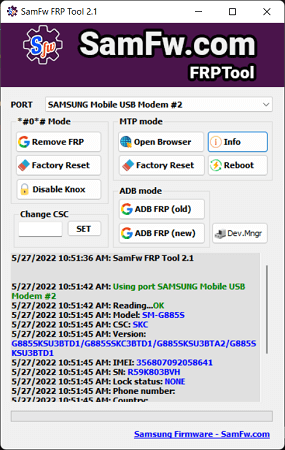 Pros:
The SamFW FRP Tool is virus free.
It supports Android 5.1.1-13.
Cons:
Errors occur daily.
It can only runs on Windows OS.
The user interface is in old fashion.
Top 7. GSM Flasher ADB Bypasser FRP Tool
GSM Flasher ADB Bypasser FRP Tool is an amazing free software that allows you to bypass Google FRP lock from your Android devices through ADB mode. Once the ADB mode is enabled it unlocks the lock in a single click. It supports Android devices running on OS 5.0 and higher. For it to work, you will also need to connect your device to your PC via USB debugging. This FRP lock Google verification bypass tool software works for Samsung but also many other Android devices.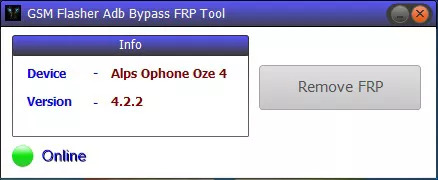 Pros:
The FRP tool is free to download and use.
It supports unlocking FRP lock on Samsung, ZTE, LG and Motorola.
Cons:
It doesn't works on the latest Android 13.
Using this tool, you need to disable the antivirus protection on your PC.
It requires enabling USB Debugging beforehand.
Top 8. iMyFone LockWiper (Android)
Continuing the list of FRP bypass tools with iMyFone LockWiper Android which is a professional and secure option to remove Google FRP lock in more than 6000 devices. Its simple interface makes it a user-friendly tool and allows you to bypass the locks on Android devices without requiring any passcode. It erases any kind of screen lock on your phone and also protects the user's privacy.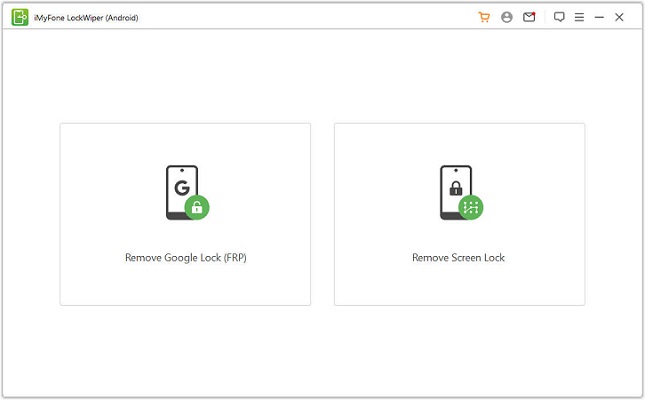 The software can be downloaded on your Windows PC very easily. LockWiper Android gives you an exact solution to your problem according to the compatibility of your Android device.
Pros:
This FRP lock removal tool is secure and easy to use.
The interface is simple and user-friendly.
Cons:
It only works on Windows now.
It can only remove Google FRP lock on Samsung devices.
Also Read: What is the best alternative of iMyFone LockWiper?
Top 9. Pangu FRP Lock Removal Tool
Here we are coming to the ninth FRP lock removal tool on our list. Pangu FRP Unlocker has secured its place due to its amazing ability to bypass FRP locks without requiring any other assistance.
Pangu works well not only for Samsung cellphones but all the major Android phone brands like Oppo, Lenovo, Vivo and many more. You will most probably be surprised by how smooth its working is. It is light software and can easily be installed in comparison to other FRP bypass tools. The tool supports Android devices with versions 5.0- 8.0 and works impressively to unlock FRP security of your Android device.
Some users indicated that Pangu doesn't have 100% success rates and user requires some knowledge to run the FRP tools.
Pros:
It supports many phone brands, like Samsung, LG, Mi, OPPO, Vivo.
You can bypass the Google FRP lock without a PC.
Cons:
The unlocking process is much more difficult than other paid FRP tools.
It requires a strong and stable network.
Top 10. Octoplus FRP Tool
Last but not least on our list of FRP bypass tools is Octoplus FRP Tool. It is another amazing way to bypass FRP or Google verification on your Android phone. Octoplus works wonders by smoothly bypassing the FRP lock of a cellphone. This tool works for LG, Huawei, Motorola and Alcatel smartphones. You can use FastBoot Mode, Download Mode or Factory Mode to bypass FRP. Unfortunately, Samsung FRP bypass server is offline now, otherwise you can use it to reset FRP without losing data. Octoplus is compatible to bypass Factory reset in various Spreadtrum-based smartphones.

Does resetting FRP with Octoplus FRP Tool erase data?
| Brands | Data Loss |
| --- | --- |
| Motorola | No |
| Alcatel | No |
| LG | Yes |
| Huawei | Yes |
Pros:
It allows you to bypass FRP lock on Samsung, Huawei, LG, Alcatel, Motorola devices.
Cons:
It's not a tool that can be downloaded from the Internet. Once you purchased the tool, it will be delivered to you in a package. It's not convenient.
You can only unlock 1 device for 65USD.
What Do You Need to Consider to FRP Bypass Tool
Supported devices and operation systems
Technology skills required
Difficulty of operation
Price
Technical support
Here we listed the comparison for all candidates.
| FRP Bypass Tool | Price | Difficulty (1-5) |
| --- | --- | --- |
| iToolab UnlockGo (Android) | $29.95 / 5 devices | 1 |
| Samsung FRP Hijacker | Free | 4 |
| Odin | Free | 4 |
| UnlockJunky | $40 / device | 2 |
| vnROM Bypass APK | Free | 5 |
| SamFW FRP Tool | Free | 3 |
| GSM Flasher ADB Bypasser FRP Tool | Free | 3 |
| iMyFone LockWiper (Android) | $29.95 / device | 2 |
| Pangu FRP Lock Removal Tool | Free | 5 |
| Octoplus FRP Tool | $65.00 / device | 4 |
In Conclusion
The tools we have listed for you in this article are the best to bypass Google verification or Factory reset protection on your Android cellphones and tablets. All these tools can come in handy depending on the model and brand of your device or your personal preference, each of them has its own limitations too. If you ask us, which tool is best for Samsung/Xiao/Redmi/Vivo FRP, then, iToolab UnlockGo (Android) should come into your radar, which is users' favorite and works wonders as a go-to FRP bypass tool.
Trusted by 135,000+ Users
Bypass Samsung FRP lock on Android 5-13
1-click to bypass FRP lock on Xiaomi/Redmi/Vivo
Remove all Android screen locks, PIN, passwords, pattern, fingerprints, and face lock
Unlock Samsung screen lock without data loss
Covers over 15 mainstream brands, 2000+ Android models