The modern era of Android phones excites people with lots of handy cool stuff. The lock security system of Android phones ensures your device's privacy. Conversely, Google Account aids your phone with a security layer by protecting it in lost or theft cases, but it may lock you too.
Want to unlock Android Phone with Google Account? Great! Let's do it.
How to Ues Google Account to Unlock Phone (Above Android 4.4)
Step 1: To unlock an Android phone with Gmail account, go to the official Android Device Manager website. This process needs another device or computer.
Step 2: Sign in with the same Gmail Account that locked you out of your device.
Step 3: As the ADM homepage appears, it shows the list of devices your Google Account is connected to. Select the device that you want to unlock. Click on SECURE DEVICE.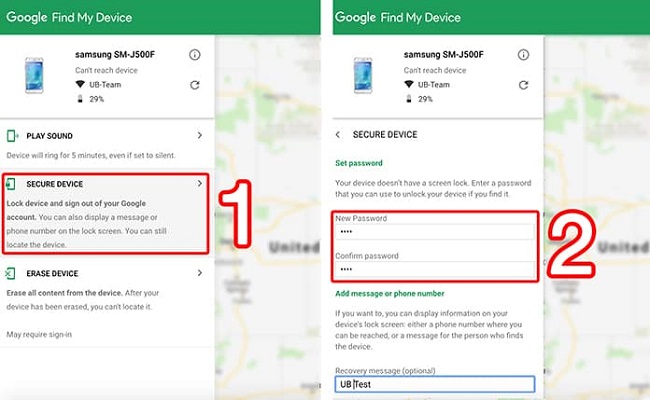 Step 4: Google will ask you to create a temporary password. Once you create it, click on SECURE DEVICE once more.
Step 5: Just wait for several minutes, move back to the device's lock screen, type the new password you set on ADM to unlock the phone.
To make this method work, check the following conditions.
You must remember the Google Account and password signed in phone.
Lock phone is associated with Googla account.
Your device is connected to WiFi during the process.
Your device must open the Find My Device app.
GPS should be turned on.
ADM only works with devices with Android 4.4 or higher.
How to Unlock Android Phone with Google Account (Android 4.4 or Below)
If you are running Android 4.4 or below then you can reset the pattern using Google Account to unlock phone. To do this promptly follow the steps shown below.
Step 1: When you try to unlock the phone more than 5 times, a Forgot Pattern option will display on your screen. Click it to continue. Now, you have 2 options and select Enter Google account details.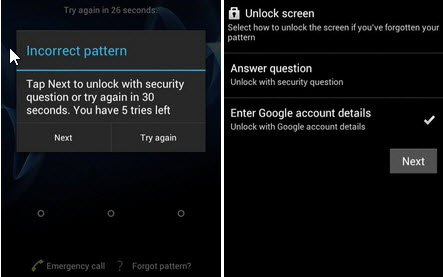 Step 2: On the next screen, you now have to enter the Gmail and its password related to your locked phone.
Step 3: As you Sign-in, reset the screen lock and after that, you will get complete access to your Android phone.
Get no results? Read on! I have more effective ways to unlock your phone.
How to Unlock Android Phone without Google Account
Are you a non-technical person looking for the easiest unlocking solution? Then a trustworthy tool is here to unlock screen locks and bypass Google accounts with an advanced automatic system.
The iToolab UnlockGo (Android) is the handiest tool programmed to unlock your phone, particularly in emergency cases. The most engaging benefit of this tool is it doesn't need any passcode or Google account credentials to unlock your phone.
Android Lock Removal Tool
Unlocks phone without technical expertise
Remove any type of screen lock with ease on all Android
Unlock screen locks without data loss on Samsung devices
Supports 15+ major brands and 2000+ Android tablets and phone models
Bypass Samsung FRP lock on Android 5~12
Download and install iToolab UnlockGo (Android) first. Then, let you unlock your phone without Google Account in just 5 minutes.
Step 1: Connect your phone
Start the unlocking process by connecting your device with a PC. Open the UnlockGo tool on your computer. Choose Unlock Screen Lock from the interface. Click the Start button.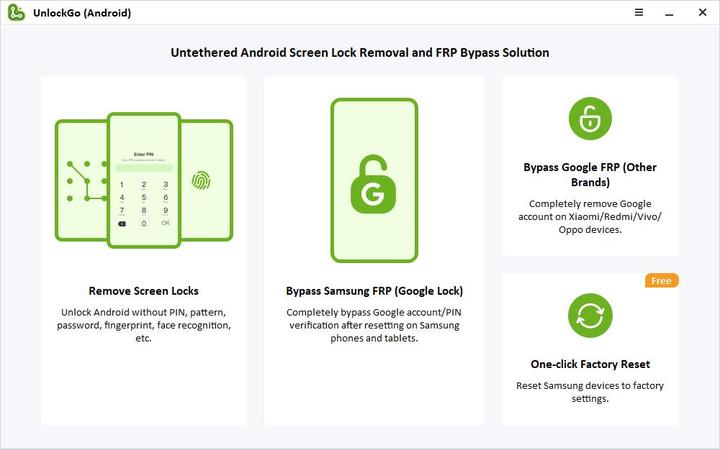 Step 2: Confirm your brand
You need to confirm the brand of your phone from the provided drop-down list. As you select it correctly, click Unlock to continue.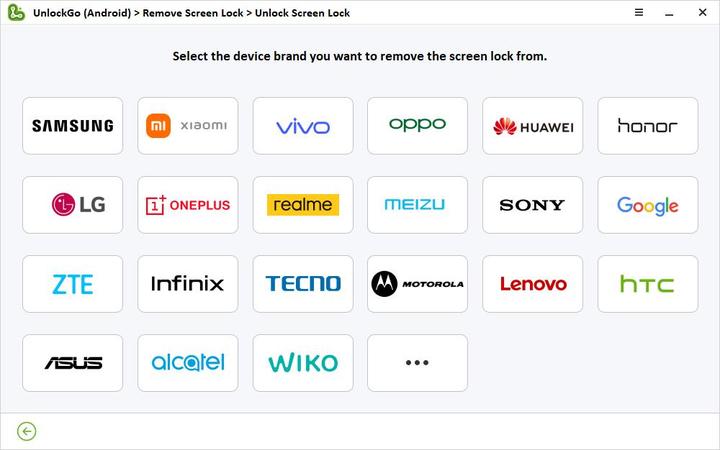 Step 3: Move in your device to Recovery Mode
Android phones use multiple ways to enter recovery mode with or without home buttons.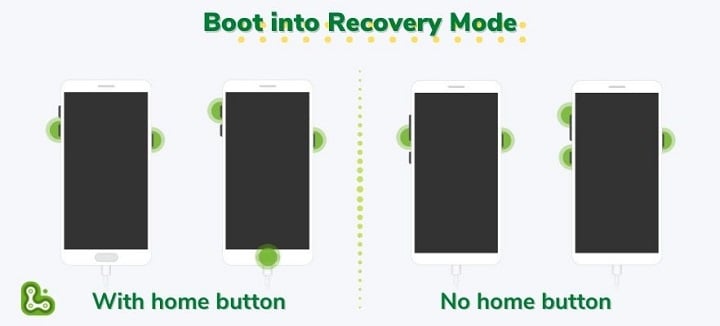 Step 4: Initialize unlocking process
As your phone entered recovery mode. Follow on-screen steps to finish the process.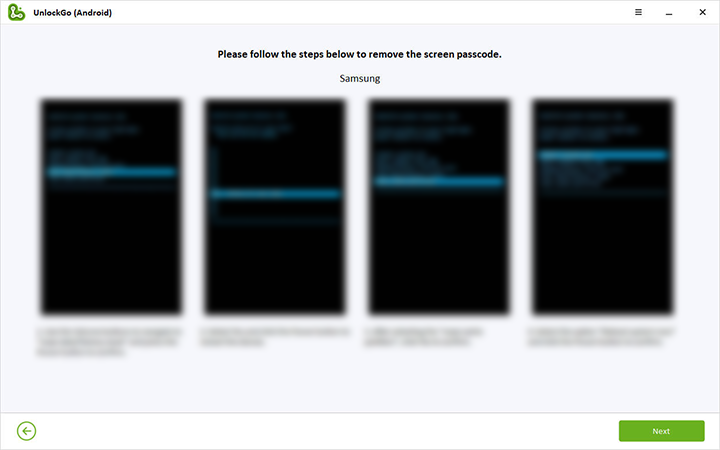 Step 5: Phone Unlocked
Congratulations! You unlocked your Android phone without Google Account. Now restart your phone and create a password of your choice.
Warm Tips: How to Reset Your Google Account Password When Forgot
Forgot your Google Account password? Don't worry! There is still a chance to reset Google Account password and regain access to the information within.
Follow the steps mentioned below carefully.
Step 1: Open the Google Homepage on your web browser and attempt to sign in to your Google Account. You might be unsuccessful to log in but this will switch you to the next step.
Step 2: Hence, you failed to log in to your Google Account. Click the Help link.
Step 3: Select the option Forgot Password. Google asks to enter your email for further processing.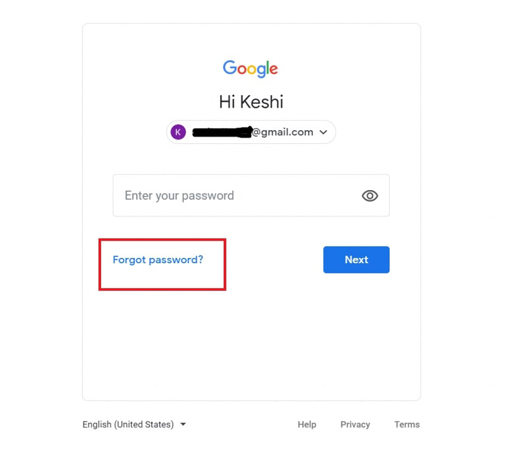 Step 4: You will then get the two options.
Your phone number
Recovery/backup email
Step 5: When you enter one of the following options, you will get a verification code through SMS, email, or a call. While if you select to backup email, at this stage Google provides you a complete guide that helps you to access the reset password page.
Step 6: As you redirected the reset password page. Enter your new sign-in details.
Step 7: Now, you unlocked your Google account through the password reset. Approve by clicking the Change password button to finish the process.
FAQ: Can We Use Android Phone without Google Account?
Sure, you can use Android device without Google account. But at the same time, you will be exposed to danger without factory reset protection.
Final Words
I hope this post clarifies how to unlock Android phone with or without Google Account. The methods mentioned above are helpful yet technical for you. If you are not a tech guy, to protect your smartphone from illegal spamming Android unlocking apps, I suggest you directly choose iToolab UnlockGo (Android) to unlock screen locks and bypass Samsung FRP successfully.