The security of an Android smartphone has drastically improved. Today, it's quite challenging for unauthorized users to gain access to your personal data on an Android phone. However, this improved security can also become a bit nerve-wracking as well, especially when you forgot the password.
While there's no direct way to unlock the device, there are a few workarounds you can implement to open a phone without password. In today's guide, we'll share some of the most effective ways to unlock Android phone without password and gain access to your device quickly. So, without any further ado, let's get started.
Way 1: Unlock Android Phone from Computer with Screen Lock Remover
Now, the easiest way to remove your phone's lock is using a dedicated Android unlocker. We recommend using iToolab UnlockGo (Android). It's a full-scale software designed to remove different types of screen locks from an Android device.
If you're a Samsung user, the tool can be used to bypass Samsung lock screen and FRP lock without PIN or Google account. In short, it doesn't matter what type of lock you've applied to your phone, UnlockGo will help you unlock Android phone without password.
UnlockGo (Android) – Reliable Screen Unlocker
Remove PIN, pattern, fingerprint, face lock from Android devices
Unlock early Samsung without losing your valuable data
Bypass FRP on any Samsung device up to the latest Android 12
Compatible with different smartphone manufacturers: Samsung, Huawei, Motorola, Google, etc.
So, let's quickly walk you through the step-by-step procedure of how to unlock Android phone without password.
Step 1: After installing iToolab UnlockGo on your system, launch the software and select "Remove Lock Screen" from its home screen. Connect your smartphone to the system and click the "Start" button to proceed further.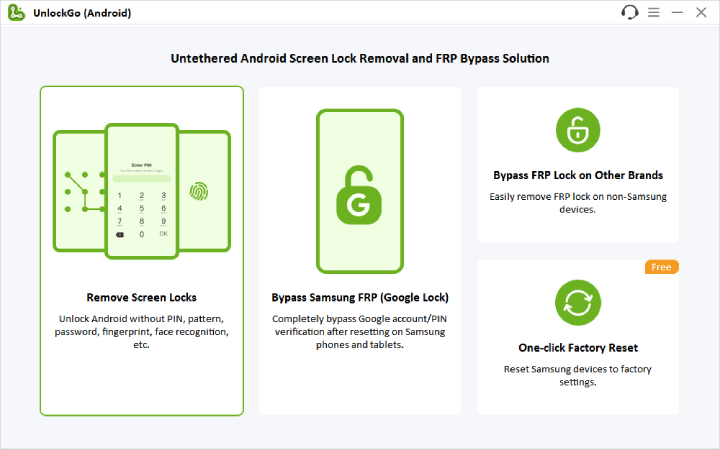 Step 2: Now, use the drop-down menu to choose your phone's brand, and then, click the "Unlock" button.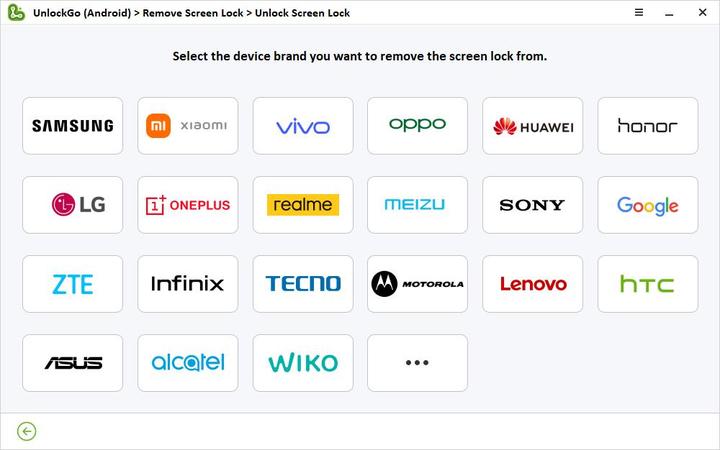 Tip: If you intend unlocking Samsung phone or tablet, a faster way to click the link "remove screen lock from Samsung".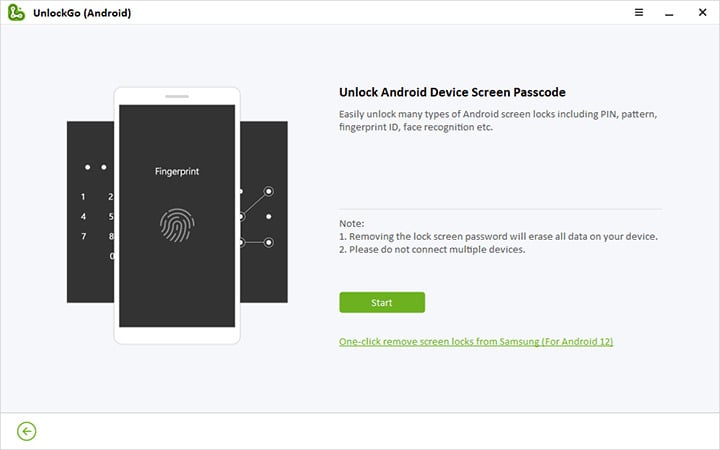 Step 3: At this point, you'll have to put your device in Recovery mode by following the on-screen instructions.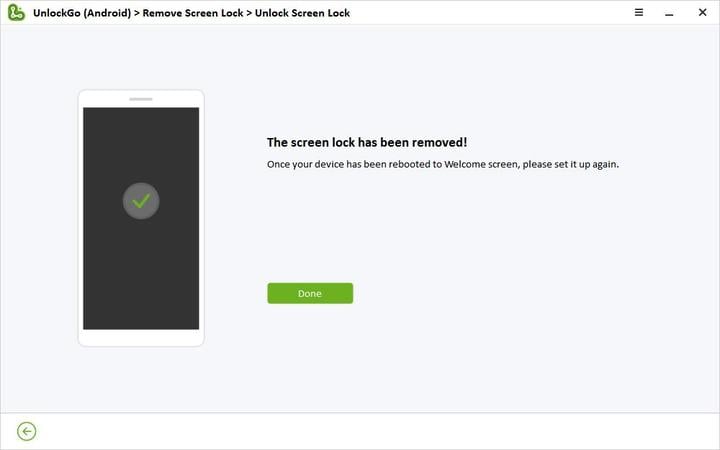 Step 4: After a while, the Android password should be bypassed and you'll be able to gain access to your device immediately. Complete the "Done" to complete the process.
🔥🔥🔥 One-click Bypass Samsung Lock Screen without Key Combinations
Good news for Samsung users and phone stores! UnlockGo for Android provides a quicker way to open locked Samsung phones on Android OS 12. Check it out.
Way 2: Unlock Any Phone Password without Losing Data via ADB
Next, we have ADB tool to break pattern lock without PIN. For this method to work, you need to download the ADB tool firstly and then get it installed over your PC. Once you've done this, you can then start following the below mentioned steps.
Step 1: Get into the ADB tool folder, and launch it. Then, connect your Android device to your computer and wait for it to detect your device. Now, on ADB tool (PowerShell window), type the command: adb devices

Note:
If in case your computer is unable to recognize your device, you will then be required to reinstall the correct drivers of your Android phone.
Step 2: If your device is recognized, you will see the information on your screen. You can then proceed to putting your device in ClockworkMod Recovery. For this, you need to hold down Home, Power and Volume Down/Up.
Step 3: Next, you need to enter the following command and hit Enter.
adb pull / data / media / clockworkmod / backup ~ / Desktop / Android-up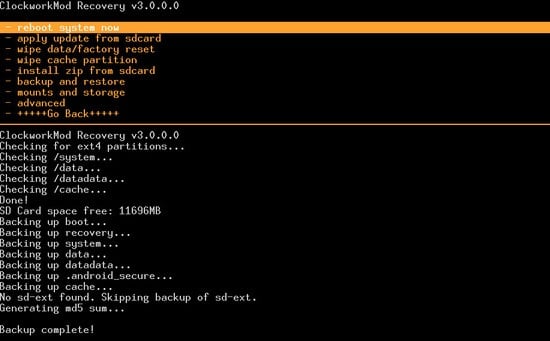 This helps backup data from locked Android on your PC. You can now proceed hard reset to gain back access to it and then restore your data using this backup.
Way 3: Factory Reset Android Phone without Password
Another effective way to unlock Android phone without password is by performing a factory reset. Now, this method is not the best approach to unlock your device as it'll lead to permanent data loss. Moreover, after performing the reset, you'll have to unlock your device using the Google account you were using on the device earlier. So, only perform a factory reset if you can bear the data loss and also remember the Google account credentials.
Note: Keep in mind that this method may not work on all devices because some Android manufacturers like Vivo and Oppo, cause they ask for PIN code or password before performing hard reset.
Here's how you can perform a factory reset on your Android device without password.
Step 1: Follow the step-by-step procedure as mentioned at Way 1 to put your device in recovery mode.
Step 2: Once the device is in recovery mode, use the Volume keys to navigate through different options. Use the "Power" button to select "Wipe Data/Factory Reset".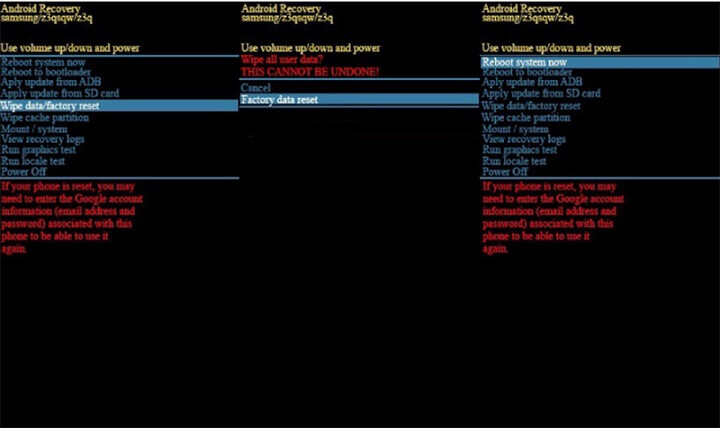 Step 3: Again, choose "Factory Reset Protection" to complete the process.
After performing the factory reset, reboot your device and enter the Google account credentials to gain access to your device. In case you don't remember the Gmail or password, we got some tips for bypassing Google account on Android after factory reset.
Way 4: Get into Screen Locked Android Phone with Google Account
Google Find My Device feature may also help get into a locked Android phone without password. Even though the feature is exclusively designed to help Android users find their lost smartphones, it also allows users to remotely erase data from the device and reset it. Again, since this method will wipe all data, you should avoid it if you have any important files on your system.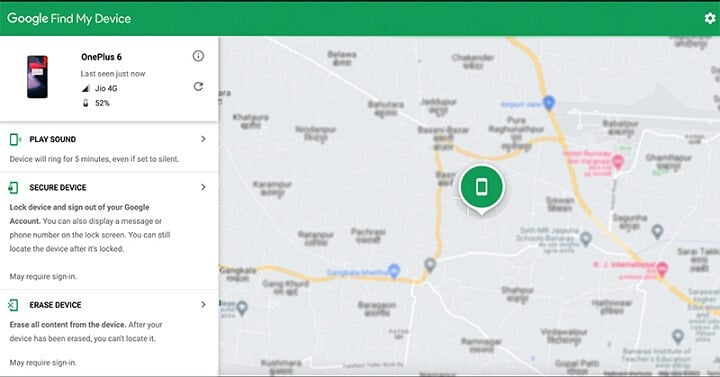 Step 1: Go to Google "Find My Device" page and sign-in with your account credentials.
Step 2: Now, from the left menu bar, select the "Erase Device" option and confirm your action when the pop-up shown on your screen.
After your device has been erased completely, you can follow the simple steps to reset your device from scratch.
Way 5: Bypass Samsung Lock Screen with Samsung Account
If you own a Samsung device, you can also use Samsung official "Find My Mobile" feature to unlock it. To do this, all you need is your Samsung account credentials.
Step 1: Go to the official website https://account.samsung.com.
Step 2: Now, sign-in with your Samsung account.
Step 3: Then, select the "Unlock Device" option to unlock Samsung without password or data loss.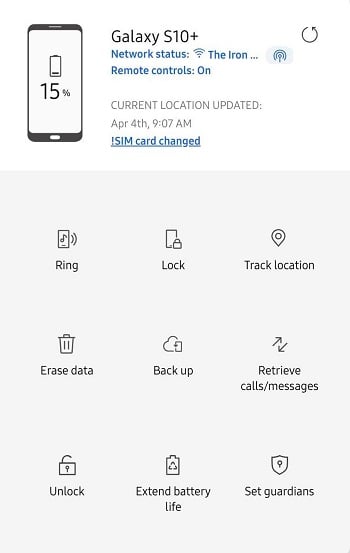 Way 6: Unlock Android Phone Password without Factory Reset with Trusted Devices
Finally, you can also use Google Smart Lock to unlock your Android phone without password. Basically, Google has tailored this feature to automatically unlock Chromebooks and Android devices as soon as they come within a safe similar environment. In short, when your gadgets such as smartwatches (running on WearOS) close your phone, they'll automatically keep smartphone unlocked. However, this method will only work if you have configured Google Smart Lock on your device.
Troubleshooting: Smart Lock trusted places are not working
With This in Mind
So, that's how you can unlock phone without PIN. All the above-mentioned methods will help you unlock your Android phone in different situations, even if you forgot pattern password. However, if you're looking for the easiest way to get the job done, we recommend a trustworthy Android unlocker. You don't need much technical skill. In a few minutes, you'll be able to access your device easily.
19,390,209 people trusted and downloaded
Don't miss any update from our WA group or TG channel.