Starting with the Android lollipop, the FRP feature was introduced by most Android manufacturing companies including Vivo to ensure sustainable phone security. FRP feature does wonders in case of phone loss or theft cases and makes it a challenge to bypass a Google account by blocking the access of strangers- so it's good to have a strong security patch.
Besides, if you decided to sell your phone and forgot your Google account password, and finally performed a factory reset without removing it, your phone may trigger FRP lock. So, to bail out of this situation, make sure to read the complete guide and reveal the top Vivo FRP bypass tools discussed below. So, let's check out!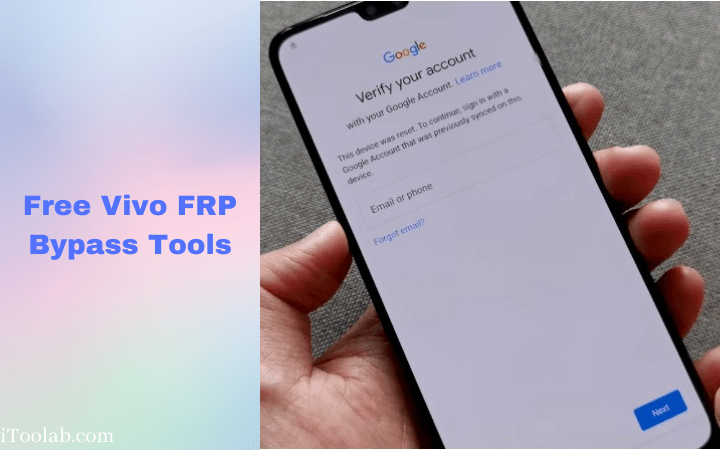 1. ROM2box
ROM2box is an organized tool designed to bypass FRP, flash, and unlock your Android phones. The tool can flash stock ROMs and is known as the Vivo FRP bypass tool that removes Google accounts under some conditions.
ROMProvider.com built the ROM2box tool specifically to repair many smartphones without any authentication process. So the tool is highly compatible with Mediatek, QCOM, and spreadtrum available Android phones including mobiles with download disability from Vivo, Redmi, etc.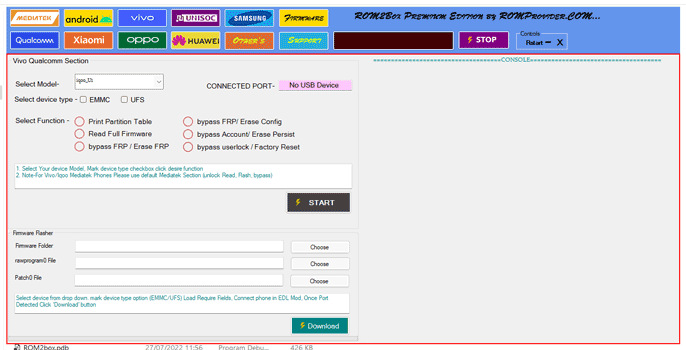 With all the cool features let's discuss the pros and cons of ROM2box that will help you in making a better decision.
Pros
ROM2box has Google platform tools.
Bypass FRP safely.
Reset Android easily.
It has an MTK client from B.kerller.
Android LIB by [email protected]
The tool has spreadtrumn tools from UNISOC.
SP flash tools from Mediatek.
Cons
Supports Vivo models with QCOM only.
The test point is needed to detect Vivo MTK.
The process is too complex, non-techies should seek an Android professional's assistance to use this tool.
ROM2box is compatible with all platforms except Mediatek Dimensity 8100. Despite that, there is no surety, about if the tool works for you or not because Vivo launched frequent patches to stop the bypass process.
2. VIVO FRP TOOL V1.0 BY TEAM GD
If you are not satisfied with the ROM2box tool, I have another tool for you that claims to bypass FRP with ease. This Vivo FRP unlock tool assists users, to unlock Google accounts following a specific process.
It is a unique program for Windows PC that assist to bypass FRP on Vivo phone models Y12, Y15, Y20, and S1, etc. Hence, this tool is a complete package that helps you to remove the verification lock on your phone with ease.
So, all these inspiring features convince me to check if the tool worked for my FRP-locked Vivo device or not, so I decided to use it and connect my phone with the Vivo FRP tool V1.0. After a while, the results were shocking because the tool claimed that it bypassed FRP but it was a failed attempt.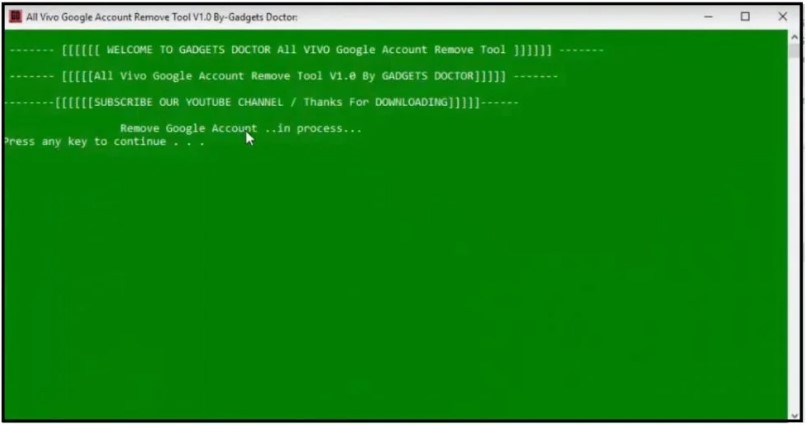 So, before you plan to connect your phone with any tool, make sure you review the pros and cons carefully.
Pros
Unlock your Google account from any Vivo model.
Bypass screen locks smartly and activate ADB mode remotely.
Bypass pattern lock within a few seconds.
Safe and easy to use.
Cons
You need to deactivate the antivirus software and run this tool with administrator permission. Remember! Deactivating antivirus software welcomes viral threats or harmful files that may breach your Android and damage hardware brutally.
The process might be complicated, and not recommended for Android Newbies or non-technical users with no command of dynamic controls because any wrong attempt may corrupt your phone's hardware.
3. Google Account Manager
Being a human it's common to forget Google account credentials due to busy schedules and responsibilities. Thanks to Google for providing a Google account manager APK  that works as a champ by managing and storing all your Google account credentials on your phone.
It is an Android utility that is found useful when it comes to monitoring how you interact and access the rest of the Google features on your devices.
Moreover, Android users now using this awesome application as a Vivo FRP bypass tool by switching their Google accounts on FRP-protected devices. All you need is to download your OS-compatible Google Account Manager APK and follow the further process.
Pros
Google account manager works perfectly when you need to access and verify your Google accounts.
You can create multiple Google accounts and manage them in one place through the Google account manager APK.
It allows you to sync your entire Google apps data in one place.
Cons
Google account manager APK requires your Gmail ID and password to bypass FRP.
Access to this app may be complicated for new users because this app is usually not found in your app list.
4. iToolab UnlockGo Android – Vivo FRP Bypass Tool🔥
If you are looking for a professional tool to bypass Google account on Vivo devices, then iToolab UnlockGo Android is your best choice. iToolab team has years of experience bypassing Google FRP lock, and it has been trusted and recommended by many leading tech sites and users all over the world. Furthermore, iToolab UnlockGo Android can also remove various screen locks and factory reset Samsung devices without losing data.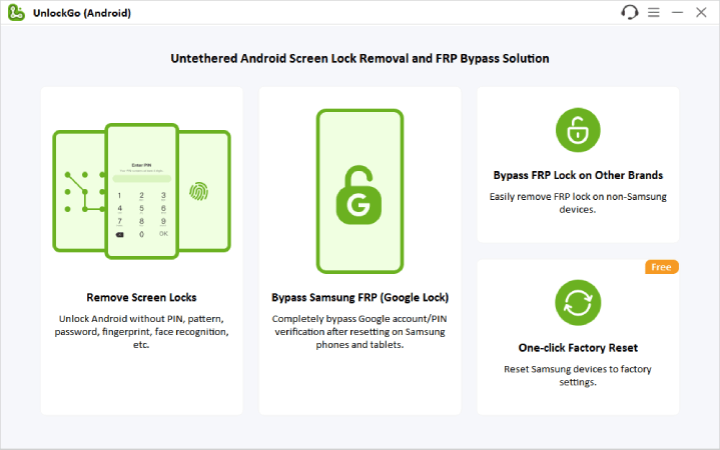 Let's make a deep review of iToolab UnlockGo Android.
Pros
It supports bypassing Google FRP lock on Samsung, Xiaomi, Redmi, and Vivo.
With an advanced algorithm, the removal process is fast. You can bypass Google account verification within minutes.
It doesn't require enabling USB debugging beforehand.
The tool is safe and easy to use.
Cons
For Vivo FRP bypass, it only supports Android 10-12 now.
The Vivo FRP bypass feature only works on Windows OS.
If you need instructions on how to use iToolab UnlockGo Andriod, you can check this step-by-step guide.
Firstly, download and install the program on your PC or laptop.
Step 1 Launch the program on your computer. Choose the option "Bypass Google FRP" on the home screen.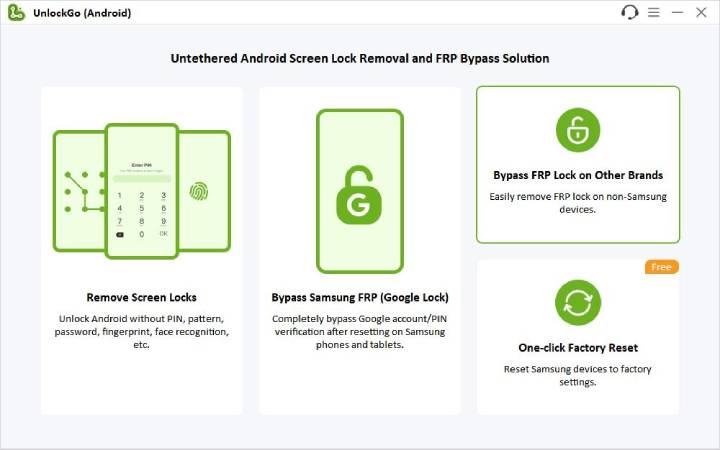 Connect your locked Vivo device to the computer, and confirm your device brand.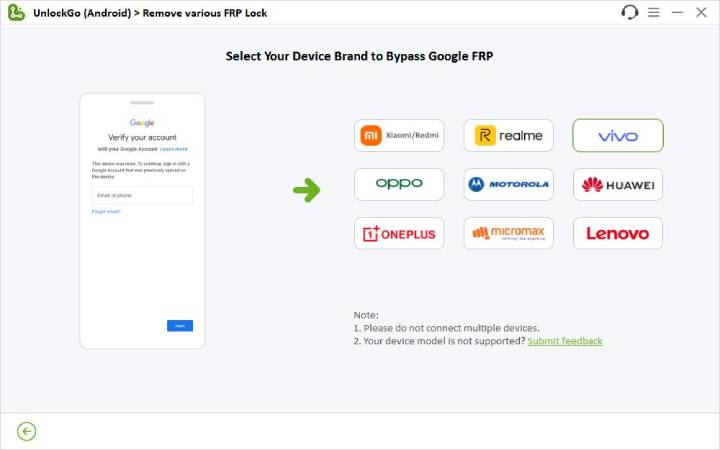 Step 2 Follow the on-screen instructions to set your Vivo device.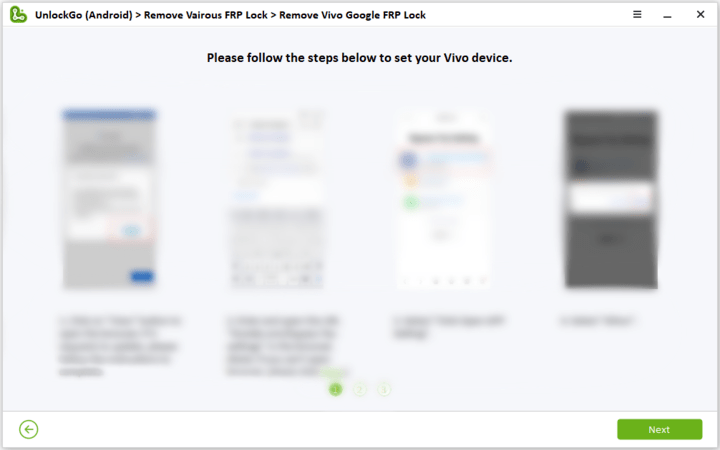 Step 3 Once done, the removal process will start. A few moments later, you can access your Vivo phone without Google account verification.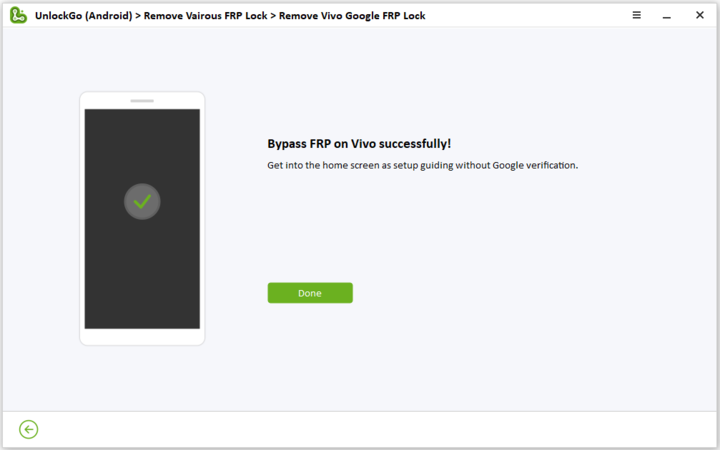 So, now, you are all caught up with the top 4 Vivo FRP tools. If you have any questions about these tools, write in the comment. Let's dive more into the topic and get your doubt clear by reading the FAQs, believe me, it help you to make your decision smarter.
Frequently Asked Questions about Vivo FRP Bypass Tool
1. Can FRP be bypassed?
FRP can be bypassed in multiple ways, when you type this query in the browsers, it will show you manual methods and various Vivo FRP bypass tools for PC.
So the point is when you choose manual methods, the procedures work under certain boundaries that include FRP bypass APK files, and USB drivers and walk you through long, complex steps.
While Android unlocker tools offer an easy-to-use and compatible Vivo FRP bypass feature that makes the process 3 times easier than manual methods available online.
2. Is there a free FRP bypass tool?
There are lots of free FRP bypass tools available on the web but the problem is they don't guarantee your phone's privacy and they are always complicated. Some of them are unable to bypass Vivo FRP until you enter your Google account details.
Some of these tools ask you to upload zip files, these files may be harmful if not scanned or are doesn't support your phone.
Moreover, before using any tool you should check the compatibility and features with a success rate as every tool's performance depends on your choice first, so always pick Android-friendly unlocker tools with a high success ratio.
3. Which is the best FRP bypass tool for Vivo?
The best FRP bypass tool should be professional but easy to use and navigate with wide compatibility that ensures your phone's privacy. With all these features, the Vivo FRP tool should quickly remove FRP or screen locks and offer good customer support to assist you at any step in case you are stuck at any phase.
Final Thoughts
Bypassing FRP on a Vivo phone is a challenge until you pick an authentic option to jailbreak your Google-locked phone with a secure yet effective method. So make sure the tool you are using is compatible with your OS version so it will give you the expected success rate.
Besides, manually followed methods should be analyzed first in terms of viruses and security threats because the safety and privacy of your Android device should be your priority.