One of the best deals you can get is an iPhone on Cricket Wireless. After you own and use the phone for a while, you will probably find that it's really expensive to use after the contract is up. Cricket usually locks your Cricket iPhone to its wireless network, which will only work with that particular service provider. The good news is that you can now unlock Cricket iPhone quickly and easily using our guide. Your Cricket iPhone now becomes usable in any network. You can enjoy better support and use your phone internationally. So follow the guideline below to unlock Cricket phone without account free.
Part 1: Get Cricket Network Unlock Code Free
Unlocking your Cricket phone is easy. You need to get your Cricket network to unlock the code and type it into your phone to unlock it. But getting your Cricket network to unlock code isn't just that easy. You need to fulfil some Cricket wireless unlock policy before getting Cricket network to unlock code free.
Cricket unlocking requirements
The phone must be active for at least six months on their network.
You must fully pay off the phone, or the contract must have expired.
The IMEI number of the device is clean, i.e. not reported lost or stolen and not blacklisted by any other carrier.
The Cricket iPhone you need to unlock must also be turned on and have no pending payments or unpaid bills on your account.
The SIM unlock code will allow you to use your Cricket phone on another network, and you can request this code using your mobile device or desktop. When you receive your unlock code, you can proceed and unlock your Cricket iPhone. The process involved is shown below.
Step 1: Go to My Account from your mobile device browser, select Phone Settings, and select Unlock Device. You can also sign in to your account on the Cricket website.
Step 2: Using the Account Settings page, request the unlock code.
Step 3: Select the phone number you wish to unlock and click on Request Unlock. You will receive a confirmation text message containing the SIM Unlock code after some time.
Step 4: Insert your new sim card after receiving the code and enter the code.
Part 2: Unlock Cricket iPhone Before 6 Months
If your phone is locked to Cricket Wireless and you are saying Cricket won't unlock my phone, then you can't move it to another carrier without unlocking it. You need alternative ways to unlock a Cricket iPhone without account or password. You can quickly and successfully unlock your phone with SIM unlock tool.
iToolab SIMUnlocker is an innovative tool that allows you to avoid AT&T's official methods of unlocking iPhone from Cricket without unlock code. This utility tool helps you remove the SIM lock on iPhones. It is easy to use, and you don't need prior technical knowledge.
Reliable SIM Unlock Tool
Fix all SIM-locked issues on your iPhone
Quickly unlocks your Cricket iPhone to any carrier
Easily change the carrier without any chip
No need to factory reset, and nor will your data be lost
Safe, fast and permanent unlock solution
Compatible with iOS 12 to iOS 13.8 versions
Steps to unlock Cricket iPhone to any carrier
Step 1: Download SIMUnlocker on your computer. Install it as an administrator.
Step 2: Now, connect your iPhone to the PC using a USB cable, wait until the software tool detects the device, and click "Start". SIMUnlocker will automatically scan your device to check the edibility. The device will automatically download the jailbreak tool if it is eligible to jailbreak.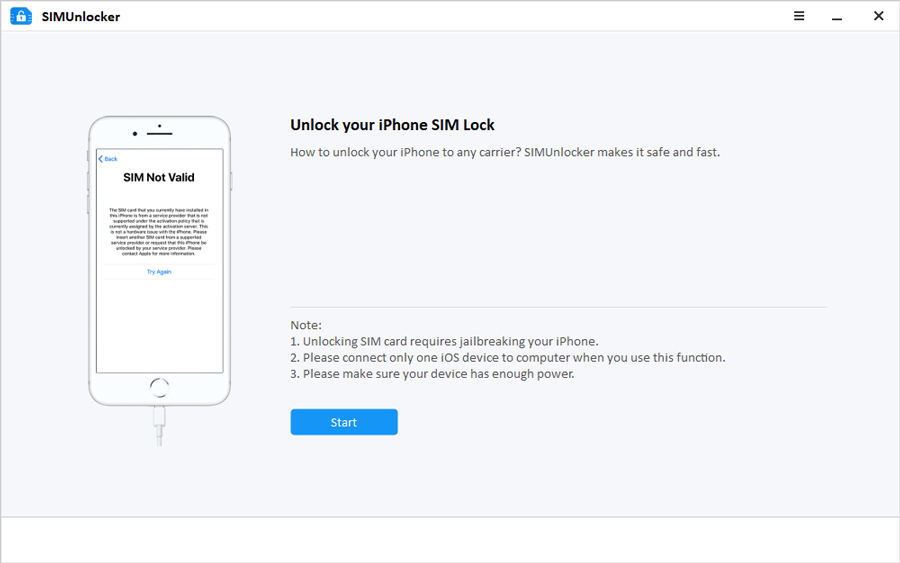 Step 3:
Next you need to follow the instructions provided on your screen to jailbreak the iPhone device.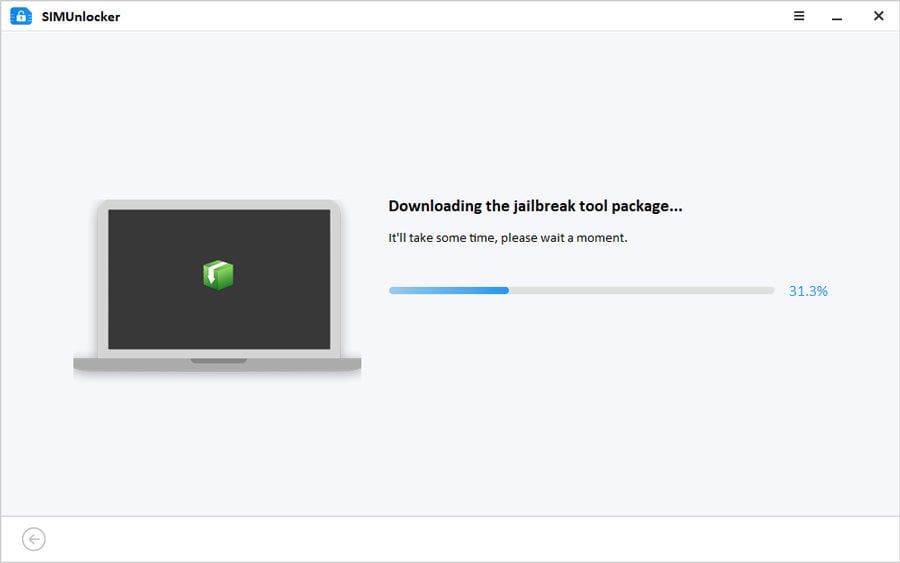 Step 4:
Make sure to check the model of your phone and the provider. Then click on "Unlock" in the main window and wait until the device reboots.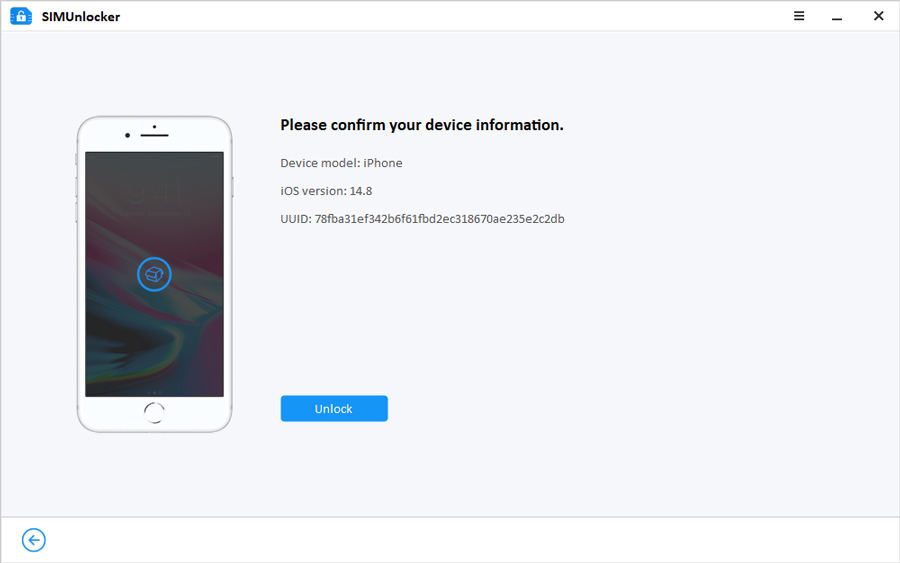 Step 5:
After rebooting, SIMUnlocker will have fully and permanently unlock your phone.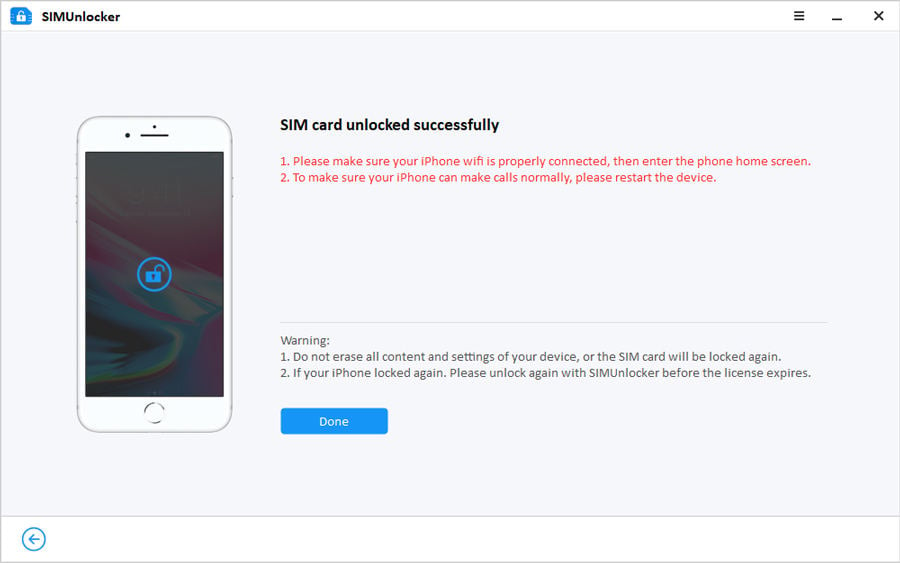 If you have successfully unlocked your phone, there should be no trace of SIM lock restrictions in this section. You can now use your iPhone with any carrier of your choice.
Part 3: FAQs about Unlocking Cricket Phone
Q1. How to check if my Cricket phone is locked?
Go to settings, tap on "Mobile Data", and then on the "Mobile Data Options". If you see the setting "Mobile Data Network, " carrier lock is active. You will have to pursue SIM unlocking techniques.
You can also insert a different carrier's SIM card into your device and try to make a call. If the call successfully connects, your phone is unlocked. However, if it doesn't connect or immediately disconnects, your phone is still locked.
Q2. Will Cricket unlock my iPhone automatically?
Unfortunately, Cricket will never unlock your phone automatically after your phone being activate for over six months. You need to request an unlock request. Also they will want to make sure that you follow Cricket unlock policy. Request an unlock code if your contract has expired, and they'll provide the code that will let you unlock your phone immediately. If you're still in contract, they'll tell you that your account needs to be active for at least six months before it's eligible for unlocking and ask if you want to go ahead and make a request now or wait until then.
Q3. What to do if I forgot my Cricket account password?
If you forgot your Cricket account password, you could reset it by going to My Account and clicking on 'Forgot Password' and entering your mobile number or email address associated with your account. Then you will be asked to provide some information about your Cricket account. You will receive a verification code on your email or phone number. Enter the code and click "Continue" then, you can reset a new password for your Cricket account.
Q4. Is there any free Cricket unlock code generator?
Yes. The carrier can create the unlock code for free. You must, however, be eligible for unlocking. Remember that you must have used the phone on Cricket's network for at least six months, you must have paid off all your monthly bill payments, and your account must be in good standing. If you aren't qualified, several third-party services can help. You will have to pay a small fee of course.
Conclusion
You can't unlock Cricket iPhone without first meeting the requirements. If you don't meet these requirements or want to unlock your phone before six months, use SIMUnlocker. iToolab SIMUnlocker is fast and efficient, and it won't cause any damage to your phone or delete your data. It unlocks every Cricket iPhone model and works 100% of the time so that you can use any SIM card. If you are tired of waiting for your carrier to unlock your Cricket iPhone, use the tool and let us know!