The iPhone Activation Lock problem, in particular how to bypass activation lock in iOS devices is a common problem. And as such, there are a lot of tools in the market that claims to help. One such tool is iMyFone iBypasser. In this guide, we take a look at this tool in detail to determine its effectiveness as an iCloud Activation Lock bypass tool.
What is iBypasser?
iMyFone iBypasser is a program that is used to bypass iCloud Activation on iOS devices including iPhones, iPads, and iPods. It gives users access to locked devices even if they have forgotten the Apple ID password, allowing them to create new credentials and continue using the device.
Is iBypasser Legit?
Yes. iBypasser is legit because it will work to remove the iCloud Activation lock on most devices easily and quickly. It is also a good way to remove all kinds of screen lock passcodes from all iOS devices.
Is iBypasser Safe to Use?
Despite the fact that iBypasser is made by a reputable software company, the program itself is not entirely safe to use. This is because you will need to jailbreak the remove the Apple ID and jailbreaking carries a lot of inherent risks including;
The process can brick the device, meaning that you will be unable to turn on the device unless the hardware is repaired.
Once the device is jailbroken, you will not be able to update the OS in the normal way and you will miss out on a lot of cool features
You can install apps from any source including unproven apps that can be a security threat to the device
Jailbreaking your device will also void the warranty
How to Use iBypasser to Unlock iCloud Activation Lock?
This program is actually very simple to use. Install it on to your computer and then follow these simple steps to bypass iCloud Activation Lock;
Step 1: Run iBypasser on your computer and then click "Start." Connect the iOS device to the computer using its original data cable.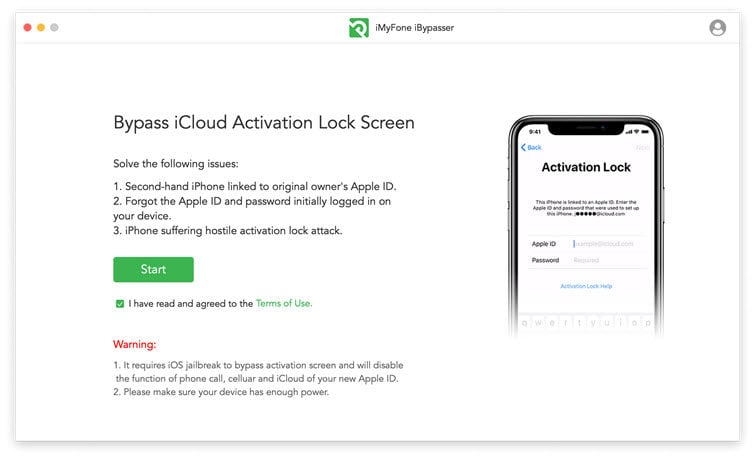 Step 2: As soon as the program detects the device, it will begin downloading the jailbreak package.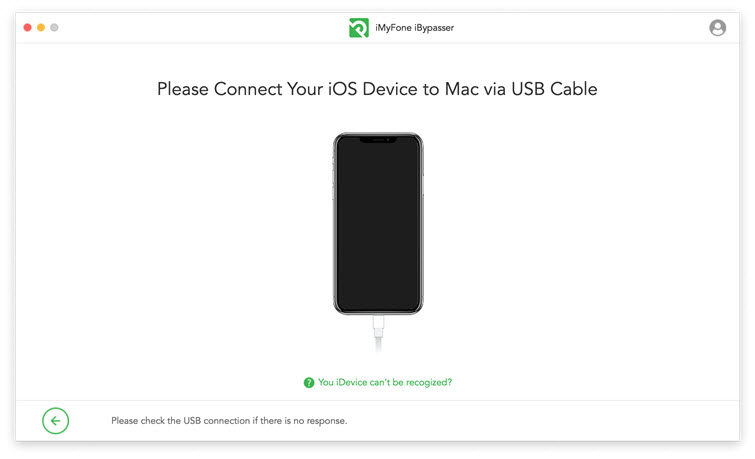 Step 3: Follow the on-screen instructions to complete the jailbreak process. Click "Next" to continue.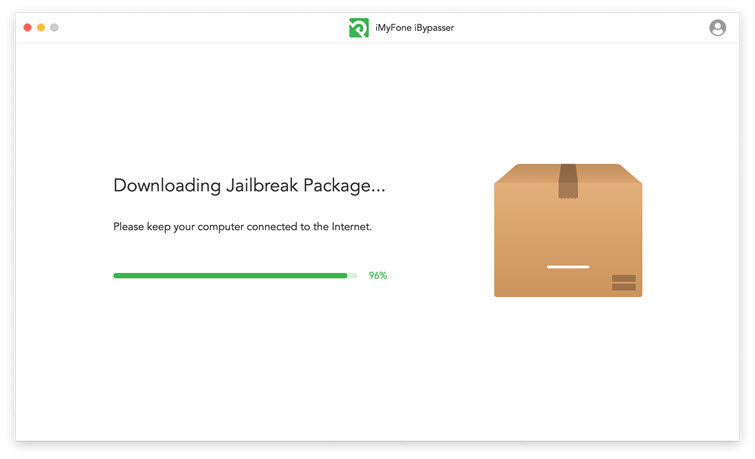 Step 4: When the jailbreak is successful, iBypasser will begin removing the Activation Lock. When the removal process is complete, you will have access to the device.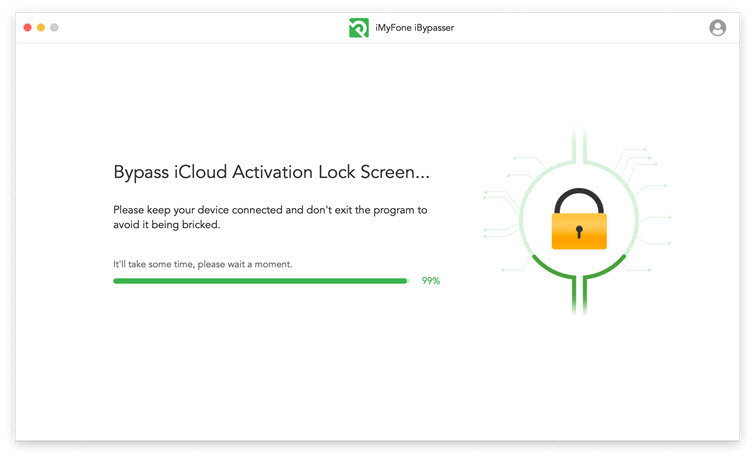 Pros and Cons of iBypasser
This program is still relatively new to the market and if you are nervous about using it, you can download the free trial version to see if it is an ideal solution for you before making the purchase. It does have very useful features including the following;
Pros
The tool is very simple to use, you don't need any tech expertise to use it
It will work with all kinds of the iOS devices and it will successfully bypass activation lock in just minutes
Once the device has been unlocked, you will be able to access it and use it without any issues
Cons
But we recommend that you ask iMyFone customer service if you need to use iBypasser with another tool before purchasing this tool. This is an issue that some reviewers have reported.
The customer support doesn't respond in time and let some users keep waiting for quite a long time.
Is There Any iBypasser Alternative That Works Better?
If you are not certain that iBypasser is the right tool for you, then consider UnlockGo. It is a all-in-one iPhone lock removal tool, which has numerous great features and is much easier to use. The following are some of its features;
Remove the iCloud activation lock from your iPhone and iPad without Apple ID and password.
Remove the possibility of being tracked by the previous owner.
Except for calls, cellular, and iCloud, you can use all features after the iCloud lock removal.
It can remove various types of iPhone screen locks, such as 4-digit/6-digit passcodes, Face ID, and Touch ID.
Remove the previous Apple ID and creating a new Apple ID on a activated iPhone.
UnlockGo is 100% safe to use. It doesn't contain any viruses, spyware or adware.
The program comes with an easily enforceable moneyback guarantee.
Technical support is available to all users 24/6 so you can get any issues resolved quickly.
Here's how UnlockGo works:
Step 1: Download and install the program on your computer.
Step 2: Run it and click "Start" to begin the process.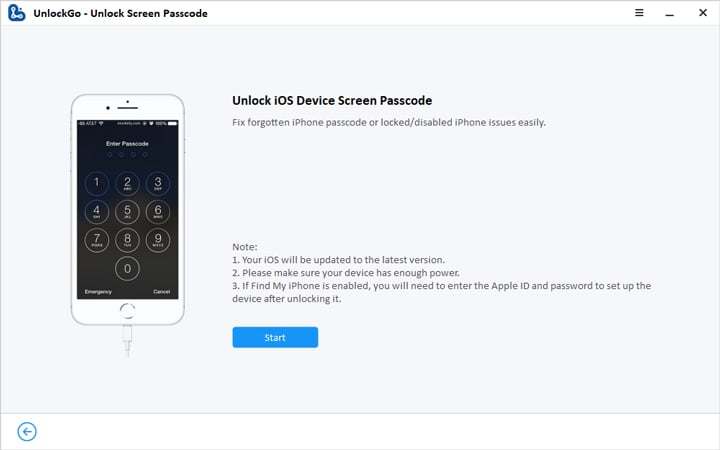 Step 3: Follow the tutorial provided to begin jailbreaking the iOS device.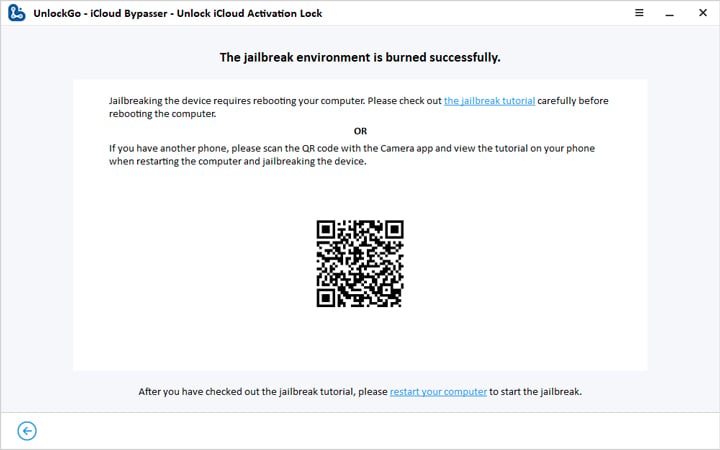 Step 4: Confirm the device's information in the next screen and then click "Start" to begin the process.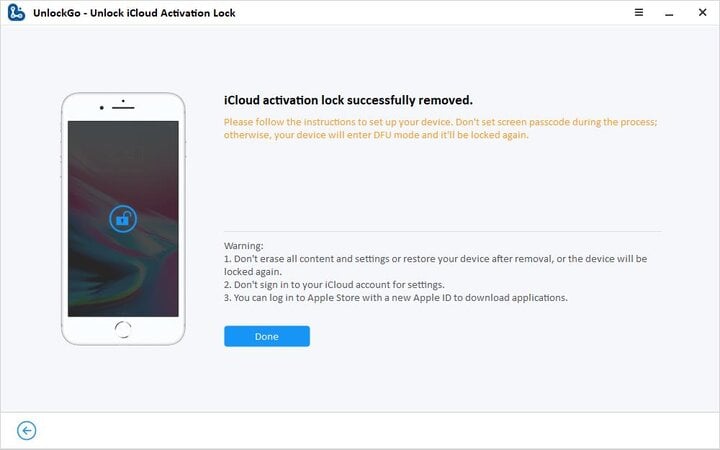 The program will notify you in a few minutes that the device is now unlocked and ready for use.
Some FAQs about iBypasser
1. Is iBypasser Free?
No. Although it has a free trial, the only way to access all the features is to purchase a license. A 1-month license will cost you $39.95.
2. Will I Lose Data?
The process of removing the iCloud Activation Lock involves putting the device in recovery mode and restore it which will cause total data loss.
3. Can I Un-Jailbreak my Device after using iBypasser?
If the device is running iOS 13.2.3 or below, the jailbreak tool will be erased after rebooting the device and the device will be un-jailbroken. If you are running iOS 13.3 and above, the activation screen will appear again after restarting, making un-jailbreaking tricky.
4. Can I use the Device Normally after Unlocking using iBypasser?
You will be able to sign in with a new Apple ID and password in the iTunes and App Store and you will have access to all features except cellular, calls and iCloud.
Conclusion
iBypasser is just one of the many tools that you can use to bypass the iCloud Activation Lock screen. But as you can see it has a lot of limitations. You can however choose UnlockGo that works in much the same way, but is more reliable as a way to unlock Activation Locked devices.