Recently, we have found many queries about an issue known as WhatsApp backup found but cannot restore; as we all know that WhatsApp is one of the most used messaging apps worldwide. On this App, you can message your friends and family for free; you just need a stable internet connection to get in touch with them.
With the help of this app, you can share pictures, videos, PDF files, and more. The best feature of this messaging app is that it regularly backup all your chats and data available on WhatsApp so that you don't lose any of them.
But what to do when your new device fails to restore your old backup? Don't worry; in this article, we will learn how to restore WhatsApp backup and discuss the main reason for the following issue. Read this guide carefully to learn how to solve this issue instantly.
Why My WhatsApp Backup Found But Cannot Restore?
WhatsApp backup found but cannot restore issue can cause trouble because this messaging app holds many essential data of your work and personal life. There could be many possible reasons that can cause this issue on your device; before solving this issue, first, we have to learn why this error occurs on your Smartphone.
Here is the list of possible reasons that can cause this issue on your Android/iPhone devices.
Check your Internet connection; an unstable internet connection can also cause this issue.
Using an outdated version of WhatsApp can also cause this issue.
Check your device storage because low storage will not let you restore your backup.
Due to using an outdated iOS/ Android version.
The backup file was corrupted due to an unknown reason.
Now we have found the possible causes of this issue. It's time to solve this problem so you can restore your WhatsApp backup and recover all your essential data on your Smartphone.
Also Read: No WhatsApp Backup Detected? How to Fix Quickly
The 100% Working Way to Restore WhatsApp Backup 2023🔥
iToolab WatsGo is a professional program that allows you to back up and restore your WhatsApp data to any device. With the help of this tool, you can easily create your backup on the computer anytime and then restore it to any device such as Android and iOS. What's more, it allows users to transfer their WhatsApp data directly between Android and iPhone.
iToolab WatsGo Highlighted Features:
Android users are entitled to create a free backup file on the computer. However, iPhone users have to upgrade the tool if they want to create a backup.
Keep all your backup and restore your history on computer.
Restore any selected backup to the target device.
Directly transfer from iPhone to Android, Android to Android, and iPhone to iPhone.
Compatible with almost mobilephone brands.
Restore GBWhatsApp backup to WhatsApp/GBWhatsApp.
How to Backup and Restore WhatsApp data by using iToolab WatsGo?
Now let us show you how to create a backup of your WhatsApp on Android device and restore it to any new device. Make sure to follow these steps properly so that you can easily restore your backup. Backup
Step 1. Go to iToolab's official site, download the iToolab WatsGo to your computer, launch the program once installed, and select the WhatsApp Backup option.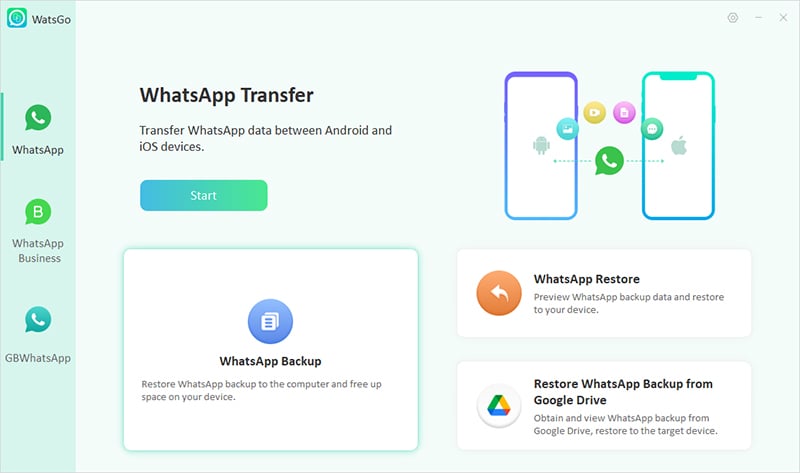 Step 2. Connect your Android device via a USB cable and select the model of the Android device you want to create a backup from the drop-down menu.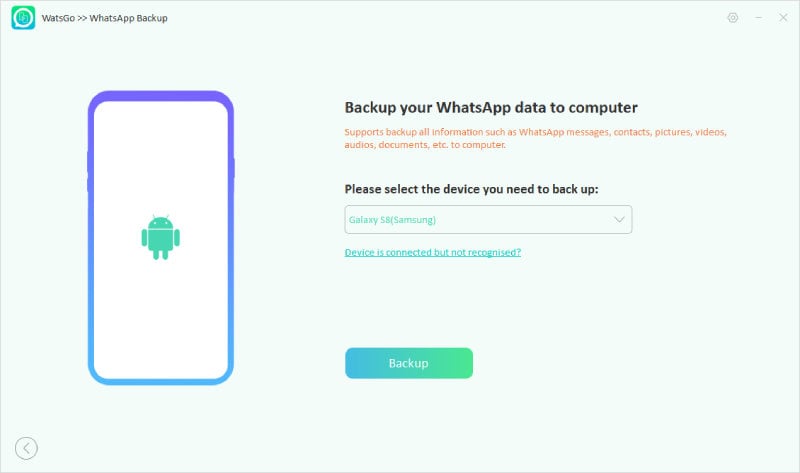 Step 3. Enable the 64-bit End-to-End encrypted on your WhatsApp by following the steps shown in the below image. Ensure to save the 64-bit password.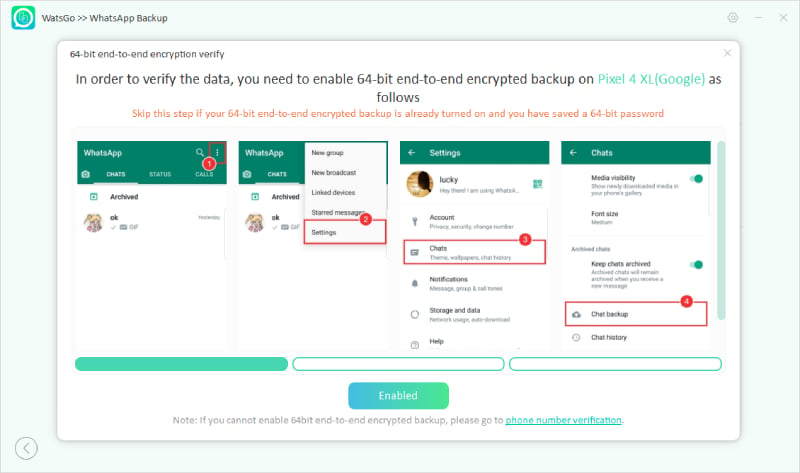 Once the encrypted backup is enabled, this tool will obtain and generate your Backup. Now the program will ask you to enter a 64-bit password to verify your backup; enter the 64-bit password saved before.
Step 4. Soon your WhatsApp data will be successfully backup on your computer.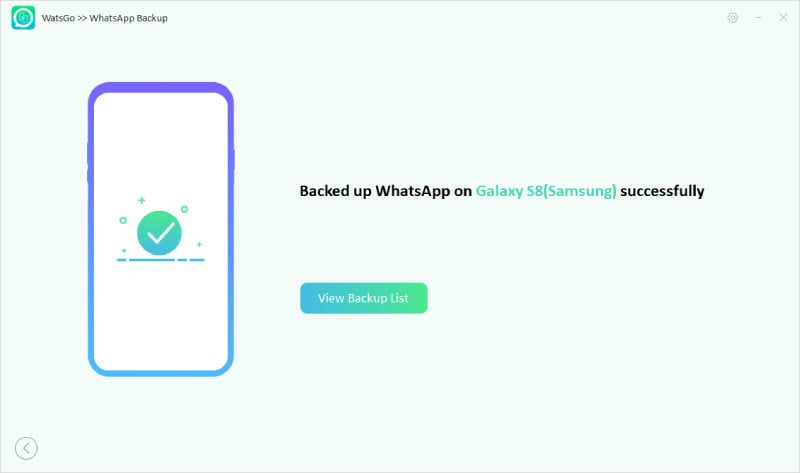 Then, Restore Backup to Your Device
Launch the iToolab WatsGo program, and then select the restore backup option.
Choose the backup file and then click on the restore device option.
Now connect your Android/iOS device via USB cable and select its model from the drop-down menu.
Select the WhatsApp data you want to restore and click on continue.
Now, this tool will start the restoration process, and several minutes later, your WhatsApp backup will be restored to the target device.
How Do I Force WhatsApp to Restore from the Backup?
WhatsApp backup found but cannot restore? Well, here is how you can force WhatsApp to restore the backup.
Uninstall the WhatsApp application from your device.
Now, go to Google Play Store, install the app, and launch it on your device.
Next, verify the number and open the app.
You will see the Restore Backup option on the screen, so click it, and soon your backup data will be available on your new device.
No More Worries!
Now you know what to do when you face a WhatsApp backup found but cannot restore issue. In this article, we have mentioned the guaranteed method to solve this error and successfully restore all your essential data to your device.
The method is to restore your WhatsApp data via a master of WhatsApp transfer program known as iToolab WatsGo. With the help of this tool, you can easily create a backup and restore your WhatsApp data to any device. You just have to follow the simple steps mentioned above and follow them correctly.
We have also mentioned the main causes of this issue that will help you understand why this issue appears on your Smartphone. Hopefully, this guide will help you restore your data.