WhatsApp is a very popular messaging app that allows users to communicate with each other worldwide and register their accounts on this app. You strictly require a valid phone number. A verification code is sent to that valid phone number to verify your WhatsApp account, but how to start WhatsApp without a verification code? This guide will provide you with a step-by-step guide on how to open WhatsApp without a verification code. Make sure to read this guide till the end.
Can I Open My WhatsApp on Another Phone without Verification Code?
The answer is No. Because you must enter a six-digit code to open your WhatsApp account. This six-digit code is sent to you by SMS or Call. The main purpose of this verification code is to protect the user's privacy.
We all know that the only important data to log in on WhatsApp is the phone number, and it is not difficult for the hacker to gather that information and enable them to log in to your profile.
But with the help of a verification code, only the phone number owner can access the profile because a 6-digit code is sent through SMS or Call to verify your account.
How to Protect Your WhatsApp Account?
WhatsApp provides two-step verification features, which adds more security to your account. Once you have enabled this feature on your account, any attempt to verify your Phone number must require a 6-digit pin created using this feature.
Follow the below-given steps to enable pin on your WhatsApp.
Launch the WhatsApp on your device and then tap on the three dots menu.
Select the settings option from the drop-down menu.
Find the account option and select it.
Now Tap on Two-Step Verification and then enable it.

Enter your 6-digit pin and then re-enter the 6-digit pin to confirm it.
You can also enter your recovery email address if you forgot the pin.
In the end, press the done option to enable the Two-step verification on your WhatsApp Account.
2 Useful Tips to Help You Activate WhatsApp Effectively!
Google gives you an alternative number that you can use to create a WhatsApp account. Instead of worrying about how to activate WhatsApp with old number without verification code, you can get a new number via your Google account on Google Voice.
Tip 1. Create a New Phone Number Using Google Voice
Install the Google Voice App on your Smartphone, which is easily available on the App Store or Google Play store.
Launch the App and then sign in with your Google account.
Select the option for personal use and tap on the search button at the bottom right corner.
A list of available numbers will appear on your screen; press the select option to choose your number.
Tap on Accept number to confirm your number and then press the Next button to link your device with Google Voice.
Enter your Phone number and then choose the send code option.
Enter the verification code you received on your phone and press the Finish button to complete the process.
Now you can use the Google Voice number to activate your WhatsApp account.
Tip 2. Activate WhatsApp using a Computer
Follow these steps to Activate WhatsApp using a Computer.
Open your Web browser on your computer.
Go to the Bluestack official website and download the program on your device.
Launch the program and open the Google Play store.
Search for WhatsApp and then install this App on Bluestack.
Open the WhatsApp and then click on Agree and Continue.
Enter your new Google Voice number and press on the Next button.
A verification code message will be sent to the Google Voice website.
Type the verification code in WhatsApp to verify your account.
Now you have successfully activated your WhatsApp using your Computer.
Bonus Tip: How to Transfer WhatsApp Account without Verification?
iToolab WatsGo – All-in-one WhatsApp Tool is the best program to transfer your WhatsApp backup from Android to iPhone using Google drive. This program allows you to transfer your data without any difficulties. Follow these simple steps to export your data to your computer from Google drive and restore it to your iPhone.
Step 1. Download the program from our official site and then launch it . Now select the restore WhatsApp Backup from Google Drive option from the home page.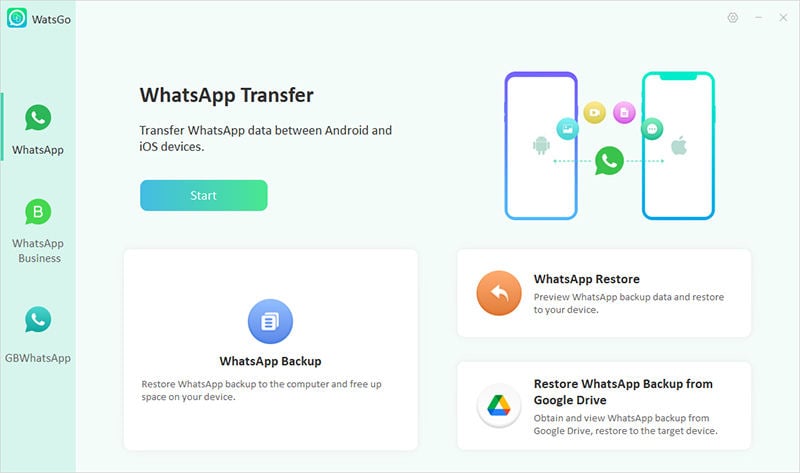 Step 2. Log in to your Google Account with WhatsApp Backup.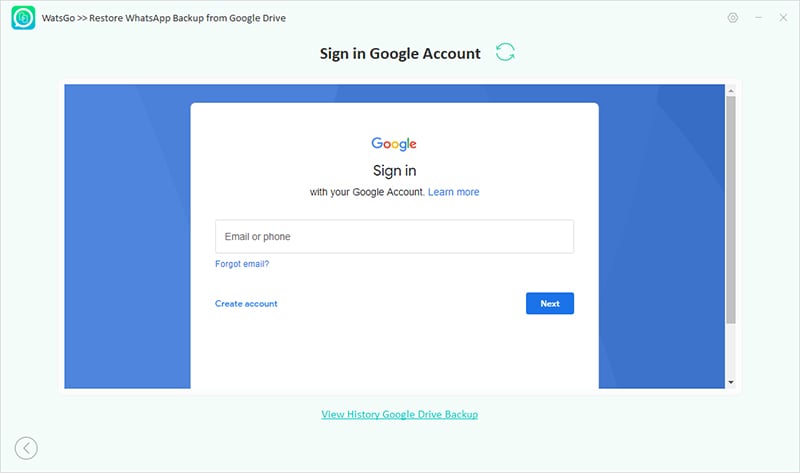 Step 3. A list of WhatsApp backups will appear on your screen, select the right backup and press the download option.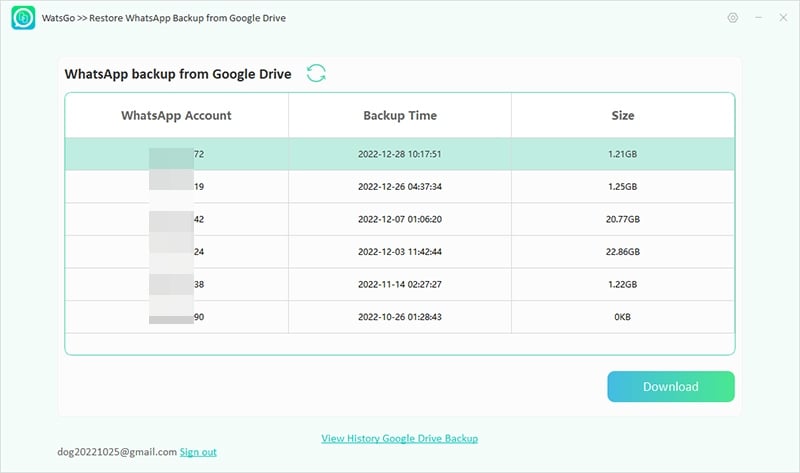 Step 4. Wait for a while until the WhatsApp backup is downloading is complete.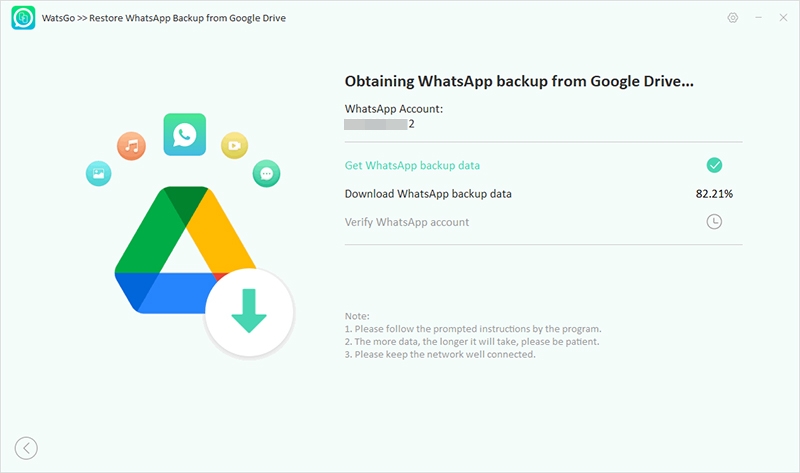 Now enter your 64-digit password if you have enabled the end-to-end encryption on your Backup.
Select the Restore to device option after downloading is complete.
Connect your iPhone via USB cable and select the model of your iPhone, press the restore button.
Choose the data type you want to restore on your iPhone and press continue.
Step 5. Restoring process will start soon and your data will be moved to the iPhone in no time.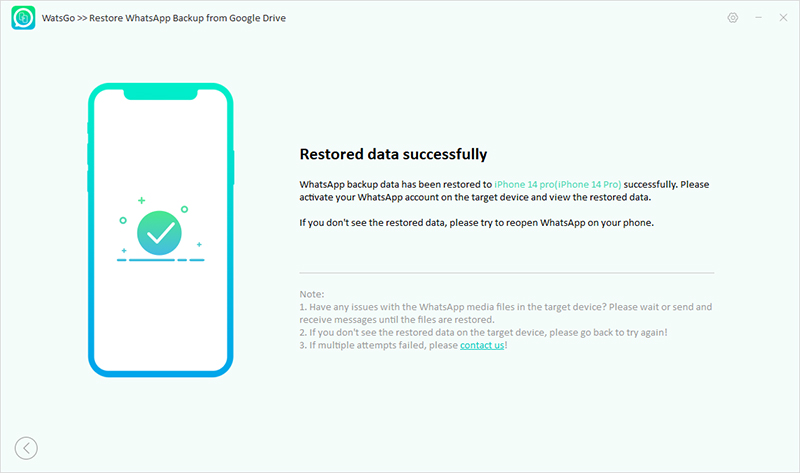 Conclusion
There you have it! We are sure that after reading this guide, you should be able to know How to activate WhatsApp without a verification code. Also, we have mentioned 2 useful tips to activate your WhatsApp without your phone number. Both of these methods are personally tested to create a WhatsApp account with a new number. In the end, we have mentioned a program known as iToolab WatsGo, which will help you recover your WhatsApp backup from Google drive to your iPhone. You can also use this program to transfer your WhatsApp data from iPhone to iPhone or iPhone to Android.