There are many disk encryption tools on the Internet. On the one hand, they are charged, and on the other hand, their security cannot be guaranteed.
Today, let's take a look at the disk encryption (BitLocker) that comes with Windows. The advantages are safe and free. Disadvantage: Complete decryption takes time. BitLocker is integrated from the Windows Vista system, and it is included with Win7, Win10, and Win11.
What is Bitlocker?
It is used to solve data theft or malicious leakage caused by the physical loss of computer equipment – the most worrying problem, and many celebrities have also caused tragedies because of this problem. 
BitLocker uses the TPM to help protect the Windows operating system and user data, and to help ensure that computers cannot be tampered with even if they are unattended, lost, or stolen.
But if you forget the BitLocker password or don't have the key, everything gets complicated. So common people and Windows for family user, it's no need to protect windows system with bitlocker encryption, 'cause you must to format the drive to unlock it, everything would lose.
So let's see how to turn off bitlocker
👉How to disable windows 11 bitlocker encryption👈
👉How to turn off bitlocker windows 10👈
Disable bitlocker without admin rights is very annoying, so try it to unlock administrator password without admin right and then you can disable bitlocker without difficulty. How to unlock bitlocker without password and recovery key is impossible for many people, then try to bitlocker recovery key bypass.
How to Turn on Microsoft Bitlocker Recovery Key
Although it has many disadvantages, still many people want to activate and encrypt windows 11 home bitlocker with password or recovery key as Windows 11 22H2 is coming soon on 20th Sep, so let's take a futher look for bitlocker waiting for activation.
Sign in with Administrator Account and then go to Start button.
Start > Settings > Privacy & security > Device encryption > BitLocker drive encryption or search Manage BitLocker from taskbar.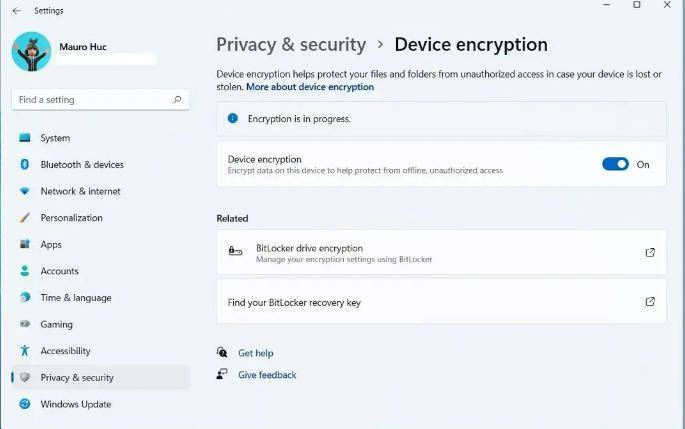 Microsoft Official says that Windows 11/10 home edition can't use this function. You will see this picture below, but you can use standard encryption on windows 11/10 home edition.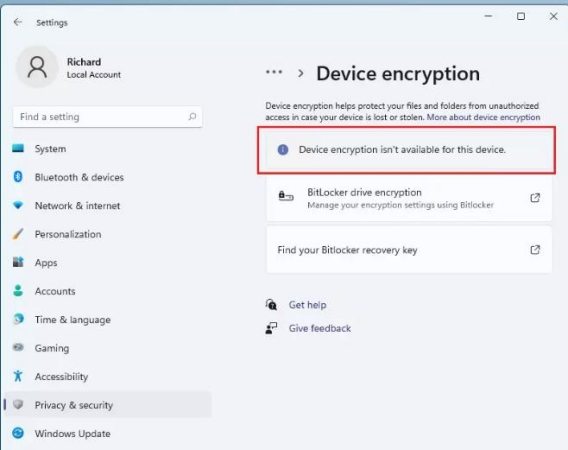 However, BitLocker has one deficiency. After opening the encrypted disk, you do not need a password to enter again. So how can you make a password every time you access the encrypted disk? This is probably the problem of Microsoft's follow-up improvement, but at present, we can enter "cmd" in the start task bar, then run as administrator, enter manage-bde (space)-lock (space) X:, x is encryption Disk letter. This will lock the encrypted disk again.
Precautions
1. Save the recovery file
According to the prompts, perform encryption settings step by step. Generally speaking, you can choose to use password encryption, but you need to pay special attention to the need to save the recovery password to a non-encrypted partition file, and it cannot be saved in the root directory. And be sure to remember the save location and remember the password.
2. How can the encrypted U disk be used under XP
As long as the U disk is in FAT32 format, it can be used in the XP system. If it is not in the FAT32 format, the XP system will only prompt you that the U disk is not formatted and if you format it, all data will be lost.
3. The encryption speed is too slow
The encryption speed of the software is not fast. The encryption time varies according to the size of the file. Generally speaking, the encryption speed of a 4G file takes 10 minutes.
4. Enable BitLocker encryption
Under normal windows7 system (or windows10), you can enable BitLocker by right-clicking the drive letter. If it is not in the right-click menu, the service may be turned off and we need to turn it on. The method is to open the "ShellHWDetection" and "BDESVC" services in the system services.
Summary
In a nutshell, not recommended for everyone to turn on bitlocker encryption, and this blog has given the corresponding ways to turn off bitlocker encryption on windows 11 and 10, but if there is a reason to insist on opening it, trying official and official alternative ways above. Trying UnlockGo (Windows) for disabling bitlocker without admin rights. It can reset/remove admin password without losing data with a few clicks.