Many times users have to reset their Samsung devices to deal with different software-related problems. However, many users are unaware of the fact that when they reset their phone, they are required to enter the Google credentials to unlock it. This is known as Factory Reset Protection (FRP) – a feature designed by Google to restrict unauthorized access after an Android device has been reset.
But, what if you don't remember the Google account credentials to unlock your device? Well in that situation, you'll need a dedicated FRP bypass tool such as AddROM to bypass Google account verification and access your phone right away. In today's guide, we'll talk about the AddROM FRP bypass tool in detail and how to use it to get past the FRP lock screen. So, without wasting another second, let's dive in.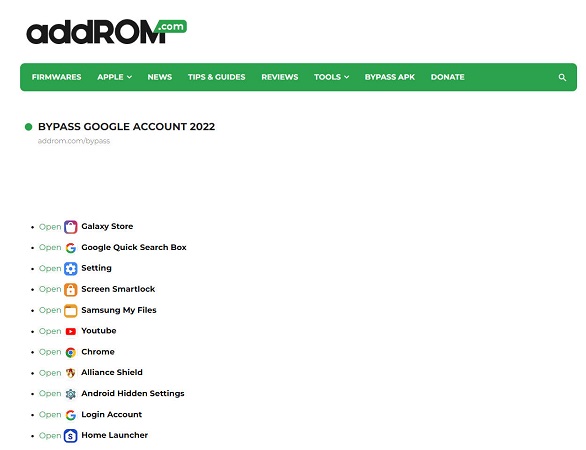 What Does AddROM Provide?
For readers who don't know, AddROM is a simple Android application that's tailored to help Android users unlock the FRP lock on their smartphones. Unlike other FRP tools, AddROM doesn't require a computer to bypass the FRP lock. By installing the application on your Android device, you'll be able to bypass the FRP lock within a few minutes.
It's an ideal solution for users who either don't have access to their computers at the moment or want to bypass Google FRP protection right away. AddROM supports all Android devices running on Android 5.0 to Android 9. Unfortunately, the latest Android versions aren't yet supported by the AddROM FRP bypass tool. So, if you have a Samsung device running on Android 5.0 up to Android 9.0, AddROM will help you bypass its FRP lock easily.
[20 MIN] Steps to Use AddROM FRP Bypass APK
So, how to remove Google lock using AddROM FRP bypass APK? Keep in mind that since your primary device is locked and you won't be able to download the APK directly, you'll need another Android phone for the job. Let's quickly walk you through the step-by-step procedure to bypass FRP lock on an Android device using AddROM apk.
Step 1: First, enter a working SIM card into your primary Samsung device and boot up the device. Follow the on-screen instructions and get to the FRP lock screen. Leave the device aside and get your secondary Android phone.
Step 2: On this phone, open the browser and go to "addrom.com/bypass". Scroll down and tap the "HushSMS.apk" option. Go ahead and install this application. We'll use it to send an AddROM link to your Samsung device.
Step 3: Once the application is installed, open it and tap the "Send WAP Push SL". Enter the phone number of the FRP-locked Samsung device. Inside the message text field, type "www.youtube.com/c/iToolab", then tap on "Send WAP Push SL" again.
Step 4: Now, wait for 1-2 seconds and YouTube will automatically open up on your Samsung phone. You'll see the AddROM YouTube channel on your screen. Don't worry we are not here to watch any videos though. Simply tap the "Menu" icon at the top-right corner and select "Terms & Privacy Policies".
Note: The methods illustrate in this article also support to fix Notes App crashing in iOS 13.
Step 5: Use the browser to open the terms and policies page. At this point, tap the search bar at the top of the screen and type "addrom.com/bypass". Based on your phone's Android version, download the right Google Account Manager (GAM) apk. While you're at it, also download the "FRP Bypass" file. Now, install both the files one by one. After the installation completes, open "FRP Bypass" and tap the menu icon at the top-right corner. Then, click on "Browser Sign-in".
Step 6: Now, sign in with any Google account you want and simply restart your phone. Once your device restarts, you won't have to deal with the FRP lock screen anymore.
So, that's how you can use the AddROM APK FRP bypass tool to unlock the Google lock protection on your Samsung phone.
[3 MIN] Bypass All Samsung FRP on Android 5-12
Now, while AddROM works like a charm while bypassing FRP protection, it only supports devices running Android versions up to Android 9.0. Some reader said that's a little bit difficult for them to do these above. Moreover, if you have a device running on the latest Android versions, you'll need a different FRP bypass tool to get the job done. This will take you some time to try.
Any FRP solution for all Android versions?
Sure, here we recommend using iToolab UnlockGo (Android) – a full-scale FRP removal tool. In the recently upgraded version, you can use the all-in-one solution. This means that whether you are a technical repair person or a regular user, you can remove the previous Google account in as little as three minutes. One of the biggest advantages of using UnlockGo is that you don't need to do much things, just leave it to the software.
Remove Google lock without complicated steps
Here are some of the key features of iToolab UnlockGo that make it the best FRP bypass tool for your Samsung devices.
Easy Samsung FRP Bypass Tool
One click for all Samsung models [Android 5-12]
No need for any APK help
No Gmail required to bypass the FRP lock
Bypass Samsung FRP without Alliance or Sasmung account
Detailed steps: Bypass FRP without extra addROM APK
Step 1 After installing UnlockGo on your computer, connect your Android device using a USB cable and launch the software to get started. Select "Remove Google Lock (FRP)" on the home screen to proceed further.
Step 2 On the next screen, choose the new FRP bypass solution on the top and click the "Next" button.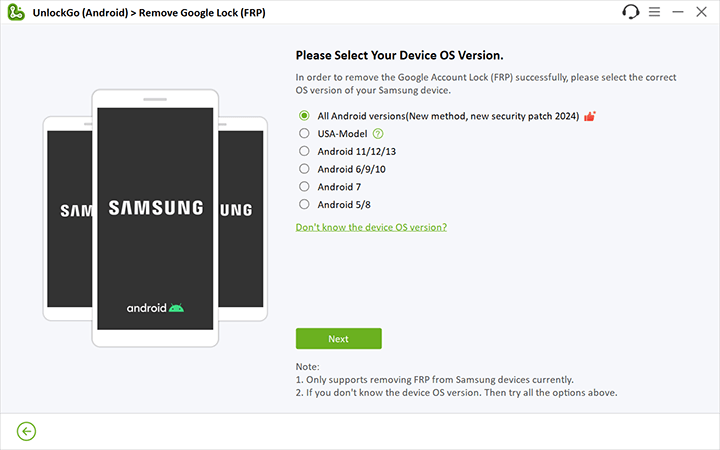 Step 3 You will see the steps guiding you enable USB debugging on your locked Samsung. Just give the permission to your computer. Make sure that the phone stays connected throughout the process.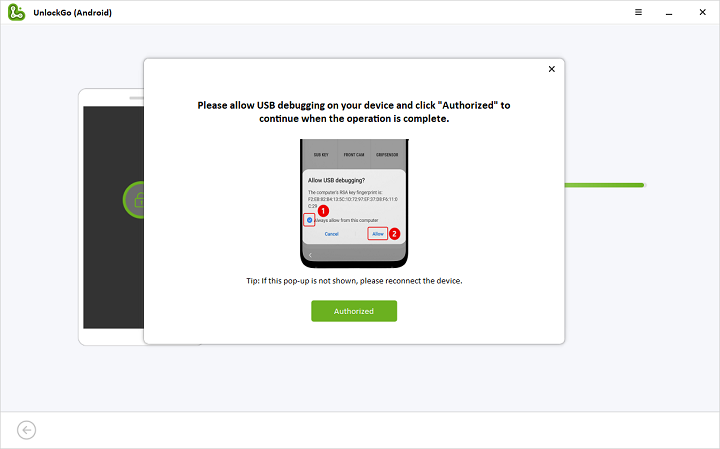 Step 4 Later, your Samsung device should be rebooted by the FRP tool. Finally, your Google screen lock will be removed and you'll be able to access the phone without getting interrupted whatsoever.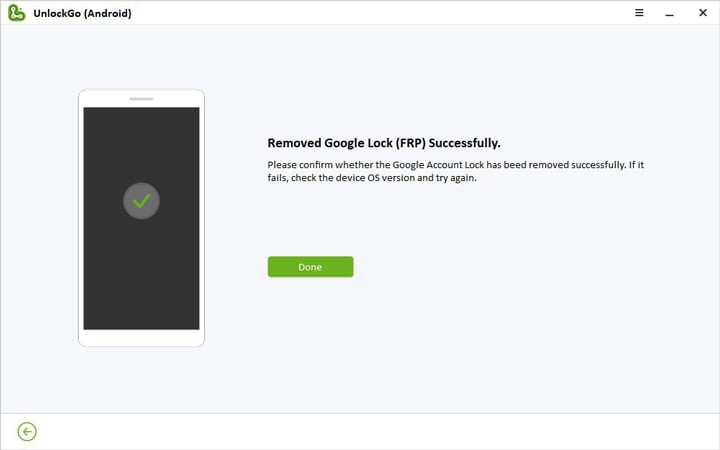 Conclusion
So, that's everything you need to know about bypassing FRP protection on a Samsung phone using the AddROM FRP bypass tool. We understand that getting stuck with the FRP lock screen is pretty annoying, but with the right approach, you can easily bypass the FRP lock and gain access to your phone easily. Of course, a tool like AddROM is suitable to get the job done, but if you're running the latest Android version on your Samsung device, you can use iToolab UnlockGo (Android) to bypass the FRP lock. It saves your time.