A Samsung smartphone is a great investment and the use of this phone has become highly popular nowadays. However, there are chances that someone might be having eye on your phone and planning to steal it. So, you have to stay prepared to handle the worst and keep your personal data safe. Otherwise, someone can use your data in a wrong way.
To prevent such things, it's better to take some measures. The best you can do is block a stolen Samsung phone so that no one else can get access to your personal data. Do you want to know how this is possible? Keep reading on and discover some effective ways to remotely unlock Samsung phone.
Make Sure Your Samsung Device Lost
1. Make a call
There are times when you just keep the phone somewhere and forget. In such a case, you can try finding it by calling. Perhaps, you may hear the phone ringing in the drawer, kitchen, or any other place in your home.
If not and you are continuously hearing that it's switched off, you have probably lost it permanently. The only way now to get back your phone is by luck. Maybe, someone else finds your phone and chooses to return it to you.
2. Check if your smart watch disconnect your phone
Do you wear a Smartwatch, which is connected to your phone? If your phone is lost, then the smart watch will disconnect with it.
In case it's still connected, to use your smartwatch to find your phone, press the "Home" icon, swipe, and hit the "Find My Phone" feature. Tap "Start" to make your phone ring.
How to Block/Lock Samsung Phone When Lost?
It's not uncommon to lose phones these days as they are easily misplaced or stolen. If you feel that getting back your Samsung phone isn't possible, you may be wondering how to block a lost Samsung phone. There are multiple ways to do so, such as Android Device Manager, but for Samsung users, the most convenient way is offered by the Samsung's "Find My Mobile" application. It lets you locate and lock your phone and when none of them works, you can remotely erase the device.
What conditions do you need to meet?
To make sure that Find My Mobile works for your lost Samsung device, note the following things:
✔ Your phone must be turned on
✔ Should stay connected to a Wi-Fi or network connection
✔ Your Samsung account has to be registered on your mobile device and "Remote Unlock" option is active
Steps to track location and lock Samsung remotely
Step 1: Go to the "Find My Mobile" website.
Step 2: Select "Sign in" and log in to your Samsung account activated in your phone.
Step 3: You can view all the devices connected to your Samsung account.
Step 4: Select your lost device from the side panel.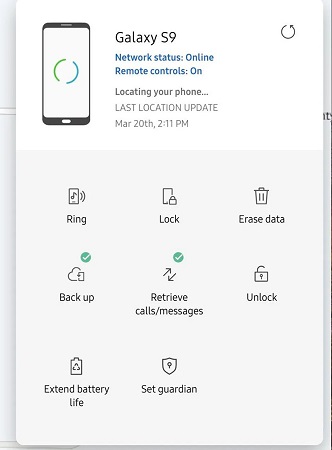 Step 5: If the phone is turned on and connected to a Wi-Fi or mobile network, you can view and know the last location on the map.
Step 6: On the right panel of the website, you have the options to ring, block, track location, lock it with a temporary Pin code, erase data remotely, back up data, extend battery life, retrieve calls or messages, and set guardians.
How Do I Extend the Battery Life on My Lost Samsung?
Fortunately, Samsung's Find My Mobile feature provides the option of extending the battery life of your phone. Once you log in to your Samsung account on the Find My Mobile website, activate the super power-saving mode by tapping on the "Extend Battery Life".
How to Block Samsung Mobile Using IMEI Number?
Losing all the hope, it's a good decision to lock stolen Samsung phone instead of waiting further. If you have tried the Find My Mobile option on your phone but if it didn't work out in your favor, use the IMEI number. If you have it, you simply have to contact your network carrier and go through a quick identification process. After that, provide the IMEI number of your carrier to block the phone. You can look at the following numbers to contact your carrier:
T-Mobile: 1-877-453-1304
Verizon: 1-800-922-0204
Sprint: 1-888-211-4727
AT&T Mobility: 1-800-331-0500
Should I Remote Wipe My Samsung Phone?
Do you know what someone can do with all the data stored in your phone? You can't even imagine the problems that you are going to face due to the misuse of data. For example, the culprit can randomly call someone in your contact and harass them.
Now it comes to all about protecting your privacy so you can erase Samsung phone remotely and keep yourself away from any further trouble. You can use the "Find My Mobile" website to perform a remote wipe Samsung phone. Here is how:
Step 1: Open Find My Mobile website and tap "Erase Data" given at the right side.
Step 2: Read the info flashing on the screen and choose "Erase".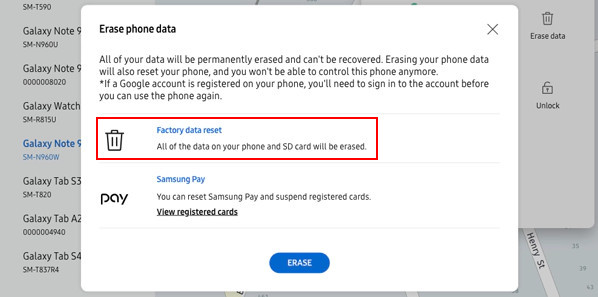 Step 3: Verify the Samsung account now.
Step 4: Upon discovering the device, you will be asked to enter to Google account credentials. Do it and your device will get remotely erased.
When I Retrieve My Samsung Phone, How Do I Unlock It?
Congratulations on getting back your Samsung Phone. Not everyone is as lucky as you. You may set a temporary PIN to protect your data via Find My Mobile remotely. So, the primary thing now is to unlock your phone with this passcode. If you still remember it, just type it into you lock screen. Also, you could do remote unlock your Samsung device on the platform.
Step 1: Open any browser, enter to the Find My Mobile website.
Step 2: Sign in to your Samsung account connected to your phone.
Step 3: Simply click on the "Unlock" button present at the right hand pane.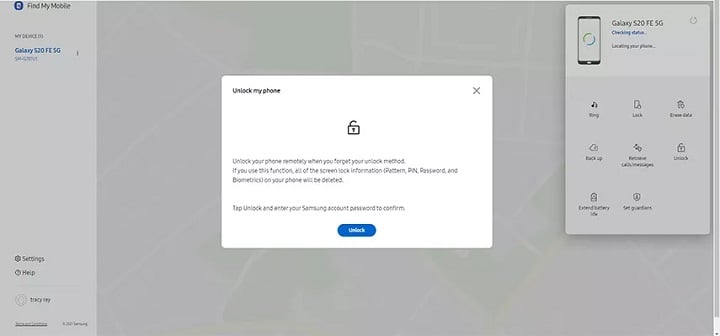 Step 4: Enter your Samsung account password again.
Step 5: Click "Next" to unlock your Samsung successfully.
But usually, it takes a few days to find your phone or contact somebody got your phone to return it. You have already forgot the PIN you had set on Find My Mobile. The probability is not pretty high but we do hear about that.
If your phone's screen lock is cracked by malware, it may trigger the last protection of your Android phone – Factory Reset Protection (FRP). This means that your Samsung phone can return in the locked condition.
Don't panic in case you have forgotten the PIN of your Samsung device. The iToolab team has brought an instant solution to your problem. It has released UnlockGo for Android, which helps in bypassing the FRP lock as well as all kinds of screen locks. Not only does it work for the Samsung device models but many other brands are also compatible. The magic happens with a few clicks only without any complicated steps. It's entirely safe in terms of protecting your data too in some Samsung devices.
Get freedom from FRP & screen locks
Effortlessly bypass FRP locks on Android 5-12
Unlock all kinds of screen locks including PIN, password, pattern, fingerprints, and face lock
No technical knowledge required to experiment
Unlock some of Samsung devices without any data loss
Supporting 15 brands and 2000+ Android phone models
Tip 1. Remove the PIN lock with reliable unlock tool
Step 1 Download iToolab UnlockGo (Android)
First of all, download and install the iToolab UnlockGo for Android on your system and run it. Connect your phone to the computer now using the USB cable. As the home interface appears, click on "Unlock Screen Lock".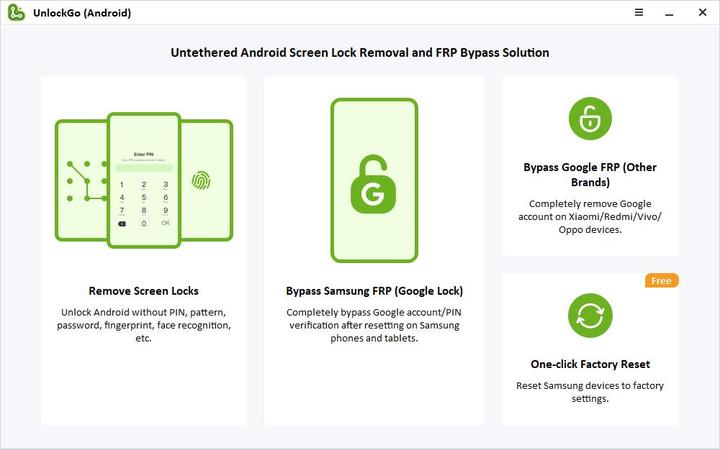 Step 2 Check the OS Version
Next, confirm that the information shown on the screen is matching with your device. If not, change it according to the phone brand and click on "Unlock" to proceed further.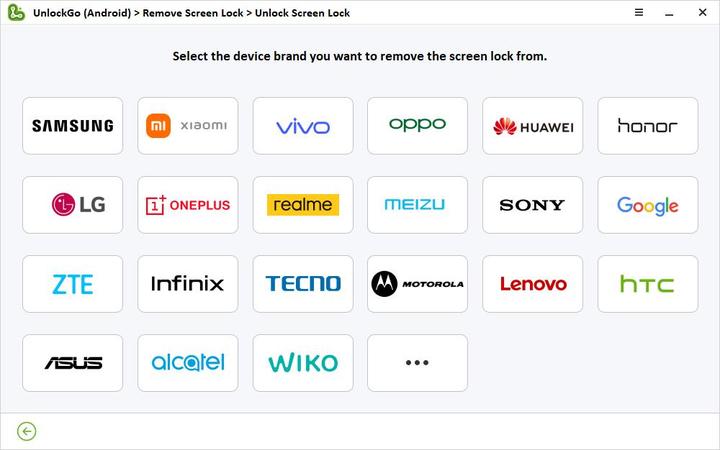 Step 3 Put in Recovery Mode
In a Samsung device, the process of putting the device into recovery mode depends on the version and model.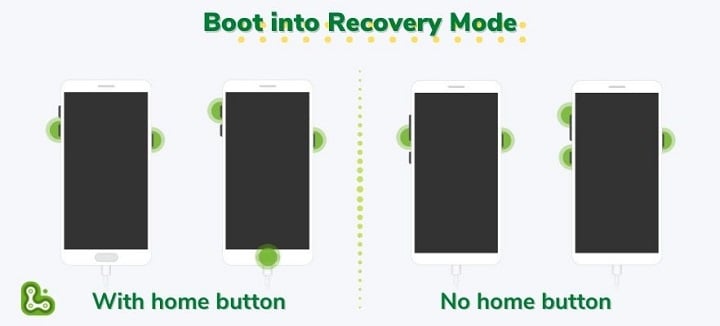 Step 4 Unlock forgotten PIN code on Samsung
You have to follow the on-screen instructions carefully in order to unlock your Samsung device without any issue. Eventually, your Samsung phone will unlock successfully after an automatic restart.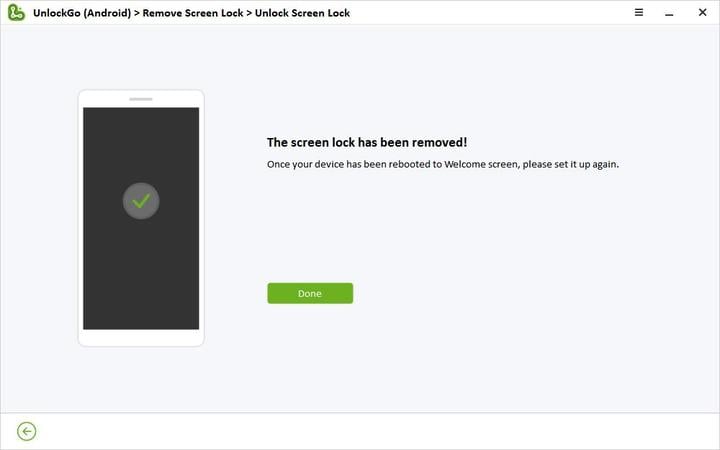 Note: If you have signed in Google account on Samsung device, you will need to type account and password, or remove FRP lock with an easy Samsung FRP bypass tool.
Tip 2. Bypass Google FRP lock on Android 11/12 in 5 minutes
Check out the Samsung FRP bypass tool
Conclusion
You should try to block Samsung phone if stolen, so that no one would use your personal information or find a way to hack your account. There are different methods and steps you should take to make sure your data does not get misused by anyone. Moreover, when you get the phone back in a locked condition, trusting UnlockGo for Android would be the right thing as per the situation. It taps into your Samsung device security and unlock screen within some minutes. Why not try it now if you are struggling with these issues?