Techno and Infinix have made a big name in the smartphone industry. They offer robust performance and anyone owning their device feels great. Imagine in case you lose it, what will you do? Is there any way to find it? Fortunately, there are different ways to track your lost Techno or Infinix device and get it back.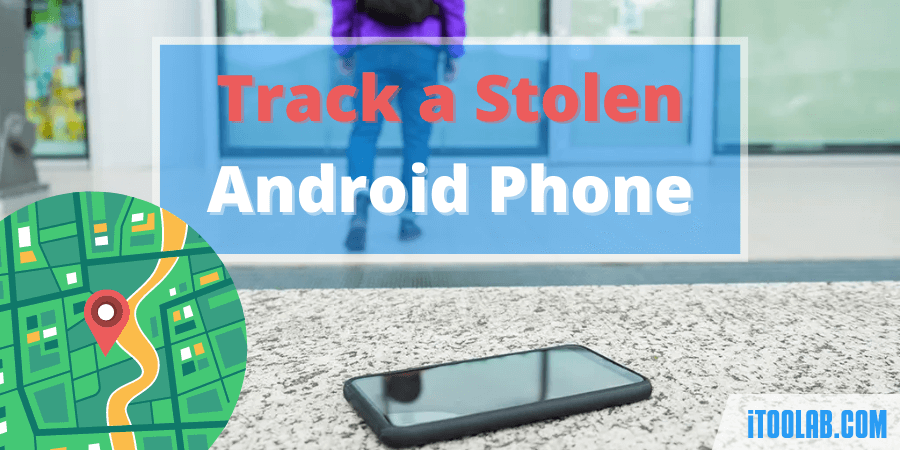 In fact, you can get any stolen Android or iOS device by following the right methods. Here, we are going to teach you how to track a stolen phone. This article will also help you in unlocking your locked device in case you aren't able to remember the password. So, let's start.
Track a Stolen TECNO/ Infinix Phone on PC
Losing your phone can be a horrible feeling. But, you should never lose hope. Before feeling like you can't get it back, try to do your best to find it. If you had installed "Find My Device" on your phone and activated it, then there's a chance to get your lost phone back.
Google's "Find My Device" is an amazing application to locate a device's location, secure the data, and erase everything from your phone. It's even possible to disable a stolen mobile phone. You just need a PC (or another phone) and your Google account credentials. If you are worried about the data stored in your phone, try the following things:
Step 1: Open Find My Device in a browser on your PC using this link. Log in using your Google account that you had used to activate Find My Device on your phone.
Step 2: Now, you can see your device with the different options present below it. First, try to ring your device. Maybe, you have kept the phone somewhere in your home or your office desk. If someone else finds it, that person can call to inform you about your phone.
Step 3: If ringing your device is not working, then try to drop a message and then secure or lock stolen phone to prevent unauthorized access by any person.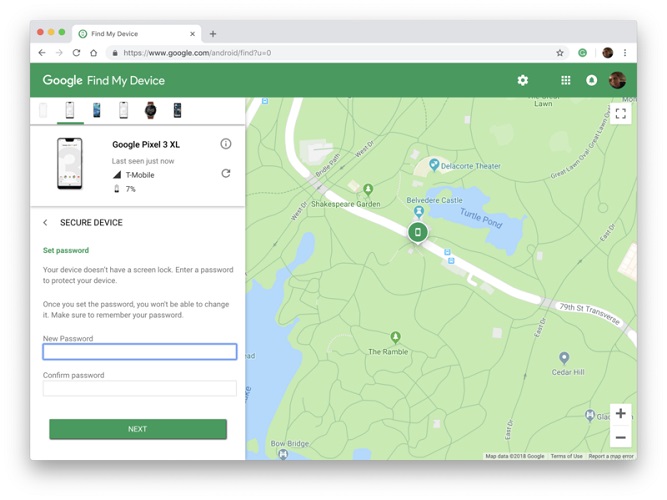 Step 4: At last when nothing seems working, it's better to erase your device data instead of waiting, or else, your personal information can go into the wrong hands.
Track a Stolen Phone with Third-Party App
After failing to track your device with "Find My Device", don't give up. You can still track your stolen or lost phone using a third-party application. Some third-party apps make you do more than just locate your phone remotely.
Some third-party app is best for the parents who want their young children to stay safe. For meeting both these purposes, Life360 is perfect. It does what it promises and helps you in achieving the goal conveniently.
If you are asking yourself "how to track my stolen phone", Life360 let you do so with the GPS functionality in your device. It constantly records your device location so that you can access it later and know where your device is. This way, you can even find out the location of your child in case he doesn't arrive home on time.
Track a Stolen Phone with IMEI Number
Ever wondered how to track a stolen phone with IMEI number? Although a third-party app can help you know the location of your device, it's not enough for getting back your device. So, what can you do then? Don't panic and think more about it. You can use your phone IMEI for tracking the stolen phone. It's something that no device owner can change unlike what happens with pattern and screen lock.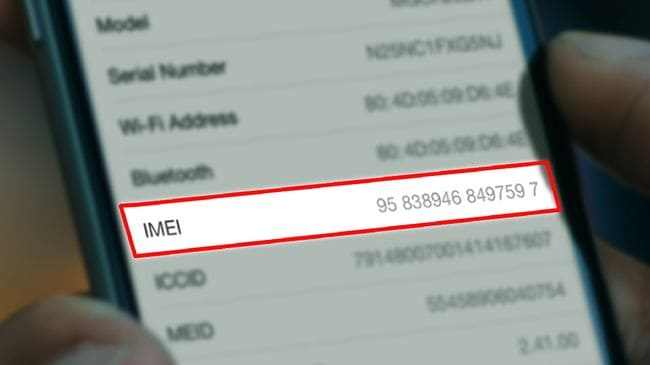 IMEI or International Mobile Equipment Identify refers to a 15-digit code that serves as an identity certificate for your phone. If you have the IMEI number of your lost or stolen phone with you, use a third-party IMEI tracker to track it.
Many IMEI trackers are available for Android devices such as Find Lost Phone, Find My Device, SeekDroid: Find My Phone, Wheres My Droid, and so on. After installing any of them, grant all the permissions that it asks for.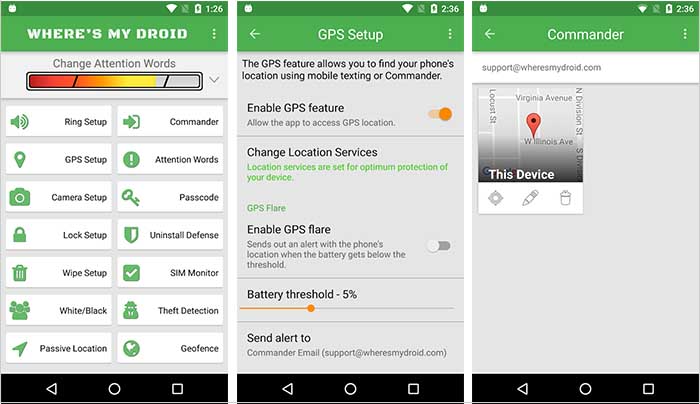 We are using Wheres My Droid here. As you run the app, a pop-up will come on the screen with some instructions. Just hit "OK" and proceed. It will open up different sections that will let you set it up on your device. Click on any of the sections such as GPS set up and activate it. Once you are done with the activation process, the app will handle everything.
Also Read: Get IMEI Number on iPhone If Locked
Block Your Stolen Phone from Carrier
To avoid the misuse of your phone or data, immediately block stolen phone. In case your phone number gets to the right hand, it can bring a lot of trouble for you. To block stolen phone, you have to contact your carrier and file an First information report (FIR) to the police.
Step 1: First, visit the police station and report the FIR for your lost phone.
Step 2: Get a duplicate SIM of the same number from your telecom service provider. This is required for getting an OTP to block the IMEI of your lost phone.
Step 3: Keep the documents in your hands such as FIR report copy of the police station, Identity proof, and mobile purchase invoice.
Step 4: Next, fill up the IMEI blocking form and attach documents with it. As you submit the form, a request ID will be given to you. This can be used to check the request status and unblock the IMEI in the future.
Pro Tips: Unlock Lost Android Phone Temporary Password
When you have successfully gotten your device but it has come into the locked condition, then you will have to unlock it with the password. Now, imagine a situation when you don't remember the password. What to do in that case? It's not easy to do without taking the help of any unlock tool. Android users can use iToolab UnlockGo (Android) to unlock a stolen phone. It is highly recommended as a great unlocking tool for Android users!
UnlockGo for Android provides you with the simplest way to unlock your screen lock.
Easily removes all types of screen locks on Android, including PINs, Patterns, Password & Fingerprints
Supports FRP bypass on Samsung devices
No technical skills required to use this
Can unlock the device without any limitation
Allows for customized plans
Step 1 Connect the Devices
Before proceeding to unlock your Android device, you need to install the UnlockGo for Android on your PC. After doing it, run the software and choose "Unlock Screen Lock".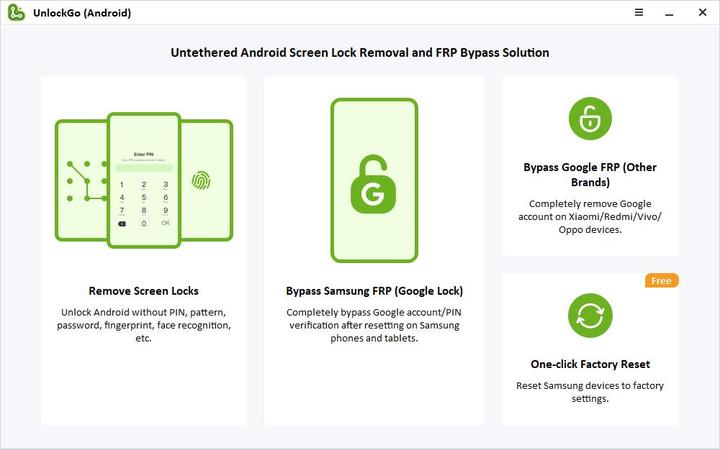 Step 2 Check Device Information
Now, check the device information and see whether your phone brand and model are showing or not. Click on "Unlock" to do further if all is okay.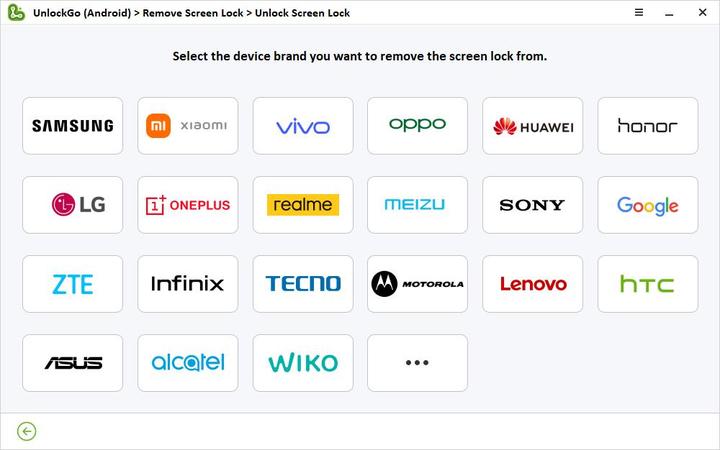 Step 3 Put Your Device Into Recovery Mode
Techno and Infinix smartphone models can be put into recovery mode in different ways. So, you will have to do this carefully by following the instructions shown on the screen.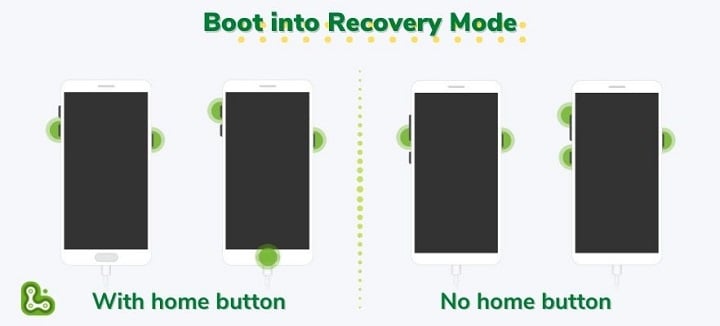 Step 4 Start Unlocking
After your phone has entered the recovery mode, do as given on the screen to eliminate the screen password from your phone. At the end of doing everything, your phone will be unlocked without any problem.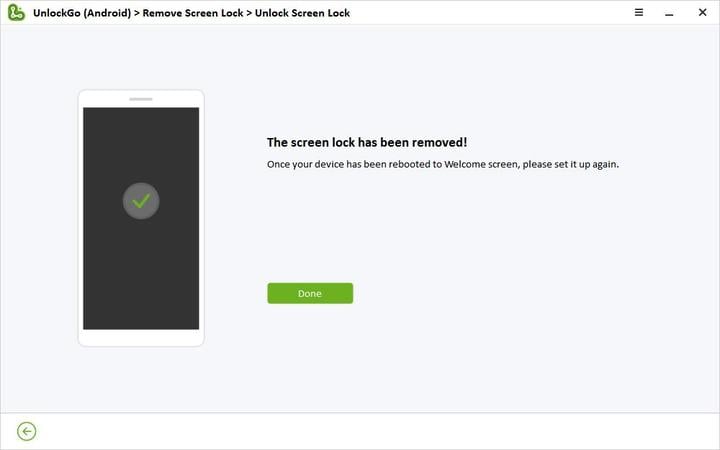 Conclusion
Have you got the answer to how to track a stolen phone? Congratulations! We are happy to help you in getting back the device. For any further issues like forgetting the screen lock password of your phone, you can always trust UnlockGo for Android. It has been developed especially to help those who forget their phone password and are unable to use it. If you need any additional assistance, comment down here.