Samsung has introduced factory Reset Protection (FRP) that won't let any other person without the right credentials to make a factory-reset of the settings on your Samsung Android phone. For users who have lost their login credentials, FRP can present a major issue.
Additionally, for businesses that provide phone devices to employees, if the person is no longer employed in the company then, you cannot factory reset Samsung device as MDM protection.
Now if you are looking to Bypass FRP on Samsung J4, you can easily do that with our below mentioned methods.
Bypass Google Account on Galaxy J4 Android 8, 9, 10 with ONE Tool
Now you don't have to perform some complicated steps, you can easily perform Samsung J4 Frp Bypass with PC using a specialized tool. Lucky for you iToolab UnlockGo for Android specializes in bypassing FRP lock as well as an excellent screen lock removal tool. Utilizing this tool, you are able to quickly get rid of all types of screen locks on Android devices. Furthermore, you can also unlock certain Samsung smartphones without losing your data by using this effective Android Lock Screen Removal tool.
As already said, the iToolab UnlockGo for Android allows you to remove Samsung Google lock on Android 5-12 without any complicated steps. It doesn't matter if you've lost your Google account password, or you bought an used Samsung phone, every Samsung FRP issues can be resolved in less than five minutes.
You Only Need One Tool
Simple steps and no technical expertise is required
You can sign in with the creation of a new Google account
Get all your screen lock issues resolved within a couple of minutes
Provides the option to remove screen locks without any data loss in old Samsung devices
Flexible custom business plan are available
Steps to Bypass FRP Lock on Samsung J4 in 10 min
The main steps of removing Google lock FRP with the help of iToolab UnlockGo (Android) involve the following:
Step 1 Connect Samsung J4 to PC
Start with the Installation of UnlockGo for Android on your personal computer. Then, attach the Samsung J4 device to the PC via USB cable. Afterwards, choose the option "Remove the Google Lock (FRP)".
Step 2 Select Samsung Device OS Version
Ensure you are able to get rid of Google Lock (FRP) by clicking the "Start" click, and then choose the OS version of your device.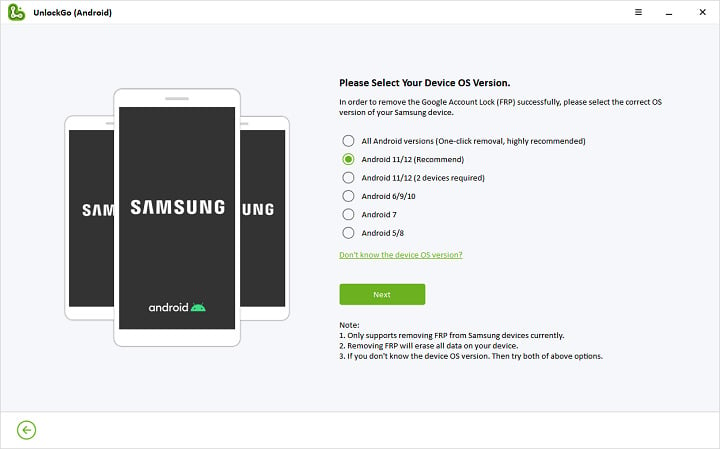 Check that you've selected the correct version number, or the deletion of your account could be unsuccessful. Also, don't shut off Wi-Fi in the process that follows.
Step 3 Send Notification to Samsung Device
Right now, UnlockGo for Android will send an email to the Samsung phone. Connect your device to the internet to your phone during the process.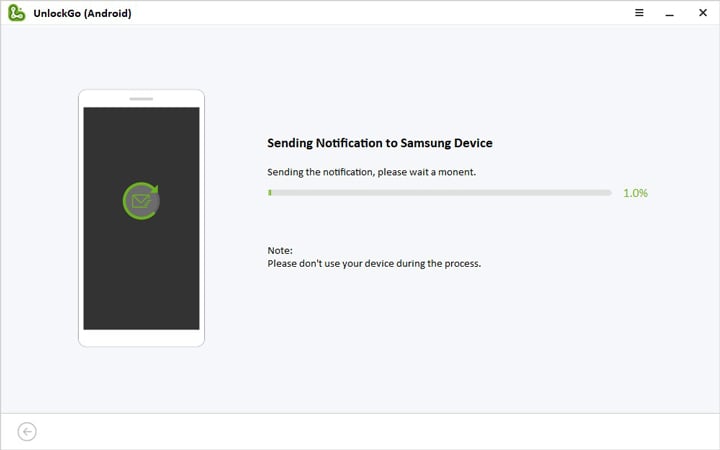 Step 4 Set Up your Samsung Device
In the last step, you will need to set up your Samsung J4. The process to do that will depend upon the Android OS version running on your device.
Step 5 Bypass Google account on Samsung J4, J4 Core, J4 Plus
After a few clicks, you will be able to get past the Google account verification screen, then complete the setup wizard in minutes.
Original Manual Method to Bypass FRP Lock on Samsung J4
There is also an official way through which you can bypass FRP lock on Samsung J4 running Android 9. However, this method is quite complicated and users at times remain unsuccessful with this. With the help of this method, you can perform Samsung J4 FRP Bypass without SIM card.
⏳ Estimated time: 40-60 minutes
Connect your Samsung phone with an active WiFi connection.
Now, go back to the Let's Go screen.
Tap on Next and the I Agree option, and then press the Next button.
After that, tap on the Skip this for now option and Click Next.
Next, tap on Add Network.
Hit on the Settings icon > keyboard layout and feedback > Key tap Feedback.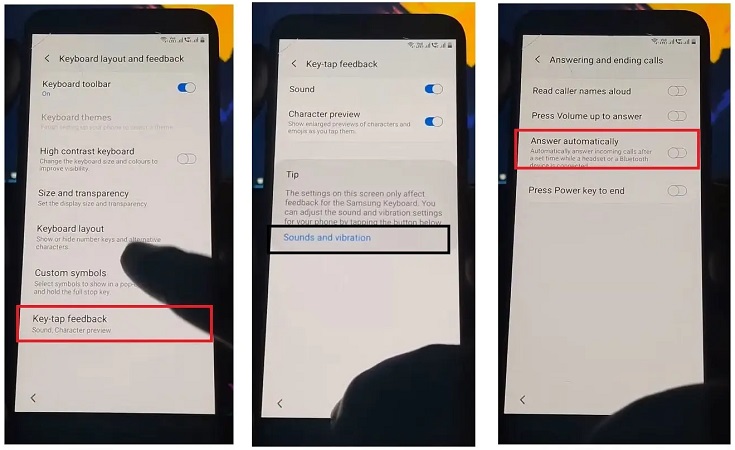 In the next step, tap on Sound and vibration > Answering and ending calls > Answer automatically.
When you turn on the option, you will see 2 sec and 10 sec option and you will need to hit them both at the same time.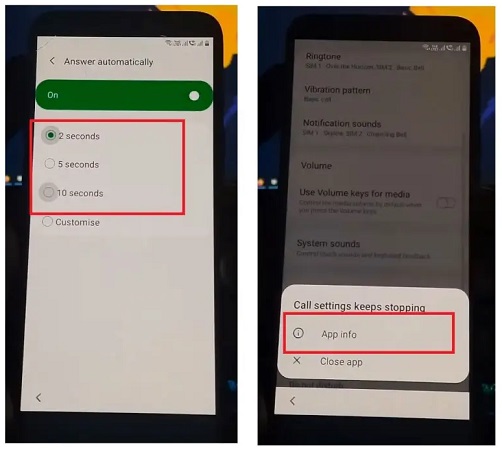 Note: If you get redirected again, select the same options Answering and ending calls > Answer automatically.
Next, you will be shown a pop window and click App Info.
Click the settings option in the upper right corner and then tap on About Phone.
Tap the update icon and wait for a few minutes.
Now, press the I Agree option.
From the Galaxy app store choose Update and wait again. After this, you will be able to bypass Galaxy J4 FRP using the Samsung internet browser.
Note: If you get redirected to the Phone Update screen hit the Update option and you will go to Galaxy store.
Download and install Samsung Internet Browser from Galaxy store.
Now open it to download a tool bypass FRP.
Download Quick Shortcut Maker to Bypass FRP
Now, in this process, we will download a file managing app named as Quick Shortcut Maker for bypassing FRP lock. For this:
Open the browser you just installed, search and download Quick Shortcut Maker from the searched results.
In the next step, once you tap on Open from the popup window and straightly head over to the Settings option.
Then, select Allow from this Sources option.
Go back and tap on Install and Open options respectively.
Now, you are get into Quick Shortcut Maker. From the task bar, tap on Applications > Settings > Try.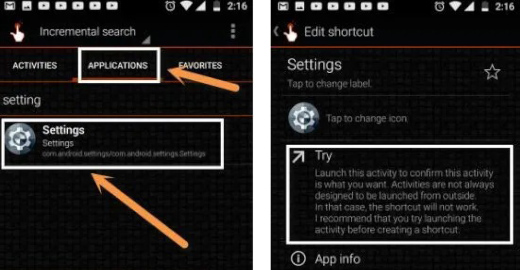 Create Pattern Lock
You will need to create any new pattern lock to bypass FRP lock on Samsung Galaxy J4. To continue with this:
Tap on Security > Other Security Settings.
Next, you have to turn on the Pin Windows option and tap on it.
Now, press the Use screen lock type to unpin option and select Pattern.
Then, draw your pattern twice and tap on Confirm button.
You are all ready to bypass FRP lock.
Restart your phone and draw the already setup pattern to bypass the FRP.
Note:
Google account verification screen will not appear if you choose pattern or PIN to verify authority.
Tip: How Do I Remove Google Account on Galaxy J4?
In any case you don't want to trigger FRP lock after resetting your device, then you need to remove Google account first. Moreover, you should erase Google account on the Galaxy J4 when you are selling the device or to give it away to a friend or relative or recycle it, or if you've decided to switch to a different Google account you can use the below mentioned steps.
Now when you've removed the Google account from the Galaxy J4 Core, you just deactivated the FRP (Factory Reset Protection) of the Android operating system. This is a security feature that binds your Samsung Galaxy J4 Core to a Google account. If it's rebooted after a theft or loss Google request the account username and password.
Step 1: To erase the Google account, go to the settings on your Samsung.
Step 2: We look to all of the Galaxy J4 Core settings and search for the section titled "Accounts" also known as "Accounts as well as backup" Click to open this section.
Step 3: Click "Accounts", all accounts that are linked to the Samsung Galaxy J4 Core will appear, which includes along with Google accounts the other social media accounts, such as Instagram, Facebook, TikTok, Twitter, etc.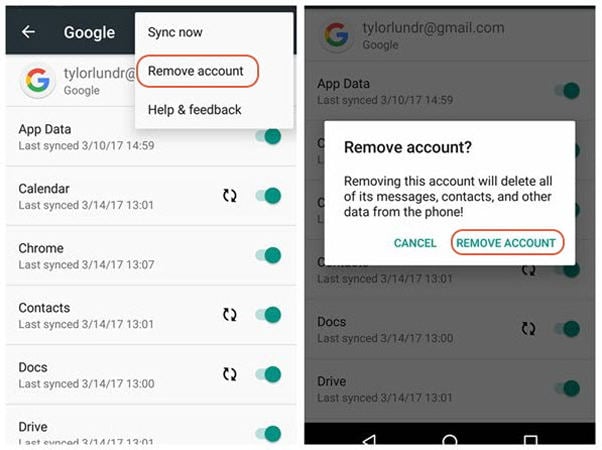 Step 4: To delete the Google account from Galaxy J4, click on the Gmail account that you wish to remove to this phone.
Step 5: Select "Remove account" and type in PIN code or Gmail password to delete it permanently. Also, the data about this account will be deleted.
In Summary
Now you know all the various methods you can perform Samsung Galaxy J4 FRP bypass, they work on J4 Core and J4 Plus as well. However, we recommend using UnlockGo Android as it handle FRP lock problems on Android 5-12, offers various additional features and also protects your device from all types of viruses and malware attacks.