Have you ever come across a Google account sign-in prompt on your Samsung Tablet? It's the Google FRP lock found in many Samsung device models. If you are dealing with it and wondering how to bypass Google FRP lock on Samsung tablet, we are here to help.
We know how frustrating it can be for you. No calls, no texts, no social media app, no games, you can do nothing on your phone. Despite all the problems you are facing, it's possible to use your Samsung tab by removing the Google lock. Even if you have purchased an old tablet or forgotten the screen lock, we are here to help in fixing the Google lock issue in your tablet. Here's how you can do so and what tool you will need to bypass Google FRP lock on Samsung tablet successfully.
You Might Try But Not Working
Indubitably saying, you will surely experiment and try different ways to FRP bypass Samsung tablet. But, they won't work promisingly. Even some websites on Google are giving false information, which can't be trusted. They claim to help but end up confusing the users. You have to avoid them and focus on what's going to help you. So, keep the following things in your mind when you are looking for the FRP bypass Samsung tablet solutions online:
1. Edited videos
There are many videos on YouTube where you will see some tricks and tips on FRP bypass Samsung tablet are given. But do you know that some of them are edited in such a way that you can't do anything else than believe them? Yes, it's happening widely so avoid them or you will just contribute to their views and nothing else.
2. Apk and software with viruses
To deceive users and infect their tablets, some cybercrooks fill-up the Android apps with viruses to get user data. Downloading them does nothing except help them in achieving their purpose. Thus, always download apk and software from trustworthy websites.
3. Outdated methods for old OS versions
Samsung keeps releasing the latest OS updates to serve a premium performance to the users. And then methods mentioned on some websites are suitable for old OS versions only. There is no chance that they can help you in removing the Google FRP lock in the newest Samsung devices.
4. Overpromised product promotion
Some FRP removal products claim more than what they can do. For instance, visit the official page and you will find that they claim to remove the FRP lock from Android 12. When users download and pay for this, they find that the latest Android OS can not be unlocked in the software.
On the other hand, the search results are full of articles with false propaganda. You see the title that mentioned "Android 12" but actually this method or tool just solve the issue on Android 11 or earlier.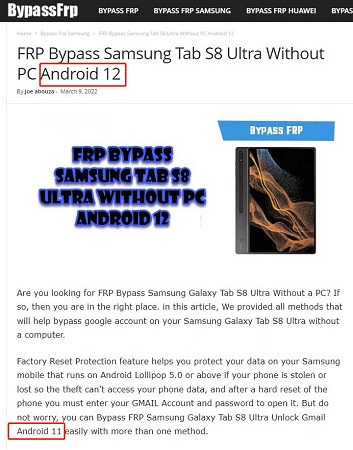 Reliable Samsung Tablet FRP Bypass Tool
Google Lock completely restricts access to your device. Unless and until you don't type the right password for your account, the phone will not work normally. Trying to reset your device won't help anyway.
If you are still finding a way to help yourself and remove Google account from Samsung tablet after factory reset, choose iToolab Unlock for Android. iToolab team is always in pursuit of the easiest way to bypass FRP and they did it in the latest version!
It's a dedicated Samsung FRP bypass tool which also helps you to remove the forgotten pattern and password on all Samsung devices. It supports all models of Samsung phones as well as other brands.
Steps to Bypass FRP Lock on Samsung Tablets
Step 1 Connect your Samsung Tab
Download the UnlockGo for Android and install it on your PC. After that, connect your Samsung device to your PC using the USB cable. Run and select the "Remove Google Lock (FRP)".
Step 2 Remove FRP with latest solution 2023
Next, you have to confirm the Google lock (FRP) removal and click on the "Start" button. Now, if you've update the software to 6.0.0 or later, then you can select the new way shown on the screen. Click on "Next" after that.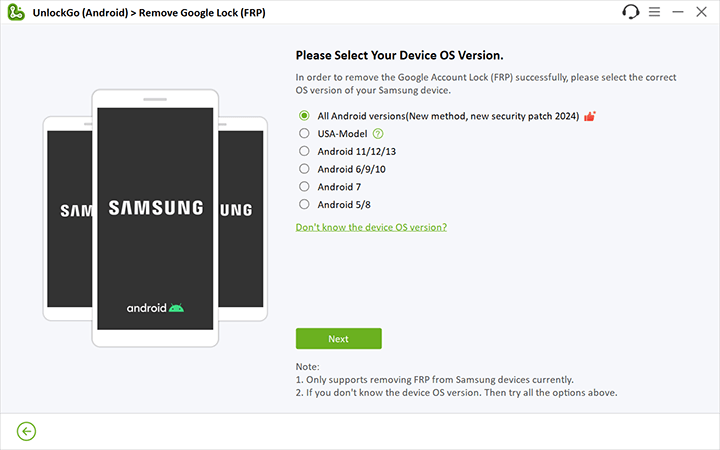 Step 3 FRP bypassed on Samsung tablet
Now, you will need to use secret codes to enable USB debugging and make it ready for FRP bypass.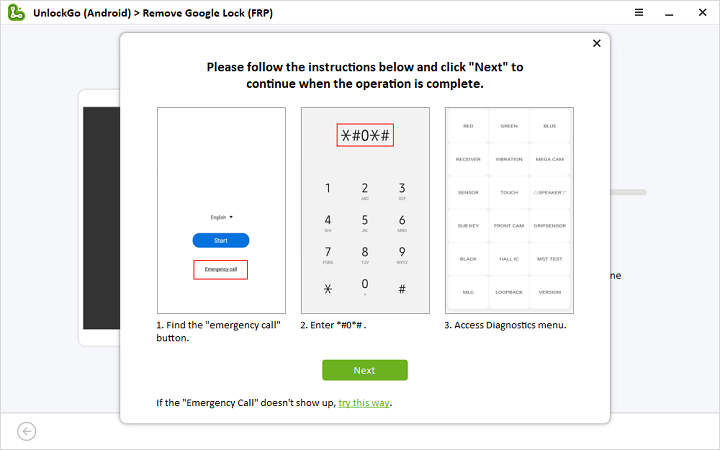 Step 4 Restart you Samsung tab without Google verification
Follow the on-screen steps, it takes about 10-30 seconds to hard reset your tablet. After that, the previous Google account has been removed from your Samsung tablet totally. You can get into it and sign in your Google account!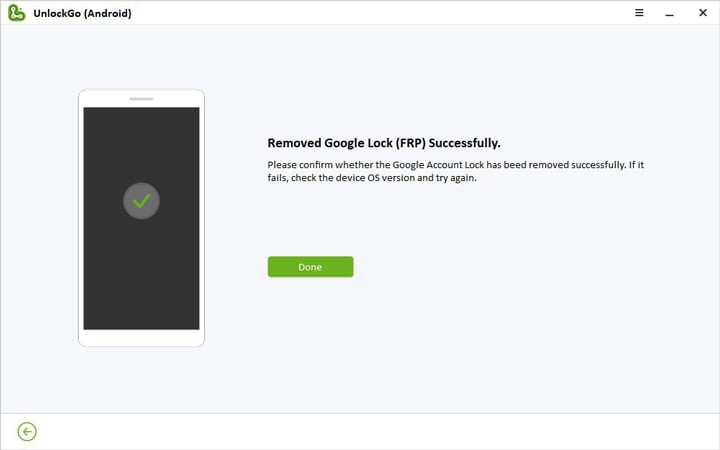 Bypass Google Verification on Samsung Galaxy Tab Free [Complicated]
Samsung device owners having device versions higher than marshmallows can find it hard to bypass Google verification. It gets complicated when you try to do so in the galaxy tab. You can use Odin to disable Google FRP lock in the galaxy tab devices. This process works when you want to reset Samsung tablet without Google account which is running on Android 10 or lower. Read the following steps to bypass Google verification on Samsung tab with Odin.
Prerequisites
Android ROM flashing tool
Samsung FRP reset firmware file
Samsung Android USB driver
PC and internet connection
Intermediate technical and computer skill
Note:
Due to wrong operation, your tablet may not work properly.
Step 1: Download File and Software
Download all supported FRP files for your Samsung device along with the Odin flash tool on your PC. Apart from that, you may also have to update the Samsung USB driver if it doesn't update automatically. Doing this will restart the tablet.
Step 2: Boot the Samsung tab into download mode
To connect your tablet with Odin, use combination keys to lead it into download mode.
Firstly, power off your tab by power key, then try to press and hold keys below.
Volume down + Power + Home buttons
Volume down + Power + Bixby buttons
Step 3: Use the Odin Tool
Run Odin as an administrator on your PC and connect your Samsung tab using the USB cable. This will add your device to the Odin interface automatically. Now, you can see a list of zip files on the Odin interface. Choose AP, CP, and CSC tabs, browse Windows, and select the files you have downloaded.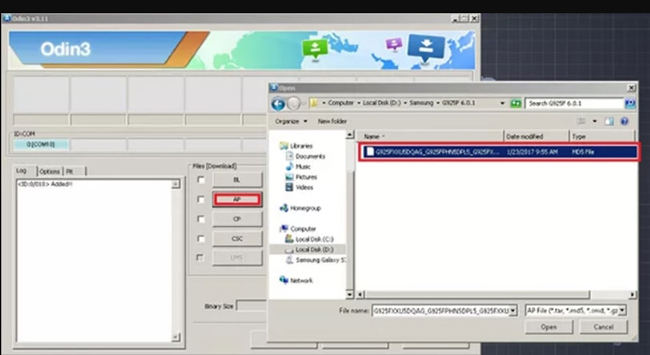 Step 4: Remove the FRP
Import the files and choose "Start". Odin will start the FRP removal process on your Samsung tablet. In the end, a PASS message will show up which shows the FRP lock has been removed.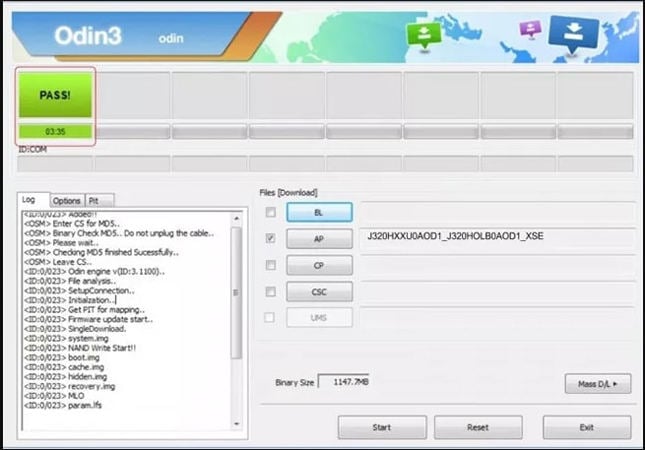 Bypass FRP on Huawei, Motorola, LG, Xiaomi
FRP lock bypass process varies from brand to OS version. If you own a brand other than Samsung, you can remove previously synced Google account from Android through the following tutorials.
Conclusion
The process of bypassing the lock is pretty easy. You will just need to apply all the methods we have shared. Even a newbie could easily perform this process. However, it's always recommended not to skip any step to successfully reset Samsung tablet without Google account.
The best you can do is use the FRP bypass tool without any hassle. It's effective, safe, secure, and convenient when it comes to eliminating FRP lock. Samsung tab users facing trouble with FRP lock can rely on the UnlockGo (Android) anytime and anywhere.