I forgot the pattern lock on Samsung that I set up on my phone two weeks ago to protect, now my device restricts access and the screen keeps saying Incorrect pattern. Is there any way to bypass it conveniently?
This question is asked multiple times in forums by Samsung users in a helpless situation. With a locked phone in hand, you may think, can I recover my phone with my data or I will lose my entire data? Can I access it like before or not?
Just sit back and read the collection of authentic ways to bypass pattern lock in less time effectively. I will show you every possible way to do it so make sure you don't skip.
3 Ways to Remove Forgotten Pattern Lock on Samsung without Data Loss
Way 1. Unlock the Samsung Galaxy pattern using Find My Mobile
Find My Mobile is a built-in feature that comes with all recent Samsung phones and tablets. This feature is popular to resolve the query of how to bypass pattern lock Samsung by removing screen locks and wiping your data remotely if your phone is lost or stolen.
So if you want the maximum value from this feature your phone should come up with the requirements below.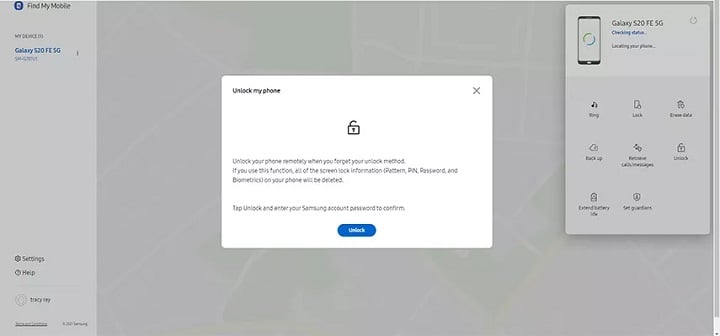 Note:
Your phone must be powered on.
Mobile phones should be Wi-Fi connected.
Your Samsung account should be registered on your device and ensure you've activated the Remote unlock option before getting locked.
How-to Steps
Open your browser and search Find My Mobile website. Now, click the Sign in button and enter your id and password that is registered on your phone's Samsung account, click Sign in.
Your mobile device name will appear on the right panel of the screen. It will show all devices associated with this account, make sure you choose the one you want to unlock remotely.
Click Unlock to continue.
A pop-up will appear asking you to verify your Samsung account password, enter it and click Next. After that, another pop-up window will appear that remotely unlocks your device.
Way 2. Bypass Samsung Pattern Lock Using UnlockGo (Android)
Did you forget to turn on the remote unlock option on your Samsung phone? Then Find My Mobile is surely not working for you. But don't worry let's move towards the next step, in this section I will discuss how to unlock Samsung phone patterns using iToolab UnlockGo (Android) – Powerful Android unlocker. It is specifically designed with capabilities to remove forgotten pattern lock from Samsung with ease.
You will find lots of manual methods that may work perfectly but if you attempt them without checking out if they are compatible with your device or not, no one will protect your OS software from damage.
If you are an Android techy, you are all good to bypass Samsung patterns manually but if you have no command of technical knowledge, UnlockGo (Android) is all set to help you.
Master key of Android screen locks, PIN, pattern, fingerprint, face recognition
Bypass Samsung screen locks effectively (All Android OS)
Unlock Samsung without factory reset or losing data before S7
No Samsung account or remote unlock options required
Wide range of highly compatible phones & tablets Samsung
Now, it's time to bypass pattern lock on Samsung tablets or phones by just installing iToolab UnlockGo (Android) on your Windows PC or Mac. Once you got the tool you will get the past pattern lock on Samsung by following the steps below.
Note: This method works only for old Samsung devices (before S7). If your Samsung device is newer, then try the normal way to remove screen locks.
Step 1 Connect the Locked Phone
Open the tool and connect your locked Samsung phone and choose the option Unlock screen lock without data loss.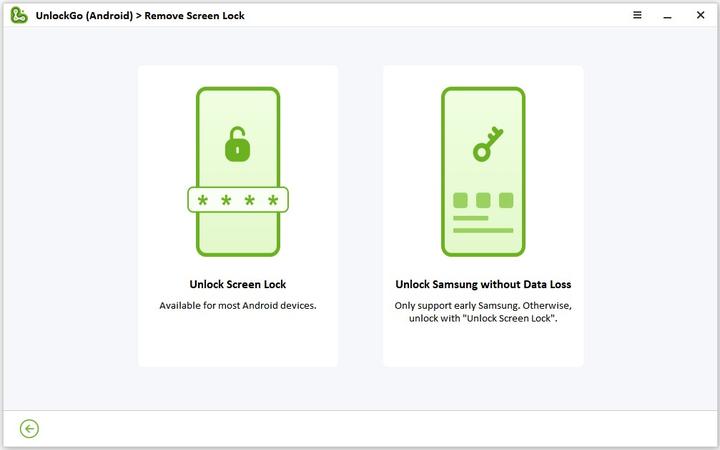 Step 2 Device Confirmation
Confirm your unlocking option by clicking Start in the next window. Now choose the correct device brand and name from the drop-down list. Once you choose wisely, select Next to continue.
Step 3 Install Data Package
UnlockGo (Android) will take a few seconds to install the data package for your phone then click Next.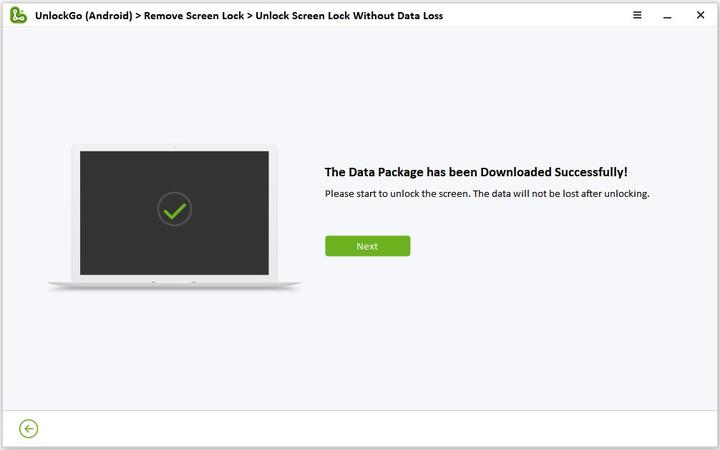 Step 4 Enter phone in Download Mode
Now you need to follow the steps as shown on the screen or follow the video tutorial to enter download mode. Once you entered it, click Start.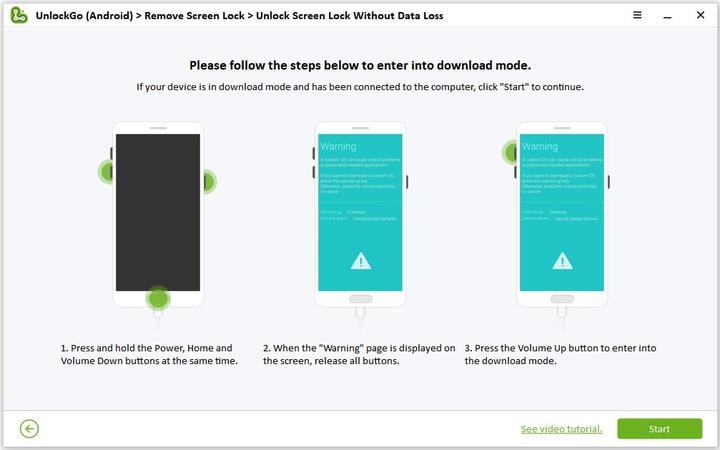 Step 5 Screen lock Removed
As you enter download mode, UnlockGo (Android) magically removes your screen lock on your device without losing data.
Way 3. Unlock forgotten patterns using Smart Lock
Smart lock lets you access directly your phone without remembering security codes. With the smart lock feature ( Android OS 5 or above), you can set your device to unlock automatically and remain unlocked when the device detects trusted places.
To avail this feature, you need to set up a smart lock on your phone beforehand because it helps unlock your phone when the pattern password disable.
How-tos:
Navigate to Settings from your app drawer.
Tap Security.
Tap Smart lock.
Draw your pattern or input your PIN.
Now choose a trusted place, a trusted device, and a trusted face.
3 Ways for Samsung Pattern Unlock with Data Loss
Let's learn some additional ways to bypass Samsung pattern lock. Android users running OS 5-13 will go through the following methods to remove the Samsung forgottern pattern lock.
Way 1. Remove screen locks with Android pattern remover
For Android 2-13 phones and tablets, UnlockGo provides different solutions according manufacturers. If you are going to unlock Samsung pattern lock on Android 12, try this way.
Bypass forgot pattern lock Samsung without hard reset
Download UnlockGo (Android), and choose Unlock screen lock option.
Connect your device with your PC and an option One-Click Remove Screen Lock Samsung will appear, chose the option and click Start.
Confirm the steps your screen asks for and click Unlock.
After a while your Samsung device restarted which proves that the screen lock has been removed.
Way 2. Remove the pattern lock with Find My Device
Removing a pattern lock with Find My Device work under a few conditions, see below if you come up with them.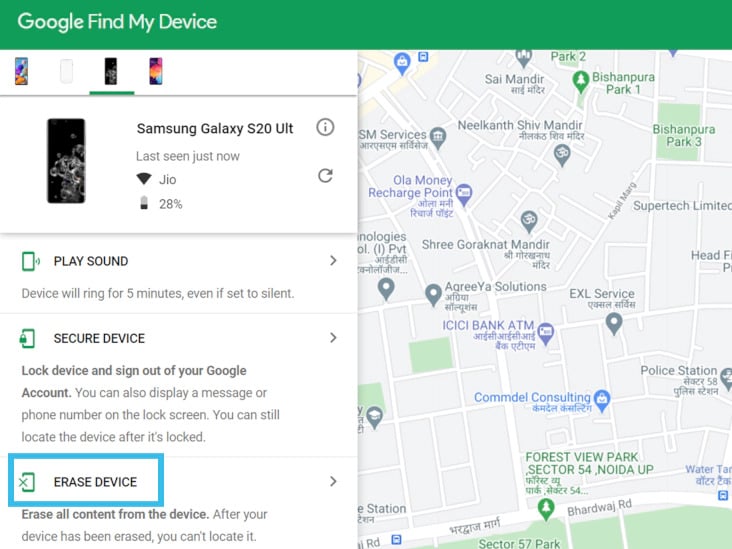 Requirements:
Works with Android 4.4 or lower
Enough power
Connected with WiFi or data
Signed in with a Google account
Find My device enabled on the phone
Should be visible on Google Play
How-to steps
Enter the android.com/find on a browser.
Sign in to the Google account as same as that on locked device.
If your Gmail logged in on several devices, then select the one you need to unlock.
Click Erase device from the side bar.
After multiple confirmation, your Samsung should be reset as the encrypted file will also be deleted.
Way 3. Format Samsung devices
You can also format Samsung devices to unlock them by booting your device in recovery mode. Check how.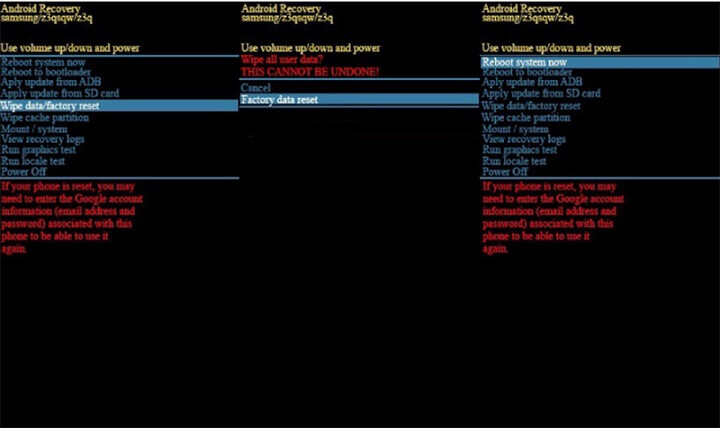 Hold the Power and Volume Down keys together.
Once your device vibrates, hold the Power, Bixby, and Volume Up keys simultaneously.
As the Samsung logo will appear on your screen leave the keys, and now your phone will enter recovery mode.
Using the Volume Up or Down button, select the option Wipe data/factory reset and confirm it using a Power key.
On the next screen choose Yes, so your device restore factory settings promptly.
Tap Reboot System Now, now your pattern lock has been removed.
Remove Screen Lock Pattern Lock in Samsung
I forgot Samsung pattern but I have set fingerprint lock.
Well, you are lucky to unlock Samsung with fingerprint or PIN code. Here I would like to show you how to disable pattern lock in case you need it.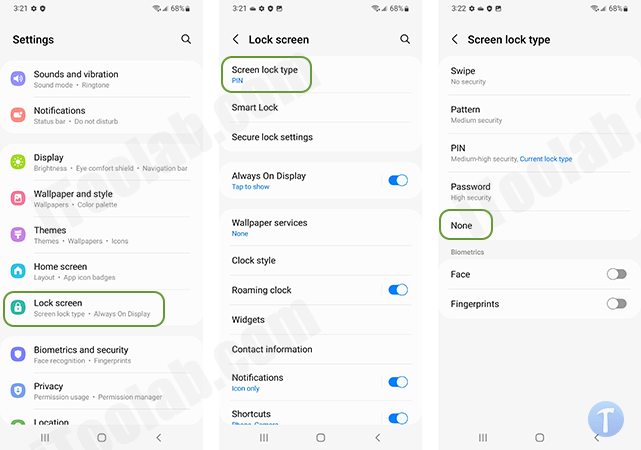 Go to the Settings of your Android device.
Select Screen Lock. If you can't find this option here, take a look at Security & Location.
Choose Screen lock type and you will see a list of login methods in use currently. Enter your existing PIN code or password before proceeding.
Tap None and it will disable all the security on your phone and your phone will be set to swipe only. This action needs you to agree on removing biometric data (if you are using biometrics to sign in) and security.
Can I Bypass Pattern Lock with PIN Password on Samsung
With consistent updates of Android security patches, some models enhanced the level of pattern lock security by keeping the PIN code protection level the same. It proves that you can't unlock the pattern even with multiple wrong attempts nor bypass it with a password or PIN.
Summary
Forgetting the pattern lock on the Samsung phone might bother you and let you think that you can't gain access until you take your phone to a service center and pay for its recovery.
But after reading this guide you can confidently choose the easy and compatible method to unlock the pattern. Remember, manual methods work under specific conditions while iToolab UnlockGo for Android gives you the flexibility to unlock your Samsung device with ease within minutes. Are you excited to experience a quick, flexible solution for your phone, if yes, then we have the best plan for you, just try now!