How do I unlock my Samsung Galaxy tablet if forgot my PIN/password?
Samsung tablet users mostly face the phenomenon of locked devices due to forgetting their PIN or password. In this blog, you are about to know the solid solutions for how to unlock a Samsung tablet when you forget the password without losing data. Find out below.
Part 1. The Fact of Unlocking Samsung Tablet
Most of the online solutions build Samsung users' expectations to unlock Samsung tablets without data loss but they end up with data loss. Let me make an explanation of the reasons for this. Samsung launched the tablets running Windows and Android OS.
For Windwos tablets, you will need Microsoft account to bypass the screen lock. If you don't have it, we've collected some solutions for you to reset password on Samsung table before asking.
For Android tablets, if you have no authentication like Samsung or Google Account it will erase all data in your device. But if you are running some early Samsung tablet or phone models it is possible to unlock it without data loss.
Ascertain to back up data in cloud storage like Google Drive, Dropbox, etc to protect your data. Besides, keep an eye on the notice of data loss before practicing any method. So, here comes the solution read on.
Part 2. How to Unlock Tablet without Password by Screen Lock Removal?
It's quite hurting when you forgot PIN on the Samsung tablet and are locked out due to wrong attempts. These cases are intently tackled by the most suggested iToolab UnlockGo (Android) tool.
The iToolab UnlockGo (Android) is designed by professionals to unlock Samsung tablets and smartphones with ease. See how UnlockGo (Android) magically unlocks Samsung tablet with its ultimate features.
Downloaded it? Then get ready to unlock a Samsung tablet with UnlockGo.
Step 1: Connect Samsung tablet with PC
Open UnlockGo (Android) tool on your PC. Choose Unlock Screen Lock from the startup screen. Click Start and connect your tablet with a computer.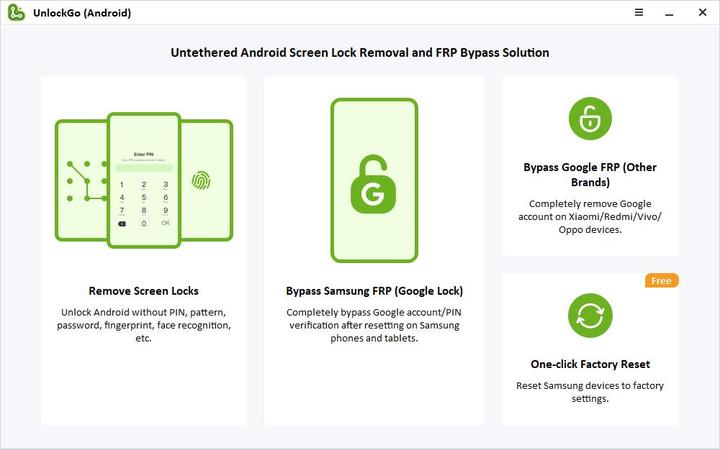 Step 2: Confirm device info
Choose the phone's brand that you are using from the drop-down list. Click Unlock to continue.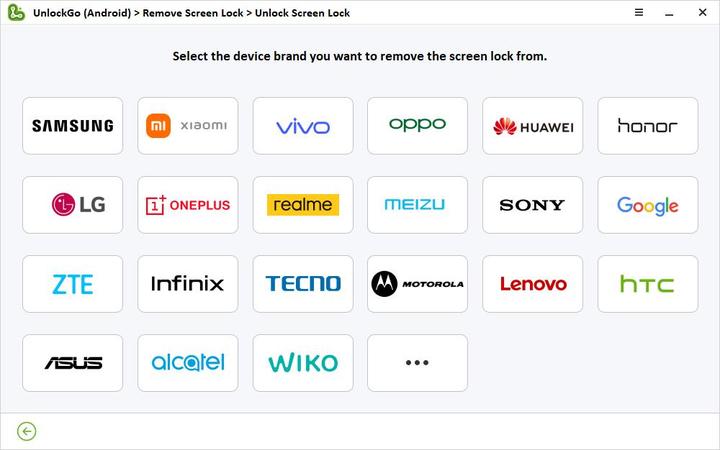 Step 3: Shift your device in Recovery mode
Like Samsung phones, tablets use various routes to switch the device in recovery mode as well. For your convenience, we create a comprehensive guide that makes it easier to enter Recovery mode.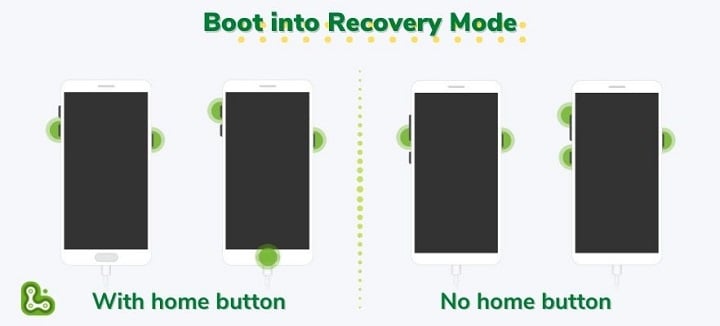 Step 4: Initialize unlocking process
Your screen shows some steps once your device entered recovery mode. Follow them to remove the screen passcode.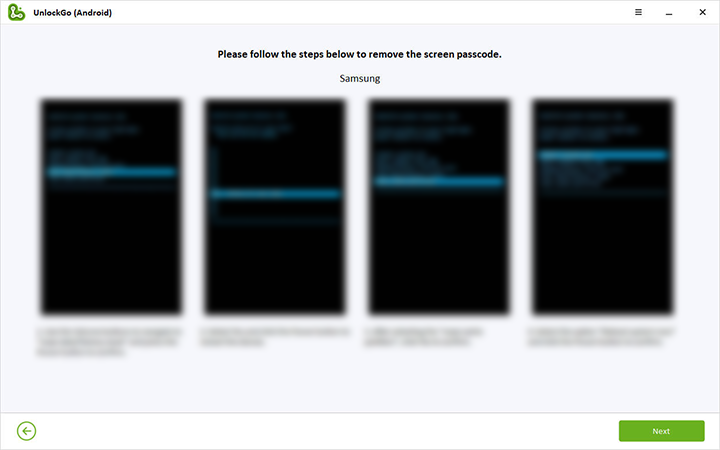 When your Samsung tablet is unlocked successfully, just restart it and create a new password.
Part 3. How to Unlock a Samsung Tablet with Samsung Account?
If you know the Samsung account that you used to sync previously on your locked device, Find My Mobile is an official tool to help you unlock Samsung tablet.
Step 1: Browse Find My Mobile official website
Go to Find My Mobile Website. Here, sign in with the same account logged in Samsung tablet. Select your device from the list that shows on the left side of your screen. Find My Mobile will trace your device within a few seconds.
Step 2: Unlock your device and reset the phone's security
As your device is traced by Find My Mobile. Click the Unlock option and click Unlock once more. Now, enter your Samsung account ID and password and then click Next to finish the process. This method will reset your device security by switching it to unlock with just a swipe using your finger.
Note: To unlock Samsung tablet with this method,
The option Remote Unlock must be activated on your locked tablet.
The tablet must be powered on.
Your tablet and its GPS must be turned on.
Part 4. How to Unlock a Samsung Tablet with Google Account?
Remove screen locks using Find My Device
Here, we are going to unlock your Samsung tablet with Google Account through Google Find My Device. The feature is found most helpful to wipe data remotely from stolen or lost devices, including screen lock files. You need to know that Find My Device won't work after erasing.
Navigate to Google Find My Device by using any phone or your PC.
Log in with the Google account that you formerly used to sign in to your Samsung tablet.
After that, three options will appear on your screen.You need to click Erase device option. An Erase All data menu will appear.
Choose Erase option.
It will unlock your Samsung tablet successfully. Meanwhile, this will make you lose all your data.
Tip: Unlock pattern lock on Samsung Galaxy Tab (Android 4.4 or lower)
Samsung Galaxy tablet running on Android 4.4 or lower can take the benefit of a built-in bypass mechanism. This process needs a WiFi connection. If you forgot pattern on Samsung tablet, follow the steps bellow.
Draw incorrect pattern 5 times and click on Forgot pattern button that appears on your screen.
Choose the unlocking way with Google account details.
Enter the previously synced Google account and password, then tap on Sign in.
Next, log in your Gmail on another device or PC. You will promptly receive an email that is allowed you to reset your password of locked Samsung Tab.
Use this new password to unlock your Samsung tablet.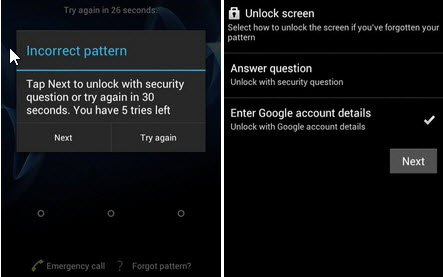 Part 5. How to Factory Reset Samsung Tablet without Password?
Another option to unlock your Samsung tablet is to perform a factory reset or hard reset. A factory reset unlocks your phone but it deletes all data on your device. But after that, you can restore your emails, settings, apps, etc if you have backup in Samsung account or Google account. The brief instructions are shown below.
Press and hold the Power button of your Samsung tablet, then tap the Power off option.
Pressing and holding the Power button and Volume down key together until your device shows the Start menu. That will boot most Samsung tablets into Recovery Mode.
If your device restarts normally without showing the Start menu. Then it may support different key combination, please search it online.
Choose the Recovery mode using the Power button.
Use the Volume down key to select the wipe data/factory reset option, then using the Power button to confirm it.
Tap Yes to initialize the reset process.
Your device takes 20-30 minutes to reset.
Once the resetting process is finished, your device comes back in a brand new position as you purchased it. During this process, you can log in to your Google account and restore your settings.
Summary
The methods mentioned to unlock Samsung tablet might be technical for you. If I was you, I would like to bypass the tech challenges and unlock my Samsung tablet in the comfort of home. Pick UnlockGo (Android) that unlocks your device without data loss (before S7) if you forgot the PIN/pattern on Samsung tablet.