Are you one of the minority who owns an Android phone and a Macbook? Coveting the flexibility of Android and the superior user experience of iOS makes it a bit inconvenient for you to use some software. For example, hard to backup app data from Android to iOS, trouble to remove Google lock on your phone with mac.
The darker side of the picture comes up when you reset your phone without removing your Google account or bought a Google-locked phone. Resetting a phone with a Google account triggers FRP which blocks access to every good thing in your Android. Are you feeling helpless? Relax! You can bypass FRP using Mac in just 2 easy steps. So, let's get started.
Video Tutorial of Removing Samsung FRP with Mac
Step 1. Download Easy Samsung FRP Tool for Mac
Generally, your Android requires a factory reset to fix an unresponsive phone, or software glitches or specifically before selling it to someone else. Make sure to always remove your Google account before performing a factory reset. But if you are a Samsung FRP victim without any idea to remove FRP? Then iToolab UnlockGo (Android) comes into action like a lifesaver.
You might be thinking why I buy this tool if I can bypass FRP for free. Remember, you must know your Google account credentials, or in other cases, you need to download additional APK files or different tools and be asked to follow complex steps.
But UnlockGo (Android) offers the fastest solution to bypass FRP for Mac in Samsung phones within 3 minutes without long, typical steps or technical knowledge.
One-Click Samsung FRP bypass Mac tool (Android 5-13)
Supports all Samsung models and tablets
Unlock Android without any tech skill
No password, Google account, or additional tools needed
Remove FRP lock without emergency call option
Bypassing FRP could not be easier than before. Where the manual methods work under certain conditions, UnlockGo (Android) asks for just your Mac PC and Android, and see how the tool magically works for you.
Step 2. Bypass Samsung FRP Using Mac
Before starting the process you must have the Samsung FRP tool download for your Mac, you can install UnlockGo (Android) for free on your Mac PC and follow the easy process accordingly.
1. Attach your phone to Mac
Once you downloaded the tool, now it's time to connect your Android to your PC using a genuine USB cable. Open the tool and select the option Remove Google Lock (FRP). Click the Start button to continue the process.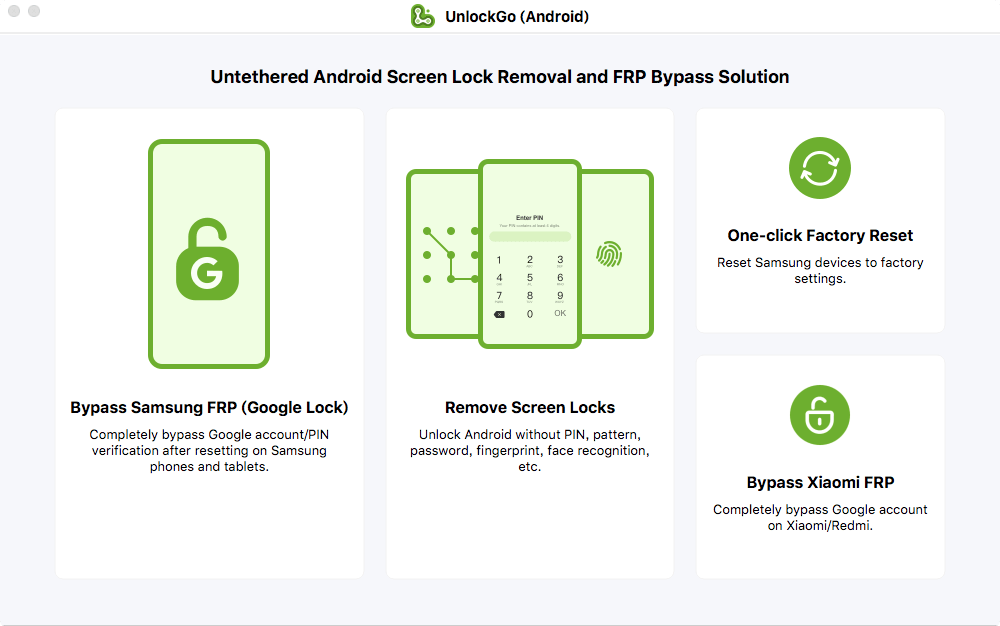 2. Continue with one-click FRP solution
At this step, just hit the Next button. Due to the tool should read the Android OS information, you don't need to select any option.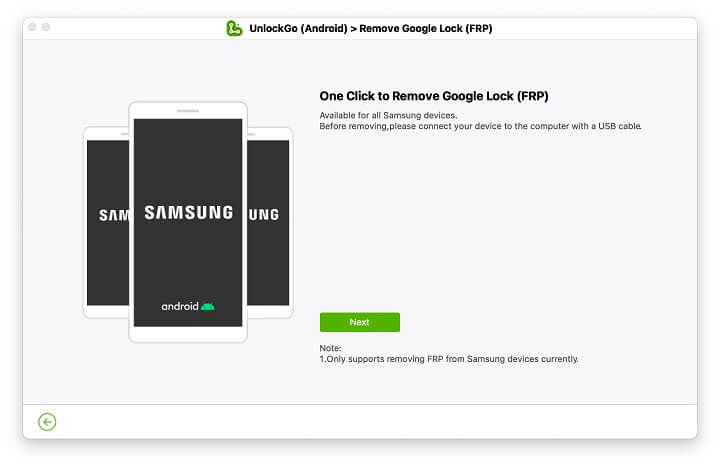 3. Get ready! Android bypassing FRP
Wait for a moment until a pop-up window appeared with guidelines. Now, use the secret code to enter the hidden Samsung Diagnostic Menu. UnlockGo (Android) will then assist you to activate USB debugging on your device.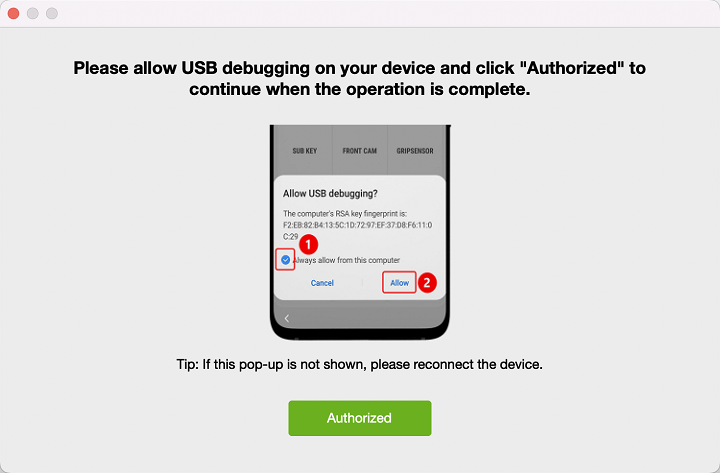 4. Enjoy FRP free phone
Once you give permission, the Google account verification window will remove in a few seconds and your Samsung phone reboots automatically.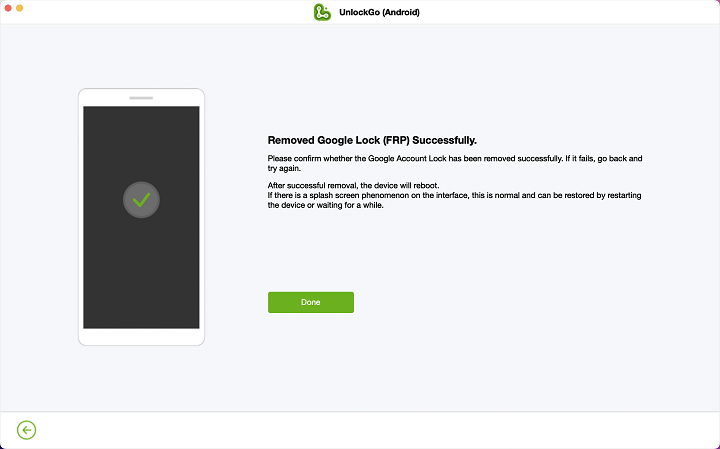 Final Thoughts
FRP locks serve as a strong security wall when someone else wants to access your phone's privacy without permission. But it becomes a challenge to bypass FRP when it blocks your access too. Thanks to UnlockGo (Android) for Mac which allows Android users to swiftly bypass FRP using Mac in just one click without any passwords or formality tools.