I recently purchased a second-hand Samsung A21 and Upon opening the phone, I got the 'welcome' & language selection page. I then got a message: 'An unauthorized attempt has been made to reset your device to factory default settings. Connect to a Wi-Fi or mobile network to verify your identity.' Can anyone tell me what I can do to power up my device properly?
If you are also seeing the "an unauthorized attempt to factory reset" error message on Samsung tablet or smartphone, that means the Factory Reset Protection (FRP) has been triggered. So read this guide carefully. In this article, we are going to explain the possible reasons behind this unexpected error message and what you can do to troubleshoot the problem.
Part 1. Why Did You Meet An Unauthorized Attempt to Factory Reset?
Google FRP lock
The "an unauthorized attempt to factory reset" error gets triggered when the user performs a factory reset but fails to verify his/her identity at the Google lock screen. Basically, when you reset an Android device, you have to authorize your identity by entering the same Google account credentials that were logged in on the device before you performed the reset, or the PIN code you set. This feature is known as FRP and was released by Google along with Android 5.1.
Gmail password reset recently
Another reason is that you had reset Google account password in less than 72 hours before factory reset.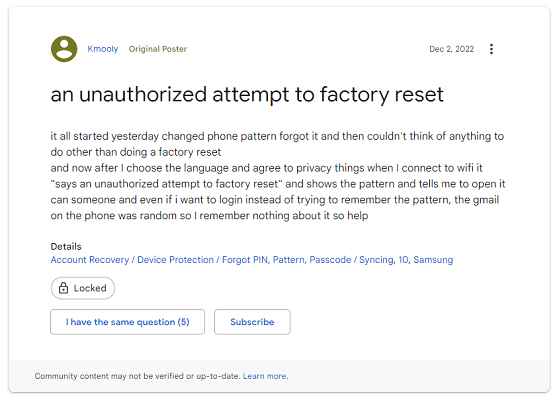 Those two will cause the "an unauthorized attempt to factory reset" error message.
Part 2. Usual Solutions of Unauthorized Reset
So, what you can do to resolve the issue of "an unauthorized attempt to factory reset" on your phone? Ideally, you should enter the Google account credentials to log into your device without any hassle.
But, if you don't remember these credentials, first option is to ask manufacturer support center, another option to resolve the issue would be to remove Google lock screen using FRP bypass tool (we'll talk about it shortly).
Moreover, if you purchased a second-hand smartphone, you can get in touch with its previous owner and ask them to disable factory reset protection remotely with their Google account. After that, you can simply set up a new Google account from scratch or log in with your own credentials to set up the device properly.
Part 3. How to Bypass Samsung Unauthorized Factory Reset?
Now, in case you don't remember the Google account credentials or can't contact the previous owner either, the only feasible solution would be to bypass Samsung unauthorized factory reset. To do this, we recommend using iToolab UnlockGo (Android).
One of the popular reasons is that it can be used to bypass Google FRP protection on Samsung device from Android 5 to Android 13. Then you are allow to get whole access to your device immediately. So, here's how you can use UnlockGo (Android) to bypass Google screen protection on your device.
Video Tutorial: 3 MIN Bypass Any Samsung FRP Lock
Step 1: Install and launch UnlockGo for Android on your computer and connect your smartphone using a USB cable. Then, select "Remove Google Lock (FRP)" on the home screen.
Step 2: In the next screen, select the All Android version function at the top. It will direct you to the detailed instruction.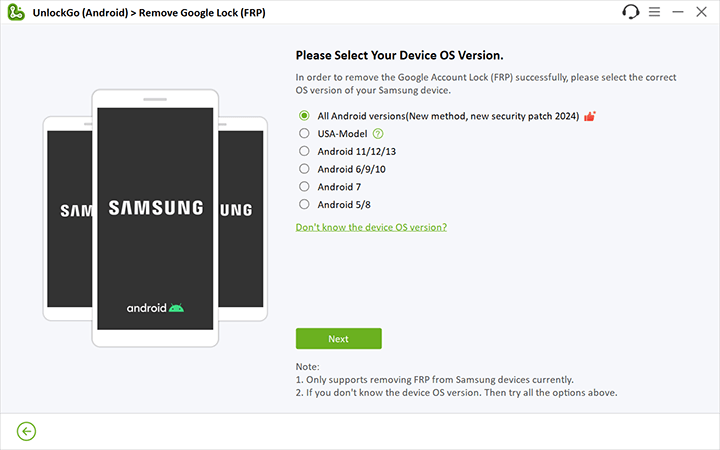 Step 3: At this point, follow the instruction on the screen, UnlockGo (Android) will active "allow USB debugging" pop-up. Then, FRP lock will be removed in a few seconds.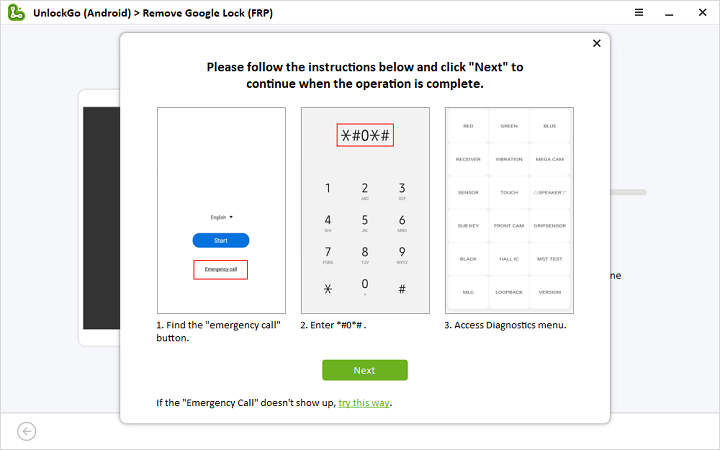 Some users report they can't find the emergency call entrance, so UnlockGo (Android) provides alternative to fix it. Click the link "try this way" on screen.
Step 4: When your device has been restarted, the full access is allowed when Samsung unauthorized factory reset has been bypassed.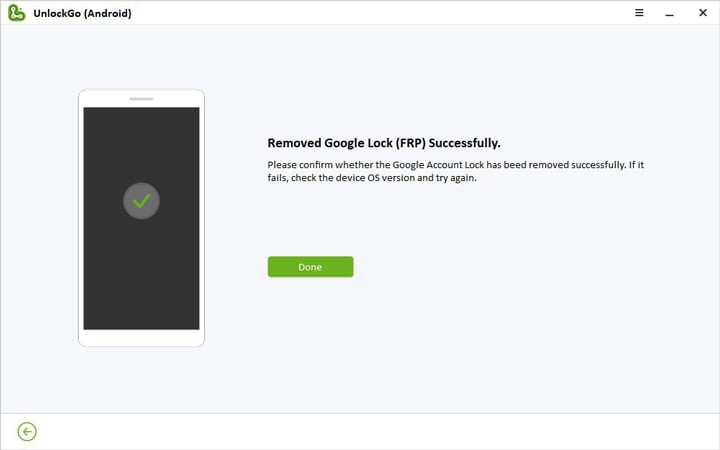 Part 4. Can I Avoid An Unauthorized Attempt to Factory Reset?
In case you want to avoid all this hassle in the near future, it would be better to remember a few tricks and follow them strictly all the time.
1. Buy Android Devices from Authorized Merchant
Always make sure to purchase an Android device from an authorized dealer. There are many merchants who sell refurbished models as brand-new devices. Avoid falling victim to such merchants and always do your due diligence before buying an Android device.
2. Disable factory reset protection
You can also disable factory reset protection from the "Settings" menu if you want to avoid encountering the "an unauthorized attempt to factory reset" error in the future. This way even if you perform a factory reset, you won't have to deal with Google FRP screen at all.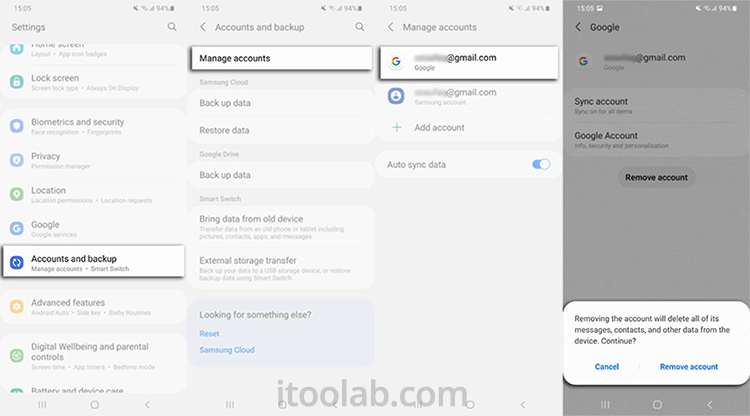 3. Remove Google account
Now, to be on the safe side, you may want to remove the Google account before you proceed with resetting the device. When the Google account is removed, your device won't trigger the FRP screen and you'll be able to log into the device easily.
Conclusion
So, that's how you can troubleshoot the "an unauthorized attempt to factory reset" error message on your Android device. Of course, encountering such an error can easily seem like a nightmare, especially if you have just bought the device from someone else. But, with tools like iToolab UnlockGo (Android), you can easily bypass the said error message and get access to your device right away.
Android Lock Screen Remove Tool
Easy to operate and high success rate
Bypass factory reset protection on Samsung [Android 5-13]
Remove screen lock without any data loss on earlier Samsung
Bypass all Android lock screens, PIN, pattern, etc.
Compatible across over 15 Android brands